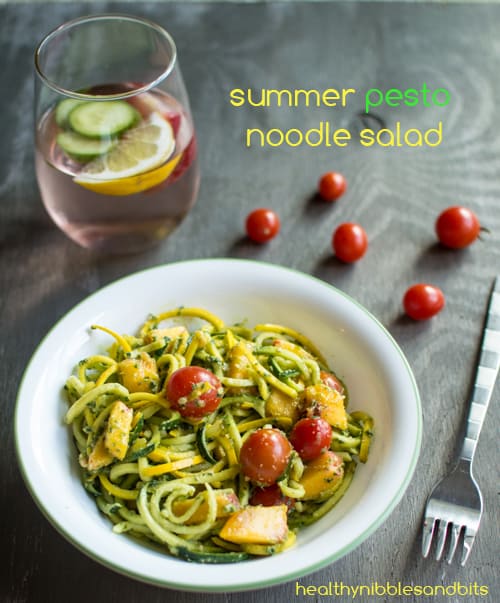 I'm about 3 months away from running trotting my way through my first half-marathon. Time to get serious! I've been looking for some half-marathon training schedules online, and I have narrowed it down to Hal Higdon's training schedule for novices. I'll try not to bore you with mundane details about my workout schedule, but I'm thinking a little something like this for the rest of the week:
TUESDAY: 4-mile morning run + evening yoga class
WEDNESDAY: 3-mile morning run + evening boot camp
THURSDAY: evening spin class
FRIDAY: rest? yoga? upper-body training?
SATURDAY: 5-mile morning run + afternoon yoga
I might be over-compensating for my sedentary ways the past few weeks—filled with nothing but eating and staying put. Needless to say, I'm excited to squeeze in some strength-training and yoga this week!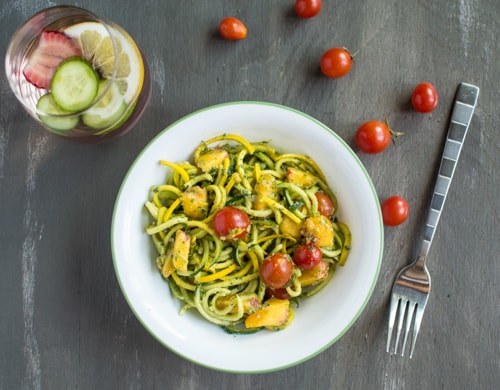 To give me some fuel for the week ahead, I prepared this fresh summer pesto noodle salad for dinner yesterday. In all honesty, I got a bit excited about the bunches of basil at the farmers market and bought way too much. Not wanting these fresh beauties to go to waste, I decided to transform a large bunch of basil into a pesto.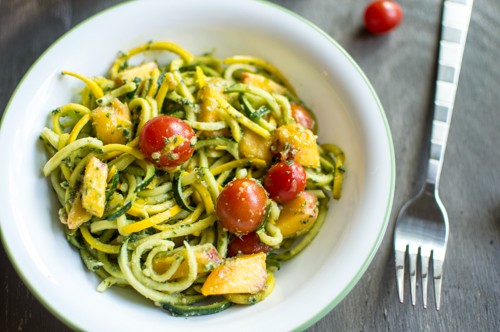 In my opinion, all salads could use a bit of sweetness. That's why these chopped yellow peaches and sugar-sweet cherry tomatoes have joined the salad party. If there is one thing that I want to you take away from this post (in addition to my recipe), it is to BUY CHERRY TOMATOES NOW! They're so sweet that you'll want to pop about 10 of them into your mouth at once, chubby chipmunk style.
Summer Pesto Noodle Salad
Ingredients
1

large bunch of fresh basil (~2.5 oz/~140g)

,

leaves picked and rinsed

1 1/2

TBS

olive oil

1 1/2

TBS

nutritional yeast

,

substitute with parmesan cheese if not vegan

1

TBS

lemon juice

2

tsp

miso paste

,

optional

1

tsp

salt

,

add more to taste

2

cloves

garlic

,

peeled

1/4

cup

(35g) walnut halves

2

large summer squash

,

zucchini or yellow squash (~17.5 oz/~500g)

1

large ripe yellow peach

,

peeled and diced

1

cup

(135g) cherry tomatoes
Instructions
In a food processor, blend the basil, oil, nutritional yeast, lemon juice, miso paste, salt, garlic, and walnuts together until smooth. Set aside.

Spiralize the squash using Blade C. Once the squash has been spiralized, I like to give all the noodles several rough chops so that they're easy to eat (otherwise, the noodles are too long). Chop up the parts of the squash that did not get spiralized and add them to the salad. If you do not have a spiralizer, create vegetable noodles with a julienne peeler or vegetable ribbons with a regular peeler.

In a large bowl, toss the noodles, diced peaches, cherry tomatoes, and 1/3 to 1/2 cup of the pesto sauce together.

Store the unused pesto and leftover salad in separate containers and refrigerate.
Did you make this recipe?
Tag @hellolisalin or leave a star rating and comment on the blog!