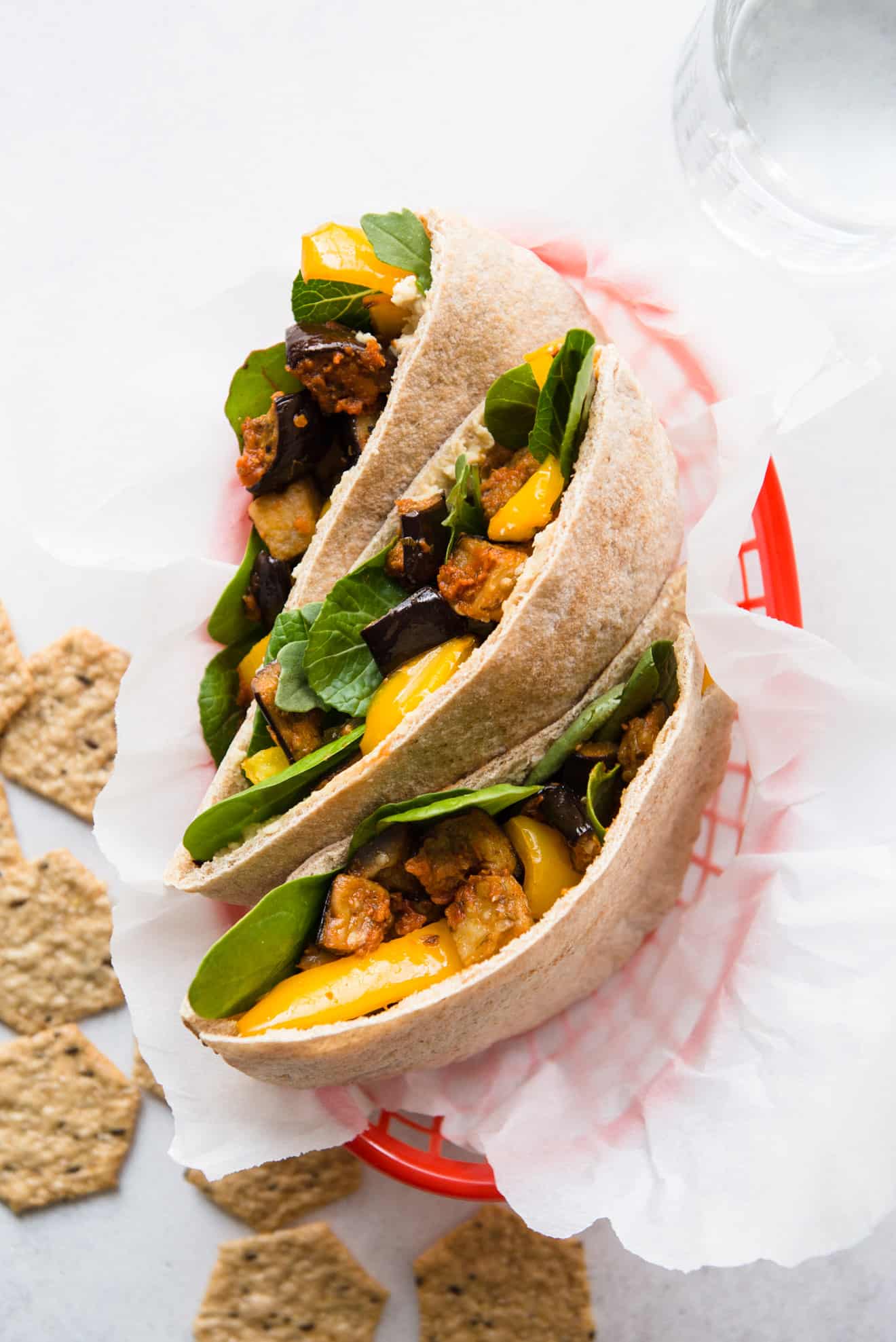 A few weeks ago, I sent an email to some of my closest friends, asking them what they usually cooked on weeknights. All of these friends are young professionals who usually don't have much time to prepare dinner when they return home. I proposed a series of recipes on my blog where I create meals based on five ingredients, and all of them responded positively to the idea. The bigger lesson I learned was that many of them didn't care about the exact number of ingredients used (but it can't be a ridiculously long list either). Rather, the recipes should be easy to prepare and made with ingredients that are readily accessible.
As a full-time food blogger, I have the luxury of cooking all day long. (I don't actually cook all day because that would mean washing more dishes than I care to.) But the average person doesn't have this kind of luxury, and I want to create recipes that actually speak to your needs!
Here's the start of my Minimal Mondays series: a collection of simple meals that require minimal ingredients, preparation or cooking time. I'm hoping these recipes will save you some time on weeknights so that you can actually rest and recuperate for the next day.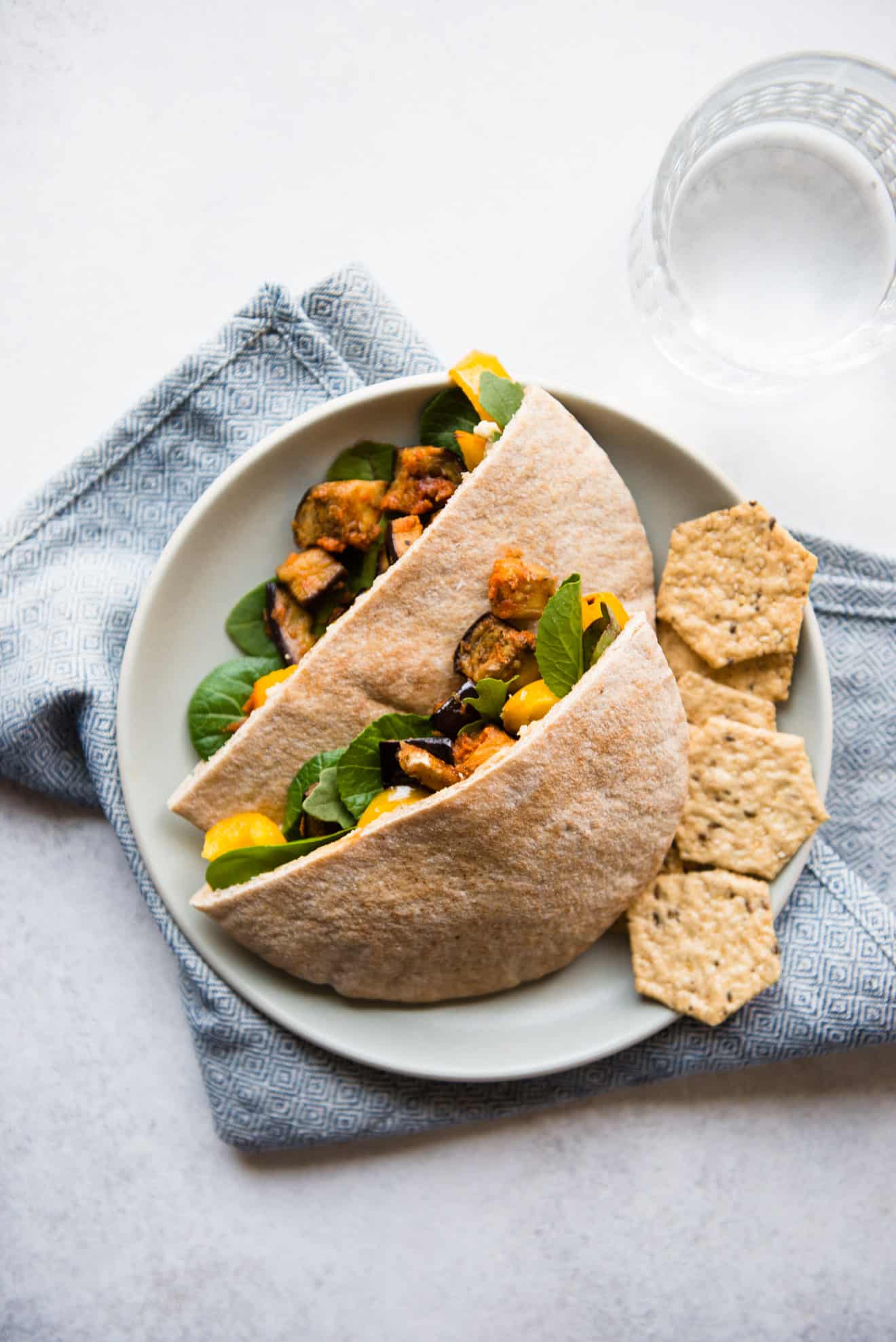 COOKING NOTES FOR THE STUFFED PITA
Making these ahead: I ate some of these the next day, and they still tasted great. Wrap the pita pockets in plastic wrap and refrigerate overnight.
Using whole wheat pita: I chose whole wheat pita bread because they usually contain more dietary fiber than regular pita. Dietary fiber helps you stay fuller for a longer period of time.
Sun-dried tomato pesto: I used Classico's sun-dried tomato pesto for the recipe. Once I develop a recipe of my own, I will link to it in the notes.
Sun-Dried Tomato Eggplant & Hummus Stuffed Pita
For a more filling meal, you can add lean protein to the stuffed pita, such as chickpeas, hard boiled eggs, chicken or shrimp.  You can use whatever hummus you prefer. I used a lemon hummus (recipe in the notes below).
Ingredients
2 1/2

tablespoons

olive oil

,

divided

1 to 1 1/4

pounds

eggplant

1

large bell pepper

,

sliced into long strips

salt and pepper

2 1/2

tablespoons

sun-dried tomato pesto

2

large whole wheat pita pockets

4 to 6

tablespoons

hummus

2

cups

mixed greens
Instructions
Preheat the oven to 400ºF. Position an oven rack in the upper third and lower third positions. Line 2 baking sheets with parchment paper or silicone mats.

Trim off the top of the eggplant. Dice into 1/2-inch chunks. Transfer the eggplant into a bowl and toss with 2 tablespoons of olive oil, a generous pinch of salt, and a small pinch of ground black pepper. Spread the eggplant over a prepared baking sheet. We'll use the bowl later, so set it aside.

Toss the sliced bell peppers with the remaining oil. Spread over the other baking sheet.

Roast the peppers for 20 minutes and the eggplant for 30 minutes. Make sure that the eggplant is soft and tender.

Pour the roasted eggplant into the same bowl you used before. Toss it with 2 1/2 tablespoons of the sun-dried tomato pesto. Taste and add more pesto, if necessary.

Slice the pita pockets in half. Spread 1 to 1 1/2 tablespoons of hummus into each pita pocket half. Add more hummus, if you like. Next, fill each pocket with 1/2 cup of mixed greens. Divide the peppers and eggplant between the pita pockets. Enjoy!
Notes
NUTRITION INFORMATION: Amount for 2 stuffed pita halves: Calories: 492, Total Fat 24.8g, Saturated Fat: 3.4g, Cholesterol: 1mg, Sodium: 445mg, Total Carbohydrate: 61.5g, Dietary Fiber: 16.6g, Sugar: 13.7g, Protein 12.9g Lemon Hummus Recipe: 1 can chickpeas, drained (save the liquid), 3 tablespoons olive oil, 3 tablespoons reserved liquid from chickpeas, 1 clove of garlic, 1 tablespoon tahini, zest from 1 lemon, juice from 1 lemon, 1/2 teaspoon salt, pinch of ground black pepper. Blend everything in a blender for food processor until smooth. Taste and adjust the seasonings to your liking. Sun-Dried Tomato Pesto Recipe: 3/4 cups sun-dried tomatoes (I used the kind that's not packed in oil, but use whatever is readily available), 1/3 cup packed basil, 1/4 cup walnuts, 1/2 cup shredded parmesan, 1/2 cup olive oil, 1/3 cup filtered water, 1/2 teaspoon kosher salt. Blend all of these ingredients in a food processor. If the pesto is too thick for tossing with the eggplant, mix a tiny bit of olive oil to the pesto to thin it out.
Did you make this recipe?
Tag @hellolisalin or leave a star rating and comment on the blog!