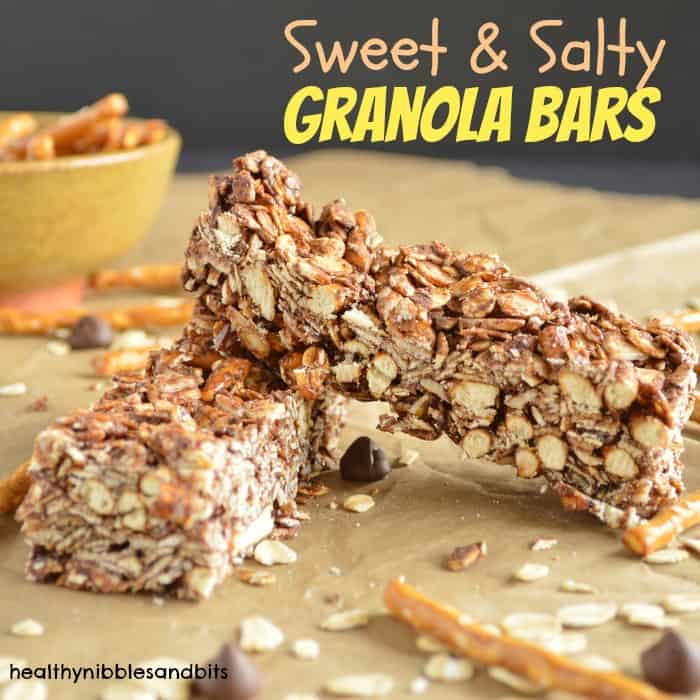 There is one thing that I can always rely on being in my bag: snacks! I may forget my phone or wallet, but never snacks.
I fancy myself an aficionado of snacking, but I'm probably just thinking too highly of my taste buds.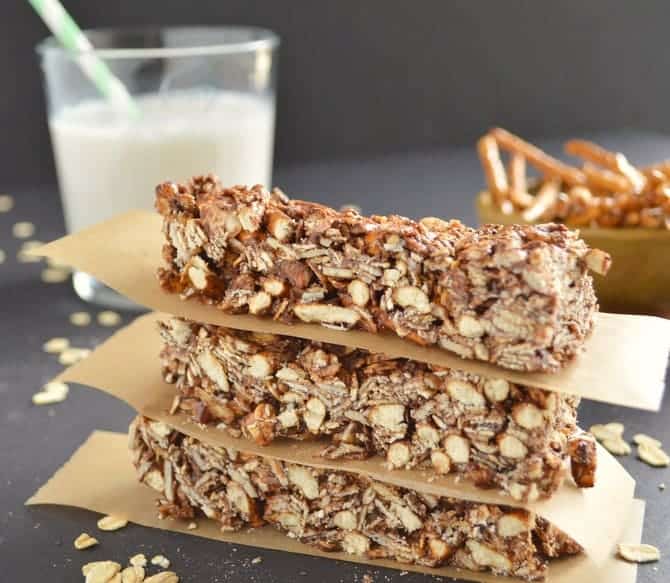 Over the years, I have powered through so many boxes of granola bars that I can separate the wheat from the chaff. I've been loving salted chocolate granola bars lately, so I decided to take a stab at making my own this week.
Initially, I planned to add whole chocolate chips into the granola bars. Without thinking, I mixed freshly toasted oats and chocolate chips together. I quickly realized my mistake when I saw the tiny chocolate pyramids melted into a creamy mush. As it turns out, I think the melted chips were better for distributing chocolate flavor in the granola bars. Don't you love it when kitchen mistakes lead to dishes that are better than you envisioned?
I decided to use brown rice syrup in this recipe after Marissa at Pinch & Swirl introduced it to me earlier this month. Brown rice syrup is natural, vegan, and gluten-free and works well as a sugar substitute for baking. As with all other sweeteners, however, I would use it sparingly in my cooking.
These granola bars were surprisingly light, and their taste reminded me of chocolate-covered cracker jacks–just healthier!
Sweet and Salty Granola Bars
Chocolate chips and salted pretzels create a perfect balance of flavors in these sweet and salty granola bars.
Ingredients
1 1/2

cups

rolled oats

1 1/4

cups

salted pretzel sticks

3/4

cup

sliced almonds

1/2

cup

semi-sweet chocolate chips

1/3

cup

brown rice syrup
Instructions
Preheat oven to 350º F. Line a baking sheet with parchment paper or a silicone mat. Line a 8 x 8 inch baking dish with parchment paper. Set that aside.

Spread out the rolled oats onto the lined baking sheet and toast them in the oven for about 15 minutes. You can skip this step. I enjoy the flavor of toasted oats in granola bars, so that's why I gave the oats more oven time.

In a large bowl, snap the pretzel sticks into small pieces with your hands. Don't worry if the pretzel bits are different sizes–we're not striving for perfection here.

Toss in the sliced almonds and chocolate chips and stir. Once the rolled oats are toasted, add them to the bowl. The chocolate chips will start melting, which is exactly what you want. If you prefer eating whole chocolate chips, wait until the rolled oats have fully cooled off before mixing with chocolate

Add the brown rice syrup and mix until well incorporated.

Pour the mixture into the 8 x 8 inch dish. Because this mixture is quite sticky, use another small piece of parchment paper to help you press down and spread the mixture evenly.

Bake the granola bars for about 20 minutes.

Let them cool completely (about 25-30 minutes) before cutting into them. I found it easier to lift the whole thing out of the baking dish, parchment paper and all, and slicing the bars on top of a chopping board

Store in an airtight container.
Notes
1. If you don't have brown rice syrup on hand, feel free to substitute it with other liquid sweeteners such as honey, maple syrup, or agave nectar.[br]2. You can make these vegan by using vegan pretzel sticks and chocolate chips.[br]3. If prefer thinner crunchy granola bars, use a larger baking dish (such as a 9 x 13 inch one) and reduce the baking time by a few minutes.
Did you make this recipe?
Tag @hellolisalin or leave a star rating and comment on the blog!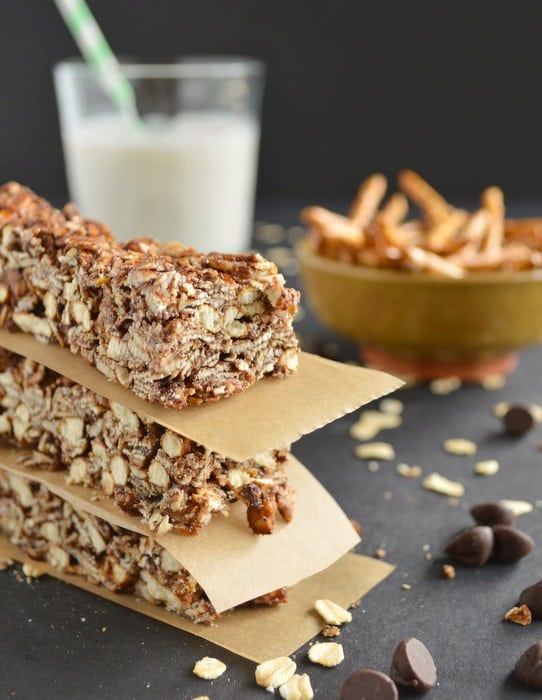 Q: What are your favorite granola bars?