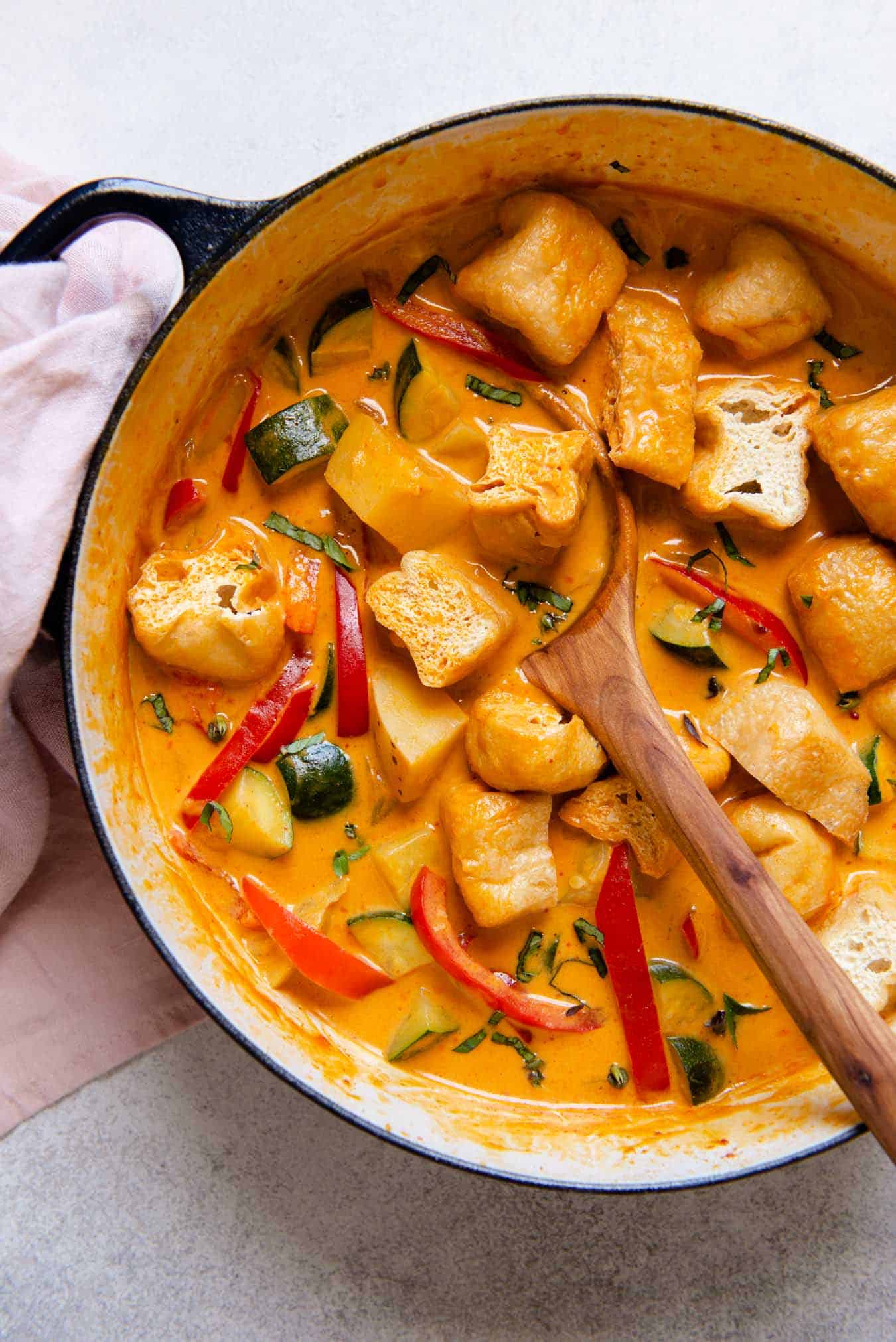 I had a strong craving for curry with potatoes a few weeks ago. So, I threw some spices and vegetables into a pot along with some broth and coconut milk. With a few tweaks along the way, that casual weeknight meal morphed into this vegetable red curry.
Use the recipe below as a general guide for the red curry. Feel free to substitute the vegetables or protein with anything else that you have on hand.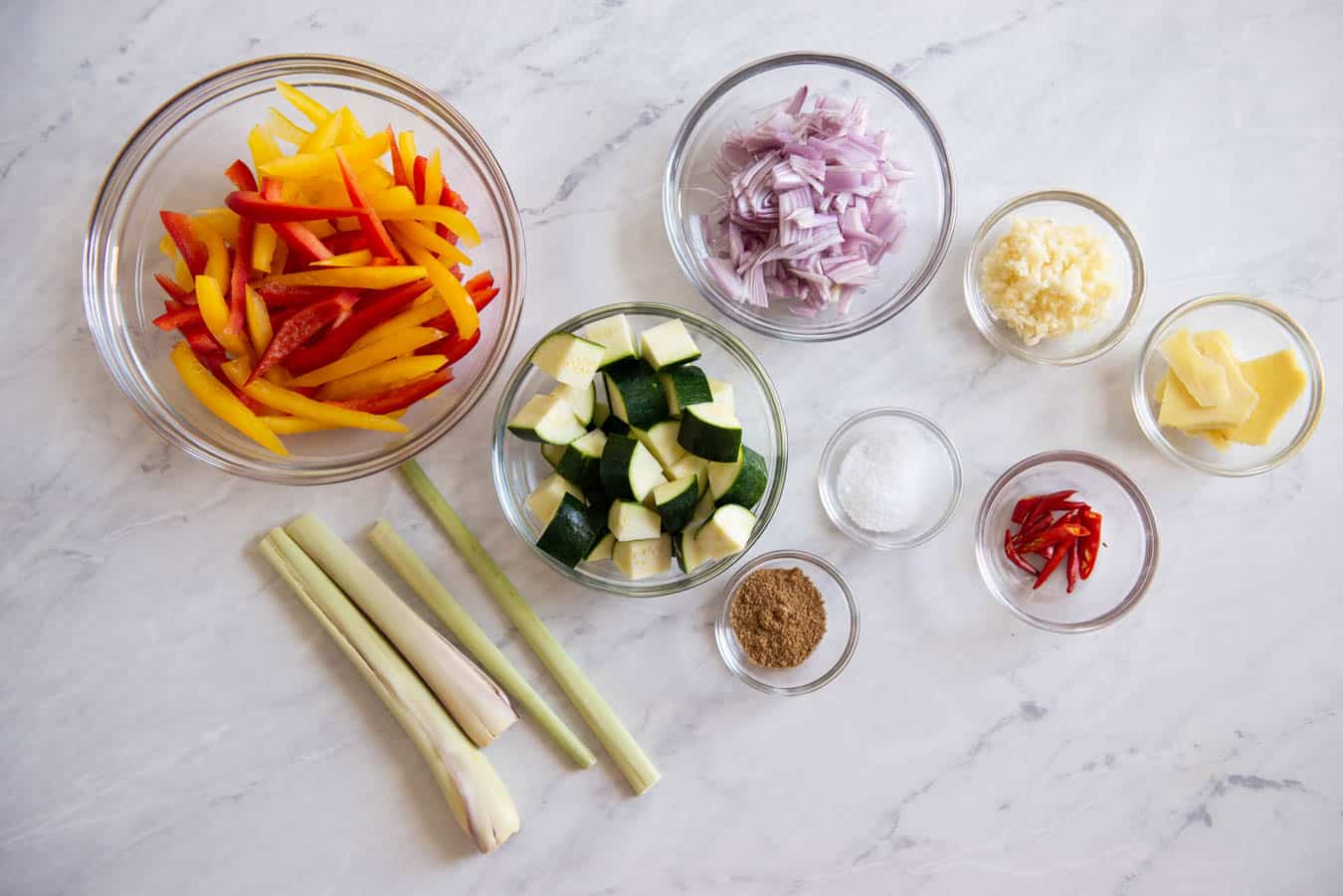 VEGETABLE RED CURRY INGREDIENTS
This red curry is inspired by my favorite flavors of Thai cuisine. For the aromatics, I used shallots, garlic, ginger, lemongrass, and Thai chili. To prepare lemongrass, peel off one outer layer of the stalk. Then, slice off any thin and dry sections from the top of the stalk. If you are using very fresh (green) lemongrass, this should not be a problem. Then, slice the lemongrass stalks in half and bash them several times with a kitchen mallet to expose the core. This will help the stalk release more flavor.
I wanted some spice in the red curry, so I used 5 Thai chilis. The spice is noticeable, but I didn't feel as if my tongue was on fire. If you are spice averse, you can leave the chilis out. To prepare them, slice off the tops and then slice them in half. That way, you can easily identify the chilis and pick them out rather than eat them accidentally as you consume the curry. If you want to, you can fish out the chilis before serving.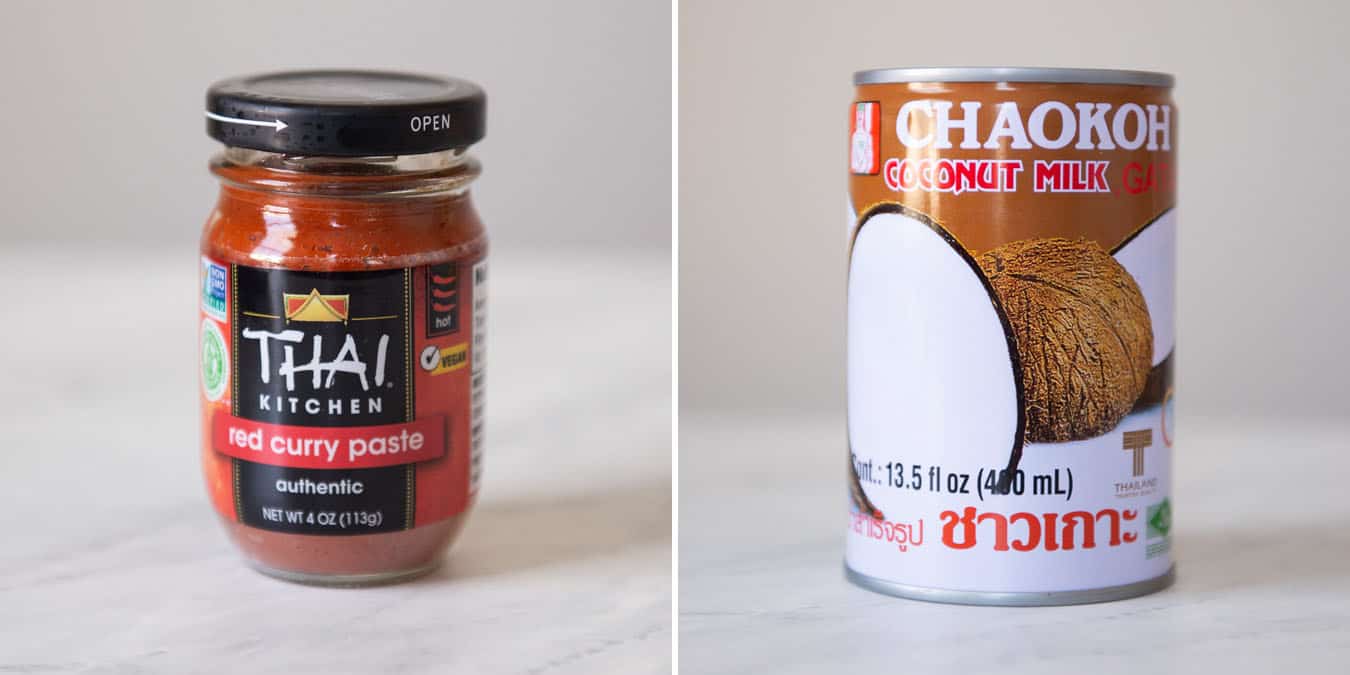 CURRY PASTE
For the curry paste, I used Thai Kitchen's red curry paste. I use Thai Kitchen often because the pastes are easy to find in most supermarkets. Plus, the paste comes in convenient jars that are perfect for storing in the fridge once opened. Although the label says that the paste is "hot" with 3 chili peppers drawn on it, I don't find the curry paste to be spicy at all. That's why I use 3 tablespoons of the paste and add Thai chilis for spice.
If you are using any other brand of red curry paste, taste the paste first to test the spice level. A few months ago, I bought a new brand of curry paste. Without thinking, I used the new paste the same way I would with Thai Kitchen's pastes. Much to my dismay, the new brand was incredibly spicy! Learn from my mistake: taste any unfamiliar brands of curry paste first before adding it to your cooking.
COCONUT MILK
For the coconut milk, I often use Chaokoh coconut milk. I love the thick yet runny consistency, which makes the coconut milk easy to pour. I used an entire can of coconut milk in this recipe, which makes the curry rich, fragrant, and filling. However, if you are concerned about the saturated fat content, use lite coconut milk. Note that the curry won't be as fragrant.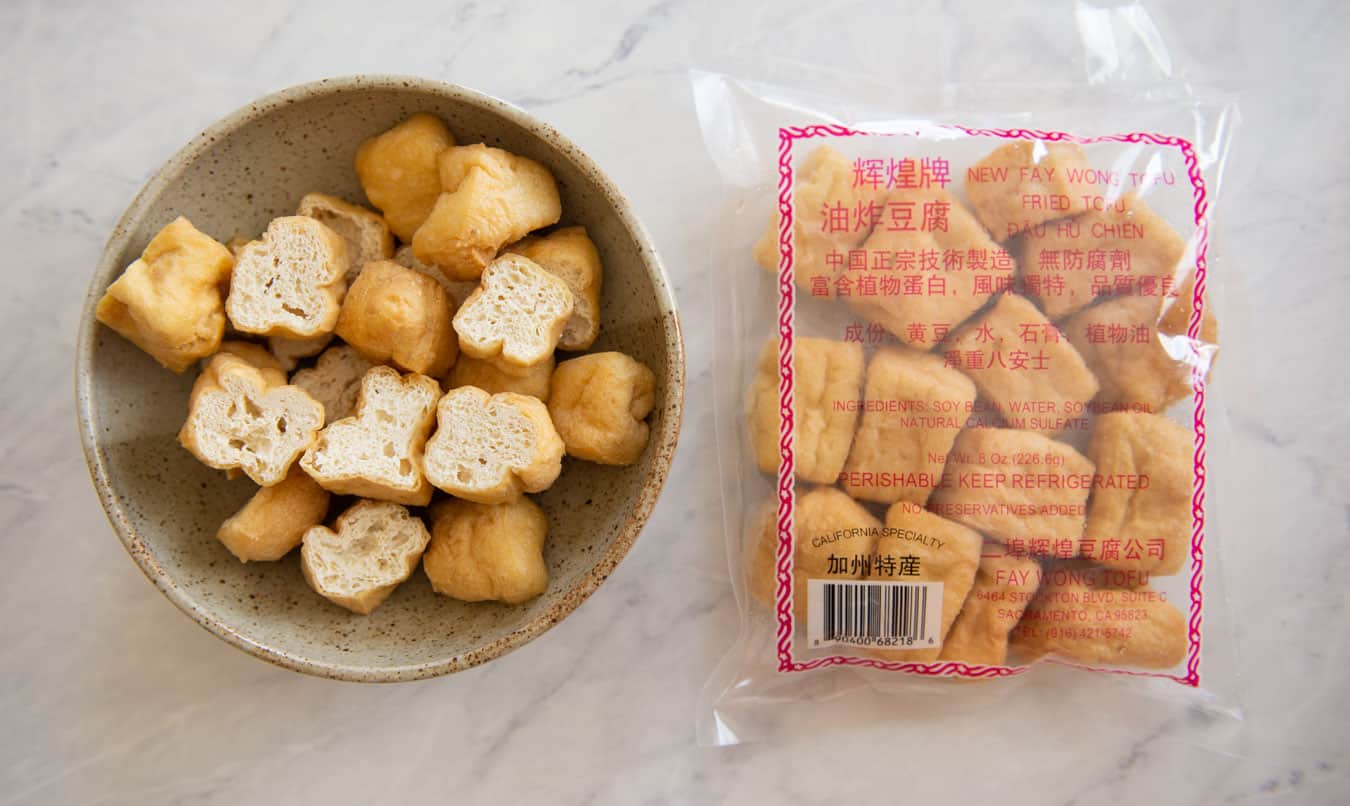 TOFU PUFFS 
I decided to use tofu puffs in this recipe because they're great for absorbing the flavors of the curry. They're like edible sponges! I usually buy tofu puffs from Asian supermarkets or the Sunday Asian farmers market in Sacramento. You might also find a similar version of fried tofu in Japanese supermarkets (like Oto's). They might not come in cubes like you see in the photos, but they are similar in texture.
If you can't find tofu puffs, you can chop extra-firm tofu into cubes and pan fry them before adding to the broth. I don't think pressing the tofu beforehand is necessary as you'll add the fried tofu to a saucy mixture anyway. The pan searing gives the tofu extra texture.
VARIATIONS
If you're not vegan, you can add shrimp to the curry. You can either pan fry the shrimp separately or add the shrimp to the curry and cook them for about 3 to 4 minutes, until the shrimp is cooked through.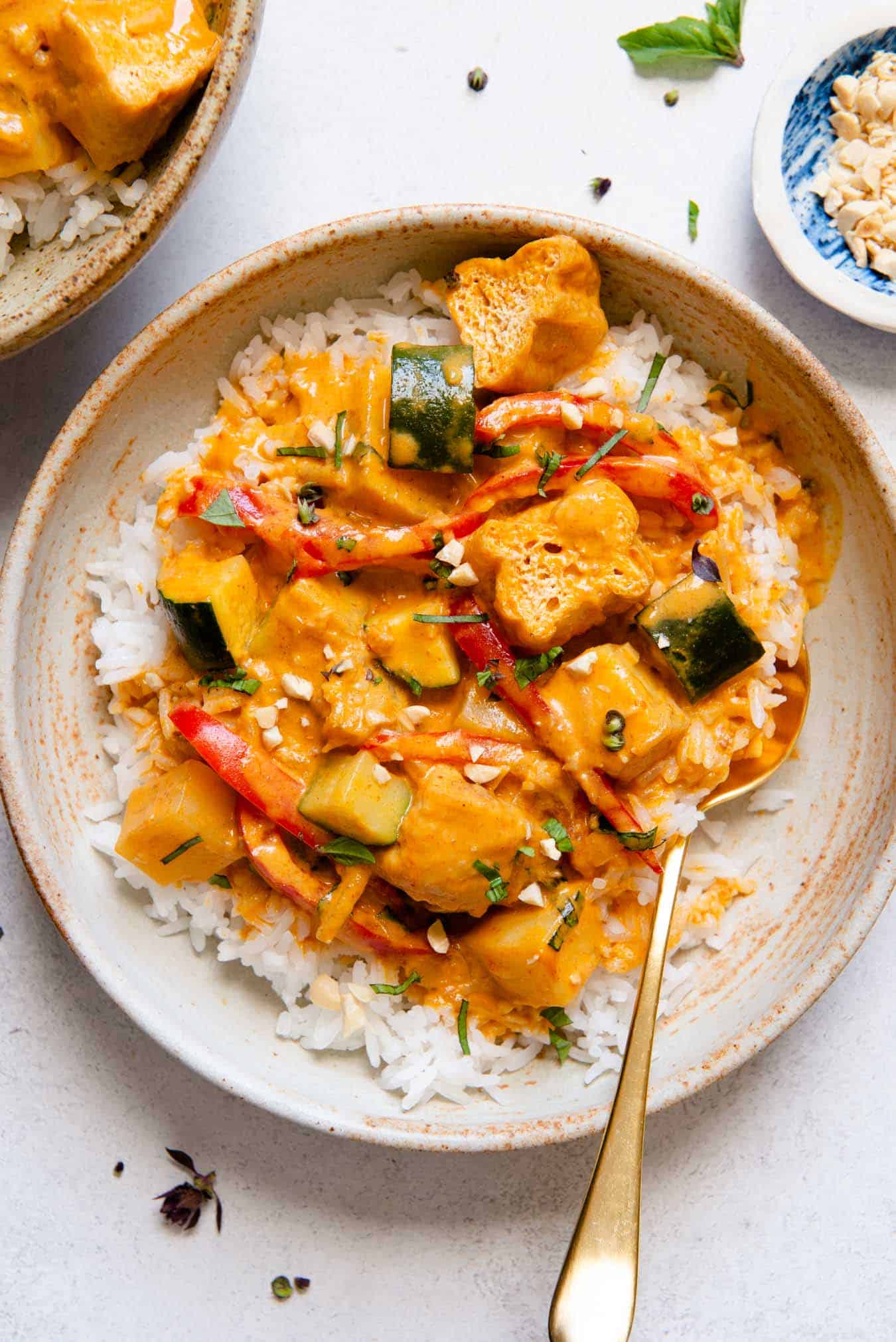 Vegetable Red Curry with Tofu Puffs
You can substitute any of the vegetables listed below with others, such as carrots, cauliflower, butternut squash, or sweet potatoes. You can also use any protein that you have on hand.
Ingredients
2

stalks

lemongrass,

(see note 1)

5

Thai chilis

,

(see note 2)

2

tablespoons

coconut oil

,

virgin or unrefined

3/4

cup

chopped shallots

,

about 1 large bulb

1

inch

piece of ginger

,

sliced

2

tablespoons

minced garlic

10

ounces

yukon potatoes

,

cubed (see note 3)

3

tablespoons

red curry paste,

(see note 4)

1

teaspoon

ground coriander

,

optional

1 1/2

teaspoons

kosher salt

1

cup

vegetable broth

1

(14-ounce)

can full-fat coconut milk

1

large bell pepper

,

thinly sliced (about 2 cups)

1

large zucchini

,

diced (about 1 cup)

6 to 7

ounces

tofu puffs

,

sliced in half

1/2

cup

Thai basil

,

chopped

chopped peanuts for topping

,

optional
Instructions
To prepare the lemongrass, peel off one outer layer of the lemongrass stalk. If the tops look thin and woody, chop them off. Then, chop the lemongrass stalk in half. Using a kitchen mallet, bash the stalk several times to bruise the lemongrass slightly. 

To prepare the Thai chilis, slice off the tops of the peppers. Then, slice them in half. 

Heat the coconut oil in a large pot (or a large sauté pan) over medium-high heat. Add the lemongrass, chilis, shallots, and ginger slices. Cook for about 3 minutes, stirring frequently. Add the minced garlic and cook for 30 seconds to 1 minute, until fragrant. Transfer the potatoes to the pot, along with the curry paste, coriander, and salt. Stir to coat the potatoes with the curry paste. 

Pour the vegetable broth into the pot and cover it with a lid. Bring the broth to boil. Reduce the heat to medium-low, and cook the potatoes for 3 more minutes.

Add the coconut milk, bell peppers, and zucchini to the pot. Cook everything for another 5 minutes, partially covered. Add the tofu puffs to the pot and cook until heated through, about 1 to 2 minutes. (see note 5) Check to make sure that the potatoes are fork tender.

Turn off the heat and stir in the chopped basil. Serve the vegetable red curry in bowls along with cooked

jasmine rice

. Garnish the curry with chopped peanuts, if you like.

Refrigerate any leftovers in airtight containers. The curry tastes even better the next day!
Notes
I can usually find lemongrass stalks in the produce sections of supermarkets. If you can't find fresh lemongrass, consider using Gourmet Garden's lemongrass paste. You'll need 2 tablespoons of the paste for this recipe. Note that the paste contains milk solids.
If you are averse to spicy foods, you can use 1 or 2 chilis or leave them out entirely.
I chopped the potatoes into 3/4-inch to 1-inch chunks. I used yukon potatoes when I developed the recipe, but any potato will.
Note that some curry pastes are not vegan. Some contain traces of shrimp or other shellfish. Thai Kitchen and Maesri sell red curry pastes that do not contain shrimp. Also, if you are using a new brand of curry paste, make sure to taste it first to gauge the level of spice. I used Thai Kitchen's red curry paste, and I don't find it spicy at all, which is why I used 3 tablespoons in this recipe.
I like adding tofu puffs at the very end so that I don't overcook them. 
Nutrition
Serving:
1
serving
|
Calories:
431
kcal
|
Carbohydrates:
30
g
|
Protein:
10
g
|
Fat:
32
g
|
Saturated Fat:
25
g
|
Sodium:
905
mg
|
Fiber:
6
g
|
Sugar:
8
g
Did you make this recipe?
Tag @hellolisalin or leave a star rating and comment on the blog!