I'm beaming with excitement. In exactly one month, I'll be off to England for two weeks! I'm ready for my regular cuppa, biscuits (many, many biscuits), warm cornish pasties (hand pies), and muesli in the morning. Food always comes first, of course.
Whenever I go to England, I always need a few days to reorient myself. I use those days to come to grips with the fact that people drive on the wrong side of the road, traffic circles are scary, my Californian speech sticks out like a sore thumb, and trying to memorize the coins is a lost cause. It's okay, I'll just sip a bit more tea to calm the senses.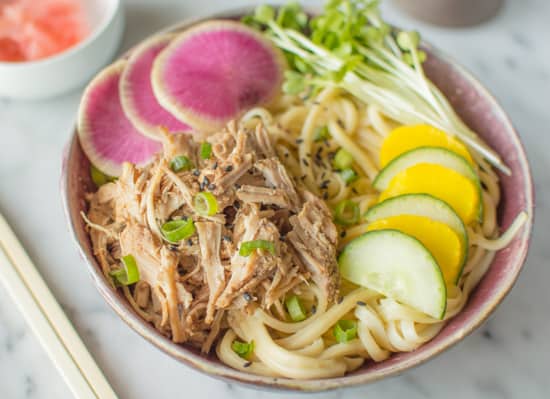 I've made a promise to myself that I'll try my best not to gain 10 pounds while I'm in England. This problem is REAL. One milk chocolate digestive biscuit quickly turns into 5. One small nibble of a Cadbury's Flake bar quickly turns into the whole thing. My yearning for good chocolate knows no bounds, but you knew that already.
For those two weeks, it's highly unlikely that I will have much time in the kitchen. So I'm putting my cooking on hyperdrive right now, starting with this udon bowl with five spice slow cooker pork. I know I've waxed poetic about the melt-in-your mouth tenderness of pork from a slow cooker, but I wasn't exaggerating. There's just the perfect amount of fat in pork shoulder that makes the meat soft and juicy. The pairing of the pork with udon noodles is just for fun. We're all about having fun in the kitchen here.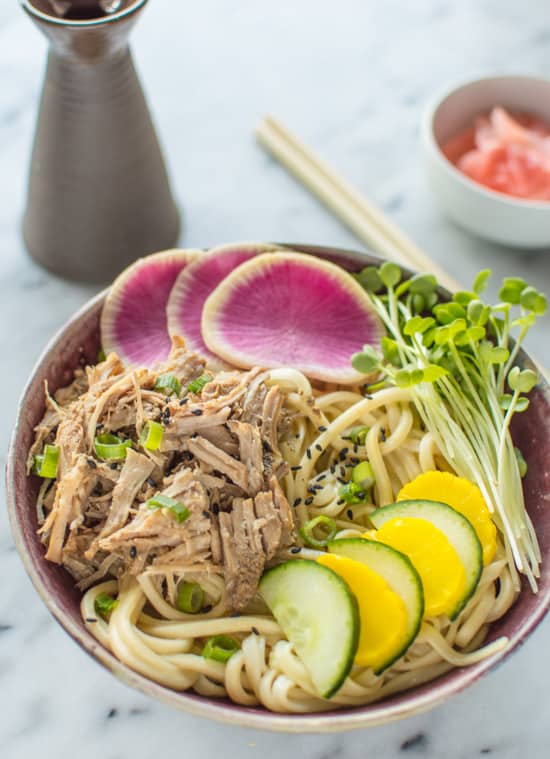 When you're making udon, just remember that like pasta, the udon noodles with soak up any water in sight. If you want to make this dish into a noodle soup, you should probably prepare a separate pot of broth that you'll serve with the cooked noodles. I was perfectly fine with them being less soupy. Garnish the noodles with any vegetables you like!
Udon Bowl with Five Spice Slow Cooker Pork
Serves 4-5.
Ingredients
Five Spice Slow Cooker Pork
2

lbs

(900g) pork shoulder

1

tsp

five spice powder

pinch

of kosher salt

2

cups

(480ml) chicken broth

1

cup

(240ml) water

1/4

cup

(60ml) soy sauce

8

cloves

of garlic

1

piece

(1-inch) ginger

,

sliced
Udon Noodles
2

cups

(480ml) chicken stock

2

cups

(480ml) water

7

oz

(200g) dry udon noodles

1

TBS

white miso paste

,

shiro miso

1

tsp

garlic powder

salt to taste

1/2

tsp

ground white pepper

,

optional

1

stalk of green onion

,

chopped
Instructions
Trim the pork shoulder of excess fat and chop it into smaller slices. Rub the five-spice powder and salt all over the meat.

Add the chicken broth, water, soy sauce, garlic, ginger, and meat into the slow cooker. Cook on high for 6 to 7 hours or on low for 8 to 9 hours.

When the pork is nearly done, take a small pot, and bring 2 cups of chicken stock and 2 cups of water to boil over medium-high heat. When the water is boiling, add the udon noodles into the pot. Let it cook for a few minutes before reducing the heat to medium-low. Add the miso, garlic powder, salt, and white pepper. Next, add the chopped green onions, saving about a tablespoon for garnish. Let the noodles cook for several more minutes, or until the noodles are soft and plump.

Using a fork, break up the pork, and serve it with the udon. I added a few tablespoons of the broth from the slow cooker to the noodles just to add a bit more flavor. Garnish the bowl with green onions, black sesame seeds, sprouts, cucumber, pickled daikon, or watermelon radishes if you like!
Notes
If you want a soupy noodle bowl, add more water when you're cooking the noodles. Better yet, prepare more broth in a separate pot so that you can pour it over the noodles when you serve them.
Did you make this recipe?
Tag @hellolisalin or leave a star rating and comment on the blog!
Want another slow cooker recipe? Try this Asian Slow Cooker Pork with Zucchini, Carrot & Apple Noodles!