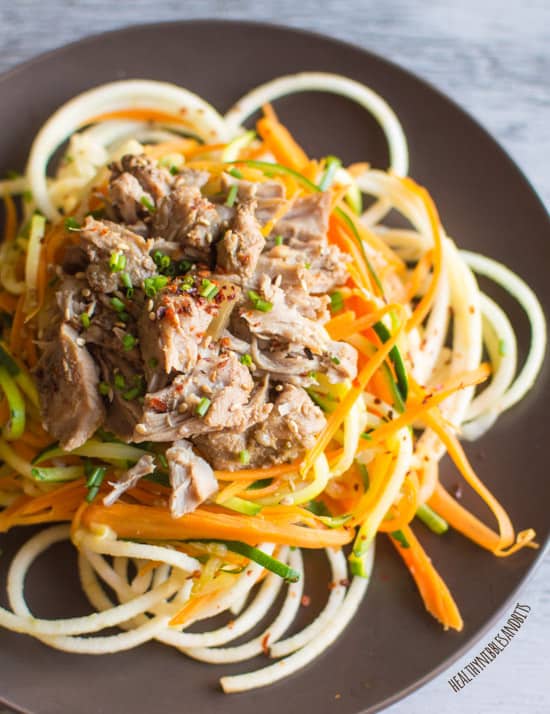 Can we talk about the slow cooker? It's one of those "great-to-have-one-but-where-do-I-find-the-space" kind of kitchen tools . . . a bit like a waffle maker, really.
Several months ago, I found a huge gift-wrapped box with a big white ribbon inside a large evergreen Williams Sonoma bag. We're talking BIG and heavy. My heart fluttered. I thought, "SHUT THE FRONT DOOR!! Ahhhhhh!!!" I convinced myself that some delightful soul threw down some money and got me a Kitchen Aid mixer (because I have been yammering on about wanting one). I don't remember which came first—feelings of surprise or the tinge of disappointment when I tore open that wrapping paper. You guessed it, I got a slow cooker. No binge baking for me!
Okay, maybe I'm doing the slow cooker a bit of injustice. I've been describing it like a bridesmaid wearing a classic ugly bridesmaid dress, but I've come to realize how much of a gem it is. Case in point: slow cooked pork. WHOA.
I had never cooked pork that tasted so good before: soft, flavorful, melt-in-your mouth kind of good. For dinner one night, I made a batch of this Asian pulled pork. I often describe my recipes as "Asian" such and such, but what makes this pulled pork "Asian"?
soy sauce
mirin
fish sauce
sesame oil
garlic
Chinese five-spice
(Those sesame seeds I use as garnish counts, too.)
Not entirely Chinese, Japanese, or Southeast Asian, this scrumptious pulled pork does not believe in labels. And quite frankly, I don't either . . . except when I'm tabbing my cookbooks and magazines.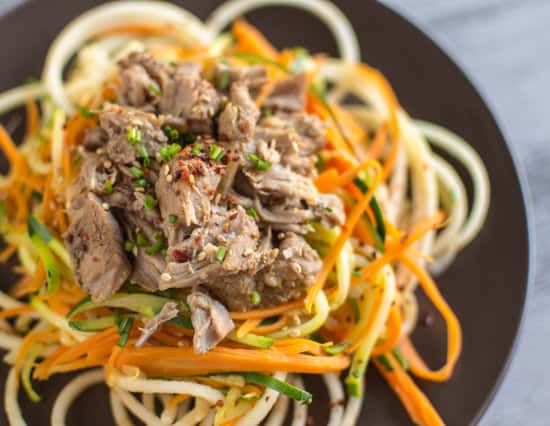 This recipe calls for 2.5 pounds of pork shoulder, so expect a huge hunk of meat! I sliced the meat into 3/4″ to 1″ thick slices, and trimmed all the excess fat. To me, pork fat is great for frying, not so much for the slow cooker.
Asian Slow Cooker Pork with Zucchini Carrot & Apple Noodles
Ingredients
Pulled Pork
2.5

lbs

(~1.15kg) pork shoulder

1/2

large sweet onion

,

chopped

3 1/2

cups

(840ml) chicken stock

1/2

cup

(120ml) low-sodium soy sauce

1/4

cup

(60ml) mirin (Japanese rice wine)

1/4

cup

(60ml) fish sauce

2

TBS

sugar

1

TBS

sesame oil

2

tsp

kosher salt

1

tsp

garlic powder

1

tsp

Chinese five-spice
Zucchini Carrot & Apple Noodles
2

large zucchini

,

about 1.5 lbs/680g

4

medium carrots

,

about 3/4 lbs/340g

1

TBS

olive oil

pinch

of salt

2

large apples
Garnish (optional)
chopped chives

sesame seeds

red pepper flakes
Instructions
Place the pork and onions into a slow cooker. Pour in the chicken stock, soy sauce, mirin, and fish sauce. Add the sugar, sesame oil, salt, garlic, and five spice. Set the slow cooker on low and the timer to 8 hours. Carry on with your day.

When the pork is almost done, make noodles out of the zucchini, carrots, and apples using a spiralizer, julienne peeler, or a mandoline slicer. I spiralized the zucchini and apples, and I used a julienne peeler for the carrots.

Heat a large pan with the olive oil. When the pan is hot, cook the zucchini and carrots for 1 to 2 minutes ONLY. Any longer will cause the zucchini noodles to get too soggy. Season with a tiny pinch of salt, and remove from heat. I immediately plated all the noodles together (including the apples) because I didn't want the zucchini to continue cooking in the hot pan.

When the pork is ready, take the pieces of pork out of the slow cooker. Using a fork, shred the pork. Plate the pork on top of the noodles and garnish with chives, sesame seeds, and red pepper flakes.

You'll probably have a lot of pork left, so save the pork and broth for a yummy noodle dish!
Notes
1. Mirin is Japanese rice wine (not to be confused with rice vinegar). If you don't have any around the house, just skip it and add another spice to the slow cooker.[br][br]2. If you're saving the broth to be used again, be sure to skim the fat off the top of the liquids.
Did you make this recipe?
Tag @hellolisalin or leave a star rating and comment on the blog!