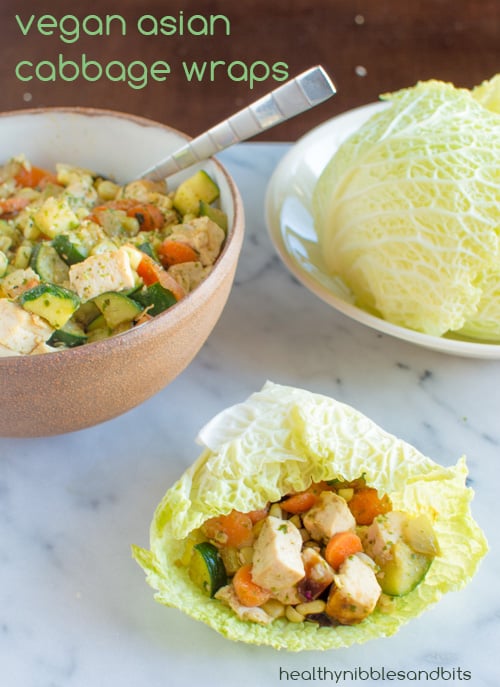 Yesterday, I woke up at 6:50 a.m. for a morning jog. Bleh! I work out in the morning a few times a week, but my morning sessions begin at 9:00 a.m. at the earliest. I need time to enjoy breakfast and my morning tea, after all. Pushing myself to go out for a run at 7-something is a horse of a very different color. To motivate myself to get out, I set my goals very, very low: finish a 1-mile run.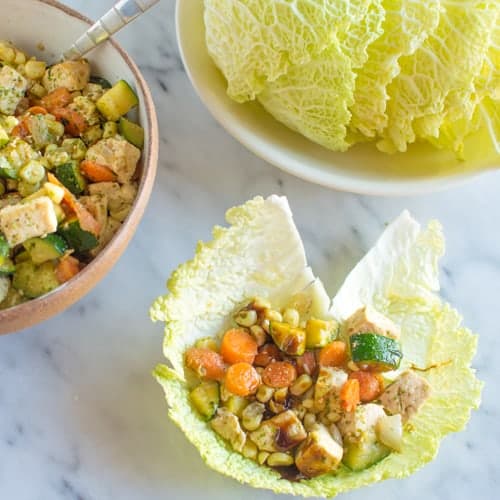 Quite to my surprise, I just kept going, and finished a 5K! My run was actually more of a trot because my quads are still recovering from the jump squat mayhem at a boot camp class. But, wow, I finished a respectable morning run! Here are a few things that I learned:
It's not that cold outside at 7:15 a.m. (during the summer). I won't freeze my lungs during my run. Score!
San Francisco gets shrouded by fog in the mornings. I should know this already, considering that I've lived there for 22 years. But it's quite different observing the city from outside and seeing the gray mass hovering over it.
Morning joggers/walkers at the trail are some of the nicest people. Nearly all of them smiled and greeted me.
The peanut butter + banana + homemade granola combination makes a perfect pre-run snack.
Running gives me an incredible burst of energy. Enough for me to start a little Zumba dance party in my apartment with some Don Omar.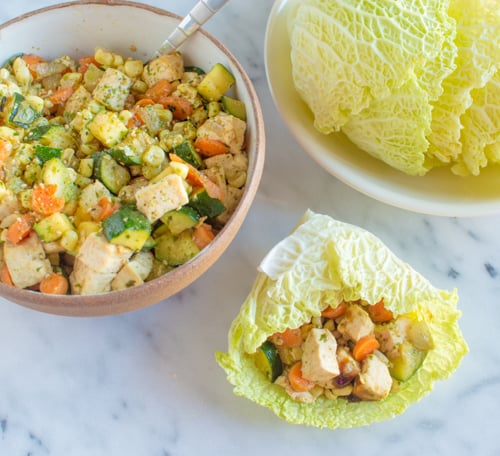 And how can I forget–Happy 4th of July! For me, July 4th has always been about sunny weather, delicious barbecues, shameless eating and friends. If you're still looking for ideas on what to make for your gatherings, here's a recipe for vegan Asian cabbage wraps. This light dish is easy to make and guaranteed to please.
I made these wraps mainly to get use up random vegetables that I found in my refrigerator—a bit like a chop suey. I love when impromptu cooking sessions lead to great recipes.
Vegan Asian Cabbage Wraps
Ingredients
1

14- ounce package

of firm tofu

12

savoy cabbage leaves

,

rinsed

1 1/2

TBS

olive oil

1/2

yellow onion

,

diced

2

medium zucchini

,

diced

1

ear of white corn

,

kernels removed (about 1 cup/145g)

1

cup

(~130g) baby carrots, sliced

1 1/2

salt

,

add more to taste

1

tsp

garlic powder

1 1/2

TBS

hoisin

,

seafood sauce + more for the wraps

2

TBS

furikake

,

Japanese rice seasoning, optional
Instructions
Drain and rinse the tofu, and wrap 2 or 3 paper towels around it. Place the tofu between two plates and put something heavy over the top plate to press excess water out of the tofu (I used a large bag of flour). Let the tofu sit there for 15-20 minutes, then remove the paper towels, and dice into small cubes.

Remove the tough stem from the savoy cabbage leaves. I used a pair of kitchen scissors and cut out about 1 1/2 to 2 inches of the stem from each leaf. Set the prepared leaves aside.

Heat a large sauté pan with olive oil over medium-high heat. Once the pan is hot, add the diced onions.

Once the onions start to turn translucent (about 1-2 minutes), add the zucchini, carrots, corn and tofu into the pan. Partly cover the pan with a lid and cook for about 3 minutes, stirring occasionally. Season the vegetables with salt, garlic powder, and hoisin sauce. Turn off the heat, and add the furikake on top of the vegetables. Let the vegetables cool for a few minutes before serving.

To make the wraps, spoon the stir-fried vegetables into a piece of the savoy cabbage. Add more hoisin sauce into the vegetables if you want, and wrap it up to eat.
Notes
1. If you don't have hoisin sauce, just substitute it with any other sauce.[br]2. You can also use lettuce or any other leafy vegetable to make these wraps.
Did you make this recipe?
Tag @hellolisalin or leave a star rating and comment on the blog!