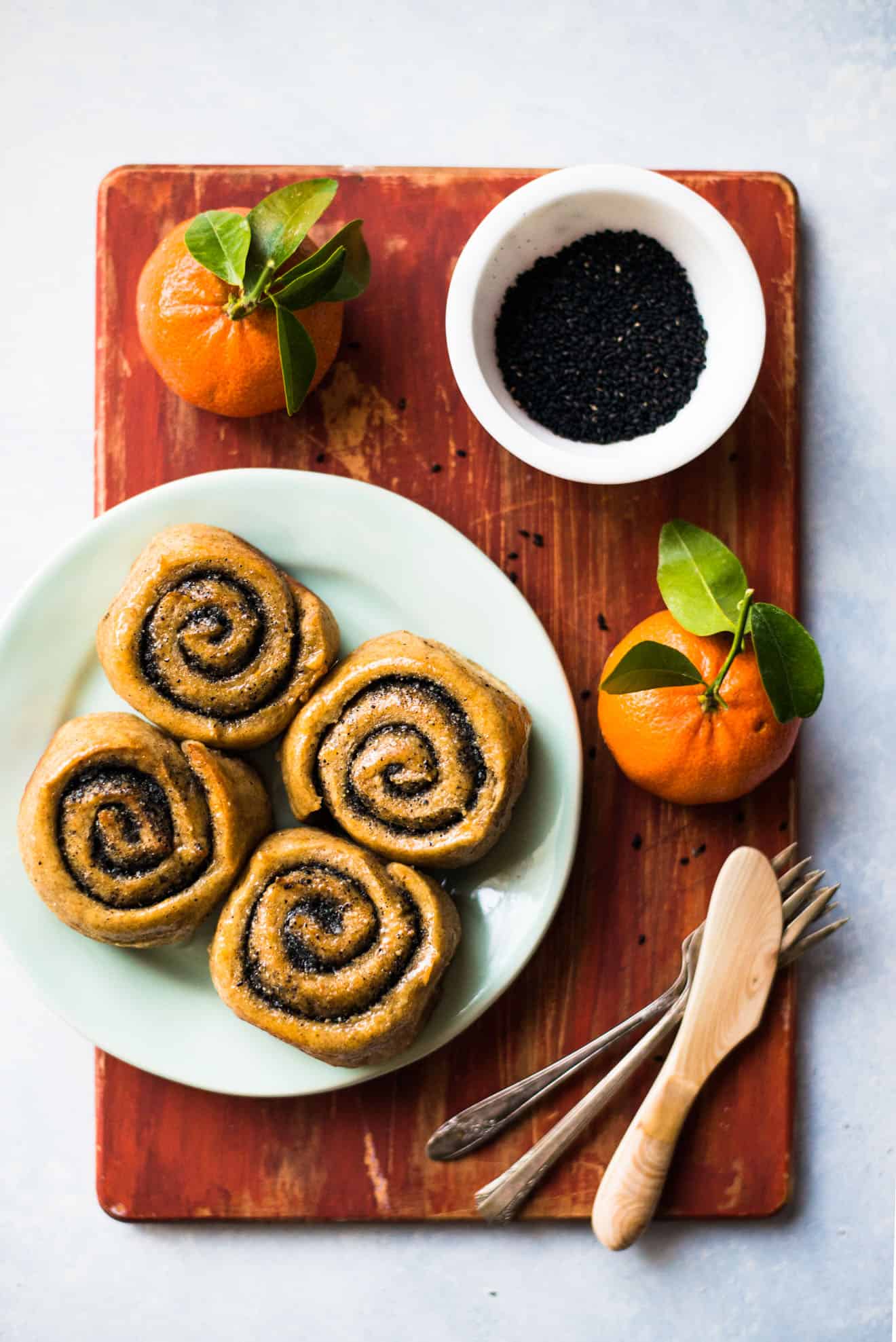 Thank you Bob's Red Mill for sponsoring this post!
Growing up, Chinese New Year was the most anticipated holiday in my family. We all pitched in to clean the house, which was a remarkable feat. Mama Lin decorated every inch of our house with red banners, diamond-shaped fortune signs, red envelopes, peach blossoms and platters of citrus fruit. She also loved to put out a large plate of Chinese sweets on the coffee table in our living room. When no one was looking, I would sneak a few pieces of candied winter melon or lotus root into the bedroom. I didn't want everyone to know what I was up to.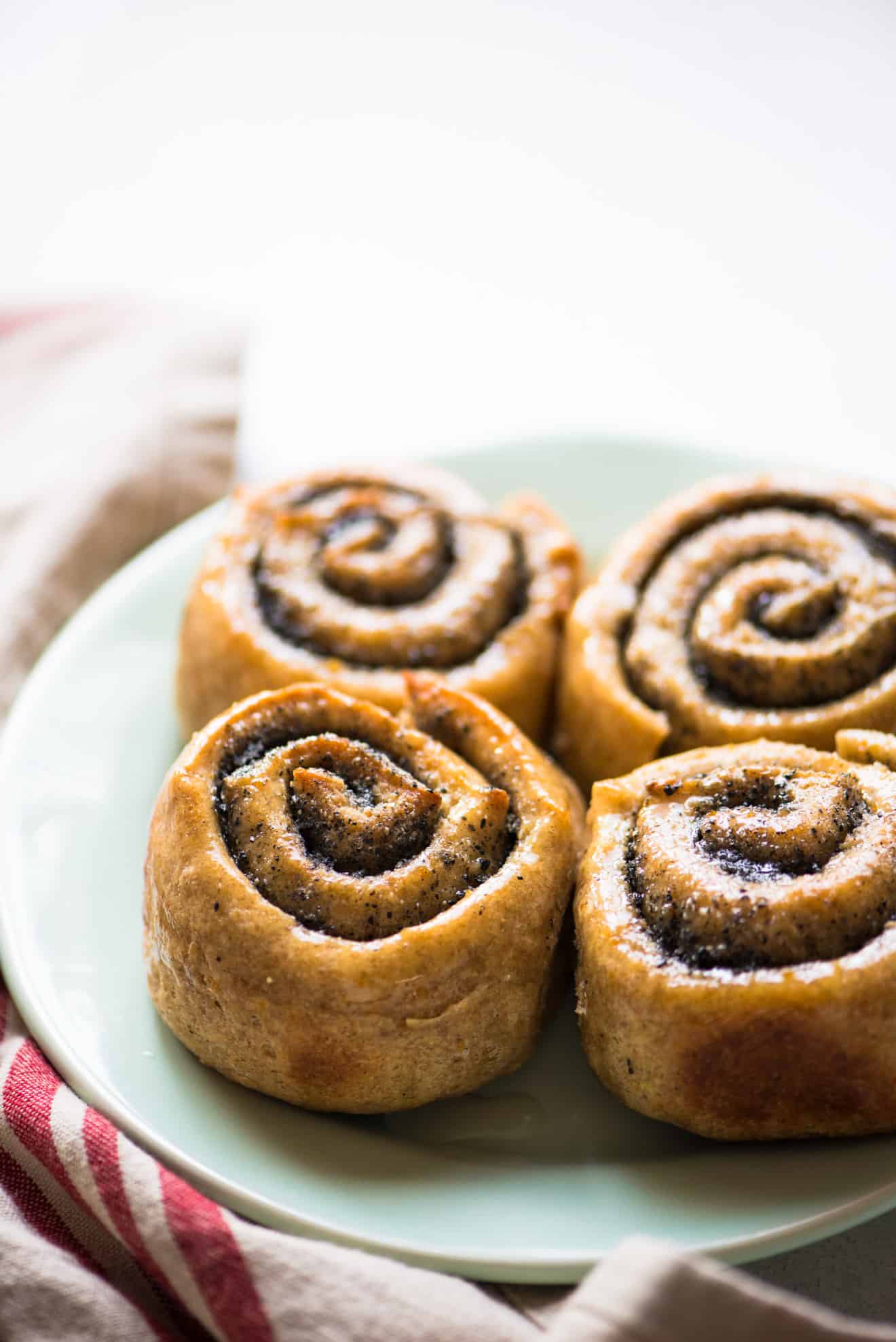 Every year, Mama Lin makes a special black sesame treat: glutinous rice dumplings filled with a sweet black sesame and peanut paste. I haven't quite gotten the hang of her dumplings yet, but I hope to be able to master her recipe soon!
These rye rolls with black sesame are an homage to Mama Lin's black sesame dumplings. The dough is made with a mixture of Bob's Red Mill's unbleached white all-purpose flour and dark rye flour. When I first made these rolls with all-purpose flour alone, I felt that there was something lacking in flavor. The rye flour gives the dough a more complex, heartier taste. I LOVE how fluffy the rolls turned out with that flour combination!
I tried using as little sugar and vegan butter as possible for these rolls. If you want rolls that are less sweet, I would skip the glaze.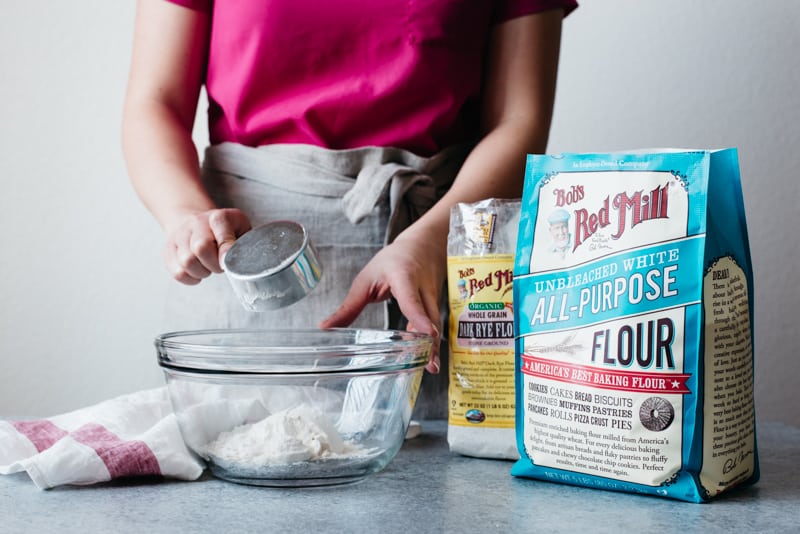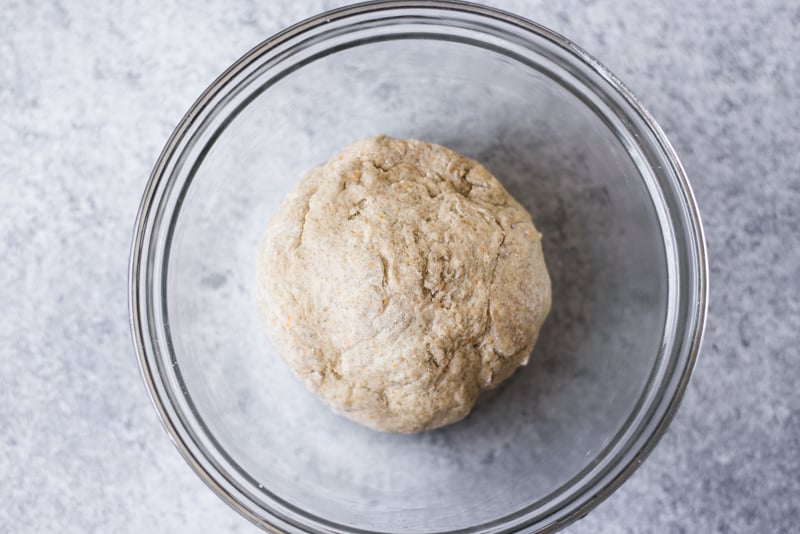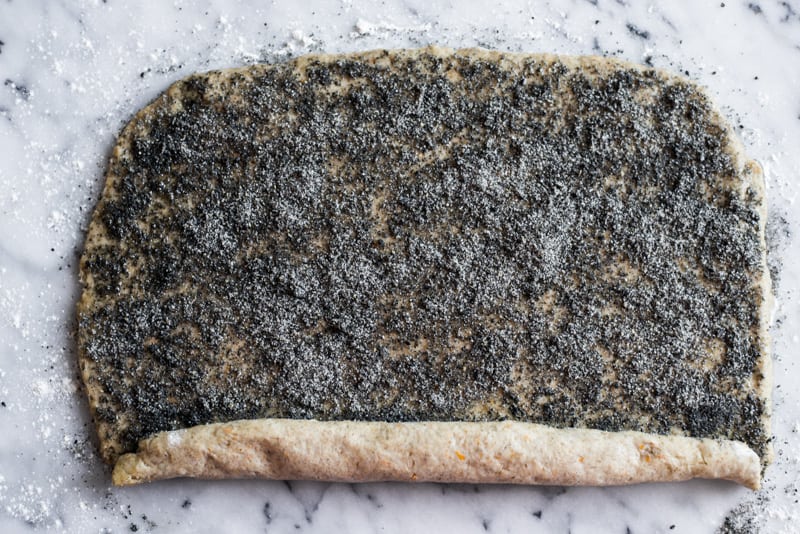 MASTERING MY MISTAKES / COOKING NOTES
Using active dry yeast: I mention in the beginning of the instructions that the heated almond milk and buttery spread mixture should between 100 to 110 degrees F (38 to 43 degrees C). You don't want the liquid to be any hotter than that because it will kill the yeast.
Letting the dough rise: Because of the rye flour in the dough, it won't rise as much as dough made completely with all-purpose flour. Nonetheless, the dough should just about double in size after you let it sit in a warm area for an hour. If the dough still doesn't rise after an hour, set it above a heated oven for about 20 to 30 minutes.
Cinnamon roll variation: You can also make these into cinnamon rolls! Mix 1 1/2 teaspoons of ground cinnamon with 3 tablespoons of cane sugar for the filling. I also like to add 1/4 teaspoon of cinnamon to the glaze, which gives the rolls more cinnamon flavor.
Substitutions: If dark rye flour is difficult for you to find, you can swap the rye flour for another cup of all-purpose flour.
More orange flavor: You can substitute the almond milk in the icing for a tablespoon of orange juice instead. This will give the rolls more orange flavor.
Leftover rolls: The rolls keep at room temperature for a day or two (if they last that long). When eating the rolls the next day, I recommend reheating them in the microwave for about 20 seconds on high. Reheating helps soften the rolls.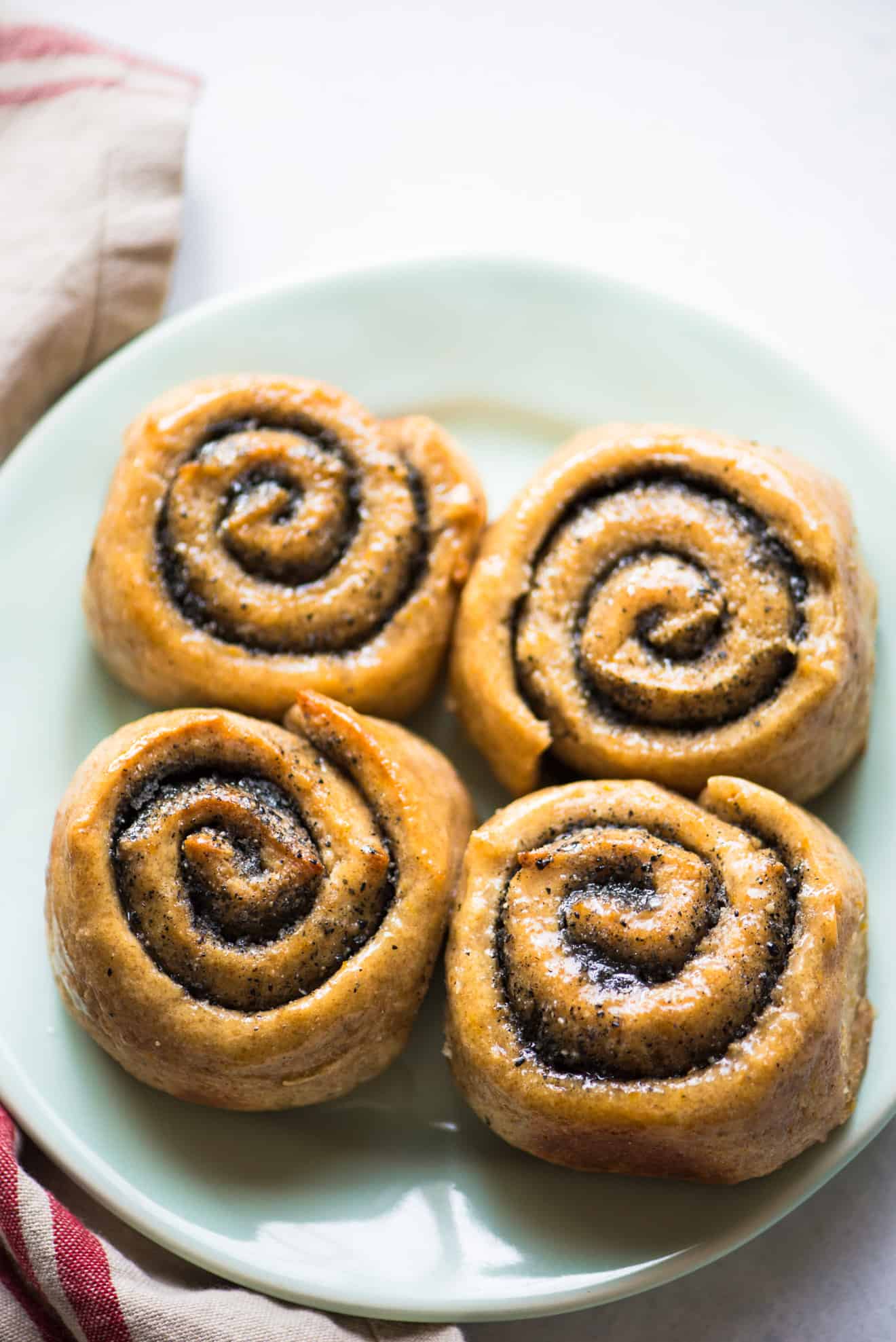 Vegan Black Sesame Rye Rolls with Orange
These vegan black sesame rye rolls are great for gatherings. You can also make a cinnamon version of this by substituting the black sesame for 1 1/2 teaspoons of ground cinnamon. I also recommend adding 1/4 teaspoon of cinnamon to the glaze. 
Ingredients
Dough
1

cup

(240ml) almond milk (soy milk works also)

3

tablespoons

vegan buttery spread

1

packet active dry yeast

,

about 2 1/4 teaspoons

3

tablespoons

cane sugar

1/8

teaspoon

salt

zest of 1 orange

,

about 2 teaspoons

1 1/2

cups

(205g) unbleached white all-purpose flour

1

cup

(120g) dark rye flour
Filling
3

tablespoons

vegan buttery spread

,

melted

3

tablespoons

roasted black sesame seeds*

3

tablespoons

cane sugar
Glaze
2

tablespoons

powdered

,

or icing sugar

1

tablespoon

almond milk

,

soy milk works also
Greasing Oil/Butter
1

teaspoon

canola or sunflower oil for greasing mixing bowl

1/2

tablespoon

vegan buttery spread for greasing baking pan
Instructions
In a small bowl, heat the almond milk in the microwave, on high, for about 50 seconds to 1 minute. The milk should be warm but not scalding hot. In a separate bowl, melt the vegan buttery spread, on high, for 15-20 seconds. Mix the almond milk and vegan buttery spread in a large bowl. Check the temperature and make sure it is somewhere between 100 to 110 degrees F (38 to 43 degrees C).

Add the yeast to the bowl and let it sit for 10 minutes. The yeast should foam up at the end of 10 minutes. This means that the yeast is active.

Add 3 tablespoons sugar, 1/8 teaspoon salt and the orange zest to the bowl.

In a medium bowl, mix the

all-purpose

and

rye flours

together. Add 1 cup of flour to the wet ingredients and stir with a wooden spoon. Continue adding the flour, 1/2 cup at a time, and stir. The dough will get sticky. Once you add the last 1/2 cup of flour, use your hands to mix and knead the remaining flour to the dough. Knead the dough until you get a ball that is not too sticky on the outside, about 1 minute. If the dough is still sticky, add more all-purpose flour, 1 tablespoon at a time.

Wipe down the medium bowl. Grease it with 1 teaspoon of oil, and place the dough inside. Cover the bowl with a damp towel and set it in a warm area for an hour to rise.

While the dough is resting, prepare the filling. Add 3 tablespoons of black sesame seeds into a coffee or spice grinder and pulse until the sesame seeds are ground into a powder, about 15 pulses. Be careful not to overmix the seeds because the oils in the seeds will cause the powder to bind together and form a paste. Mix the black sesame seed powder with 3 tablespoons of sugar.

Once the dough has risen, lightly flour a work surface to roll out the dough. Roll out dough into a 10×14-inch rectangle.

Melt 3 tablespoons of vegan buttery spread in the microwave. Brush half of the melted spread on top of the rolled out dough. Sprinkle the black sesame and sugar on top.

Starting on one of the long (14-inch) ends, roll up the dough into a log. Set the seam side down. Using a sharp knife, cut the dough into 9 pieces, about 1 1/2-inch thick.

 Grease an 8×8-inch square pan with 1/2 tablespoon of the buttery spread. Transfer the rye rolls to the pan and arrange into 3×3 rows. Set them cut side down. The rolls will not fill the pan. Do not worry; they expand in the oven. Brush rolls with remaining melted buttery spread.

Set the rolls on top of the oven as you preheat the oven to 350 degrees F (175 degrees C). Bake rolls for 25 to 30 minutes, until slightly golden brown. Mine were ready in 25 minutes.

In a small bowl, make the glaze. Mix 2 tablespoons of icing sugar with 1 tablespoon of almond milk. Brush glaze on top of the warm rolls. They're best eaten warm.
Notes
NUTRITION INFORMATION: Amount Per Roll: Calories: 297, Total Fat 11g, Saturated Fat: 6g, Sodium: 55mg, Cholesterol: 22mg, Total Carbohydrate: 40g, Dietary Fiber: 5g, Sugar: 11g, Protein 6g
*If you are using raw black sesame seeds, toast them on a pan for about 3 to 4 minutes over medium heat, until they turn fragrant. Stir frequently to keep them from burning. Let the seeds cool for 10 to 15 minutes before grinding.
Did you make this recipe?
Tag @hellolisalin or leave a star rating and comment on the blog!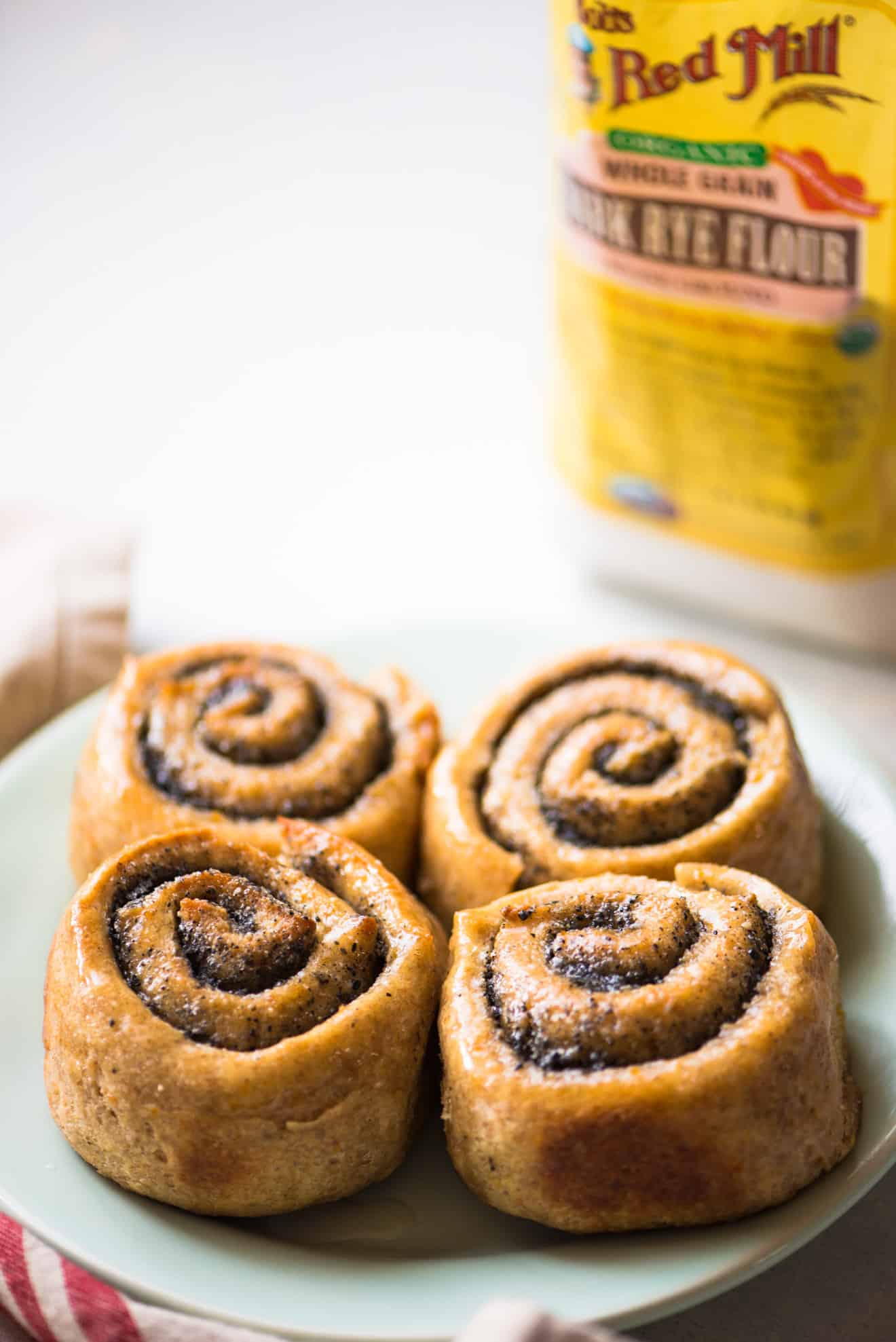 Disclosure: This recipe is sponsored by Bob's Red Mill. Thank you for supporting the brands that keep me inspired in the kitchen! To learn more about Bob's Red Mill's products and recipes, check them out at their website or follow them on Facebook, Instagram, Twitter or Pinterest!