Thank you House Foods for sponsoring this post. I have been cooking with House Foods tofu for a long time, and I am very happy to be sharing a delicious recipe with their tofu!
When I was apartment hunting two years ago, I specifically asked various property managers whether the units were air conditioned. When you've lived through 3 summers in D.C., the AC becomes pretty much your lifeline. The managers always responded with some spiel that the AC was not necessary as the weather didn't get too hot. People, you might have to revisit that position.
It's particularly bad around here when I turn on the oven. The place will turn from being uncomfortably warm to an outright sauna.
These are the times when I chug ice cold glasses of water around the clock.
These are the times when I keep all chocolate in the fridge.
These are the times when I turn to no-bake desserts for a moment of zen.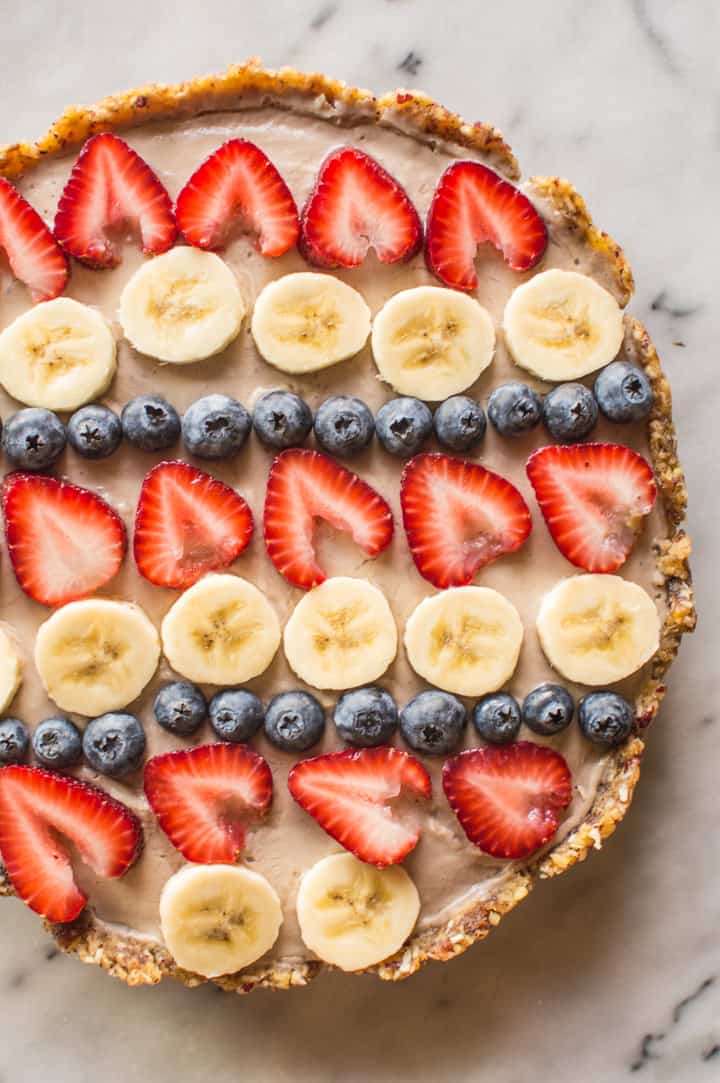 During these trying times, I turn to one of my favorite no-bake desserts—banana cream pie. This pie kept me sane during law school. One bite into its banana goodness, and I was able to forget the drudgery of studying for a moment. I absolutely love this pie, but I have not made it that often because it is not exactly the best thing for my waistline. Until now.
I found a way to make a healthier banana cream pie! My little secret: soft (or silken) tofu. I know, tofu in your pie might sound strange, but trust me on this one. The tofu adds a nice creaminess with significantly less fat than whole milk or heavy cream, not to mention the extra protein boost. And don't worry, you won't be able to taste the tofu in this pie. All you get is rich banana flavor in every bite.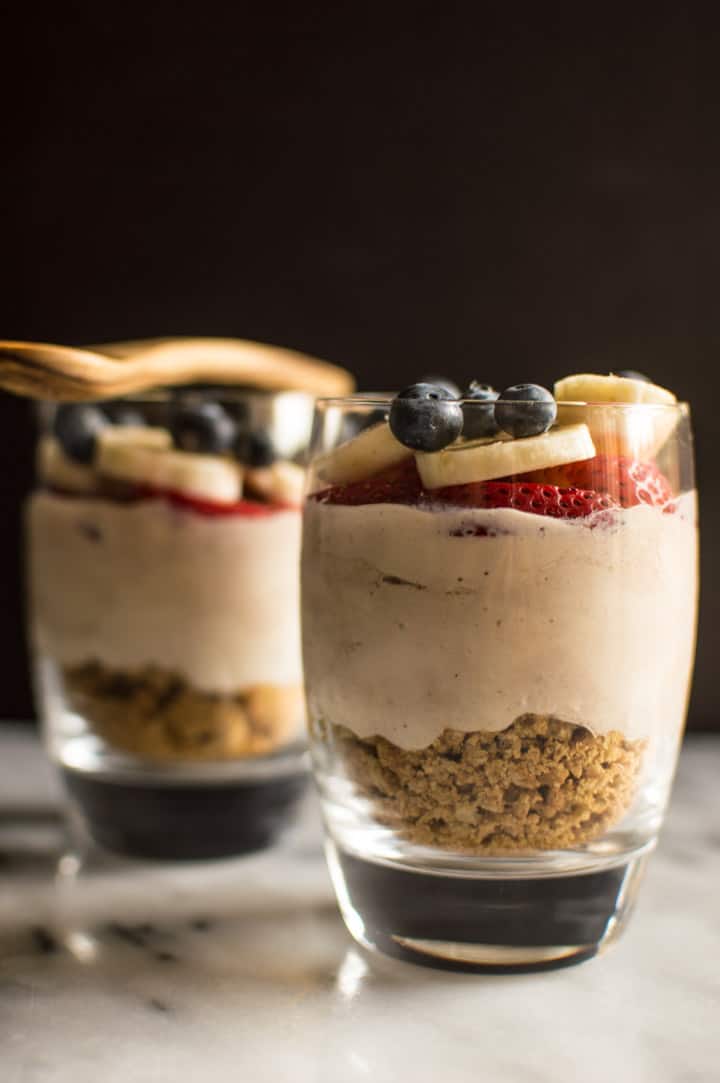 I decided to show you two ways to make this tofu banana cream pie because I couldn't decide which version I prepared more! The first method is more similar to the classic pie, made with a date, walnut, and coconut crust. The alternative is a deconstructed version with a nice layer of crushed cookies or graham crackers at the bottom and banana cream filling on top. Both are easy to make, and both are ridiculously delicious. Be sure to try this with House Foods tofu!
Vegan Tofu Banana Cream Pie
A rich and creamy vegan banana cream pie made healthy with soft tofu! This no-bake treat has minimal prep and great banana flavor. Serves 6.
Ingredients
Banana Cream
1

14-oz (400g) package House Foods soft tofu

2

ripe medium bananas

1/3

cup

(80ml) full-fat coconut milk

1/4

cup

(60ml) maple syrup

2

TBS

coconut oil

,

melted

1

tsp

pure vanilla extract
Pie Crust
1

cup

(175g) dried medjool dates

3/4

cup

(90g) walnut halves

1/4

cup

(20g) shredded unsweetened coconut
Toppings
sliced strawberries

sliced bananas

sliced blueberries
Instructions
BANANA CREAM PIE: Prepare pie crust by pitting the medjool dates and soaking it in hot water for 10 minutes. Crush the walnuts in a food processor and empty into a bowl. Next, blitz the softened medjool dates in the food processor and empty date paste into the bowl with walnuts. Add shredded coconut and mix the dough with your hands. You can also make the dough by adding the walnuts, dates, and coconut in the food processor together, but I usually find larger walnut chunks when using this method. Press the dough onto a 9 or 10-inch pie pan and form a crust.

Prepare the Banana Cream: Mix tofu, bananas, coconut milk, maple syrup, coconut oil, and vanilla in a blender until smooth. Pour banana mixture into the pie crust.

Cover pie with foil and freeze or refrigerate until the pie filling sets. Freeze it for 4 hours before serving or refrigerate for 6 to 7 hours. Garnish pie with strawberries, bananas, and blueberries.

DECONSTRUCTED BANANA CREAM PIE: To make the deconstructed version, blend banana cream ingredients together. Freeze cream for 2 hours. When you're ready to serve, add crushed graham crackers to the bottom of a glass or bowl. Spoon the banana cream on top. Add strawberries, bananas, and blueberries for garnish.

Refrigerate leftovers in an airtight container. You'll want to finish leftovers in the next day or two.
Notes
1. Adapted from Minimalist Baker's Vegan Banana Cream Pie recipe. [br]2. You may notice that the color of the banana cream changes once it is refrigerated or frozen. That color change naturally occurs when blended bananas are not consumed immediately.
Did you make this recipe?
Tag @hellolisalin or leave a star rating and comment on the blog!