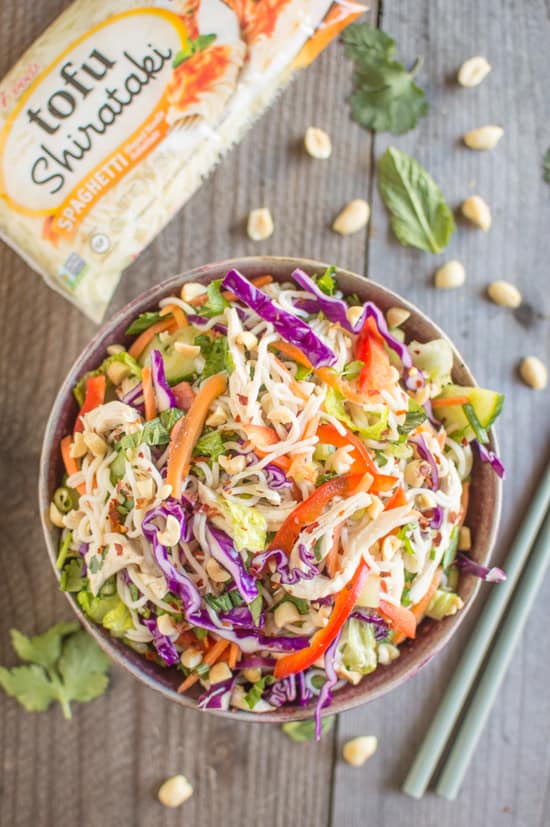 Thank you House Foods for sponsoring this post! Having cooked with House Foods' Tofu Shirataki noodles for a while now, I can't wait to share this recipe with you!
Please don't judge me, but I always get a bit defensive when people tell me that they hate tofu. I suppose I should let you know that I've been raised on all the soy things (including stinky tofu), but I think you knew that about me already. So, when someone tells me that they hate tofu, one of the fundamental building blocks of my very existence, I take those remarks like a personal attack. Okay, I maybe I'm being a tad dramatic. Only a tad though. But come on, how can you not like tofu?
When I ask these people why they hate tofu, they tell me it's because they find tofu boring. "It's nothing but a big white block." Rawr, that can't be further from the truth! (<– Raptor "rawr" absolutely warranted in this context). There's soooo many other ways to enjoy tofu, and in honor of National Soyfoods Month, I partnered up with House Foods to show you how to think outside the (tofu) block.
Here's some of my favorite ways to enjoy tofu: fried, braised or baked tofu, and shirataki style.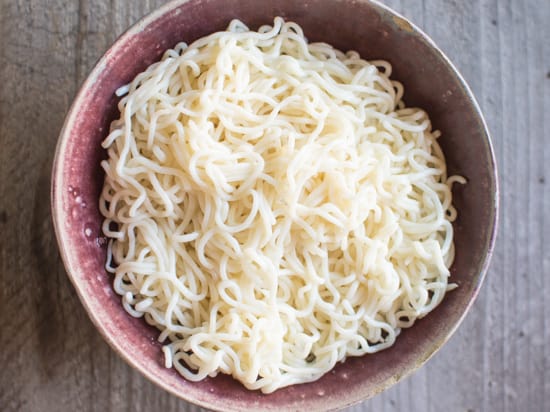 Tofu Shirataki is a variation of the traditional Japanese shirataki noodles that are made from Asian yams. (For all you food nerds out there, the literal translation of shirataki means "white waterfall," a good description of how the noodles look, quite frankly.) Instead of using yams only, House Foods' Tofu Shirataki—you guessed it—is made with tofu, too. Well, aren't you a smart one! In terms of texture, the noodles are crisper and chewier than your standard rice noodles.
I've started cooking with Tofu Shirataki over a year ago and have thrown it into stir fries and tossed it with pasta or pesto sauce with delicious results. Bet you didn't think you would eat tofu noodles with pesto sauce! I sure as heck didn't.
A few weeks ago, I made this Vietnamese Tofu Shirataki salad that I just couldn't stop eating. I was slurping on this bowl of goodness so hard that I was told to pipe down a little. No shame. I mixed in some red cabbage, lettuce, cucumber, carrots, and red pepper this bowl, but you can always customize the recipe however you want. Make it seasonal by adding asparagus, peas, zucchini, or even some strawberries! Pump up the volume on the spices! Add some bacon! Maybe…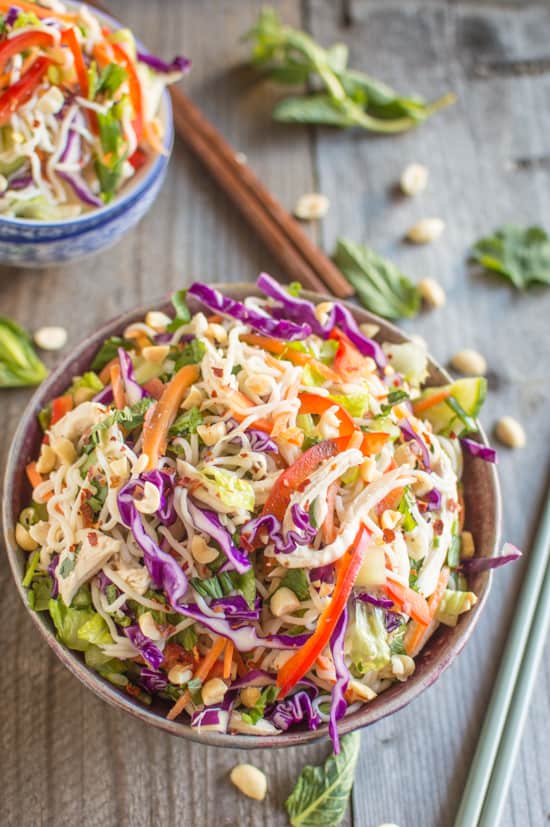 In case you're wondering, Tofu Shirataki is just 10 calories and 3 grams of carbs. I've been baking so many cakes and cookies around here lately that my body desperately needed some low carb meals to balance out my diet. I can't tell you how many of these salads I've slurped up lately.
I think we know by now why tofu deserves another shot just based on taste alone, but soy is very healthy for us too! Soy found in tofu and Tofu Shirataki has no cholesterol, is low in saturated fat and a great source of plant-based protein. Talk about a win-win for all of us!
So are you ready to hop on this tofu adventure with me?
Chicken and Tofu Shirataki Vietnamese Salad
Serves 2 to 3.
Ingredients
Salad
2

8-oz (225g) House Foods Tofu Shirataki noodles packages (I used the spaghetti shape)

1

cup

(135g) shredded cooked chicken breast

1

cup

(65g) shredded red cabbage

1

cup

(40g) shredded lettuce

1/2

English cucumber

,

thinly sliced into half moons

1/2

cup

shredded carrots

,

carrot sliced to matchsticks

2

stalks of green onion

,

thinly sliced

1/2

large red pepper

,

thinly sliced
Salad Dressing
4

TBS

fish sauce

4

tsp

light brown sugar

4

tsp

lemon juice

1 1/2

tsp

sesame oil
Garnish
chopped fresh cilantro

chopped fresh basil

chopped peanuts

red pepper flakes
Instructions
In a large bowl, mix all the salad ingredients together. Set aside.

Whisk together the dressing ingredients until the sugar is dissolved. Toss the dressing with the salad.

Top dressing with chopped cilantro, basil, peanuts, and red pepper flakes. Serve immediately.
Did you make this recipe?
Tag @hellolisalin or leave a star rating and comment on the blog!