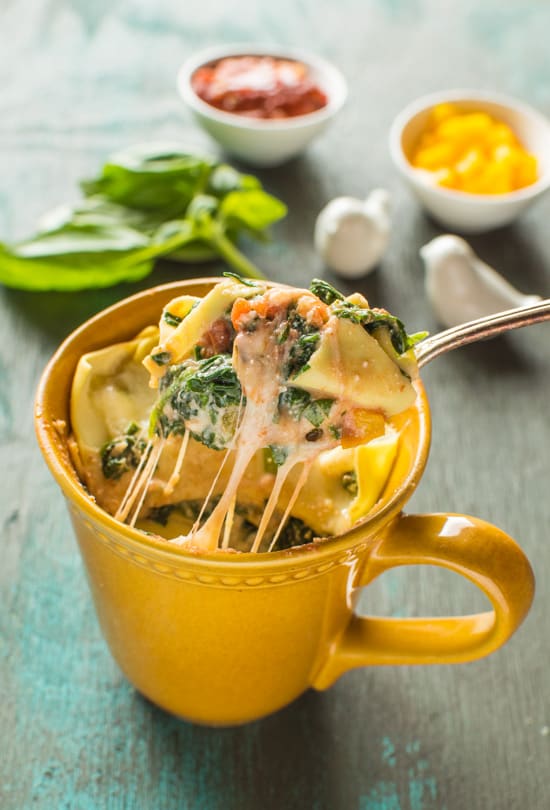 We've all made food decisions that we regret. Most of mine happened during college. Finals time was a particularly dark period for me, literally and figuratively. My body switched to nocturnal mode, which meant late night studying/paper writing and energy drinks. On those nights, I was awake but not alert. As in, I usually had to read a sentence four times before processing what I meant. I don't miss those days.
There was one thing that I always kept stocked in my freezer to get me through finals: Stouffer's single-serving frozen lasagna. There was something about that cheesy, high sodium, carbohydrate-rich box of lasagna that brought comfort and a brief moment of solace in my hectic study schedule. I loved Stouffer's lasagna so much that I even overlooked all the neon orange grease stains that it left on my books.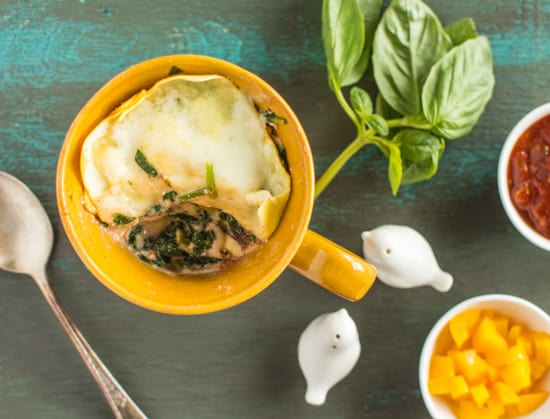 Don't worry, you won't find frozen lasagna within my quarters anymore, but I do crave lasagna a lot. It's that melty cheese that always gets me. But the only problem is that lasagna takes a long time to make, and my appetite has no time to wait. That's where this lasagna comes in. Lasagna in a microwave. Get ready for some major yums.
The key to making lasagna in a mug is fresh lasagna sheets. They cut the cooking time significantly compared to the dry version. I found these lasagna sheets in the refrigerated pasta section of my supermarket, and one package goes a long way. This recipe is also incredibly versatile, so feel free to play around with the ingredients. I tried this with some collard greens, and it worked like a charm. If you want to add some ground meat, make sure it is fully cooked first!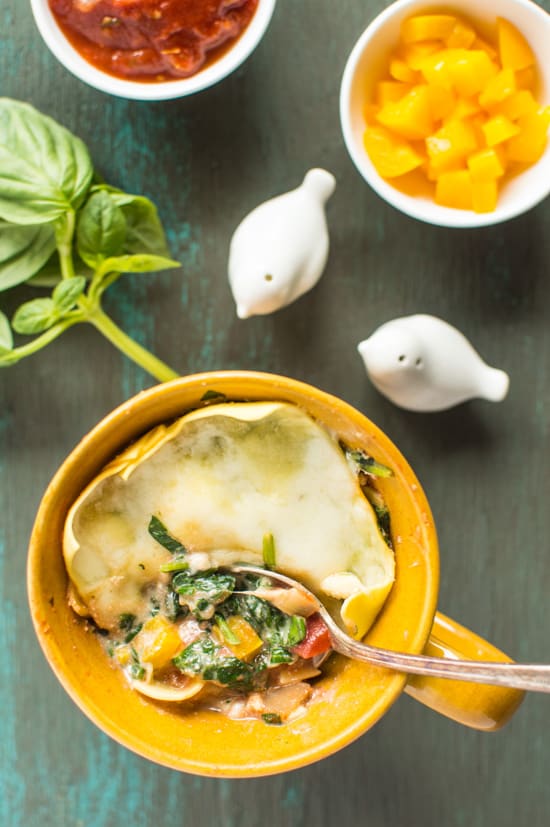 Spinach Ricotta Lasagna in a Mug
Serves 1
Ingredients
1/2

fresh lasagna sheet

2 1/2

cups

(75g) baby spinach, roughly chopped

1/4

medium yellow bell pepper

,

diced

1/4

cup

part-skim ricotta cheese

3

large basil leaves

,

finely chopped (optional)

1/4

tsp

kosher salt

1/8

tsp

granulated garlic

6

TBS

pasta sauce or tomato sauce

1/3

cup

shredded part-skim mozzarella
Instructions
Cut the lasagna sheet in half, and cut each strip in half again. Place the pasta sheets into a bowl, and pour very hot water in it, until it covers all the pieces. I used boiled hot water from my electric kettle. Set the pasta pieces aside.

Chop the spinach and place it in a microwave-safe bowl. Cover the top with plastic wrap and poke a few holes in it for ventilation. Microwave for 1 minute. Take out the spinach and let it rest.

Grate the mozzarella while you wait for the spinach to cool.

Mix the spinach with the ricotta, pepper, granulated garlic, and salt. Set mixture aside.

Pour 2 tablespoons of pasta sauce at the bottom of the mug. Top with a piece of softened pasta sheet. Add some spinach mixture, 2 tablespoons of mozzarella, and a pasta sheet. Continue building the lasagna, ending with a layer of pasta sheet at the top. Sprinkle mozzarella over the pasta.

Microwave everything for 1 minute 30 seconds. Check to make sure that the mozzarella is melted. If it isn't, continue microwaving at 15-second intervals until the cheese is fully melted.

Serve immediately.
Notes
1. Loosely adapted from Meal in A Mug.
2. This recipe also works with collard greens instead of spinach. It tastes great, but do note that the collards will have less moisture than spinach.
Did you make this recipe?
Tag @hellolisalin or leave a star rating and comment on the blog!
Looking for more microwave recipes in a mug?