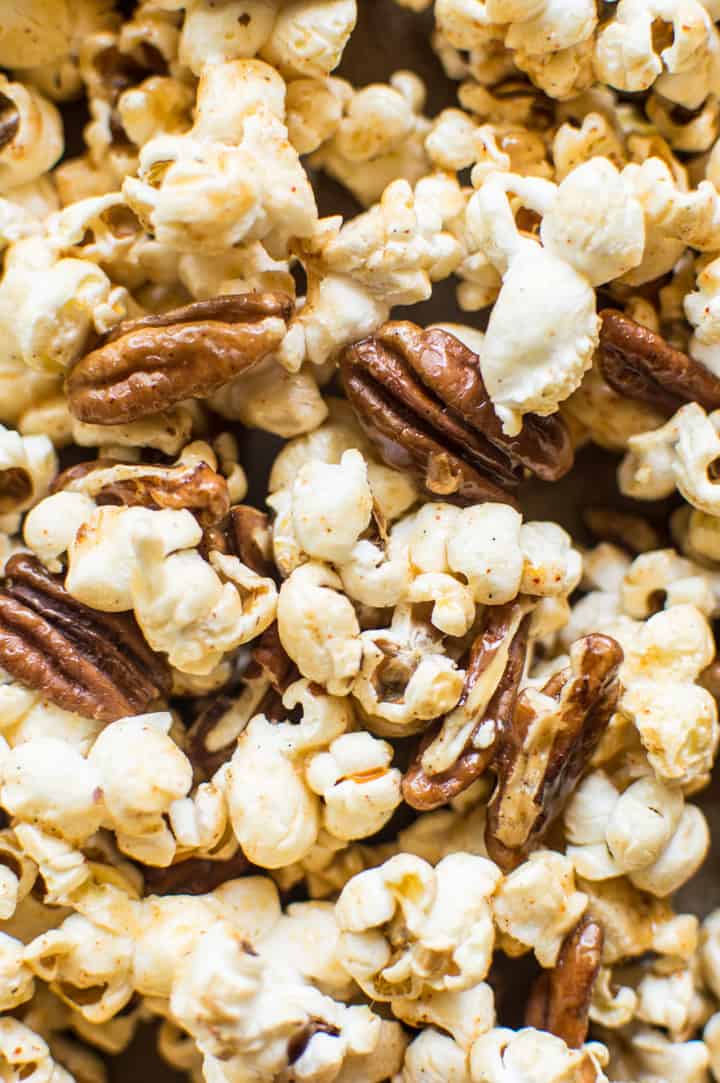 For almost a year now, I have been thinking about giving the blog a facelift, to make it more . . . me. I tried tweaking the blog design myself. On one occasion, I got the white screen of death and absolutely freaked out. Thank goodness for website backups because it totally saved my behind. But it wasn't long before I realized that I couldn't do this by myself. I can read and do puzzles, but come on, web design?! Thus began my looong search for a designer. Nothing about blogging is ever easy.
At first, I paid a group of designers for work that I didn't particularly like. Fail. It was around this time that I stumbled upon Lindsay's work on Chard in Charge and fell in love with her clean, minimalist designs. I had to work with her. Lindsay has done an AMAZING job making my vision come to life. I can't tell you how many e-mails I've sent her about things I want on my blog (like the beautiful slider on my home page!!), and she would always give me great feedback on what works and what doesn't. Seriously, I can't be more happy with the new site.
In addition to the new look, I have also added a few pages on the site, such as FAQs, Press, and Resources. I plan to keep expanding the Resources page over the next few months. I know that a lot of my readers are also fellow food bloggers and I thought it would be a great idea to share great blogging resources that I come across.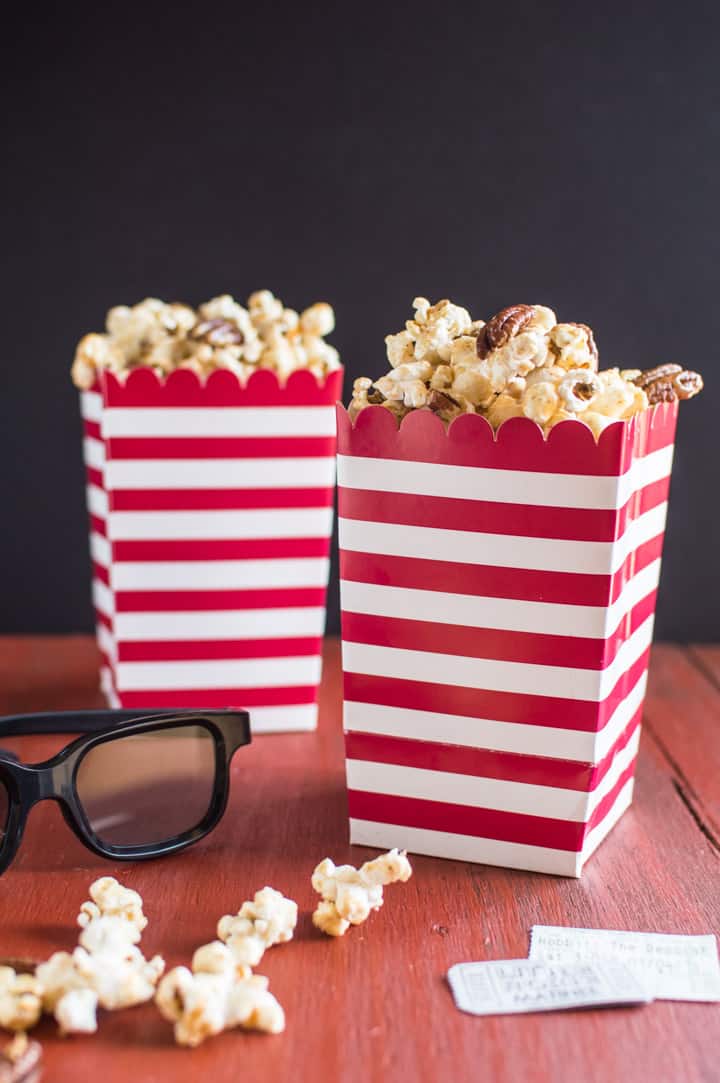 So now, onto the popcorn. I made this for a movie night with my friends last weekend, when we watched a documentary called 9-Man. The documentary chronicles street-style volleyball in Chinatowns across the U.S. and it was thoroughly enjoyable. It's only 90 minutes long and worth watching if you're looking for a movie! Of course, watching a movie just isn't right without popcorn, so I brought these treats along.
The bourbon popcorn idea came from some freebies I got from a conference last month in Portland. The original version was made with corn syrup and was a touch too sweet for my taste, so I went looking for a healthier version. This recipe is loosely based on the healthy caramel corn on Lauren's Latest with these tweaks: added bourbon, paprika, swapped maple syrup for brown rice syrup and added a TON of pecans.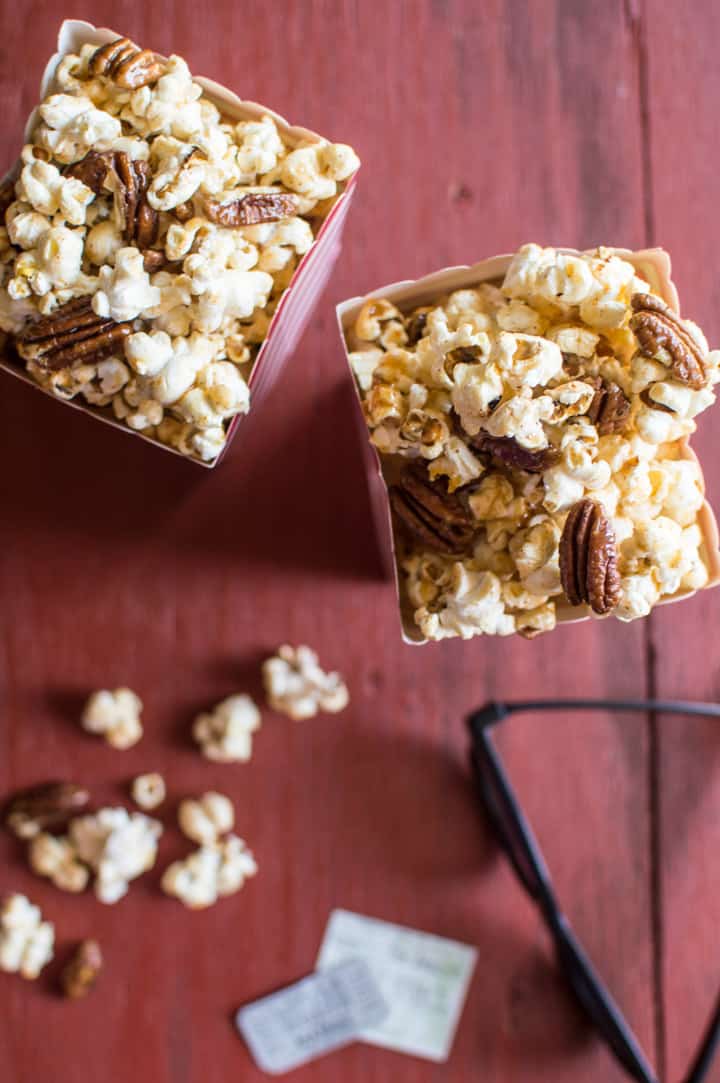 Have you ever tried brown rice syrup before? I first heard about it from Pinch & Swirl and have been using it to make my chewy granola bars for a year now. Brown rice syrup is thick and sticky—a bit like honey—and is perfect for making a healthier caramel. You can usually find brown rice syrup in the same section section as honey, maple syrup, and other liquid sweeteners.
COOKING NOTES:
Brown rice syrup hard to find? Don't worry, you can make this with maple syrup too! The taste and texture of the final snack won't be quite like your typical caramel corn, but it's still delicious.
Don't have vanilla bean paste? You can substitute the paste for 1 tablespoon of vanilla extract.
This popcorn is a bit sticky. I learned a great trick from Recipe Runner on how to make it less sticky though. Just bake the popcorn at 325 degrees F (160 degrees C) for 5 to 7 minutes.
This popcorn was a big hit during our movie night. One of my friends even suggested that I sell it. Yea, it's that good!
Be sure to tag me @heatlhynibs on Twitter or @healthynibblesandbits on Instagram if you make this popcorn!
Bourbon Paprika Pecan Popcorn
This sweet and savory popcorn has rich caramel flavor, a touch of bourbon, smoked paprika, and a generous handful of toasted pecans. It's the perfect gluten-free and vegan snack! Serves 5 to 6.
Ingredients
1 1/4

cups

(140g) pecan halves

3

TBS

coconut oil

,

divided

1/2

cup

(115g) popcorn kernels

1/3

cup

(80ml) brown rice syrup

1/2

tsp

sea salt

1/2

tsp

smoked paprika

2

tsp

vanilla bean paste or 1 TBS vanilla extract

,

I used Singing Dog

1

TBS

+ 1 tsp bourbon whisky

,

I used Maker's Mark
Instructions
TOAST PECANS: Preheat oven to 300 degrees F (150 degrees C). Line a baking sheet with parchment paper or a silicone mat. Spread the pecans on top and bake for 10 minutes. Once the pecans are done, increase the oven temperature to 325 degrees F (160 degrees C).

POP POPCORN: Melt a tablespoon of coconut oil in a deep sauté pan over medium-high heat. Once the coconut oil has fully melted, add the popcorn kernels and cover the pan with a lid. Wait for the popcorn to start popping. Shake the pan every 20 seconds or so to prevent the kernels from burning. The popcorn is ready when there is about a 2-second gap between kernels popping. Turn off the heat but keep the lid on. A few kernels will continue to pop over the next minute.

PREPARE THE SAUCE: In a saucepan over medium-high heat, melt 2 tablespoons of coconut oil with the brown rice syrup and salt until it boils. Turn off the heat and mix in the paprika, vanilla bean paste, and bourbon.

MIX AND BAKE POPCORN: Line a large baking sheet with parchment paper or a silicone mat. Set aside. Transfer the popcorn into a big mixing bowl with your hands. Don't pour straight from the pan because unpopped kernels will inevitably fall through. Add the pecans and caramel sauce and stir. The caramel sauce is VERY sticky, so I used my hands to get all the popcorn covered in caramel sauce. Pour all the mixed popcorn onto the prepared baking sheet and bake for 5 to 7 minutes. Let the popcorn cool and enjoy! Best served immediately. Store leftovers in an airtight container for 2 to 3 days.
Notes
1. Loosely adapted from the Healthy Caramel Corn recipe from Lauren's Latest.[br][br]2. If you don't have brown rice syrup, use maple syrup, honey, or agave. [br][br]3. If you don't have vanilla bean paste, just use 1 tablespoon of pure vanilla extract.
Did you make this recipe?
Tag @hellolisalin or leave a star rating and comment on the blog!