When I sat down to reflect about my eating habits, I came up with two things that I want to work on this month:
Eat less processed foods; and
Be mindful of how much I snack.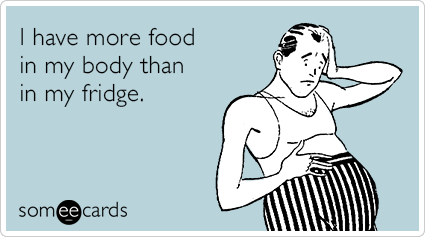 Because I cook nearly all of my meals, I don't eat too much processed foods in general. Nevertheless, those sneaky handfuls of cereal, granola, chocolate covered biscuits, snap pea crisps, and rice crackers manage to find their way into my diet. Oh, and of course, there's always chocolate. Not all of these foods are inherently bad for me, but I seem to eat more than my fair share at a time.
On a related note, I tend to eat a lot of processed foods by snacking mindlessly. Often times, I have an open bag of granola or box of cereal right next to my computer while I graze and type away. I usually start eating when I feel a bit hungry, but I never seem to find the "off" switch quick enough. Does anyone else know this feeling?
For the coming week, I will focus on these two things. First, I will work on eating unprocessed foods for most of the day and give myself room for a piece or two of chocolate. Let's face it, a day without chocolate is a day wasted. I learned that mantra from a Dove chocolate wrapper, and I find much merit in the statement. Second, I will snack on fresh fruits and nuts or home-cooked snacks and be more mindful of how my body feels when I am snacking. Most importantly, I should measure out my snacks before diving in. I plan to track my progress on the blog over the week so that you can see how I am doing. I make no guarantees that I will succeed, but I can promise that I will try my best!
To kick off this week of my Cooking Cure journey, I decided to try out a muffin recipe. I recently saw a post about strawberry banana bread on Fiterazzi, and I was quite mesmerized by how beautiful the bread looked. I decided to adapt this recipe into muffins and added more fruity goodness to it. The result: "bangoberry muffins" – banana, mango, and strawberry muffins. I admit, the name is a bit cheesy, but it sounded alright in my head!
"Bangoberry" Muffins
Ingredients
2

overripe bananas

1

cup

mangoes

,

fresh or frozen

1

cup

strawberries

2

eggs

1

cup

whole wheat pastry flour

1/3

cup

coconut flour

1/4

cup

sugar

1/3

cup

unsweetened applesauce

1/4

cup

canola oil

3

TBS

yogurt

,

any kind

2

tsp

pure vanilla extract

1

tsp

cinnamon

1

tsp

baking powder

1/2

tsp

baking soda

1/4

tsp

sea salt
Instructions
Preheat oven to 350ºF. Either line a 12-cup muffin pan with paper liners or grease the cups with oil or cooking spray.

If you are using frozen fruit, make sure to thaw them out first. Chop the mangoes into small cubes. Pick out two or three strawberries and slice them so that you end up with 12 slices. These will be used to top the muffins. Chop the remaining strawberries into small pieces.

Mash the bananas in a medium-sized mixing bowl. Add the eggs, canola oil, applesauce, and yogurt into the bowl and mix well.

In a separate bowl, mix the dry ingredients together. Gradually pour the dry ingredients into the bowl with the wet ingredients and mix.

Fold in the chopped mangoes and strawberries.

Fill 12 muffin cups with the batter, and top each muffin with the sliced strawberries.

Bake for about 20 to 25 minutes, or until a fork comes out cleanly.
Notes
Inspired by Fiterazzi's "Strawberry Banana Bread" by Yvonne Li
I added coconut flour to the mix because I like the subtle hint of coconut in my muffins. If you do not have coconut flour, just use 1 1/3 cup of whole wheat pastry flour for the recipe.
I used regular cane sugar for the recipe, but you can always use coconut sugar or whatever sweetener you prefer.
Don't forget to thaw frozen fruit before adding them to the batter! Otherwise the muffins will turn very soggy.
Although I didn't add any nuts to the muffins, I'm going to try it with walnuts next time.
Did you make this recipe?
Tag @hellolisalin or leave a star rating and comment on the blog!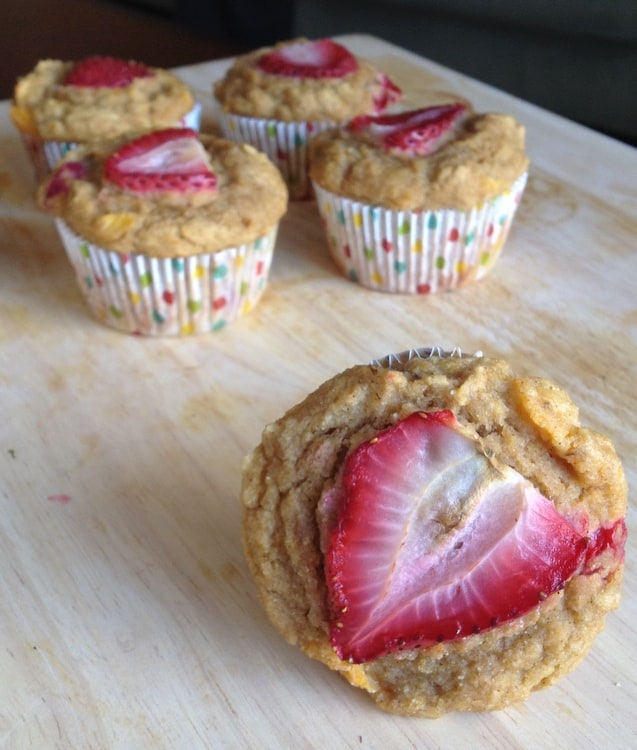 I exercised quite a bit of self restraint to stop myself from eating the entire muffin before taking this shot: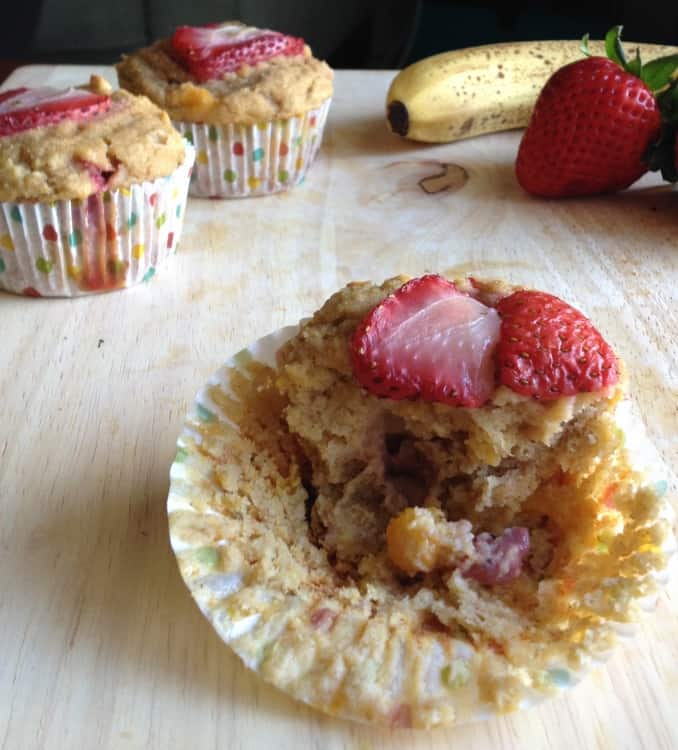 Then, I got a bit carried away with taking photos of these muffins . . .