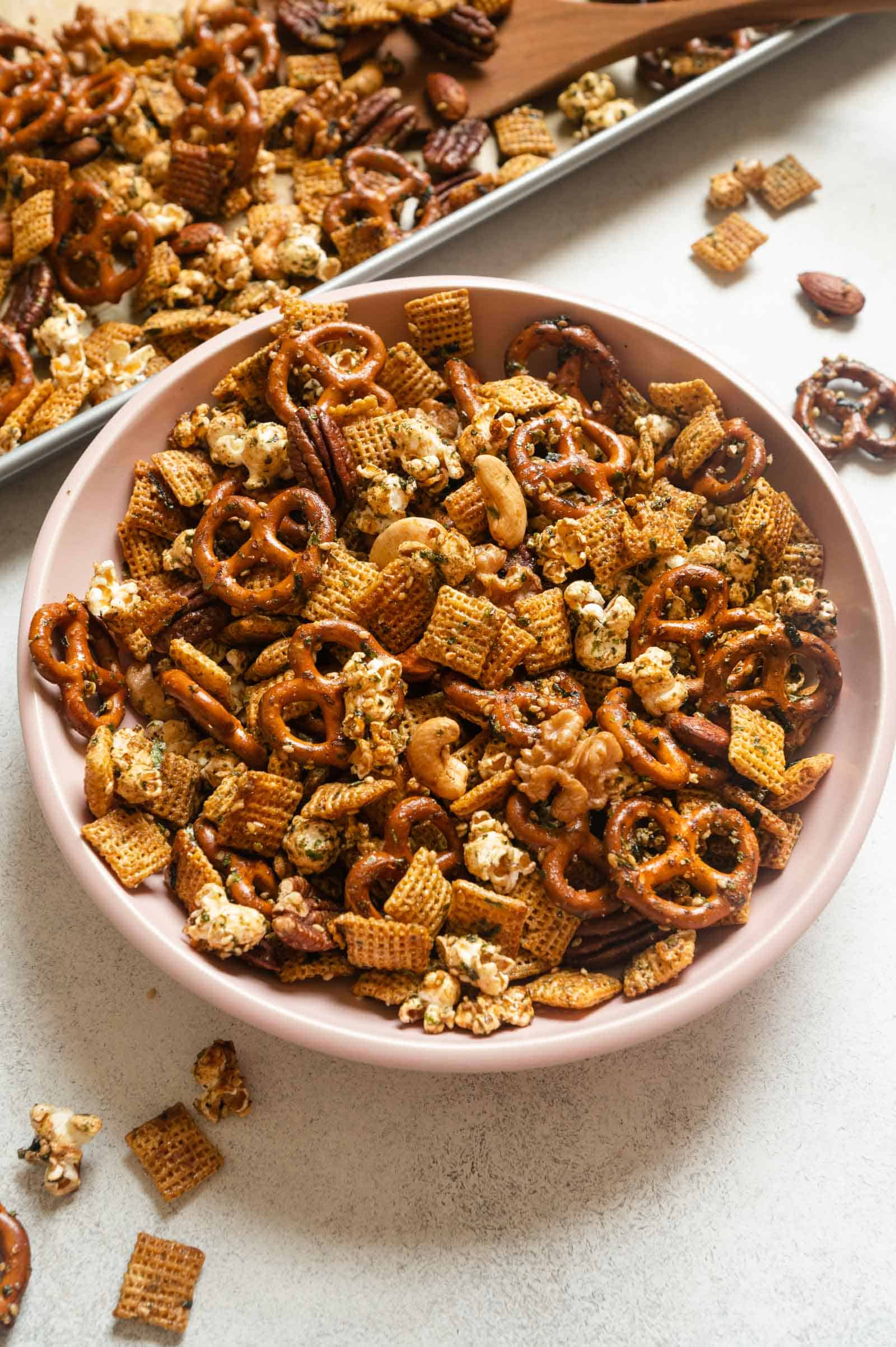 This Browned Butter Furikake Chex Mix recipe was originally published in November 2017. I have updated the post to include more photos and notes about substituting ingredients in the snack mix.
Furikake Chex mix is a delicious snack mix that's covered in a sweet glaze and a Japanese condiment called furikake (ふりかけ). There are many varieties of furikake, but a typical mixture contains toasted chopped seaweed, sesame seeds, sugar, and other seasonings. Often, furikake will also contain dried fish flakes for umami flavor. Furikake is a magical condiment that you can sprinkle over many foods, such as rice, vegetables, fish, and even a sweet Chex mix!
I often prepare furikake Chex mix for large parties because it is easy to make and it's a crowd pleaser. The first time I made the Chex mix for my family, my mom and sister loved it so much that they asked me for the recipe right away! They enjoyed the delicious combination of sweet and savory flavors and the irresistible crunch of the cereal and pretzels. This furikake Chex mix keeps well for a week or two, so they make great gifts as well.
DEVELOPING MY FURIKAKE CHEX MIX RECIPE
USING MAPLE SYRUP INSTEAD OF CORN SYRUP
To make furikake Chex mix, you need to prepare a sweet glaze. When I first learned how to cook this dish, I followed recipes that used a considerable amount of sugar and corn syrup for the glaze. I don't cook with corn syrup often, and I thought it was silly to buy a bottle just to make a batch of Chex mix. Moreover, I found the Chex mix made from those recipes to be a bit too sweet for my tastes.
Over time, I started experimenting with the glaze by cutting out the sugar entirely and replacing corn syrup with maple syrup. I loved the results! The slight hint of caramel flavor in maple syrup works so well for the glaze.
BROWNING THE BUTTER
On a whim, I decided to brown the butter for the glaze instead of simply melting the butter. I thought the malty flavor in the browned butter complimented the maple syrup in the glaze very well and elevated the flavors of the Chex mix overall.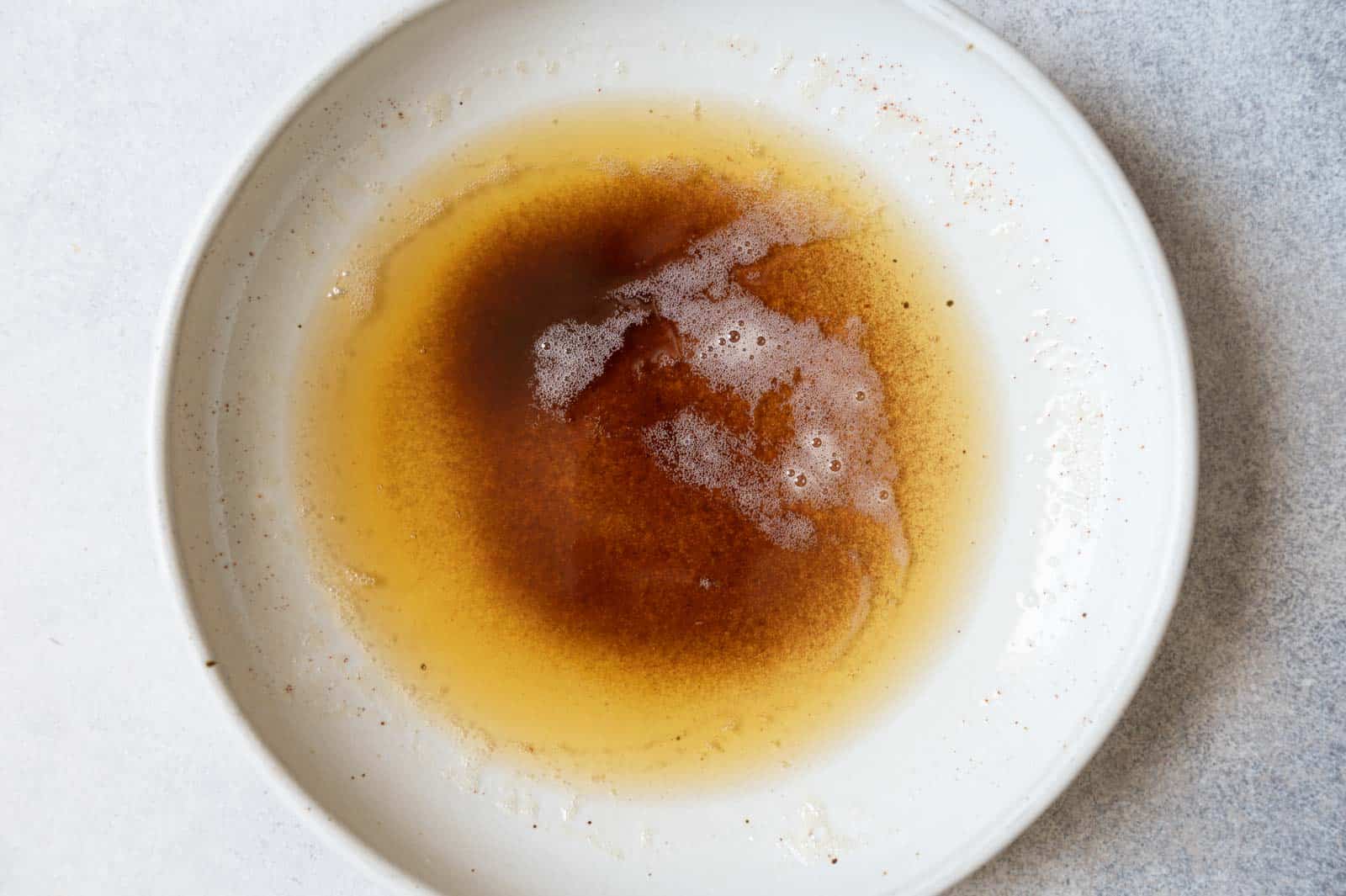 To brown butter, melt the butter in a saucepan over the stove. Keep heating and stirring the melted butter until the milk solids in the butter start to brown. Once the butter starts browning, play close attention to the butter because it can go from brown to burnt very quickly.
Right when the butter starts to go from a caramel brown color to a darker brown (like the color of medium-roast coffee beans), turn off the heat. I like to add the maple syrup to the saucepan right away to prevent the butter from browning further and potentially burn.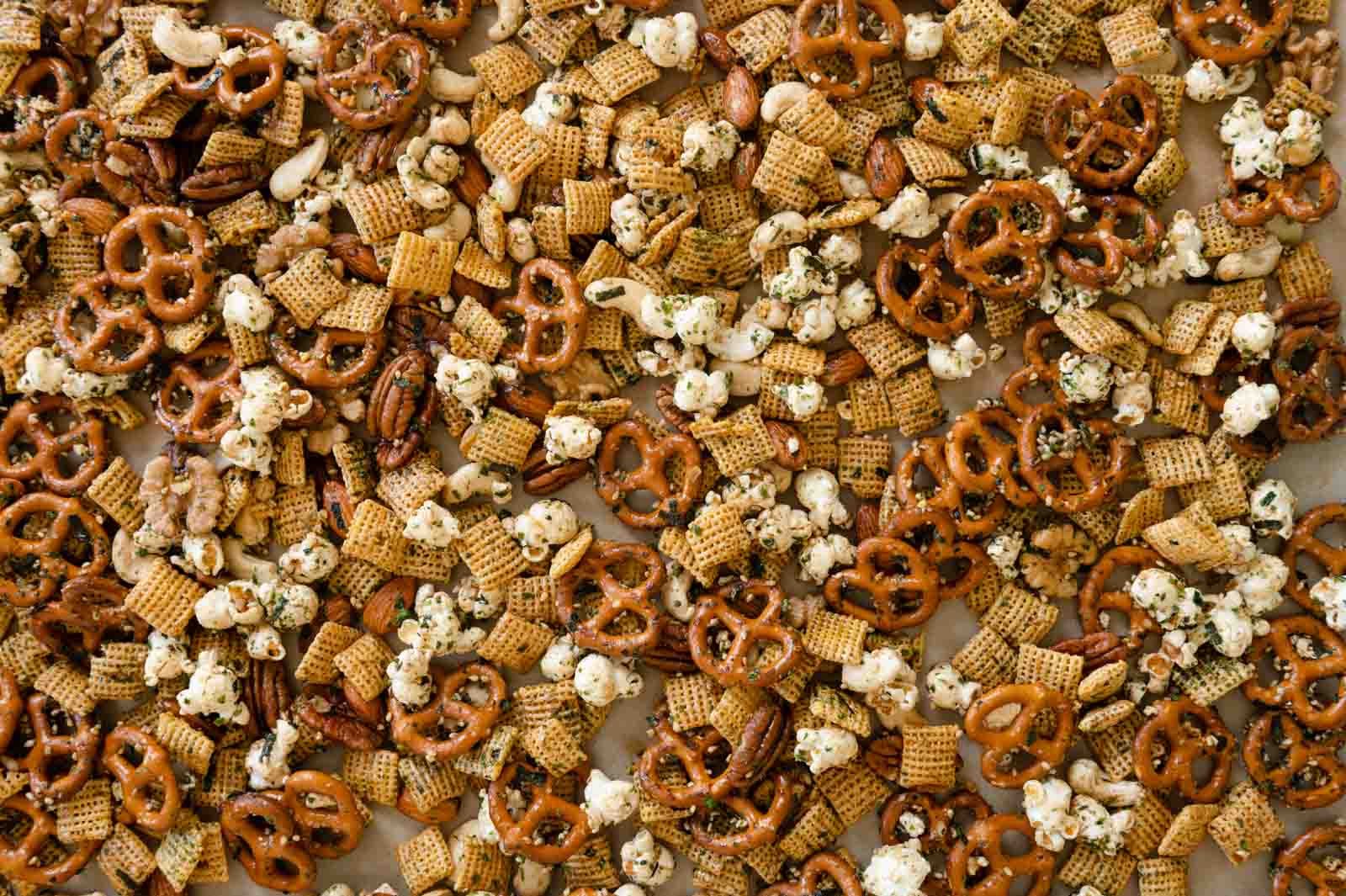 CHEX MIX INGREDIENTS
You can make the Chex mix with any combination of cereal, nuts, and savory snacks that you like. In the original recipe that I published in 2017, I used a combination of corn Chex, pretzels, and mixed nuts (pecans, walnuts, cashews, and almonds). I like to change things up now and again by adding popcorn or Bugles to the mix, which I note in the recipe. I've even seen some people add Honeycomb cereal or Goldfish crackers. Feel free to play around with the ingredients for the snack mix.
BE PATIENT WHEN BAKING THE CHEX MIX
I like to back the furikake Chex mix at 250ºF (120ºC) for 1 hour. I know it's tempting to want to crank up the heat to shorten the baking time but resist the urge to do so! Baking the Chex mix at a lower temperature for a longer period makes the snack mix extra crunchy without burning the sugars.
HOW LONG DOES THE FURIKAKE CHEX MIX KEEP?
This Chex mix will keep for 1 to 2 weeks in an airtight container.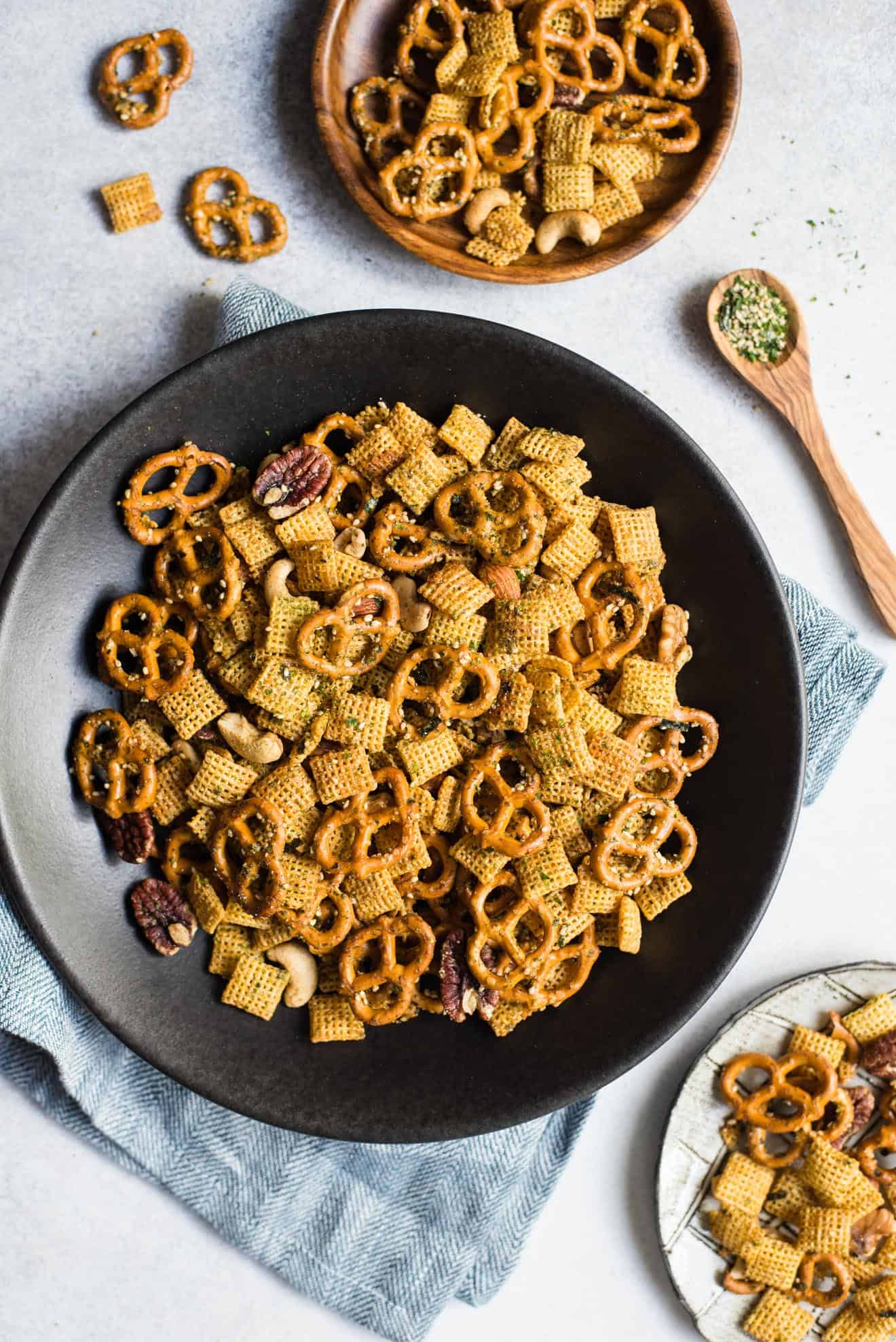 MORE PARTY SNACKS
Browned Butter Furikake Chex Mix
This browned butter Furikake Chex Mix is a mouth-watering, sweet and savory snack that everyone will love. It keeps well in an airtight container for 1 to 2 weeks, so they make great gifts. In my original recipe (published in 2017), I only used Chex, pretzels, and mixed nuts in the snack mix. I've modified the recipe slightly to accommodate adding popcorn. If you want the original recipe amounts, see note 1. I've also doubled the amount of vanilla that I used in the original recipe.
Feel free to substitute any ingredients in the snack mix. When making these substitutions, measure the ingredients by volume rather than weight. For example, swap 2 cups of pretzels for anything else you want.
A full batch of this recipe can serve 10 to 12 people. If you don't want to make such a large batch of furikake Chex mix, you can halve the recipe.
Ingredients
1/2

cup

(113g) unsalted butter

2/3

cup

(205g) maple syrup

1

tablespoon

soy sauce

,

or use tamari if gluten free

2

teaspoons

pure vanilla extract

1/2

teaspoon

salt

,

or 1 teaspoon Diamond Crystal kosher salt

8.5

ounces

(about 7 cups) corn Chex

,

can sub with 50/50 corn and rice Chex

6

ounces

(about 4.5 cups) pretzel twists

12 to 13

ounces

(about 2 1/2 to 3 cups) raw mixed nuts

4.5

ounces

(about 4.5 cups) unsalted popcorn

1/2

cup

(45g) furikake,

(see note 2)
Equipment
2

large 15"x20" jelly roll pans

,

(see note 3)

parchment paper

2

large mixing bowls
Instructions
Preheat the Oven to 250ºF (120ºC). Position the oven racks to the upper third and lower third positions. Line 2 large jelly roll pans with parchment paper. Set them aside.

Brown Butter: Melt the butter in a saucepan over medium heat. Once melted, continue heating the butter until it starts bubbling feverishly. Start stirring the butter frequently to keep it from burning. Gradually, the milk solids at the bottom and sides of the saucepan will start turning golden, like caramel. Reduce the heat slightly and continue stirring constantly to prevent burning. Right when the milk solids start turning into the color of medium to dark roast coffee beans, turn off the heat and add the maple syrup. Adding the maple syrup immediately will help keep the butter from browning further, as the solids can blacken and burn very quickly at this stage. It usually takes me about 2 to 3 minutes to brown the butter after it has melted (less time if you're making a half batch).

Finish the Glaze: Add the soy sauce (or tamari), vanilla, and salt to the saucepan and whisk everything together. Remove the saucepan from heat.

Toss Snack Mix: Divide the corn Chex, pretzels, and nuts between 2 large bowls. Mix the contents in each bowl.

Add Glaze & Furikake: Divide the glaze between the two bowls. Use 2 spatulas to toss and coat the dry ingredients with the glaze. Then, sprinkle 1/4 cup of furikake into each bowl. Toss again to distribute the furikake.

Bake Chex Mix: Spread the furikake Chex mix over the lined baking pans. Bake for 1 hour, stirring halfway through baking. Make sure to also swap the position of the baking pans.

Let Chex Mix Cool: Remove the baking pans from the oven. Let the Chex mix cool for 5 to 10 minutes and give everything a stir to prevent clumping. You can sprinkle more furikake over the Chex mix, if you like. The Chex mix will turn crunchy as it cools.

Store Furikake Chex Mix in an airtight container at room temperature for 1 to 2 weeks, if it lasts that long.
Notes
The original recipe used 12 ounces corn Chex, 8 ounces pretzels, and 12 ounces mixed nuts. I also used only 1 teaspoon of vanilla in the glaze.

I usually find this variety of furikake in the Asian section of my grocery stores or any major Asian grocer. You can also find it on

Amazon

(affiliate link). 

If you don't have these extra large jelly roll pans, you can use 2 or 3 large baking sheets (roughly 13"x18"). If you're using 2 baking sheets, make sure to give the Chex mix a good stir halfway through baking to ensure that the glaze coats the snack bits evenly. After the Chex mix is done baking, let it cool for 5 to 10 minutes and stir everything to prevent clumping. This step is even more important when you're using smaller baking sheets.
Nutrition
Serving:
1.66
cups
|
Calories:
457
kcal
|
Carbohydrates:
57.2
g
|
Protein:
9.2
g
|
Fat:
23.5
g
|
Saturated Fat:
7.2
g
|
Cholesterol:
20
mg
|
Sodium:
582
mg
|
Fiber:
3.7
g
|
Sugar:
15.5
g
Did you make this recipe?
Tag @hellolisalin or leave a star rating and comment on the blog!