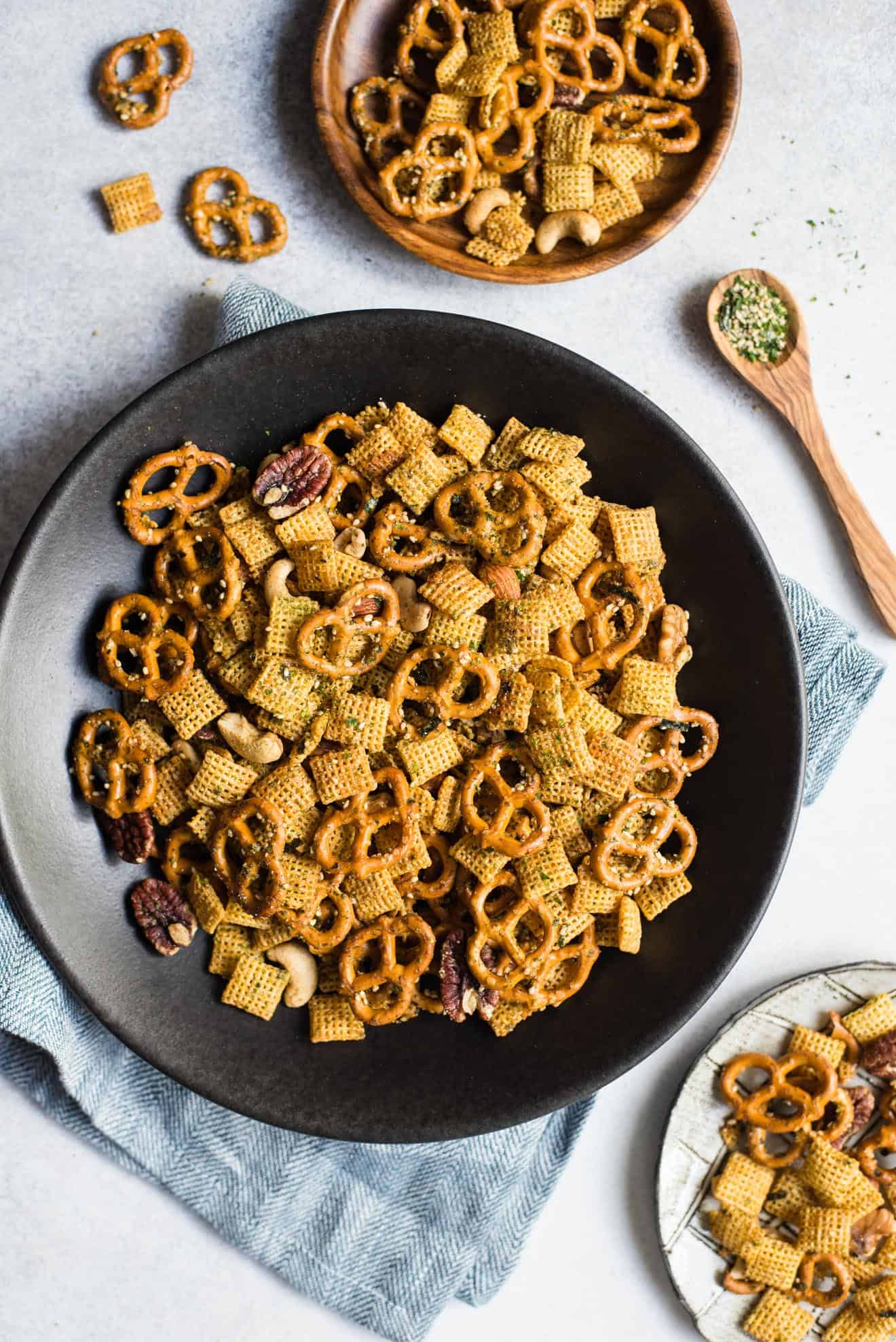 Furikake is a Japanese sweet and savory dry seasoning that's often used to flavor rice or as a topping for dishes. You can find many different varieties of furikake at the supermarket, but a typical mixture contains chopped seaweed, sesame seeds, sugar and sometimes dried fish flakes. The seasoning might sound odd, but you won't believe how good it tastes, especially when you use it to flavor chex mix.
I bring this furikake chex mix and everyone loves it. EVERYONE. I'm not exaggerating. My sister and Mama Lin asked for the recipe right after they tried it for the first time. The chex mix is a combination of sweet and savory flavors—a flavor profile that's quite familiar in Asian snacks. That's why my family loves it so much. Whenever I get together with my college friends, it's always assumed that I'll bring a batch of this to the party.
After making about 20 batches of the furikake chex mix, I've perfected a healthier recipe that doesn't compromise on flavor. Most recipes I've seen online call for 1/2 cup of butter, 1/2 cup of oil, 1 cup of sweetener (usually corn syrup) and about 1 cup of furikake for the same amount of dry ingredients that I'm using here. I've cut the amount of fat and sugar in half! Honestly, no one has ever commented that the chex mix needed more butter or sugar.
You need to make this recipe for your next holiday party! Everyone will love you!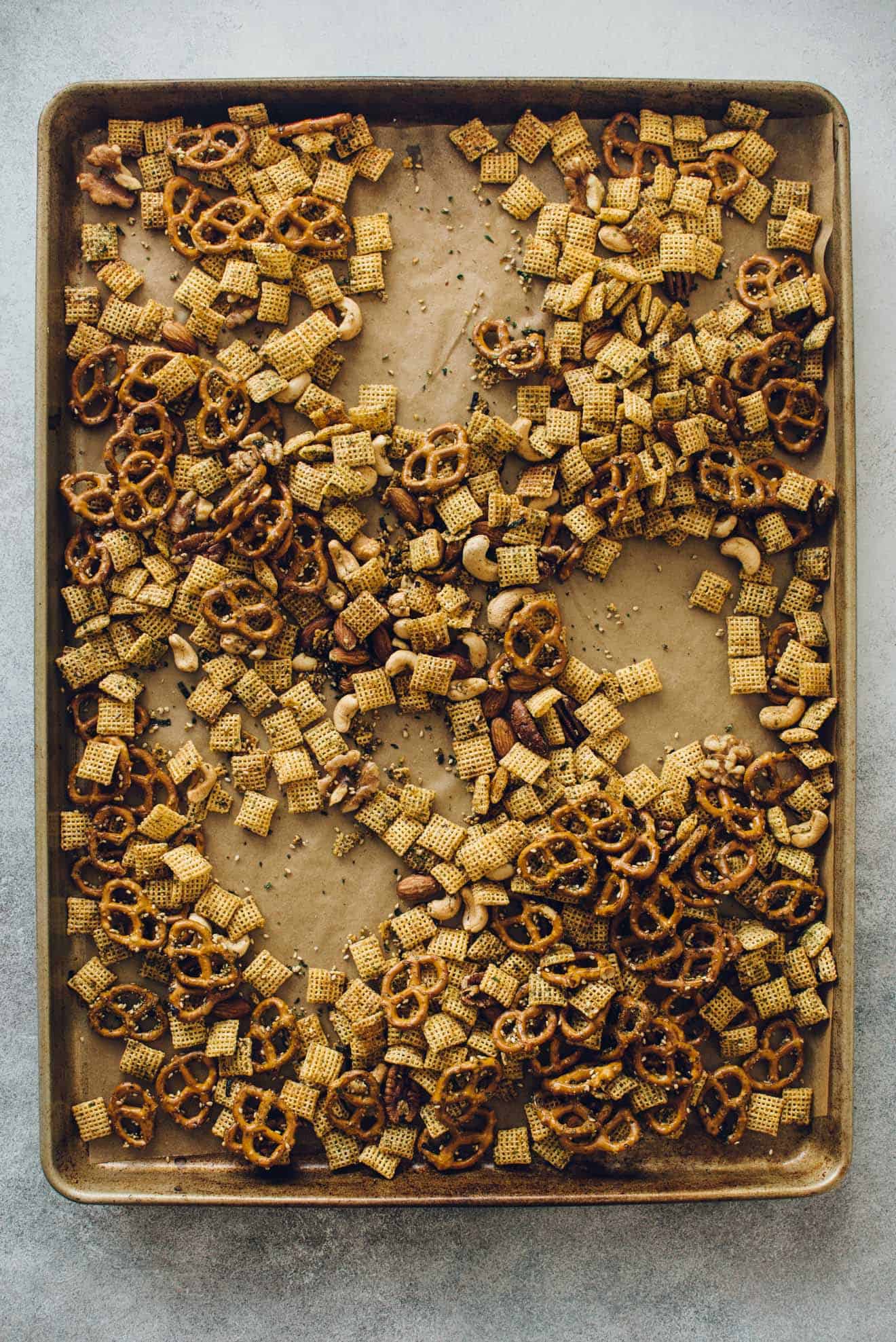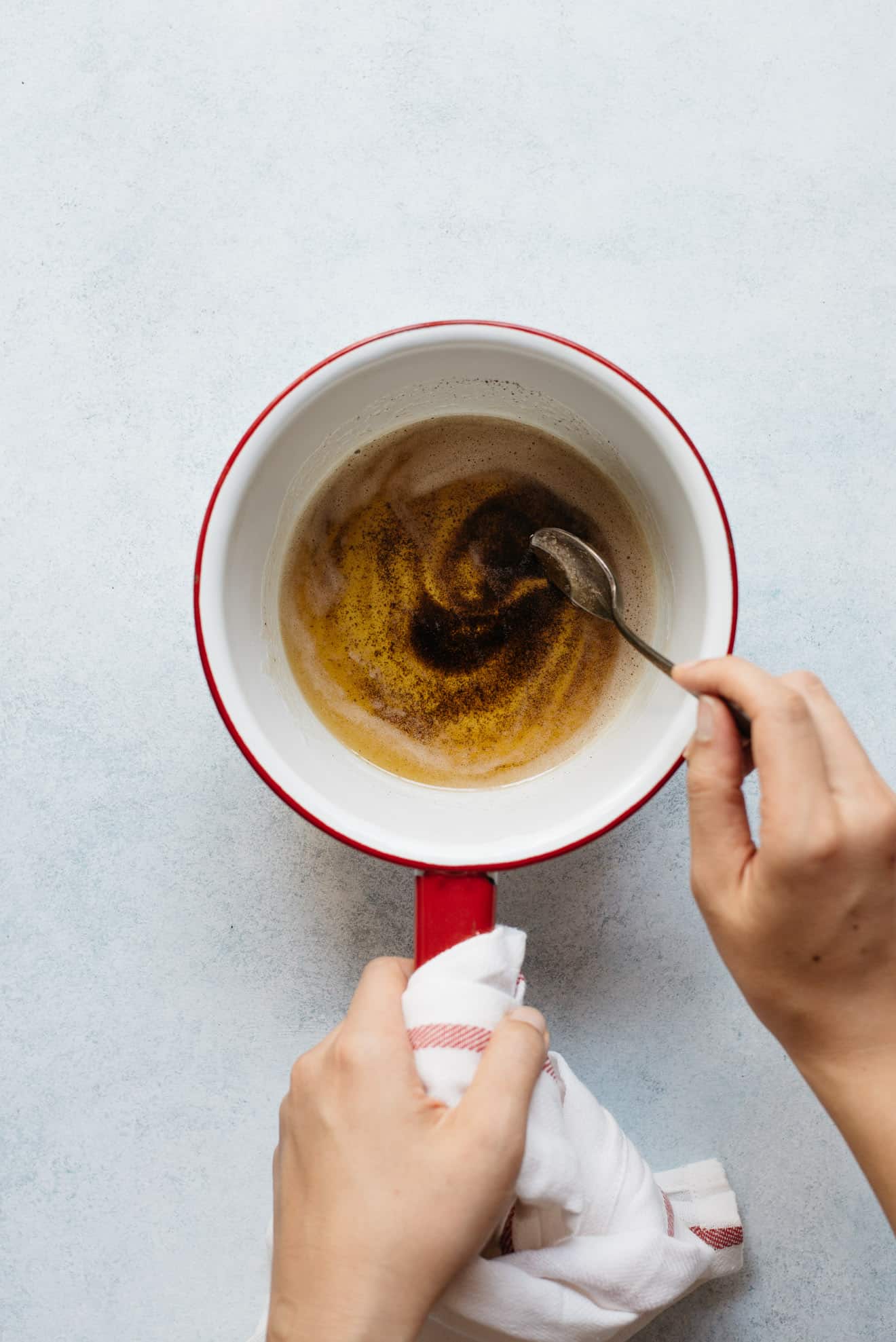 MASTERING MY MISTAKES / COOKING NOTES
Browning the butter: I used browned butter in the furikake chex mix because I loved the malty flavor it added. Using plain melted butter works, too.
Be patient with cooking: I know it's tempting to crank up the heat to quicken the baking time, but try your best to resist! You'll run the risk of burning the chex mix if you bake it at a high temperature.
Substitutions: You can make this chex mix with any snack biscuit. Some people like to mix in other types of cereal (like Honeycomb) or snacks like Bugles. I like to keep my mix simple.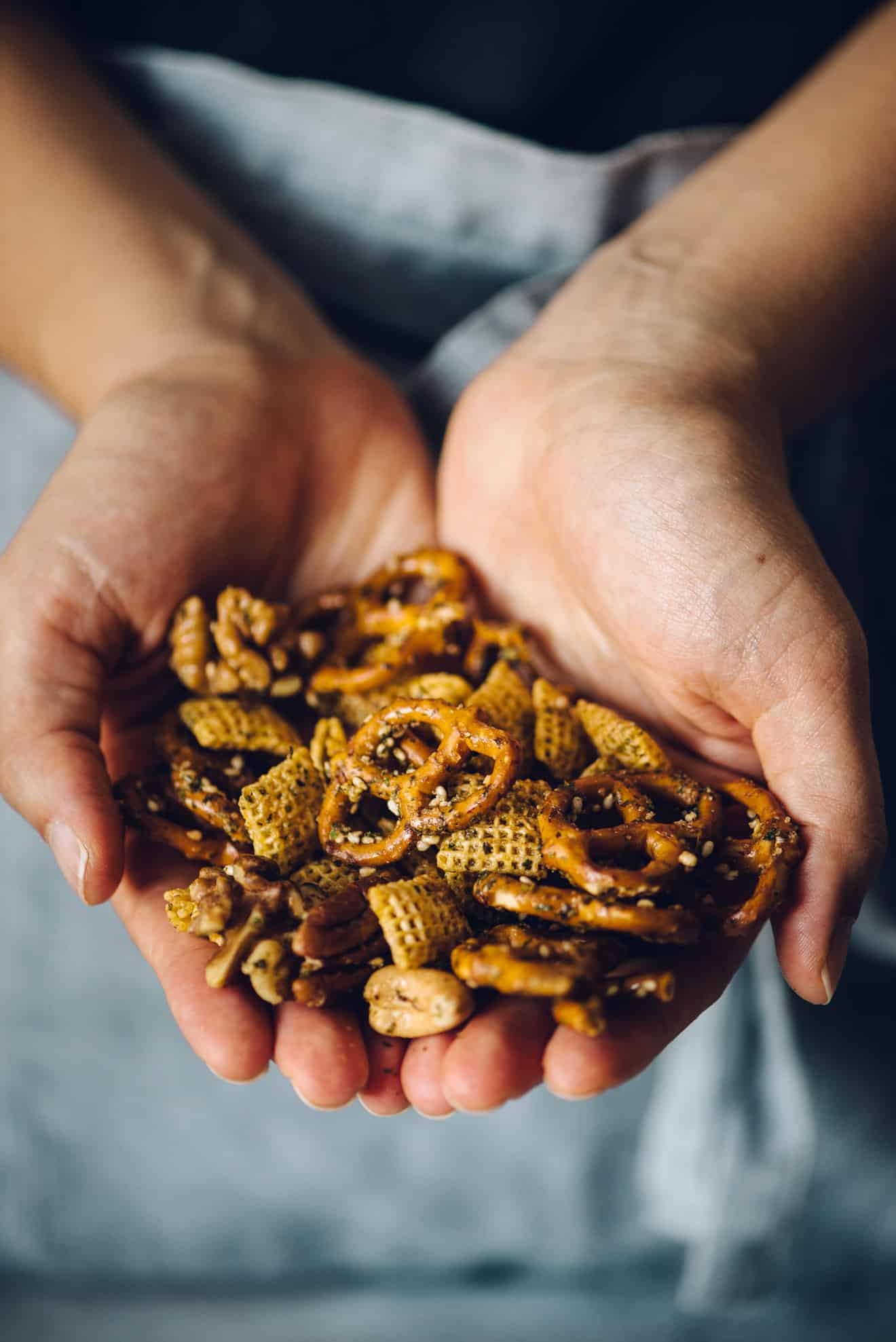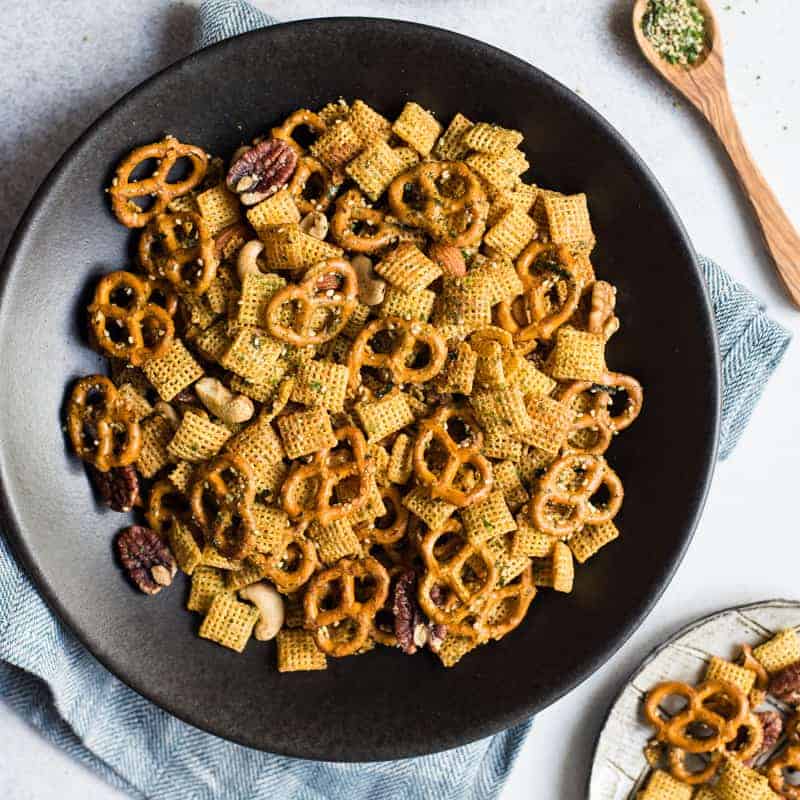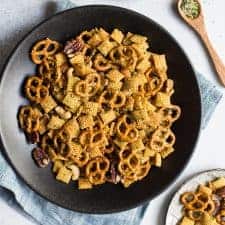 PRINT
Browned Butter Furikake Chex Mix
Ingredients
1/2

cup

1 stick unsalted butter

2/3

cup

maple syrup

1

tablespoon

soy sauce

,

or use tamari if gluten free

1

teaspoon

pure vanilla extract

1/2

teaspoon

salt

1

12-ounce package of corn chex

1

8-ounce package of pretzel twists

,

gluten-free pretzels are out there!

12

ounces

mixed nuts

,

about 2 1/2 cups

1/2

cup

furikake,

I used the kind without the fish flakes
Instructions
Preheat the oven to 250ºF. Position the oven racks to the upper third and lower third positions. Line 2 large baking sheets with parchment paper. Set them aside.

Start melting the butter in a saucepan over medium heat. Keep heating the butter after it has melted. You'll notice that the melted butter froths up, which is a bit distracting because you can't tell if the butter is browning at this phase. Just give everything a stir. After a while, the butter will bubble feverishly and create a pleasant popping sound for about a minute. Wait a little longer and the butter will start to turn a golden color. Stir the butter frequently to keep it from burning. Then, the butter bits on the bottom will start to turn brown, like the color of coffee grounds. You want to turn off the heat right before the bits turn black, an indication that you've left the butter in there for too long. This entire process should take about 4 to 5 minutes after the butter has melted. Turn off the heat.

Mix the maple syrup, soy sauce, vanilla and salt into the browned butter. Whisk to combine.

Take out 2 large bowls. Divide the corn chex, pretzels and nuts between the 2 bowls. Mix up the contents in each bowl. Divide the syrup mixture between the two bowls. Stir to coat the dry ingredients with the syrup. Sprinkle 1/4 cup of furikake in each bowl. Stir again to distribute the furikake.

Spread the furikake chex mix over the baking sheets. Bake for 1 hour, stirring halfway through baking. Enjoy the sweet smell of butter and sugar wafting around your house as the chex mix bakes.

Remove the chex mix from the oven. Give everything another stir. You can sprinkle more furikake over the chex mix, if you like. The chex mix will turn crunchy as it cools.

Store the chex mix in an airtight container. It will keep for 1 to 2 weeks, if it lasts that long.
Notes
We're not going to worry about calories for this recipe. It's difficult to measure how much of this you're going to eat.
If you accidentally burn your butter, don't worry. I've been there. Pull your saucepan off the heat immediately. Strain out the dark burnt bits of butter. Smell the strained butter. If it still smells very burnt, melt another stick of butter.
Did you make this recipe?
Tag @hellolisalin or leave a star rating and comment on the blog!