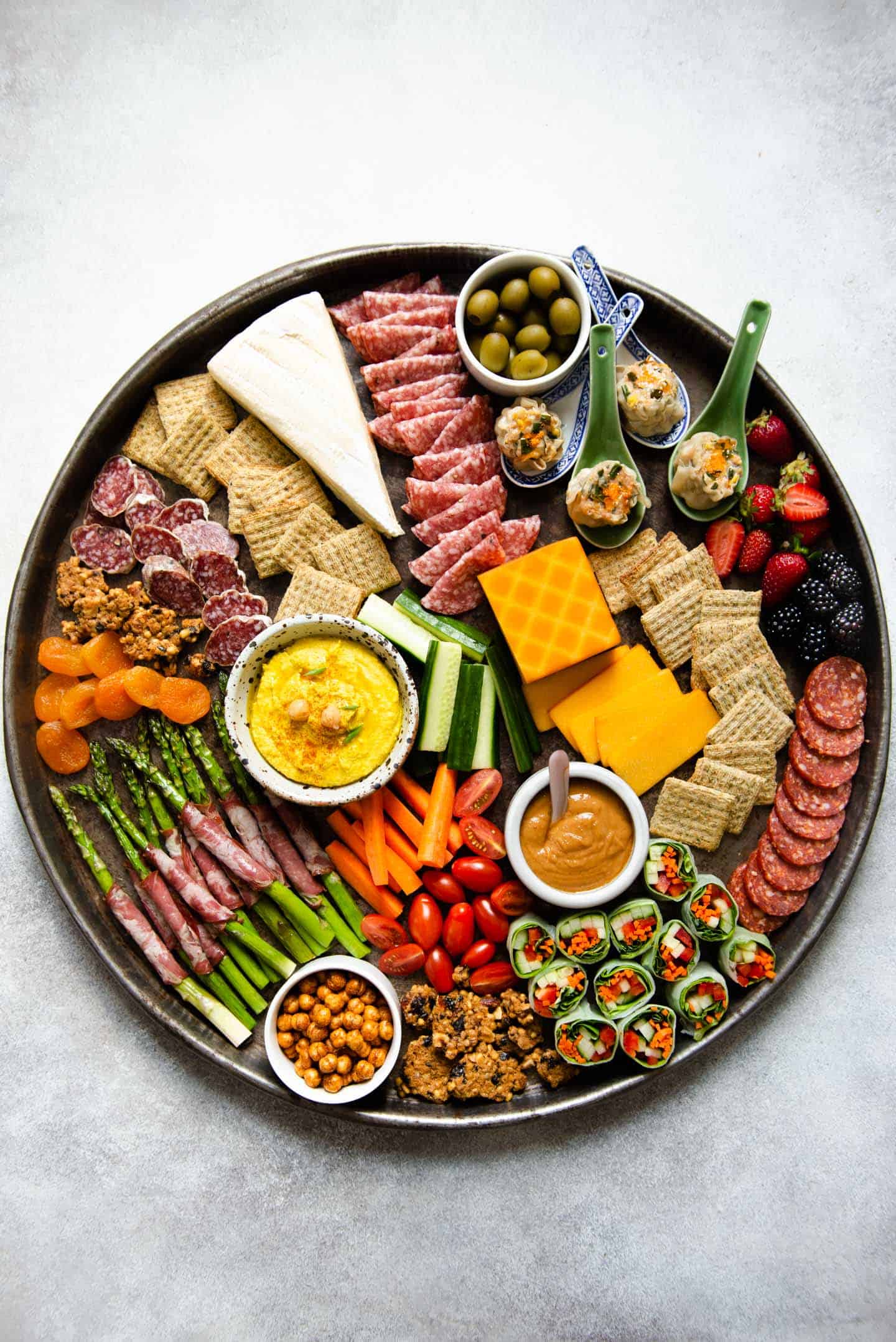 Thank you Safeway for sponsoring this post!
I am not ashamed to admit that I am one of those people who lingers at the snack table at a party. I can graze all day. That's why when I'm hosting a gathering, I make sure to prepare grazing platters so that guests can easily pick up some nibbles whenever they want.
A grazing platter is a lot like a cheese board or charcuterie board. It's a large tray or board that is loaded with small bites. Because neither cheese nor charcuterie are the dominant components of the platter, I feel it's more fitting to call this cornucopia of small bites a "grazing platter" or a "grazing board" instead.
The platter that I've put together here is inspired by my recent trip with Safeway to J Vineyards and Winery, where I got to sample their wines and bites from Columbus Craft Meats and Triscuit Crackers. This party platter has a good mixture of sweet and savory flavors, fresh fruits and vegetables, crunchy snacks, and Asian appetizers (because it's me after all)!
HOW TO BUILD A GRAZING PLATTER: THE CANVAS
Large Tray/Board
Grab the largest platter or board that you have to load the food onto. If you don't have either of those things, simply place several chopping boards side by side. You can lay a piece of parchment paper across these boards to create the appearance of one large surface.
Make sure that the platter or board is clean. If you want to be on the safe side, you can always line the surface with parchment. Clean up afterwards will be a lot easier, too.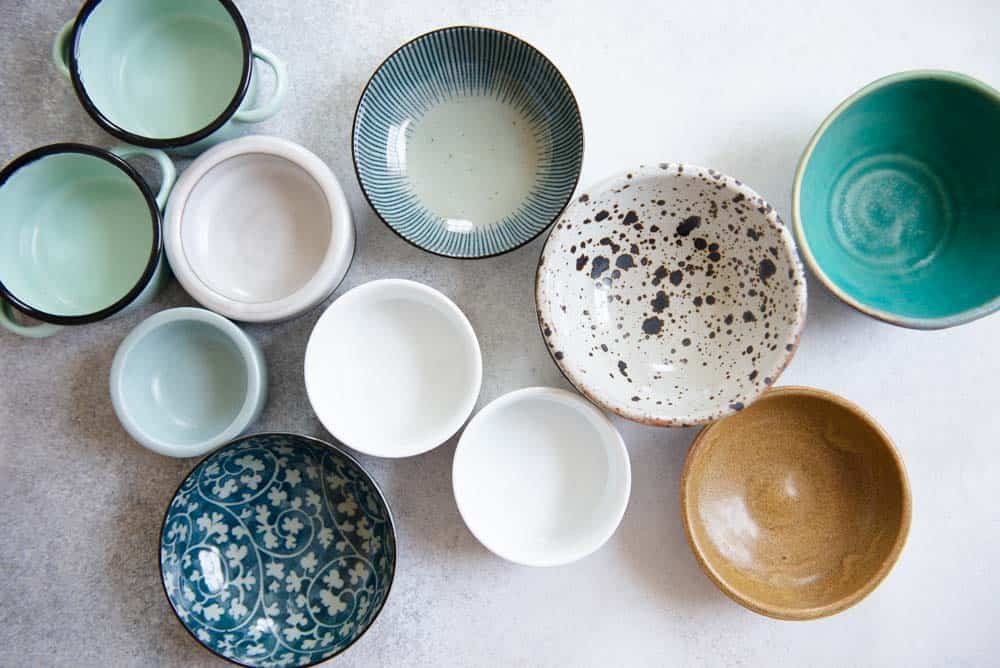 Small Bowls
I like adding a variety of snacks and dips to the grazing platter. It's better to place these items in small bowls or ramekins so that they don't take up too much space on the grazing platter. Scattering small bowls throughout your platter also makes the food arrangement more visually appealing.
ADDING FOOD TO THE PLATTER
Cheese
You can't have a party platter without cheese. Choose 2 or 3 good cheeses to add variety to your platter. I like having at least one soft, spreadable cheese that is mild in flavor. Brie and Camembert are my top choices for this.
Prep Tip: I always leave Brie on the counter for at least an hour before serving. That way, the Brie has time to soften and will be easier to spread.
To contrast the mild flavored Brie, I like having another cheese that is bold and can stand out on its own. On this grazing board, I selected a smoked cheddar cheese from Safeway.
Prep Tip: If you want to make things easier for your guests, slice the entire block of cheese when it's still cold. You can usually get cleaner slices this way. Then, fan out the slices in a C-curve or a diagonal line to make it more visually appealing. For styling reasons, I left a chunk of the smoked cheddar unsliced on my platter because I liked the lines on the cheese.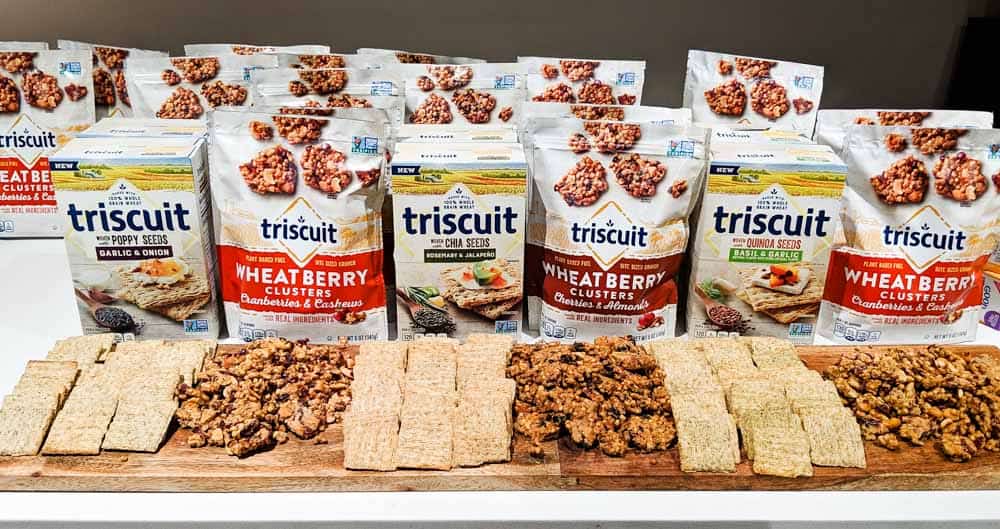 Crackers
I prefer serving crackers that have good flavor. Nothing bothers me more than dry, bland crackers on a grazing platter.
I like Triscuit crackers a lot because they have great texture and come in a variety of flavors that compliment almost any meat or cheese. I particularly love their Rosemary & Jalapeño flavor with chia seeds, which I first tried at the Safeway blogger tour. Triscuit crackers are also good vessels for holding other ingredients that you stack on top.
Styling Tip: I like fanning out crackers close by the cheese because people often pick up those two items together. If there are any big gaps on your grazing board or platter, that's another good spot for adding crackers, too.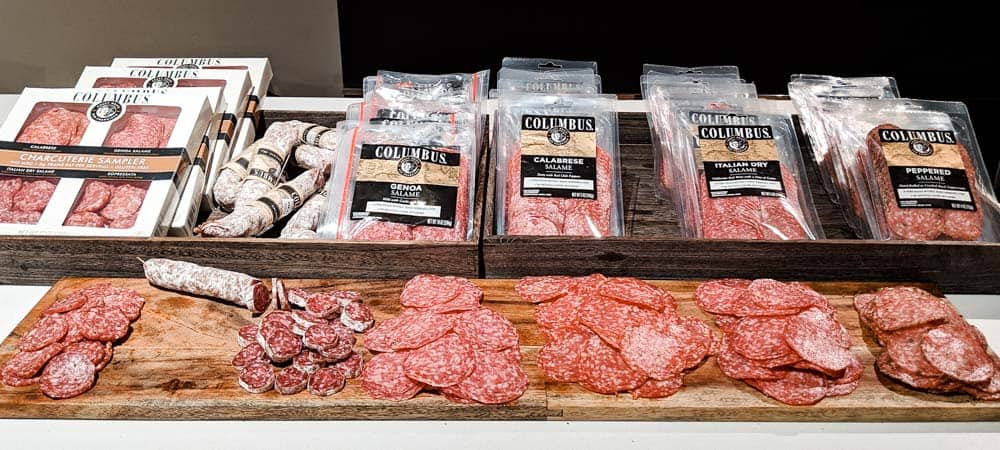 Charcuterie
Try and select a few different types of cured meat. On my grazing platter, I have Columbus Craft Meats' Italian Dry Salame, Calabrese Salame, and Cacciatore. Most Columbus Craft Meats are sold pre-sliced, which will save you some prep time.
Prep Tip: I like eating charcuterie at room temperature, so I usually leave them on the counter for an hour before serving.
Styling Tip: On my grazing platter, I arranged the charcuterie in a few ways. First, I fanned out the Calabrese Salame slices around the edge of my platter. For the Italian Dry Salame, I folded each slice in half and arranged them on a diagonal line. I made sure to overlap each piece of folded salame so that they don't open up and lose their shape. Finally, I just sliced up the Cacciatore and arranged it in a pile.
Fruits & Vegetables
It's nice to have something fresh on the grazing platter to contrast the richness of the cheese and meat. Fruits and vegetables also add pops of color to the party platter.
I like serving a bit of crudité (raw vegetables and dip) on my grazing board. Here, I have grape tomatoes with carrot and cucumber sticks served with my Golden Turmeric Hummus.
Prep Tip: The hummus usually takes about 15 to 20 minutes after blending to pick up the bright yellow hue. You can make my golden turmeric hummus a day or two ahead.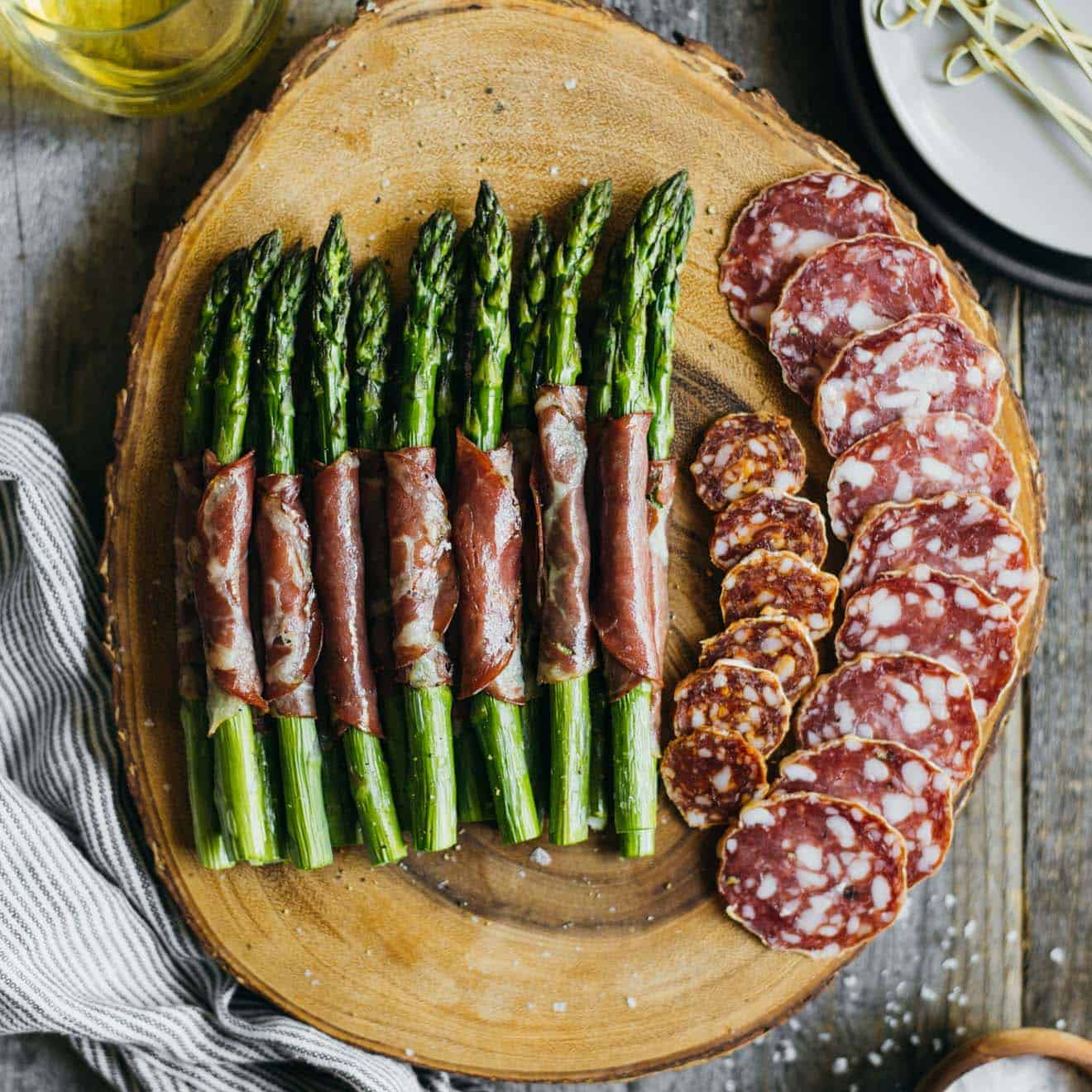 In addition to the crudité, I roasted asparagus that are wrapped in Columbus Craft Meats' Dry Coppa. You can find the recipe for Dry Coppa Wrapped Asparagus here. It takes only 15 minutes to make!
With the fruits, I generally choose whatever is in season along with a few dried fruits. You also can't go wrong with a few ripe olives on the platter!
Crunchy Snacks
For textural contrast, add a few crunchy snacks to the grazing platter. I am loving Triscuits' new line of Wheatberry Clusters, which I first tried on the Safeway blogger tour. The clusters are made of roasted wheatberries, dried fruits, nuts, and seeds. The flavor profile is also a nice balance of nutty and sweet flavors.
Another item I have on the board are Bombay spice crunchy chickpeas that I purchased at Safeway.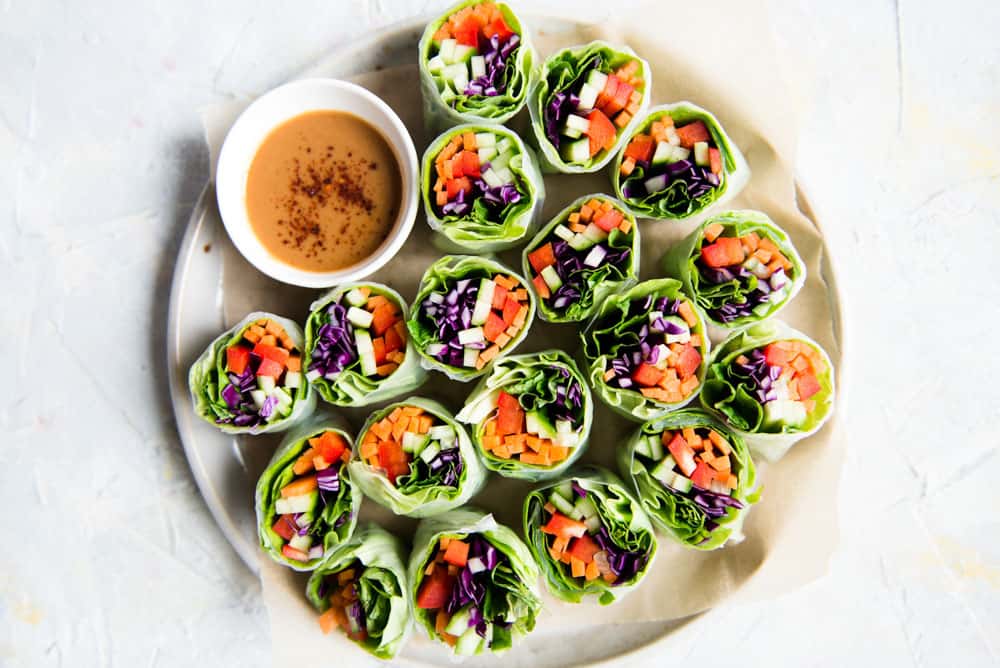 Something Extra
I love cooking Asian appetizers for my gatherings with friends because they're usually food that my friends won't make on a regular basis. On my platter, I have my Fresh Vegetable Spring Rolls, which are basically fresh vegetables and herbs wrapped in rice paper. I always serve them with my Creamy Peanut Sauce or my Sweet Chili Sauce.
Prep Tip: You can make the peanut sauce and sweet chili sauce one or two days ahead. The spring rolls are best consumed the day they are made. If you are preparing them a few hours before serving, place them on plates lined with parchment paper. DO NOT place them on paper plates because the spring rolls will get stuck. Cover the rolled up spring rolls with plastic wrap or lightly damp paper towels.
I also have a few siu mai (pork dumplings) on the top of my platter, and the recipe for that is coming soon!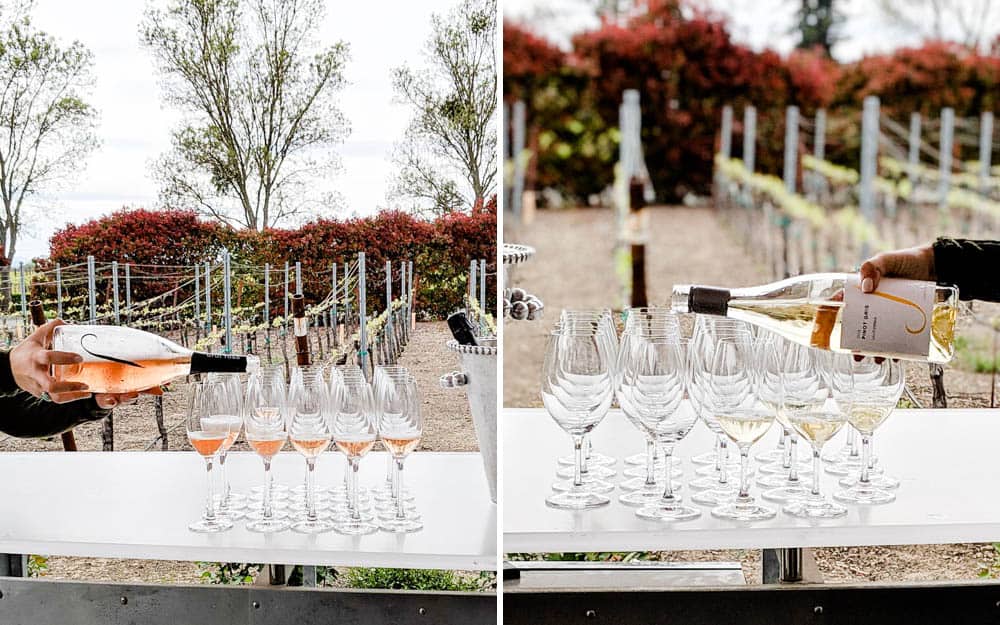 WINE SELECTION
A party with me is not complete without some vino! Sparkling wine is great for spring or summer entertainment because they're light and refreshing. I love J. Vineyards' line of sparkling wines because they're crisp without being astringent.
They're able to create good flavor in their wine because of the winemaking process. During the Safeway blogger tour at J. Vineyards, I learned that they start harvesting grapes for their sparkling wines in late July, when the grapes are lower in sugar content. This helps to keep the alcohol content lower in the sparkling wines.
Because the temperature at the vineyards are hot in July, they pick the grapes at night so that the grapes maintain their peak condition and don't raisin. Once picked, the grapes are pressed in a very specialized machine from France called the Coquard. It gently presses the grapes to ensure that there is no bitterness in the grape juice.
Any of J. Vineyards' sparkling white wine or brut rosé are excellent choices for a party. I featured their pinot noir in my photo below, which is also a great red wine. Their pinot noir has a lot of fruity flavors, but what I love about it is the lightness in flavor and clean finish. Grab a few bottles from Safeway at your next gathering!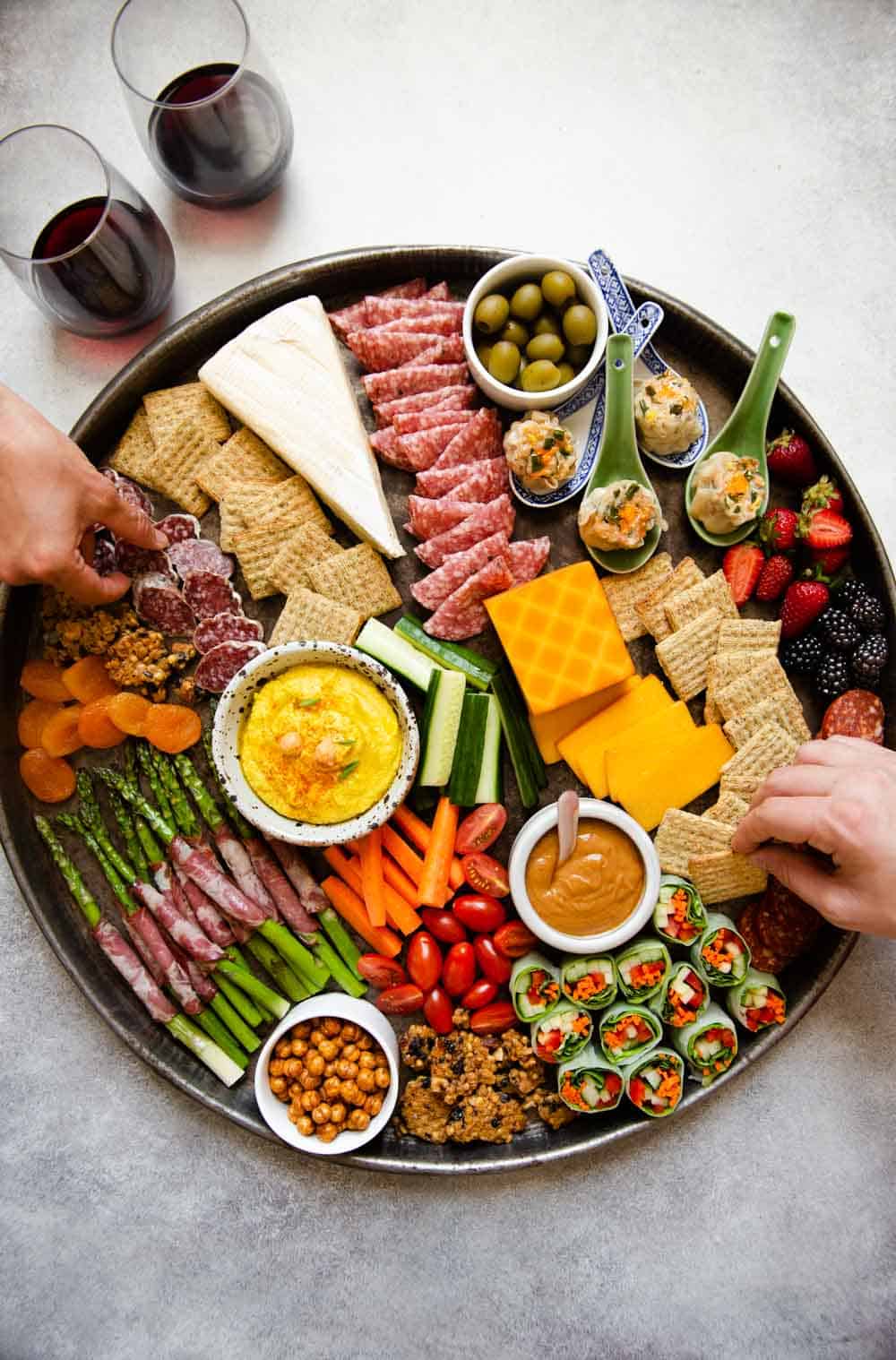 Disclaimer: This post is sponsored by Safeway. You can find all the ingredients for this post at your local Safeway or purchase them through Safeway Home Delivery.