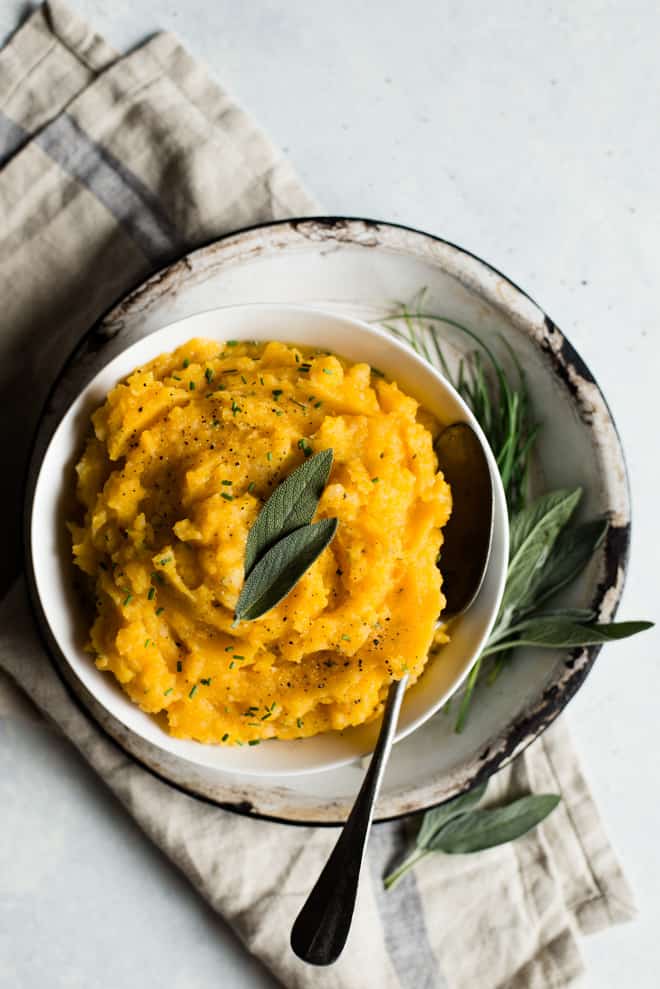 We have all probably seen thousands of mashed potato recipes, so what can we possibly do to add a little fun to the dish? Mix potatoes with butternut squash!
I can't take all the credit for this idea. It was actually from one of the attendees at my Cooking to Squash class at the library. I can't remember why we were talking about boiling butternut squash, but a lady mentioned how she loved eating mashed butternut squash. Immediately, I thought, "Why haven't I done that before?" I roast butternut squash so often that I forget that boiling them is an option.
So, here we are. Instead of a straight butternut squash mash, I'm mixing in potatoes to balance out the sweet flavors of the squash. The recipe is incredibly simple but also a great way to change up your regular mashed potatoes. Try it for dinner or at your holiday gatherings!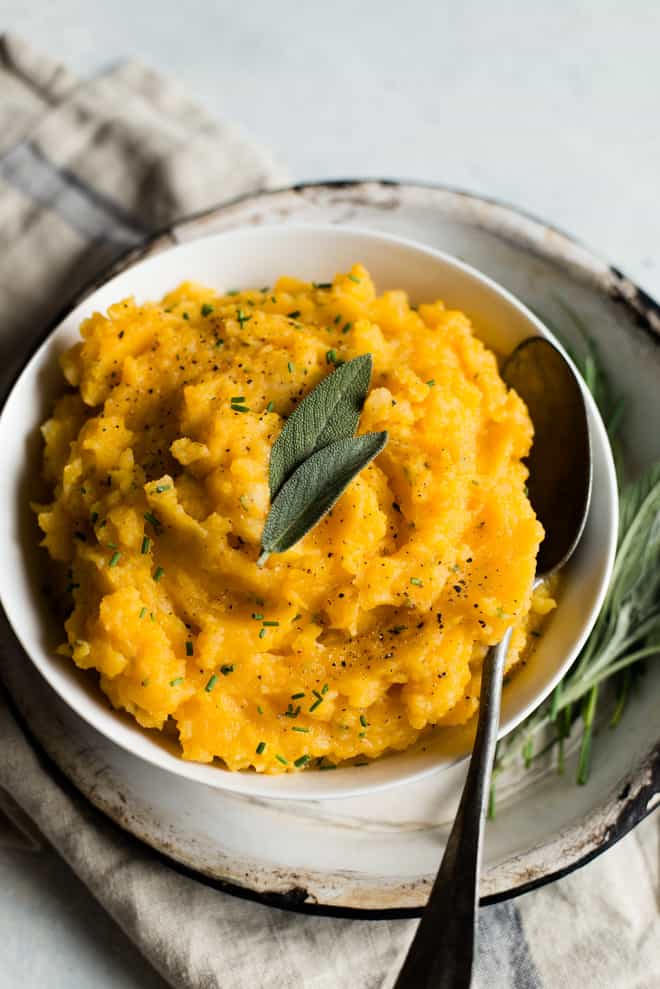 MASTERING MY MISTAKES / COOKING NOTES
Stir before reheating: There's a lot of moisture that comes from the butternut squash, so you may notice liquid building up in your leftovers. Just give everything a stir before reheating them.

KITCHEN TIP: HOW TO PEEL & CUT BUTTERNUT SQUASH
Butternut Squash Mashed Potatoes
Ingredients
2

pounds

(900g) butternut squash*

2

pounds

(900g) russet potatoes

3

tablespoons

butter

,

cut into small cubes

1/2

cup

(120ml) low-fat milk

2

tablespoons

chopped chives

1

tablespoon

chopped sage

salt and pepper to taste
Instructions
Peel and seed the butternut squash. Chop into 1/2-inch cubes. Peel russet potatoes and chop into 1/2-inch cubes. Place the butternut squash and potatoes into a pot. Fill the pot with enough water to cover everything. Add 1 teaspoon of salt and bring the water to boil. Let everything simmer for about 10 minutes, until the potatoes can be easily pierced with a fork.

Drain the squash and potatoes and return them back to the pot. Mash the squash and potatoes using a potato masher. Add the butter cubes and stir until the butter melts. Add milk and stir until well incorporated. Season the mashed potatoes with salt and pepper to taste. Mix in chopped chives and sage. Serve immediately.
Notes
*If you are using butternut squash that has been pre-chopped, use 1.75 pounds of butternut squash cubes.
The butternut squash releases a lot of moisture, so you may notice some liquids once you let the mashed potatoes sit for a while. Just give everything a stir before serving.
NUTRITION INFORMATION: Yields 10 servings. Amount per serving: Calories: 149, Total Fat 4g, Saturated Fat: 2g, Sodium: 14mg, Cholesterol: 10mg, Total Carbohydrate: 28g, Dietary Fiber: 3g, Sugar: 3g, Protein 3g
Did you make this recipe?
Tag @hellolisalin or leave a star rating and comment on the blog!