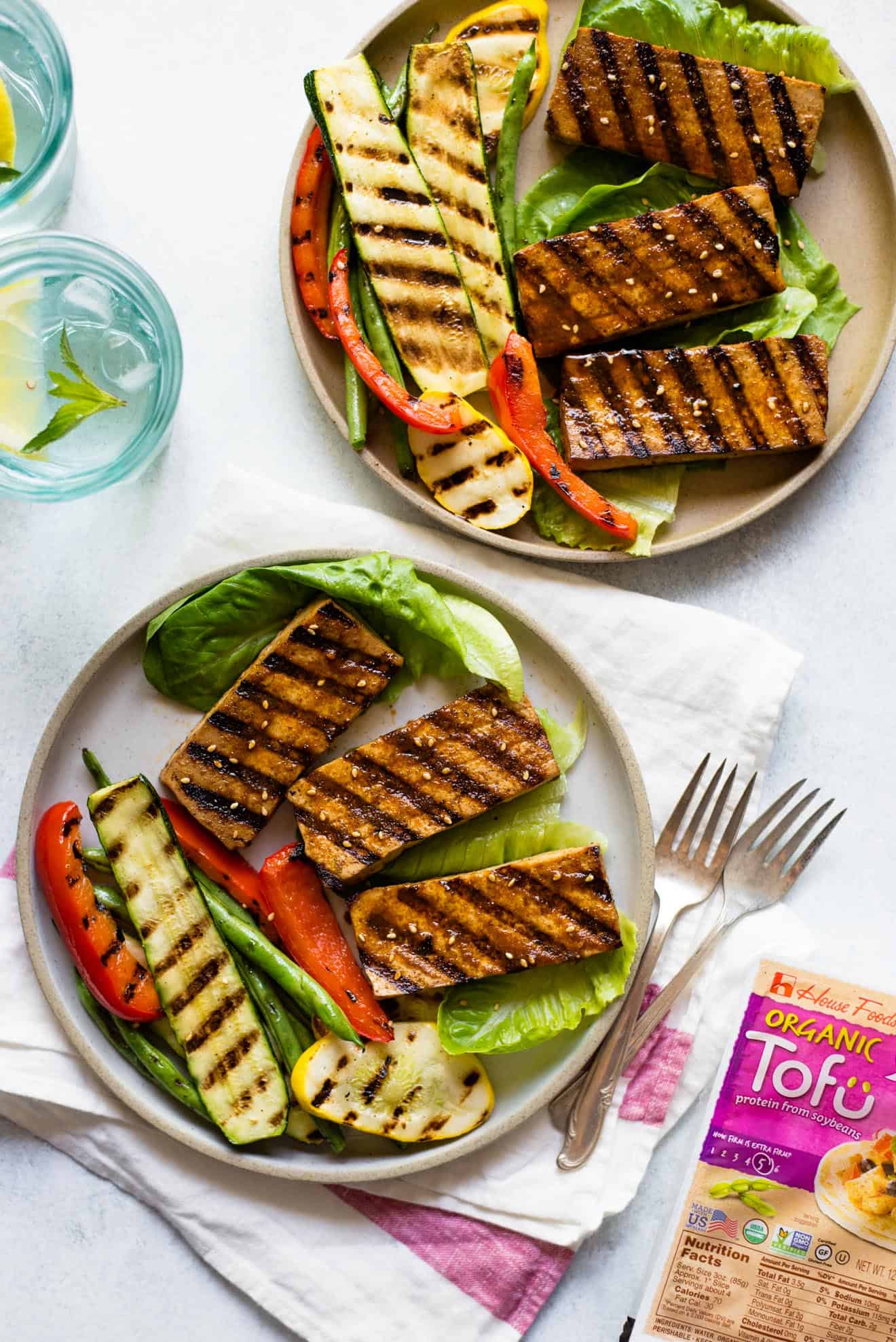 Thanks to House Foods for sponsoring this post!
One of my earliest July 4th memories was when I was about 3 or 4 years old. My family of 7 still lived in a cramped apartment in Pacific Heights in San Francisco. I remember hearing loud popping noises around me, but I had no idea where they came from. My sisters dragged me to the rooftop so that we could see the fireworks better. It was already incredibly dark outside, and I was so terrified. But those feelings of fear quickly turned into wonder as I stared at all the bright colors blooming in the sky.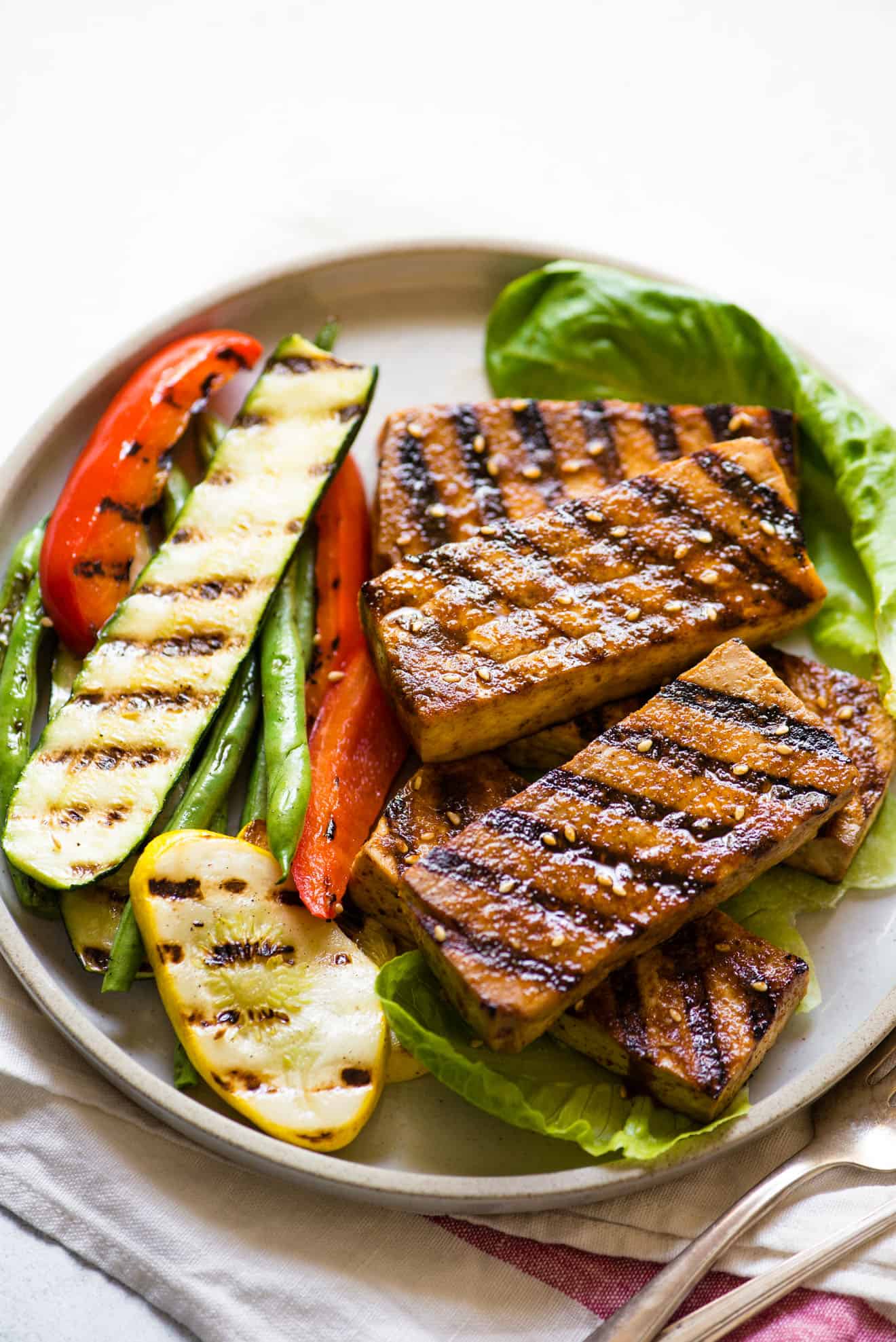 With July 4th around the corner, I wanted to share a simple vegetarian recipe that you can bring to a barbecue or party. This cajun-spiced grilled tofu was a big hit in my house. The prep work is super easy. Just drain and press a block of House Foods extra-firm tofu, cut them into 6 slices, marinade the tofu and grill them. The marinade is made with ingredients you probably have at home: olive oil, soy sauce, honey, cajun spice seasoning and salt. I like to add garlic powder to the marinade for more garlicky flavor, but that's completely up to you!
MASTERING MY MISTAKES / COOKING NOTES
Cajun Seasoning: When I tested this recipe, I used generic cajun seasonings that I found at the supermarket and thought they worked well. I am working on a DIY cajun seasoning recipe that I will post soon, so stay tuned!
Substitutions: I liked using honey for the marinade, but if you want to make a vegan version, feel free to use maple syrup or agave. Brown sugar works, too. When you are preparing the marinade make sure to stir everything until the sugar dissolves.
Pan Frying: You can also cook the tofu in a regular pan. The cooking time is about the same (2 to 3 minutes on each side).
Getting more flavor in the tofu: If you have the time, I recommend marinading the tofu overnight. Once you grill the tofu, drizzle the leftover marinade on top of the tofu to add more flavor. Warm up the marinade in a saucepan or regular pan before drizzling.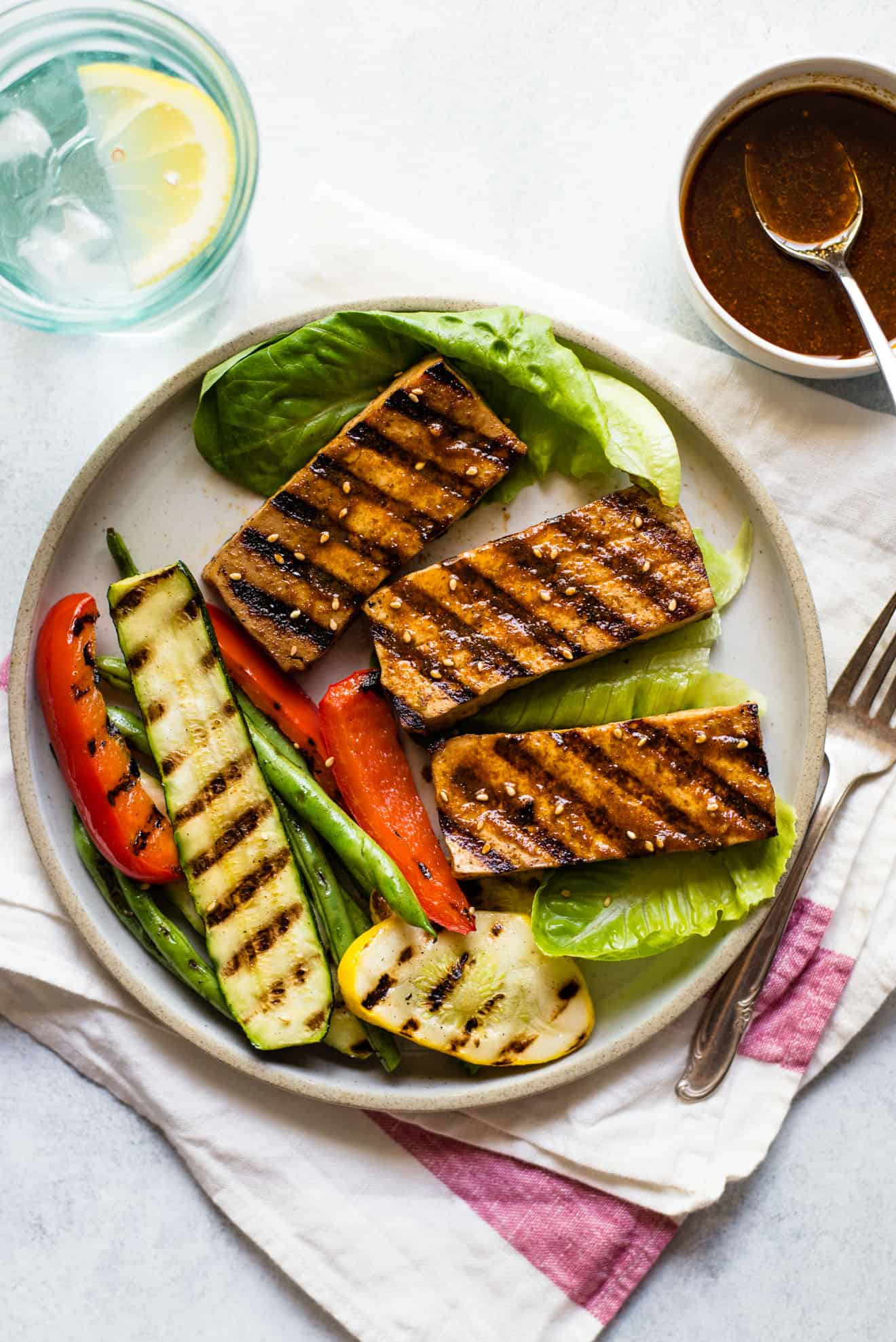 Cajun-Spiced Grilled Tofu
This recipe makes 6 slices of grilled tofu. You can easily double this recipe for a bigger batch. Use the leftover marinade for drizzling over the tofu or as a sauce for your fried rice or stir fries. 
Ingredients
12-

ounce

package of House Foods extra-firm tofu

1 1/2

tablespoons

olive oil

,

plus more oil for grilling

2

tablespoons

soy sauce

,

use tamari if gluten free

1 1/2

tablespoons

honey

1

tablespoon

cajun spice powder

1/2

teaspoon

garlic powder

,

optional

1/2

teaspoon

salt
Instructions
Drain the package of tofu and wrap the tofu block around a layer of paper towels. Press the tofu by placing it between 2 large plates. Weigh down the top plate with something heavy, like a bag of flour. Let the tofu sit for 15 to 20 minutes.

Slice the tofu into 6 slices. I usually cut along the long side of the tofu block.

In a medium bowl, mix 1 1/2 tablespoons of olive oil, soy sauce, honey, cajun spice powder, garlic powder (if using) and salt. Rub the tofu with the marinade. Let the tofu sit for at least 15 minutes or cover the bowl and marinade the tofu overnight in the refrigerator.

Heat a grill pan over medium-high heat. Drizzle about 1 to 1 1/2 tablespoons of olive oil over the grill pan. Add the tofu slices on top of the pan. Arrange them so that the tofu slice are laid diagonally, along the 2 and 8 'o clock position or 4 and 10 'o clock position. Cook the tofu until you see grill marks on the tofu, about 2 to 3 minutes. Flip the tofu over and repeat on the other side.

Serve the grilled tofu with grilled vegetables! Heat up any remaining marinade in a saucepan and drizzle the sauce over the grilled tofu for more flavor.
Notes
NUTRITION INFORMATION: Amount Per Slice: Calories: 98, Total Fat 7g, Saturated Fat: 1g, Sodium: 494mg, Cholesterol: 0mg, Total Carbohydrate: 5.5g, Dietary Fiber: 0.6g, Sugar: 4.7g, Protein 5g
Did you make this recipe?
Tag @hellolisalin or leave a star rating and comment on the blog!
Disclosure: This is a sponsored post written on behalf of House Foods. Thank you for supporting the brands that keep me inspired in the kitchen! To stay up to date with House Foods or to get recipe inspiration, visit their website or follow them on Facebook or Instagram!