The Greatist posted an article today entitled, "74 Smart Ways to Make Pizza More Healthy." Yes, possible! That post inspired me to make a healthy pizza of my own.
The Challenge: Cook Homemade Pizza with a Twist
I've made pizza with cauliflower crust before, and the results were delightfully delicious. Nutrition Stripped has a great recipe for making cauliflower pizza crust. In addition to adding a twist to regular pizza, cauliflower pizza crusts have much less carbs than conventional pizza dough. Sounds great for people who enjoy low-carb or gluten-free foods, maybe not so much for pizza dough connoisseurs.
I wanted to make cauliflower pizza crusts again, but there was one small problem. There wasn't any cauliflower in the apartment. Undeterred, I put on my thinking cap and came up with what I thought was a unique idea: make a pizza crust with spaghetti squash! Well, others have come up with this idea before. Great minds . . .
The Verdict: Tasty But Not As Good As Cauliflower Pizza Crust
I decided to adapt the cauliflower recipe from Nutrition Stripped.
Tasty But Not As Good As Cauliflower Pizza Crust
Ingredients
5 to 6

cups

spaghetti squash

,

cooked

2

eggs

3

TBS

nutritional yeast

,

you can also use mozzarella cheese instead

1

TBS

coconut flour

1

TBS

ground flax meal

2

tsp

garlic or onion powder/granulated garlic or onion

1

tsp

sea salt

1/2

tsp

basil

1/2

tsp

oregano

dash of ground black pepper
Instructions
Roast the spaghetti squash.*

Leave the oven at 350 degrees fahrenheit.

After letting the squash cool down, remove the flesh from the shell with a fork. Drain out the excess water from the squash by wrapping it with a cheese cloth or tea towel and wringing out the water. It is a tedious process but important to ensure that the crust does not get too moist.

Take the spaghetti squash "pulp" and mix it with all other ingredients with a large spoon or food processor.

Spread the dough on a parchment-lined baking sheet or silicone mat. You can make either one large pizza or two smaller ones.

Be careful not to spread the dough too thin because it will cause the dough to crack.

Bake in the oven for 20 to 25 minutes, or until the crust starts to brown and the crust is firm to touch.

Remove crust from oven and add your favorite sauce and toppings.

Bake the pizza in the oven again at 400 degrees fahrenheit for about 10 to 15 minutes.
Notes
Here's a quick guide on how to cook the squash.
I used BBQ sauce and tomato paste as the base for these pizzas
You can always substitute the coconut flour and ground flax meal for regular or whole wheat flour.
Did you make this recipe?
Tag @hellolisalin or leave a star rating and comment on the blog!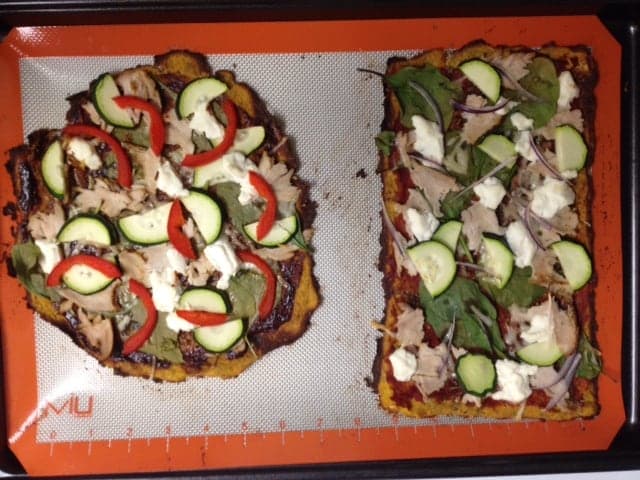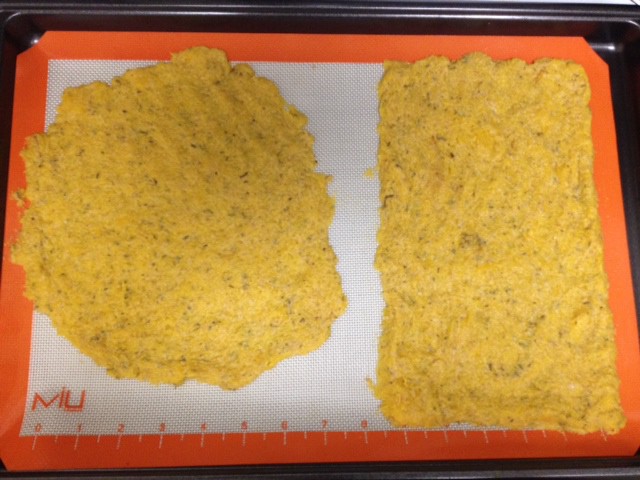 It was great to try a new ingredient for making pizza crusts, but I've got to say that it was unnecessarily tedious. Not only did cooking the squash take much more time but the process of wringing out the squash took longer, too. There's simply much more liquid in spaghetti squash. I probably added an additional hour in prep time to an already time-consuming process. In terms of flavor, I thought that the cauliflower crusts that I made in the past tasted better simply because I enjoy the natural flavors of cauliflower.
Next time, I'll just stick to cauliflower. That or order some takeout.