Disclosure: I received free samples of Cabot Cheese mentioned in this post. By posting this recipe, I am entering a recipe challenge sponsored by Cabot Creamery and am eligible to win prizes. I was not additionally compensated for my time.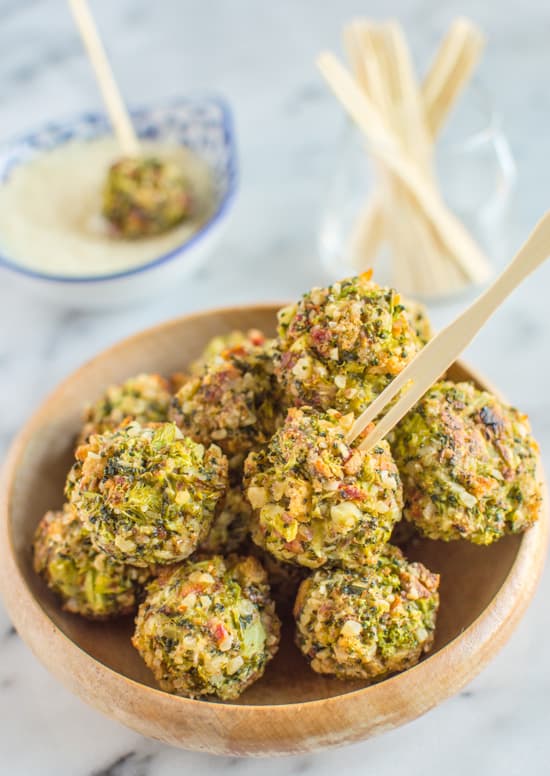 It's difficult enough to get picky eaters to stomach vegetables sometimes. Try getting them excited for greens on Super Bowl Sunday. Beer, burgers, carbs, chips, dips, cheese, and sweets are like the popular kids at a Super Bowl gathering. Fresh vegetables are the thick-eyeglasses, suspender-wearing nerds. Of course, there's always that friend who contributes the token vegetable platter of baby carrots, celery sticks, sliced bell peppers, and cucumbers. Bless that friend. We all gingerly take a few pieces of vegetables and put it on our plates just to give the appearance of eating somewhat healthy. But really, we're all eyeballing the junk food.
My goal is to get you to contribute a gameday-friendly dish with vegetables in it—a dish that even vegetable-averse eaters would venture to taste. Let's talk cheesy broccoli tots.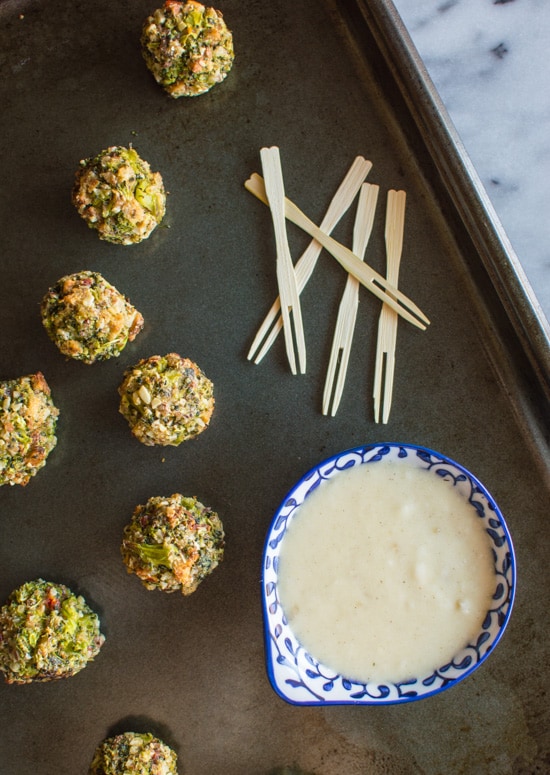 I'm of the belief that if you prepare vegetables in a way that's bursting with bold flavors, picky eaters will give it a try. Well, these tots scream flavor. A whole lotta cheddar flavor.
The lovely people at Cabot Creamery sent me a selection of their cheeses and challenged me to create a healthy snack with it. Cabot Creamery is owned by over 1,200 dairy farm families located in New York and New England. To say that they produce a big line of cheeses and dairy products is an understatement. I went through their website to do some research and was mesmerized by their hand-rubbed everything bagel cheddar, hand rubbed Tuscan cheddar, and smoky bacon cheddar! I'm already on the lookout for them.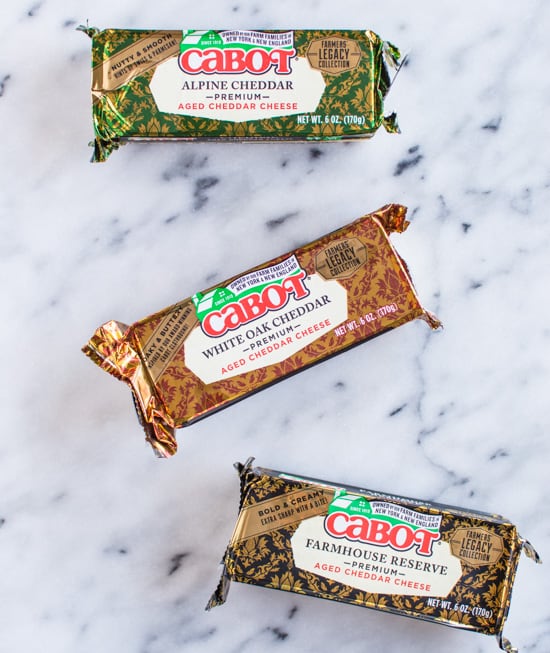 Every bite of these tots are infused with the sweet flavors of the White Oak Cheddar from the Legacy Collection. Fresh basil and chopped sun-dried tomatoes give the tots a big flavor zing, too. Are you ready for some chopping and grating?
First, throw in the raw almonds from the food processor and chop them until they're tiny bits. Why almonds in tots? They add a nice texture to the tots, not to mention good fats and protein.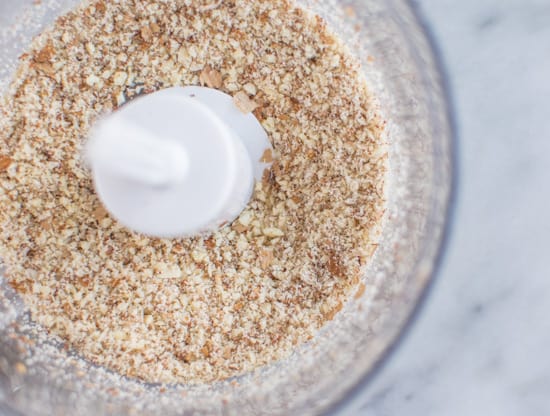 Then, you'll want to make breadcrumbs. I used to buy breadcrumbs until I realized how easy they are to make at home. Just toast the bread and grind it all up. Just like magic: breadcrumbs. Now just chop up all the other veggies, grate the cheese, and we're good to go!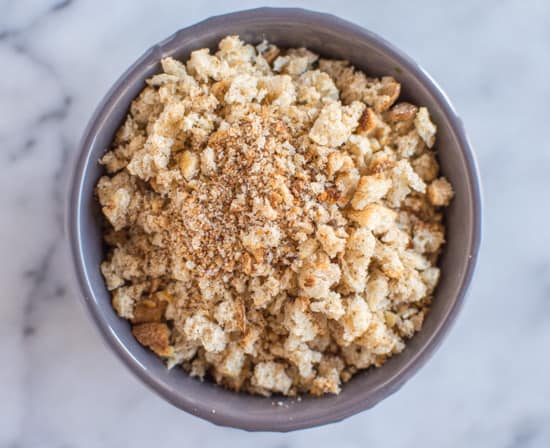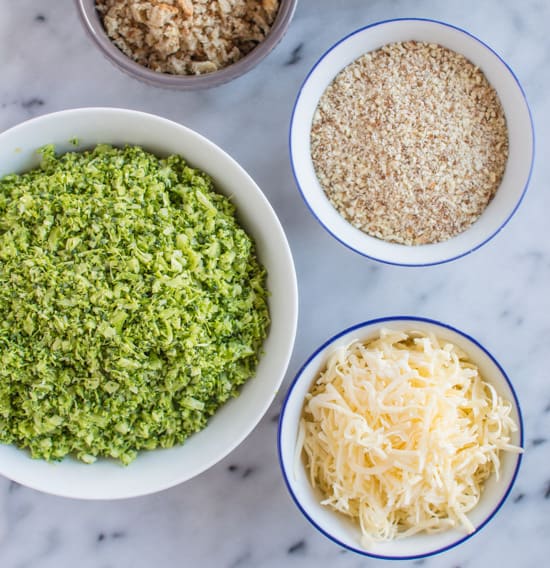 Have your guests dip these cheesy broccoli tots into the cheddar onion sauce, and you'll change the minds of vegetable naysayers, if only for 10 minutes. The best part? These tots are packed with protein from the cheddar cheese, almonds, and eggs. Your guests won't believe that the tots are actually healthy!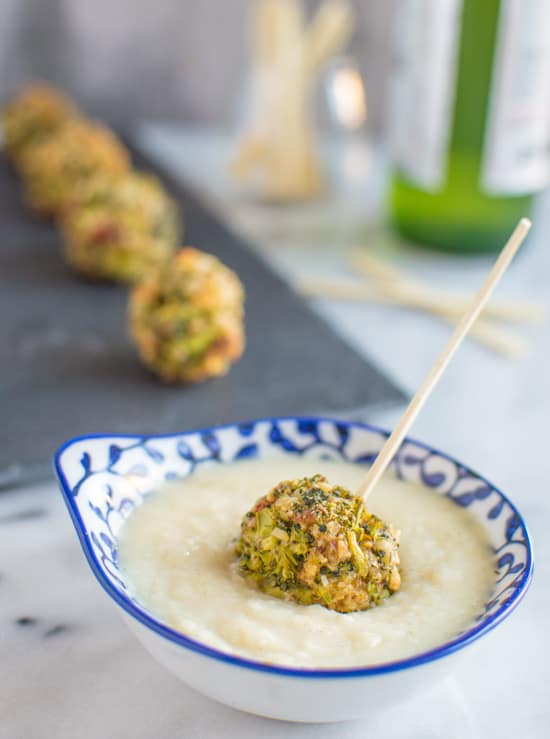 Cheesy Broccoli Tots and Cheddar Onion Sauce
Filled with sweet cheddar cheese, almonds, sun-dried tomatoes, and basil, these healthy cheesy broccoli tots will be a favorite at your next party! Makes 33 to 35 tots. Serves 8.
Ingredients
Cheesy Broccoli Tots
3/4

cup

(85g) raw almonds

3/4

cup

(60g) breadcrumbs

4 1/2

cups

(325g) broccoli florets

1 1/4

cups

(115g) shredded cheddar cheese

1/4

cup

(35g) chopped sun-dried tomatoes

1/4

cup

chopped

,

25g fresh basil

3

large eggs

,

whisked

1

tsp

garlic powder
Cheddar Onion Sauce
1

TBS

olive oil

2

tsp

all-purpose flour

1

cup

(250ml) 1% milk

1

cup

(85g) shredded cheddar cheese

1

tsp

to 1/2 TBS onion powder

,

depending on how much onion flavor you want

1/4

tsp

white pepper

,

or cayenne pepper

1/4

tsp

salt
Instructions
In a food processor, chop the almonds in the processor until they turn into small pieces. You're looking for some bits that are about the size of rice. It's ok if some of the almonds have turned powdery.

Next, toast the bread. Rip it into smaller pieces and chop them in the processor until they're about the size of peas or smaller.

Chop the broccoli florets in a food processor until they turn into small pieces. This shouldn't take too long.

In a large bowl, mix all the ingredients for the tots together.

Preheat oven to 350 degrees F (175 degrees C). You can prepare the tots two ways. Either line a large rimmed baking sheet with parchment paper, or spray a 24-hole mini muffin tin with cooking spray. I found that the muffin tin creates rounder tots, but the tots are more brown when cooked on the baking sheet.

Shape about 1 1/2 to 2 tablespoons of the broccoli mixture, and shape the into a ball. Repeat until all the mixture is rolled up. Set the tots into the muffin tin or on the baking sheet. Bake for about 20 to 23 minutes, or until the tops are browned.

While the tots are baking, prepare the cheese sauce. Heat a saucepan over medium-high heat, and add the olive oil. When the saucepan is hot, add the all purpose flour, and stir it with the oil immediately. The flour should start to bubble. Add the milk and let it boil. Reduce the heat to a medium low, and stir in the cheddar cheese. Remove from heat and mix in the onion powder, white pepper, and salt. The cheese sauce may harden as it cools, but just stick it in the microwave for 30 seconds, and it should be good to go.

Enjoy the tots with the cheese sauce!
Did you make this recipe?
Tag @hellolisalin or leave a star rating and comment on the blog!