As I have been cooking with a lot of butternut squash lately (see my quiche and salad recipes), I decided to switch things up a bit by cooking spaghetti squash. Here's a quick guide on how to roast spaghetti squash from The Kitchn.
I found a spaghetti squash mac and cheese recipe from Fit Sugar and decided to make my own version of it.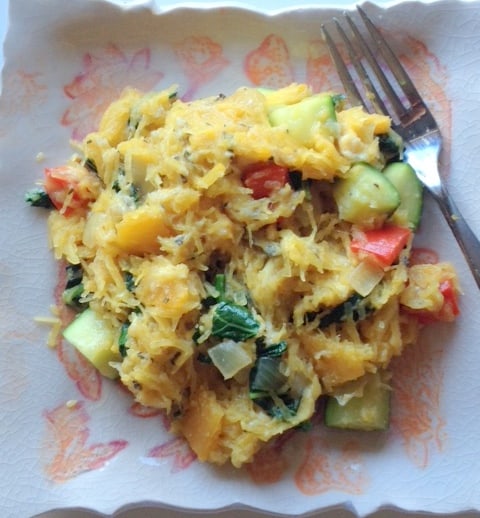 Cheesy Spaghetti Squash and Vegetables (adapted from Fit Sugar)
Makes 5-6 Servings
Ingredients
1 medium spaghetti squash, roasted and flesh removed
2 1/2 cups kale, chopped
1 medium zucchini, diced
1/2 red bell pepper, diced
1/3 cup onions, diced
3 garlic cloves, minced
1 tsp dried basil (add more if necessary)
1 cup milk
1 cup mozzarella cheese
1/4 cup parmesan cheese
2 TBS olive oil, divided
1 TBS coconut flour
salt and pepper to taste
Directions
Place a saute pan over medium high heat with 1 tablespoon olive oil. Add in chopped onions.
Once the onions start browning, add garlic, zucchini, kale, and red pepper. Saute for about 4 minutes or until the vegetables are fully cooked. Season with a bit of salt.
Place the remaining 1 tablespoon olive oil in a sauce pan over medium high heat.
Once the oil is heated, add the coconut flour and mix.
When the oil and flour starts to bubble a little, pour in milk.
Add the mozzarella and parmesan cheese when the milk bubbles.
Stir until the cheese melts.
Add in basil (and any other dried herbs) into the cheese mixture and stir.
Pour the cheese mixture into the bowl with the spaghetti squash and mix.
Fold in the sauteed vegetables with the spaghetti squash.
Season with salt and pepper, if necessary.
Notes
Use any type of milk that you want.
Feel free to add more dried spices.