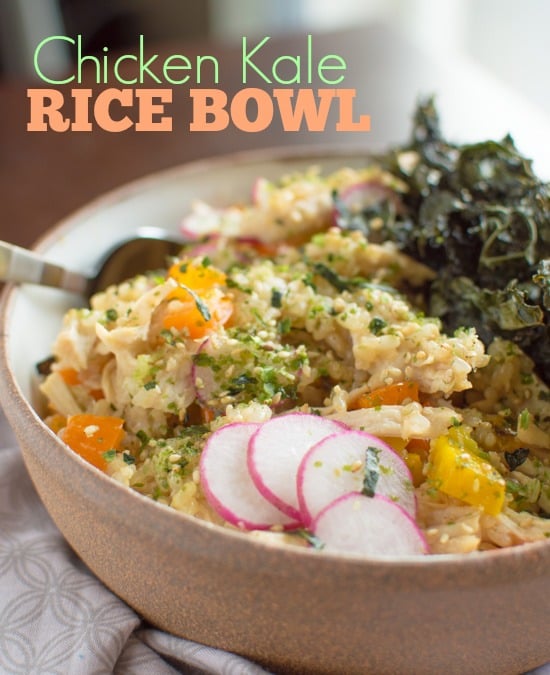 I just started reading Michael Pollan's latest book, "Cooked," and it sure has me thinking about my relationship with food. I don't mean to get all philosophical about cooking, but I have found the process of transforming raw ingredients into carefully composed dishes to be the best outlet for expressing my creativity.
I don't quite have the artistic talent of my sister, though I can knit and crochet like a grandmother. Believe me, I can't even draw stick figures or fish properly. I feel sorry for my teammates whenever I'm responsible for drawing in a game of Pictionary.
But whenever I'm cooking, I get into my zone. There's something about visiting the farmers market to pick out the most gorgeous bunch of kale, bringing it home, and rendering it into a delicious meal that just puts a smile on my face.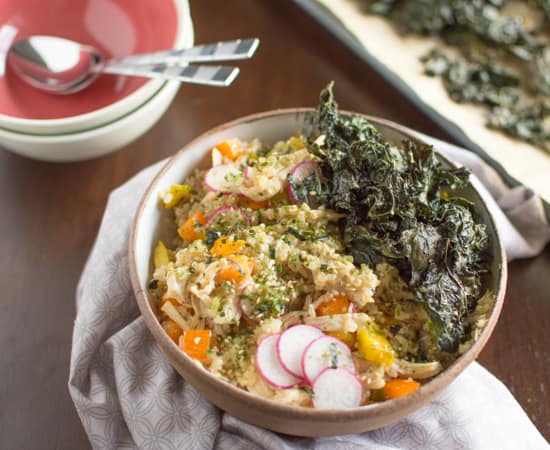 As Pollan's book points out, the ancient Greek word for "cook," "butcher," and "priest" (magerios) all share the same root—"magic." Yes, all of us who cook our own food are actually making magic.
See, we don't all need to go to Hogwarts to explore our special talents.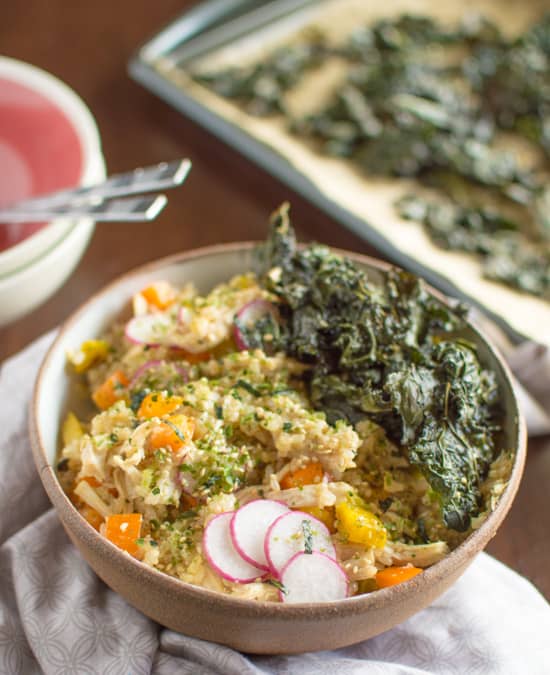 The chicken kale rice bowl that I made yesterday was the perfect combination of taste and texture. I recently discovered the magic of sweet brown rice and wanted to cook with it again.
The grains are shorter than your typical brown rice, and it has a sticky texture once cooked, similar to the sticky rice I find in dim sum or desserts in Asian restaurants. To create contrast to the softy, sticky texture of the rice, I mixed in crisp sliced radishes, chopped bell pepper, and kale chips. A small serving of this rice bowl goes a long way.
Feel free to substitute brown rice with any other grain of your choice!
Chicken Kale Rice Bowl
Makes 6-7 Servings.
Ingredients
1 1/2

cups

uncooked sweet brown rice

,

rinsed

6 1/2

water

,

divided

1

pound

of chicken breasts

1

bunch of lacinato

,

"dino" kale (any other kale works also)

1

large golden beet

,

peeled and diced

1 1/2

TBS

olive oil

,

divided

1 1/2

TBS

sesame oil

,

divided

4

TBS

low-sodium soy sauce

,

divided

1

large orange bell pepper

,

diced

4

radishes

,

sliced

2

stalks green onion

,

finely chopped

3 to 4

TBS

shredded unsweetened coconut

furikake

,

Japanese rice seasoning (optional)
Instructions
Boil the rice in a medium saucepan with 3 and 1/2 cups of water over medium-high heat. Once the water boils, reduce the heat to medium low. When the water has evaporated (about 15-20 minutes), turn off the heat and cover the rice to allow it to soften more.

Bring the chicken breasts to boil in a saucepan with 3 cups water over medium-high heat, enough water to cover the chicken breasts. When the water has boiled, reduce the heat to medium-low, and let the chicken cook for another 15-20 minutes, depending on the size of the meat. Cut into the chicken to see if it has been fully cooked (the meat inside should not be pink). Turn off the heat, drain the water, and let the chicken cool. When it is cool enough to handle, shred the chicken with your hands.

Preheat oven to 375ºF (~191ºC). Line two baking sheets with parchment paper.

Remove the stems from the kale, and chop the leaves into smaller pieces. They don't need to be too small. Using a paper towel, dry the leaves to get out excess moisture. Drier leaves ensure that the kale chips will turn out crunchier. In a large mixing bowl, toss the kale with 1 tablespoon of olive oil, 1/2 tablespoon of sesame oil, and 1 and 1/2 tablespoons of soy sauce. Massage the liquids into the kale. If the leaves still look dry, add a bit more olive oil. Lay the kale onto lined baking sheets in a single layer, and bake for about 12 minutes, or until the kale starts to brown.

When the kale is done, increase the temperature of the oven to 400ºF (~205ºC). Toss the diced beets with 1/2 tablespoon of olive oil, and lay it on a lined baking sheet. Bake the beets for 15 to 20 minutes, or until they are easily pierced with a fork.

Once everything is done cooking, mix the rice, shredded chicken, 1 tablespoon of sesame oil, 2 and 1/2 tablespoons of soy sauce, pepper, radishes, green onion, and coconut together.

Serve the rice in a bowl and top with kale chips and furikake.

Store leftover rice in the refrigerator with an airtight container. The kale chips should be stored in a container in room temperature.
Did you make this recipe?
Tag @hellolisalin or leave a star rating and comment on the blog!