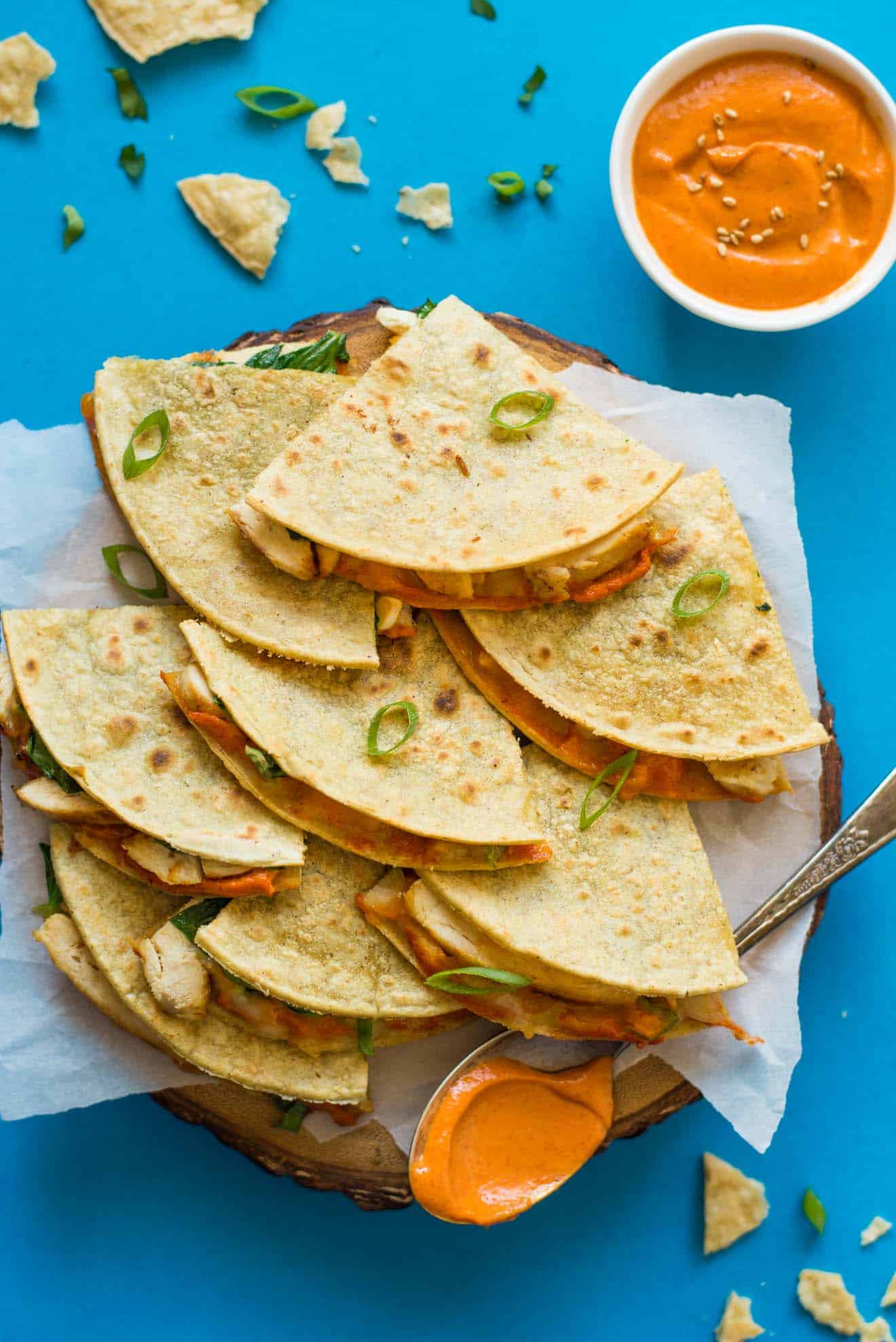 Ever since I ate my first bibimbap in China 8 years ago, I've developed a thing for gochujang. It's a fermented red pepper paste that is as prevalent in Korean cooking as soy sauce is in Chinese cuisine. Gochujang is spicy, savory, and pungent. I love its aggressive flavors, and I always keep some in my fridge.
I was googling gochujang to see if there are any interesting stories to share, and I kept seeing headlines that say it's the Korean sriracha or miso. To make that comparison is the equivalent to saying that ketchup is like dijon mustard or oyster sauce. I don't know, it just doesn't quite work for me . . . Let's get out of the trap of comparing gochujang to sauces from other cuisines and appreciate it for it is—a damn good spicy paste that goes well with everything, even quesadillas.
As I slathered on a thin layer of the thick paste onto a tortilla for the first time, I couldn't help but feel a bit apprehensive about how my quesadillas would turn out. Who the heck does this?
Me, apparently.
Somehow, some way, gochujang and melted cheese just go together. For this recipe, I decided to make a sauce out of the gochujang so that it's easier to spread and can double up as a dip. It's a recipe I adapted from The Kimchi Chronicles, another cookbook I'm working through right now.
If you enjoy bibimbaps and quesadillas, you're going to love this. Serve it with some homemade baked tortilla chips!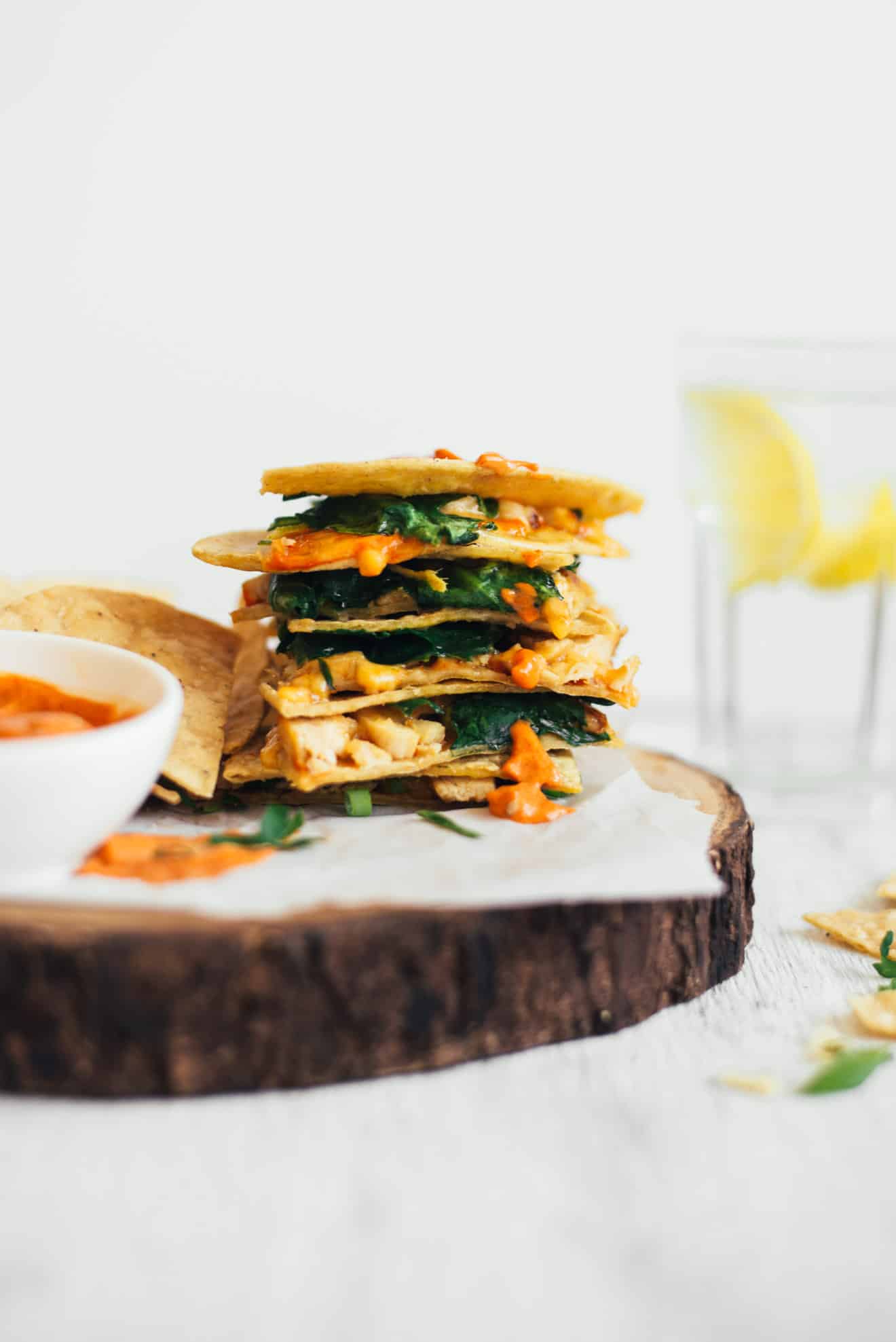 MASTERING MY MISTAKES / COOKING NOTES
Where do you find gochujang? You should be able to find it at Asian supermarkets, and I've seen it at some Whole Foods locations. If all else fails, you can get it online.
What else do you do with gochujang? The paste will last for a long time in the fridge, so you don't have to worry about it spoiling quickly. Use it to make my forbidden rice bowl or a bibimbap! Alice from Hip Foodie Mom has an awesome recipe for that.
Variations: Make the quesadillas vegetarian by swapping out the chicken for mushrooms or black beans!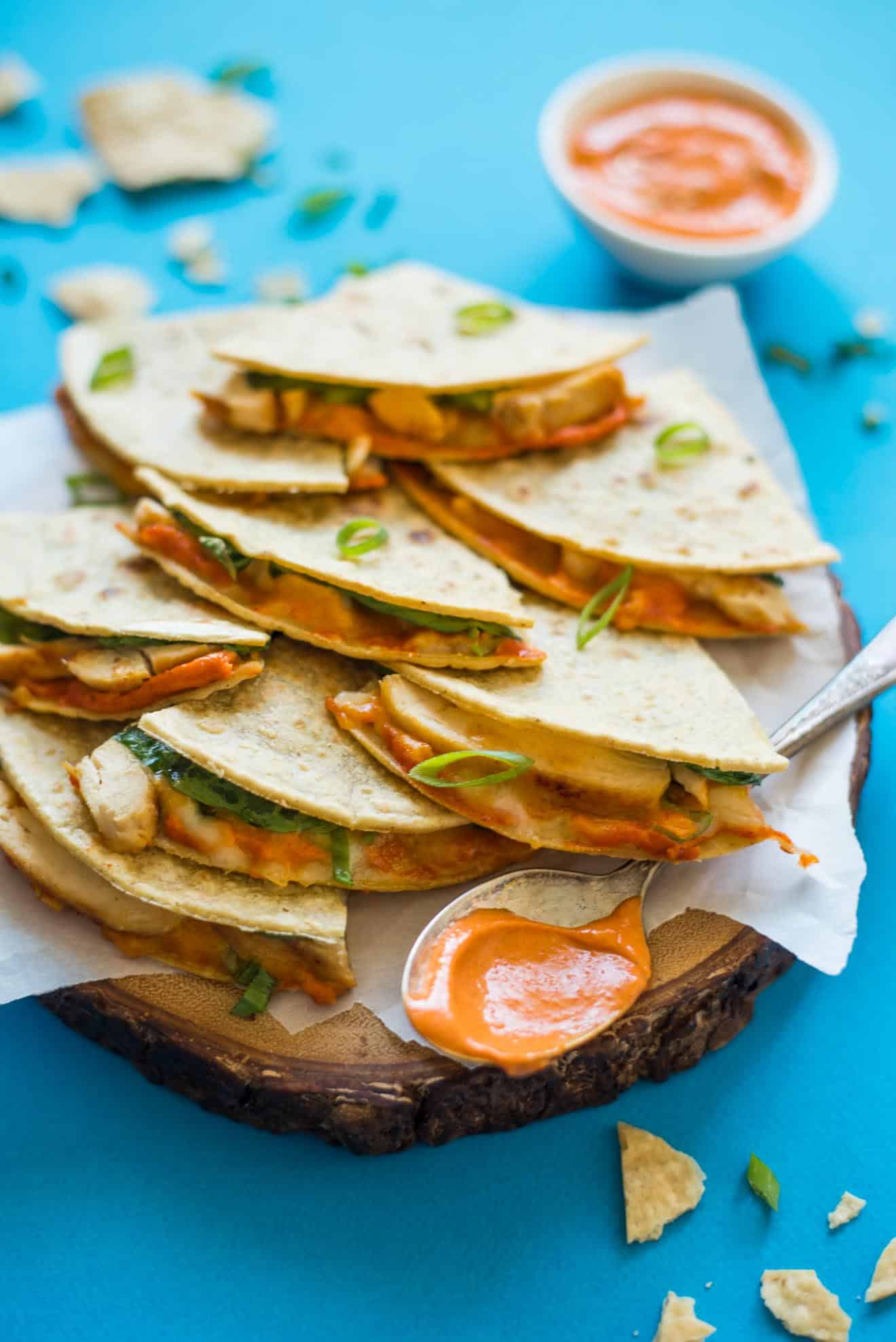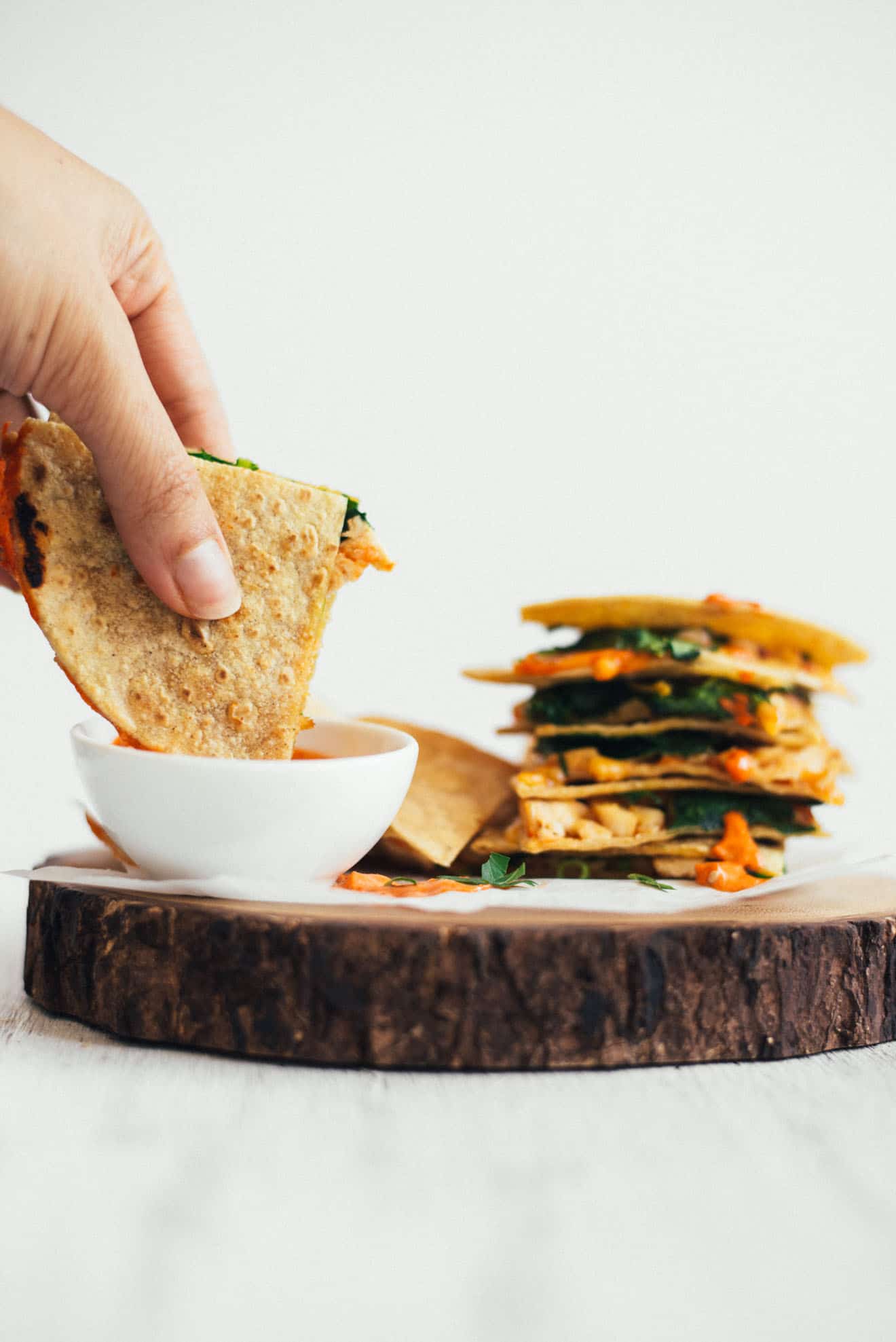 Chicken Quesadillas with Gochujang Sauce
Ingredients
Chicken Quesadillas
1

pound

(450g) boneless skinless chicken breasts

pinch

of kosher salt

1/4

teaspoon

granulated garlic

1 to 1 1/2

tablespoons

olive oil

8 6-

inch

corn tortillas

3/4

cup

(80g) shredded cheese (I used sharp cheddar and mozzarella)

2

scallions

,

thinly sliced

1

cup

baby spinach

,

about a small handful
Gochujang Sauce
2

tablespoons

gochujang

3

tablespoons

low-fat sour cream

2

teaspoons

rice vinegar

1/4

teaspoon

toasted sesame oil
Instructions
Remove chicken from packaging and pat dry. Slice your chicken breasts across to get thinner slices. This also helps the chicken cook faster. Sprinkle kosher salt and granulated garlic over chicken breasts.

Heat a pan with olive oil over medium-high heat. Add chicken breasts and cook for around 7 to 8 minutes, until the breasts reach 165 degrees F (75 degrees C). Dish up and set aside to rest. When the chicken is cool enough to handle, chop into thin slices.

Prepare gochujang sauce by mixing all ingredients in a bowl. Set aside.

Assemble quesadillas. Spread about a heaping teaspoon of gochujang sauce on a tortilla. Top with 3 tablespoons of cheese, sliced scallions, chicken, spinach, and another tortilla. Repeat for the remaining ingredients.

Wipe down pan and bring it to medium heat. Heat quesadillas for about 2 to 3 minutes, flipping in between.

Slice into quarters and serve immediately. You can use the rest of the gochujang sauce for dipping.
Notes
Nutrition information includes 1/4 of the entire batch of gochujang sauce, in case you use the remaining sauce for dipping.
NUTRITION INFORMATION: Yields 4; 1 quesadilla per serving. Amount per serving: Calories: 445, Total Fat 13g, Saturated Fat: 4.4g, Sodium: 591mg, Cholesterol: 124mg, Total Carbohydrate: 24g, Dietary Fiber: 4g, Sugar: 3g, Protein 46g
Did you make this recipe?
Tag @hellolisalin or leave a star rating and comment on the blog!