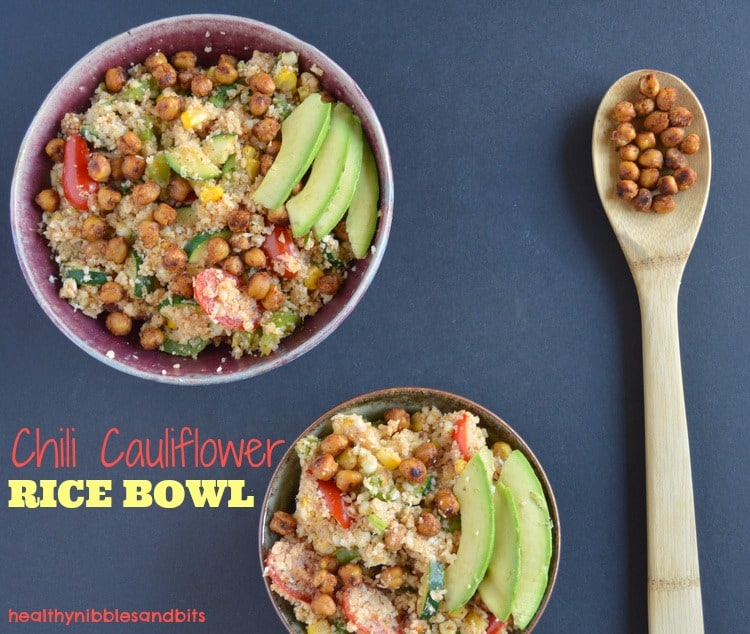 The best weekends are ones dedicated to food. Delicious, deep-fried, buttery, artery-clogging food. Undoubtedly unhealthy, a treat day (or two) is absolutely necessary for keeping my taste buds happy. Here's a quick recap of my foodie adventures this weekend:
SATURDAY
Yasukochi Sweet Stop's Coffee Crunch Cake: layers of light yellow cake and whipped cream blanketed by an exterior of chopped crunchy coffee candy. The cake itself was fantastic because the cake was fluffy, and it wasn't too sweet. The coffee crunch, on the other hand, was a bit much for my taste. But then again, I'm the type of person who scrapes off icing from a cake and refuses to add chocolate or candy on my ice cream or frozen yogurt. Just another one of my quirks, along with eating muffin tops.
San Tung Chinese Restaurant's Chinese-style dried-fried chicken: battered chicken wings and drumsticks that are fried in a wok twice and mixed with house-made sweet and sour sauce. My friends constantly gush about their chicken, so I wanted to taste these things for myself. The verdict: finger-lickin' good! So good when they have been featured in Food & Wine Magazine's list of the best chicken wings in the U.S. I may have burned my tongue a bit trying to eat the freshly cooked chicken, but it was worth it. You know that we had a great time when the only picture I snapped was a blurry photo of plates with chicken bones and empty Tsingtao bottles.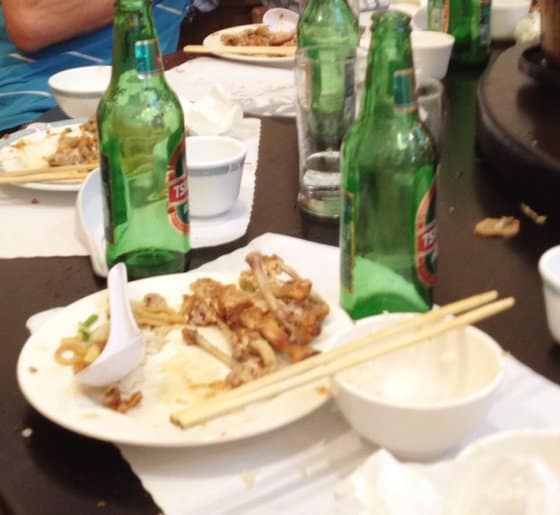 SUNDAY
Dynamo Donut + Coffee: En route to my bread-making class on Sunday, I stopped by Dynamo Donut + Coffee for some much needed mid-day caffeine. Their enticing display of donuts immediately caught my eye. Naturally, I had to try them. I'm a sucker for fancy baked goods.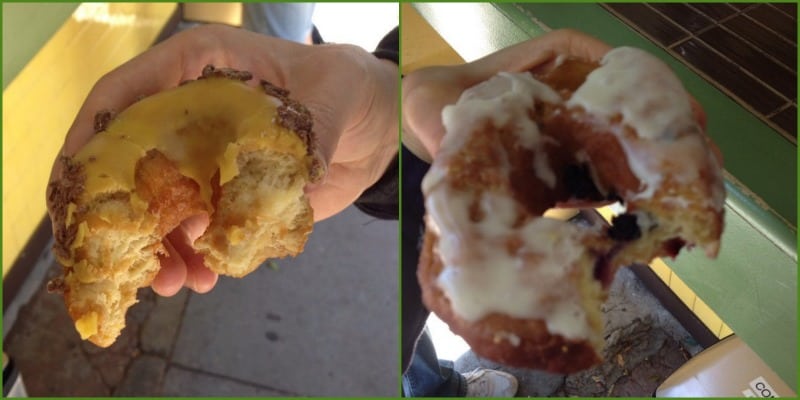 The one on the left is a donut with passion fruit glaze and bits of chocolate, and the one of the right is a blueberry donut with a sugar glaze. Somehow, I managed to take a better shot of everything else but the blueberry donut on photo #2. You would think that I could take better photos of my food . . . Anyway, both the coffee and donuts were amazing! Check them out if you are ever in San Francisco!
Sour Flour Starter Workshop: Finally, I attended the Sour Flour Starter Workshop at La Victoria Bakery so that I could get going on baking fresh bread at home. After attending this workshop, I have become hooked on the idea of baking my own bread. There will be a steep learning curve and probably many brick-like loaves of bread, but I will definitely keep everyone updated on my progress! Check out the flatbread I made at the workshop. The bread was made with flour, water, salt, and yeast only. So simple, so delicious!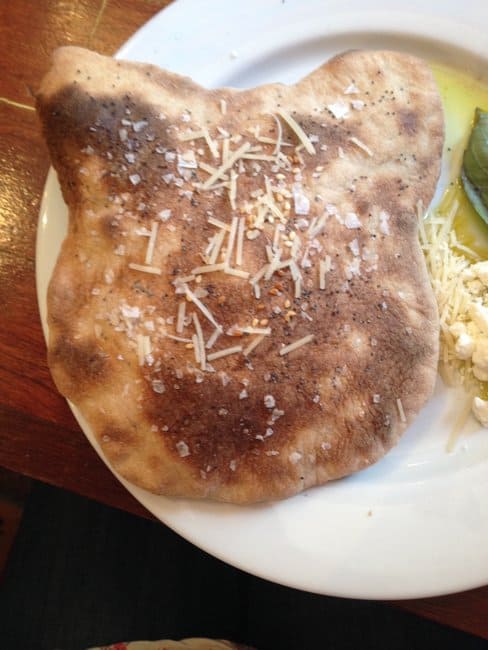 After a weekend of sugar, deep-fried foods, butter, and carbs, I needed to cook a big bowl of vegetables as a detox for my body.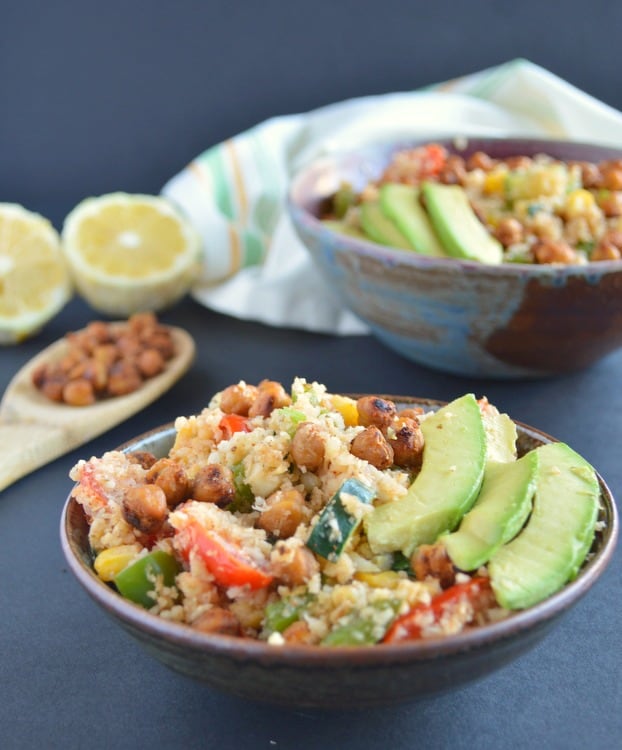 Chili Cauliflower Rice Bowl
This colorful cauliflower rice bowl is filled with vegetables and topped with crunchy roasted chili chickpeas. Serves 4-5.
Ingredients
Roasted Chickpeas
1

15-ounce can of chickpeas or garbanzo beans

,

drained and rinsed

1

TBS

olive oil

1

tsp

chili powder

1/2

tsp

granulated garlic

1/2

tsp

ground cumin

pinch

of sea salt

pinch

of brown sugar
Cauliflower Rice Bowl
1

medium head of cauliflower

1 1/2

TBS

olive oil

4

cloves

garlic

,

pressed or minced

1

medium zucchini

,

diced

1

small green bell pepper

,

diced

1/2

cup

white corn kernels

1/2

cup

yellow corn kernels

2

tsp

chili powder

1/2

tsp

cayenne pepper

1/2

tsp

ground cumin

1 1/2

tsp

tsp salt

,

add more if necessary

1/2

TBS

lemon juice

1 1/2

cups

plum tomatoes

,

halved

few sprigs of fresh cilantro

,

chopped (optional)

sliced avocados

,

optional
Instructions
Preheat oven to 450ºF (230ºC). Line a baking sheet with parchment paper or a silicone mat.

In a medium-sized bowl, toss all the ingredients for the roasted chickpeas together. Pour the chickpeas onto the lined baking sheet and bake for about 20-22 minutes, giving them a quick toss after 12 minutes. Once they look browned and shriveled, they are ready to take out of the oven.

Cut the cauliflower into small pieces and pulse it in a food processor until you get tiny bits and set aside. I have a small food processor, so I had to do this in several batches.

Heat a sauté pan with 1 and a 1/2 tablespoons of olive oil over medium-high heat. Add the minced garlic and stir it a little. When the garlic starts to brown, add the zucchini and pepper and cook for about 2-3 minutes. Add in the corn kernels and cook for another 2 minutes. Finally, add the cauliflower and the seasonings–chili powder, cayenne pepper ground cumin, and salt. Cook for 2-3 more minutes and turn off the heat. You can cook the cauliflower rice separately. I was feeling a bit lazy when I made this, so I cooked them all in one large sauté pan.

Pour everything into a large serving bowl and mix in the lemon juice and sliced tomatoes. Add some cilantro and avocados if you like.

Refrigerate any leftovers in an airtight container.

Enjoy!
Did you make this recipe?
Tag @hellolisalin or leave a star rating and comment on the blog!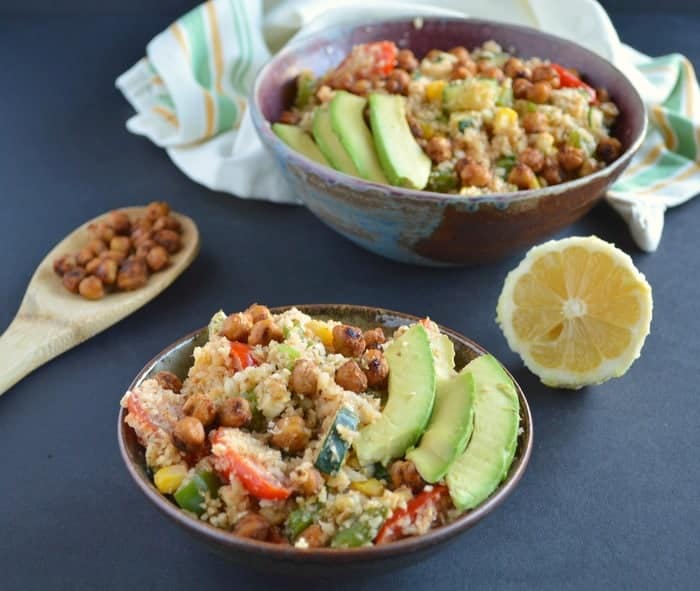 Did anyone else enjoy a treat day this weekend?