These gluten-free chocolate orange oat biscuits are low in sugar and require only 7 ingredients to make. They're great with a cup of tea!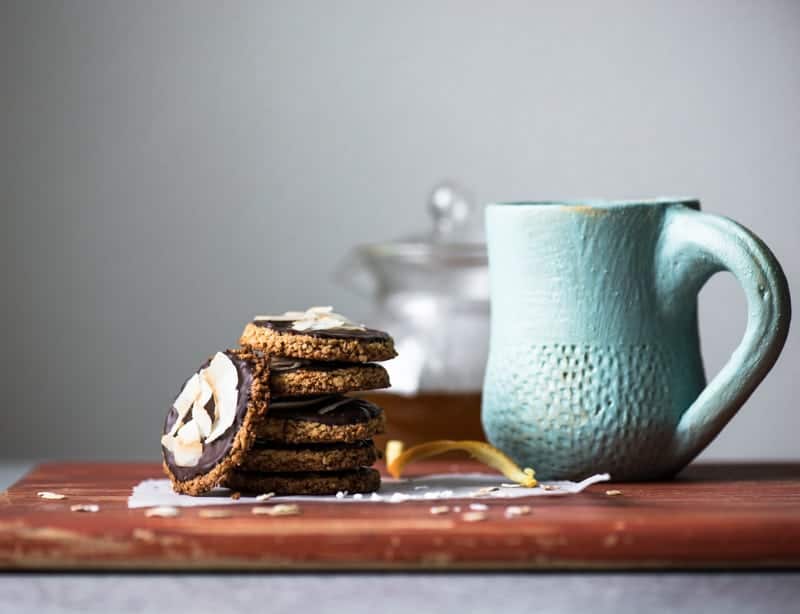 One of the best things about my annual Christmas trek to the UK every year is the food. Considering that US and UK culture are similar in so many ways, I initially expected the food to be virtually the same. Much to my surprise, I found that even though we cook with similar ingredients, the flavor combinations and even the way we name certain foods are quite different. What we call eggplant, they call aubergine; what we call cilantro, they call coriander; what we call tomato purée, they call passata. I can go on with this for a while . . .
Over the years, I have come to appreciate the unique qualities of British food—the strong influence of Indian cuisine, their love affair with savory pies and root vegetables. Whenever I visit, I always buy several food magazines to learn a few new recipes.
One of the recipes I tried last month were some "choc-oaties" from Jamie Oliver's magazine. What intrigued me the most about the recipe was that it didn't use much sugar. It was sweetened by a tiny bit of maple syrup and dark chocolate. Because maple syrup in England is quite expensive, I started modifying the recipe by using local honey instead. After making the biscuits several times, I thought that they still needed more flavor and added some orange zest. The orange zest makes such a big difference! Don't leave it out.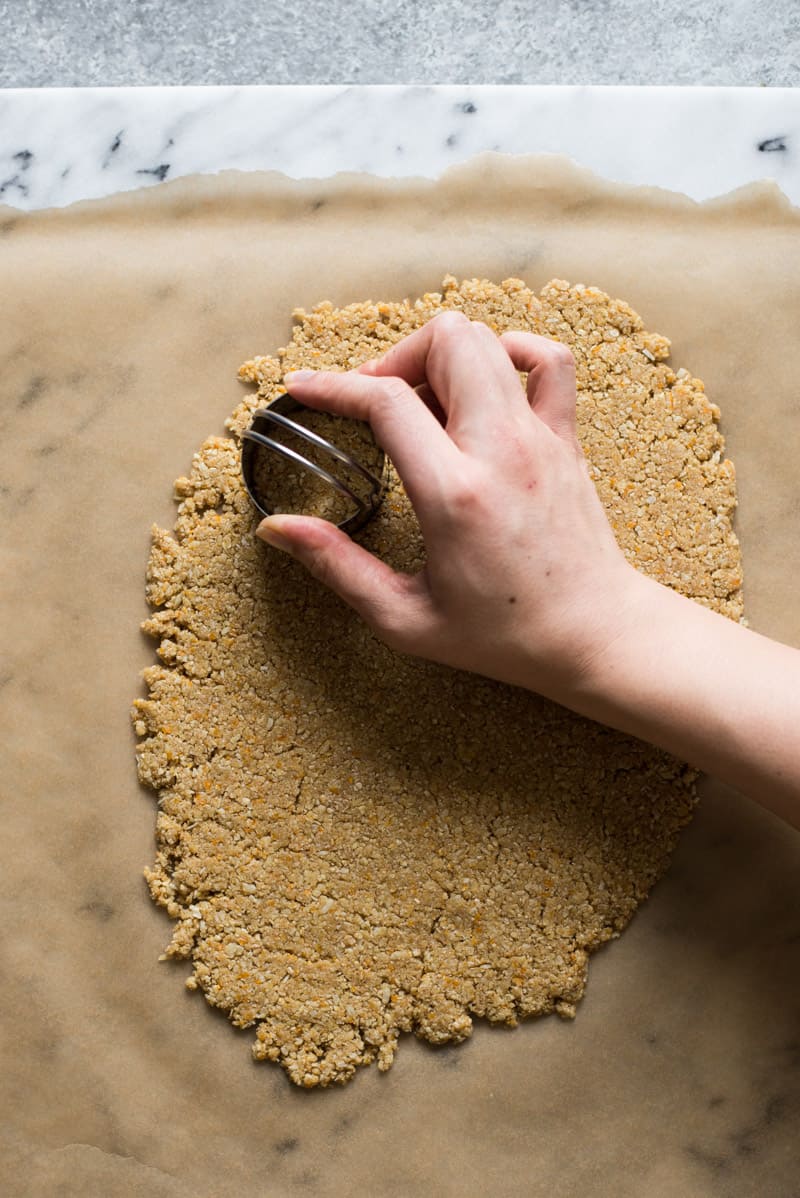 MASTERING MY MISTAKES / COOKING NOTES
Keep an eye on the oven: Because of all the coconut flakes in the cookies, they will cook pretty quickly. On dark baking sheets, my cookies were ready in about 8 to 9 minutes.
Using quick-cooking oats: I used quick-cooking (or porridge) oats because they break down easier in the food processor. Rolled oats should be fine, too. I haven't tried this recipe with oat flour, but I imagine that the dough would be too soft.
Try using good quality honey: Because this recipe doesn't call for a lot of honey (only 3 tablespoons), you want to make sure that the honey you use is good stuff. I definitely tasted the difference when I used cheaper honey to make the cookies.
Try using virgin or unrefined coconut oil: I know that virgin/unrefined coconut oil tends to be more expensive, but the coconut flavors are more pronounced if you used unrefined coconut oil.
An easier method to shape the cookies: Rolling out the dough and cutting it with a cookie cutter is time consuming. You can always scoop a heaping tablespoon of the dough, give it a good squeeze and flatten it with the palm of your hand to make the cookies. The tops of the cookies won't be even, but they cook fine.
Tempering chocolate: The easiest way to melt the chocolate is to use the microwave. However, when the chocolate cools, you might notice white streaks on the surface. That will happen when you overheat the chocolate.
To "temper" the chocolate properly, you should melt the chocolate to only 115-120F (46-49C.). Then, stir in small chunks of chocolate into the melted chocolate. This is called "seeding," which helps bring down the temperature of the chocolate. You want it to go down to the low 80s (27-28C). Finally, heat the chocolate back up to the high 80s to low 90s (31-32C). Now you're ready to use the melted chocolate. David Lebovitz has a full tutorial on tempering chocolate and the science behind it. If you're not concerned with the way the chocolate looks, don't worry about tempering. The cookies will still taste great!
Because I wanted the cookies to look good in the photos, I tempered the chocolate by melting 100 grams of chocolate it in a glass bowl over a saucepan with simmering water. I used this thermometer to keep an eye on the chocolate. It's pricey but definitely the best thermometer I ever used. I then seeded the melted chocolate with another 50 grams of chocolate. I ended up with extra chocolate, which I spread over honey graham crackers. In case you're wondering, the chocolate covered graham crackers are SOO GOOD.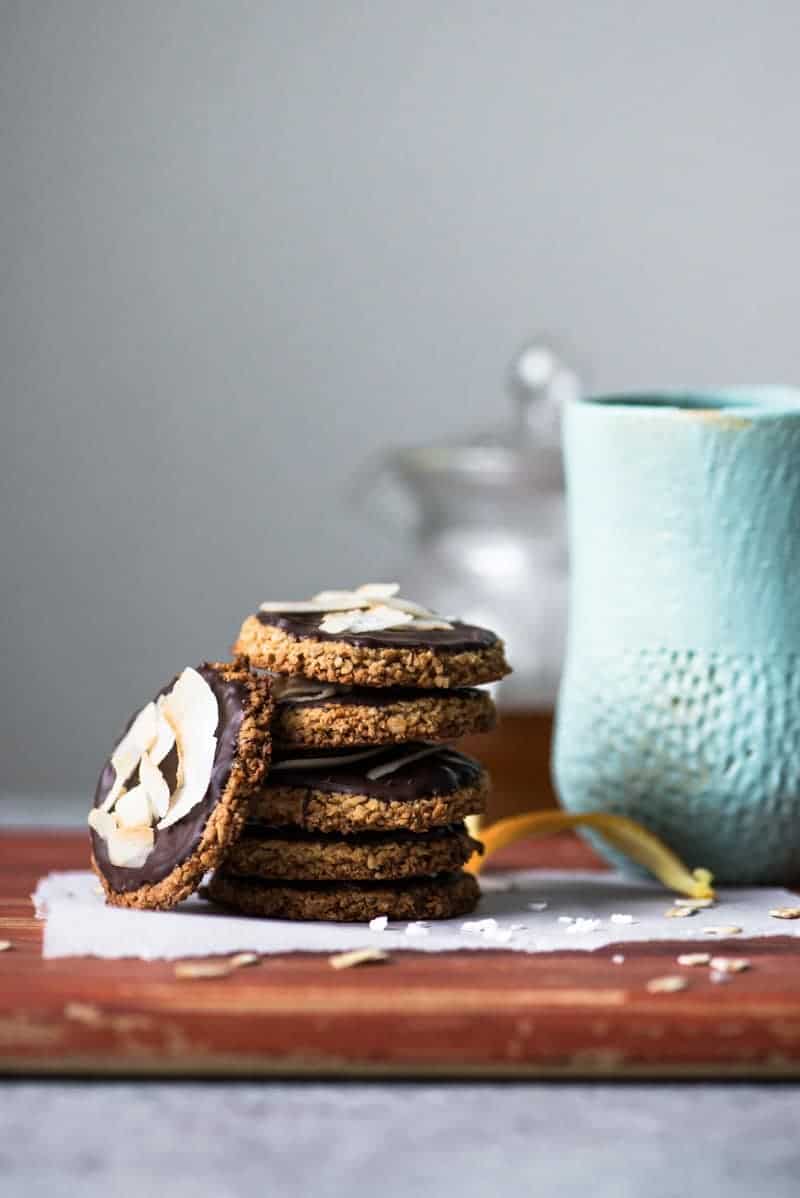 Print
Chocolate Orange Oat Biscuits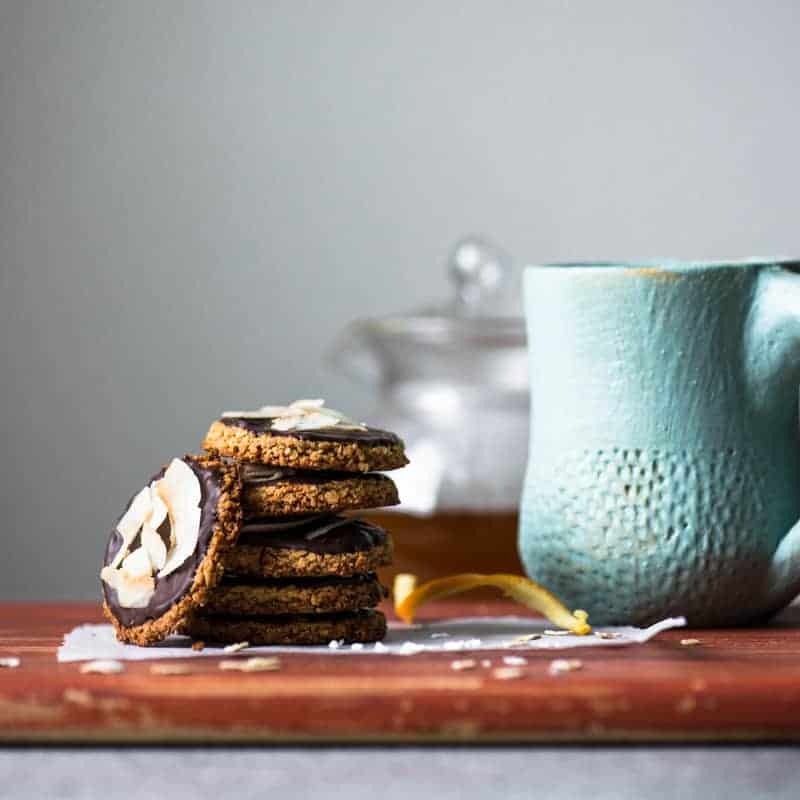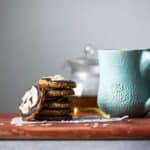 Recipe adapted from the Jamie Oliver Magazine. This makes about 25 to 32 cookies, depending on how thick you roll out the dough.
Author:
Prep Time:

25 minutes

Cook Time:

10 minutes

Total Time:

35 minutes
1 1/3 cups

(

135g

) quick-cooking oats (or porridge oats)

3/4 cup

(

70g

) unsweetened shredded coconut

3 tablespoons

coconut oil, melted

3 tablespoons

good quality honey

1 tablespoon

vanilla extract
zest from

1

large orange (about

1 tablespoon

)

3.5 ounces

(

100g

) 60 to 70% chocolate, chopped into large chunks

1/3 cup

(

30g

) flaked or shredded coconut for topping (optional)
Instructions
Preheat oven to 350F (175C). Line 2 baking sheets with parchment paper.
Add the oats into a food processor and blend until you get a coarse powder. Add the coconut and pulse a few times. Add the coconut oil, honey vanilla extract and orange zest and pulse until you get a moist dough. The dough will be crumbly but should hold together when you squeeze a bit of it together.
Lay a large sheet of parchment paper on a work surface. Pour the dough on top. Gather the dough together into a mound and flatten it with the palm of your hand. Lay another sheet of parchment paper on top and roll out the dough so that it is just under a 1/4-inch thick. (The dough is very sticky, so the parchment paper helps keep the dough from sticking to the rolling pin and the work surface.
Using a 2-inch cookie cutter, cut out the biscuits. You will need to press and twist the cutter to cut out the shape. Transfer biscuits to baking sheet. The biscuits may seem delicate right now, but they firm up in the oven.
Bake biscuits for 8 to 10 minutes, until the edges have browned. Transfer the biscuits onto a cooling rack soon after you pull them out of the oven. Otherwise, the hot baking sheet will continue to brown the coconut and the cookies might get burnt.
If you are adding flaked coconut for the topping, spread the coconut onto a baking sheet. Bake coconut for 2 to 3 minutes, until they start to brown. Be VERY careful—keep an eye on them. Coconut can turn from nicely brown to burnt in less than a minute.
Melt the chocolate in the microwave or in a glass/stainless steel bowl placed over a saucepan filled with simmering water. To melt chocolate in a microwave, place chocolate chunks into a microwave-safe bowl. Melt chocolate on high for 45 seconds. Continue microwaving chocolate at 10-second intervals until about half of the chocolate has melted. Use a spoon to stir the melted chocolate with the unmelted chunks. (See notes below for tempering chocolate.)
Using a butter knife, spread a thin layer of melted chocolate over each biscuit. Top each biscuit with toasted flaked coconut or plain shredded coconut, if you like.
Notes
NUTRITION INFORMATION: Makes about 30 cookies. Amount per cookie: Calories: 70, Total Fat 5g, Saturated Fat: 4g, Sodium: 2mg, Cholesterol: 0mg, Total Carbohydrate: 7g, Dietary Fiber: 1g, Sugar: 4g, Protein 1g
1. If you find that the biscuits are difficult to pick up with the cookie cutter, just slide it to the edge of the parchment paper and lift up the paper to release the biscuit.
2. Because I wanted the cookies to look good in the photos, I tempered the chocolate by melting 100 grams of chocolate it in a glass bowl over a saucepan with simmering water. I then seeded the melted chocolate with another 50 grams of chocolate. I ended up with extra chocolate, which I spread over honey graham crackers.