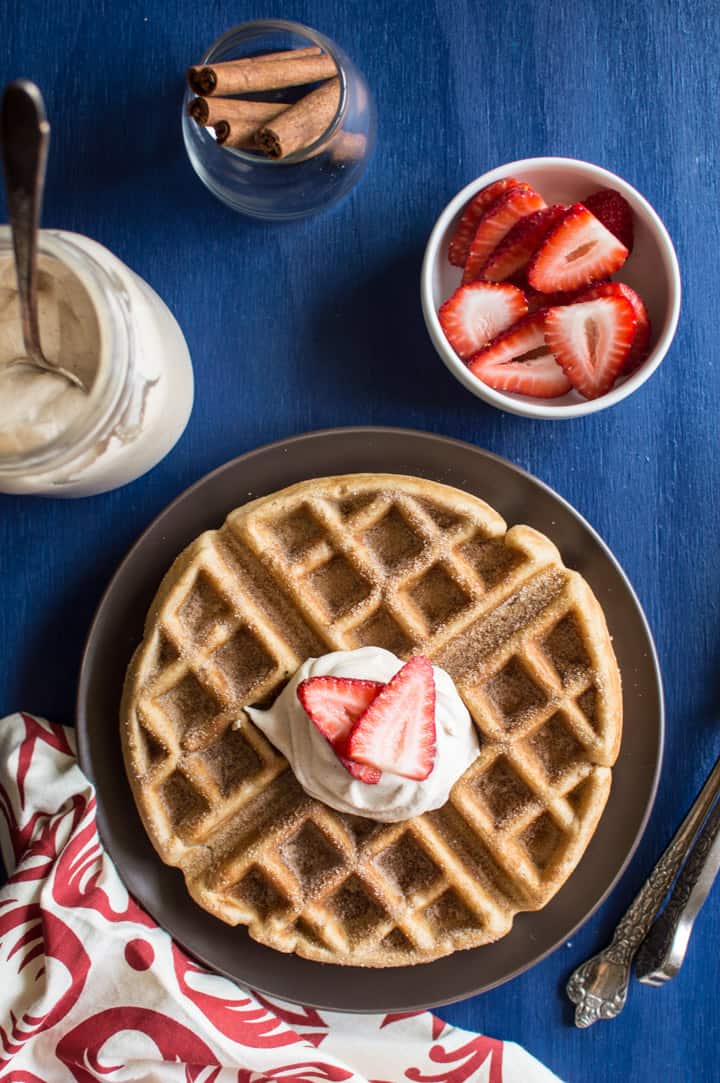 I'm writing this post as I sit in one of the darkest sports bars I've ever frequented. I managed to pick the seat under the AC vent, and I'm freezing my toes off. The bar is lit only by neon signs, lights above pool tables, and the bursts of color coming from the seven television screens. The faint smell of cigarette smoke cuts through the air and assails my nostrils.
There is a woman standing by the jukebox, selecting 90s rock songs as she sways her hips to her own rhythm. Power to her for finding a way to dance to those tunes. She takes a short break from her arhythmic dancing to clap her hands and scream "COME ON, JUNIOR!" NASCAR is on television.
Then, there's me, dressed like I'm about to go to the gym. The strange drinker sitting at the bar with a pen and paper in hand, attracting furtive stares from every corner of the room. This feels like just the perfect place for me to write a Cinco de Mayo recipe post.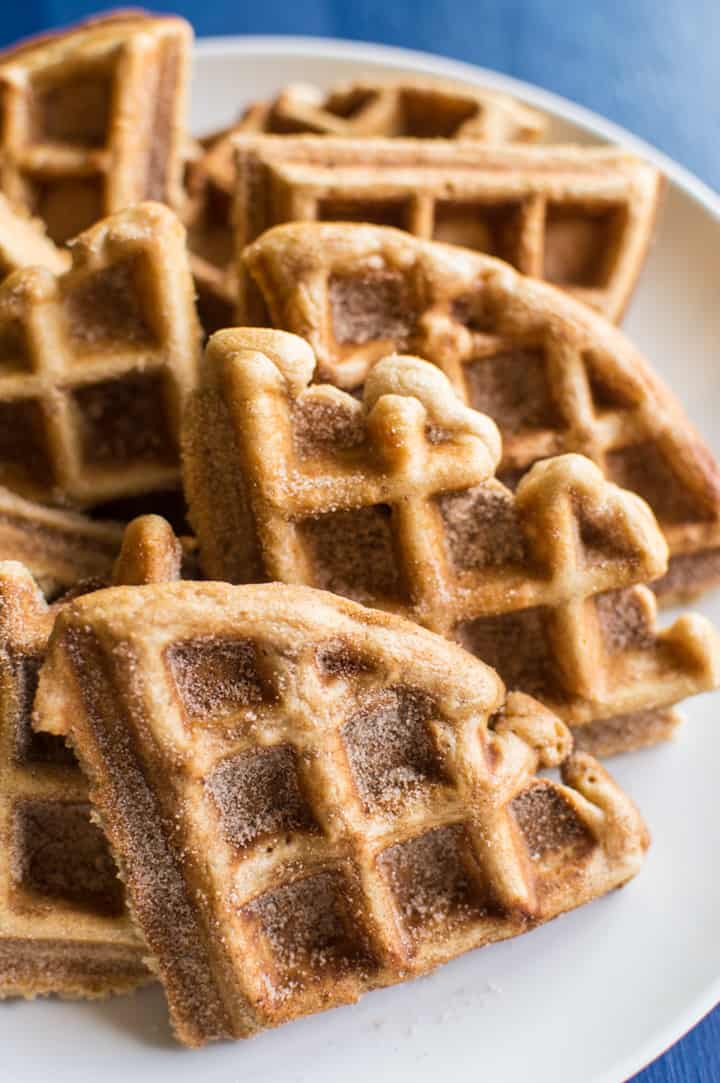 Cinco de Mayo, like St. Patrick's Day, is a holiday I used to celebrate for the sake of drinking. Now, I mark it on my calendar for the sake of creating holiday-themed recipes. Another sign that I'm getting one year wiser.
The very first Cinco de Mayo themed meal I ever cooked involved chicken tacos and homemade churro chips—lightly fried slices of tortillas with a generous coating of cinnamon and sugar. When it comes to frying chips, there's a fine line between a nice golden brown and a "spent too much time on a tanning bed" kind of brown. I wasn't on top of my game, and I couldn't keep those dang chips from over-browning. This year, I'm tossing that whole frying business out of the equation. We're making waffles.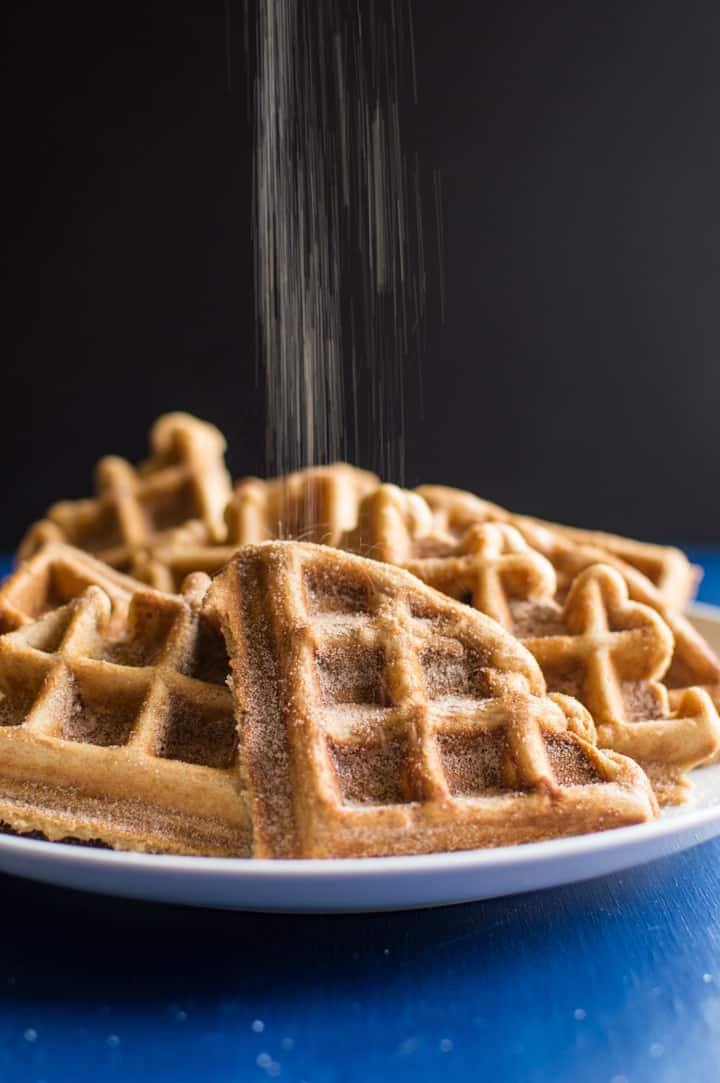 KITCHEN TIP: HOW TO MAKE WHIPPED CREAM IN A JAR
I learned a neat new trick that I've been aching to share with you: making whipped cream out of a mason jar. No equipment required!
I wish I came up with this on my own, but I first saw this trick on Food and Wine's website and found the recipe on Parade's Community Table. Instead of using your handy dandy mixer, you're going to incorporate air bubbles into heavy whipping cream by shaking a jar vigorously. It will be a workout. Primary muscles worked: biceps. Secondary muscles worked: triceps. No joke.
Some recipes say that you can make the whipped cream in 45 seconds, but it takes me around 5 minutes to get the right consistency. Maybe I need Popeye arms. But when you're making this whipped cream (and I know you will), focus more on how the heavy whipping cream feels and sounds in a jar instead of focusing on time. The whipped cream will be done when you no longer hear liquids jostling around in the jar, and you can feel like you're shaking a very thick cream.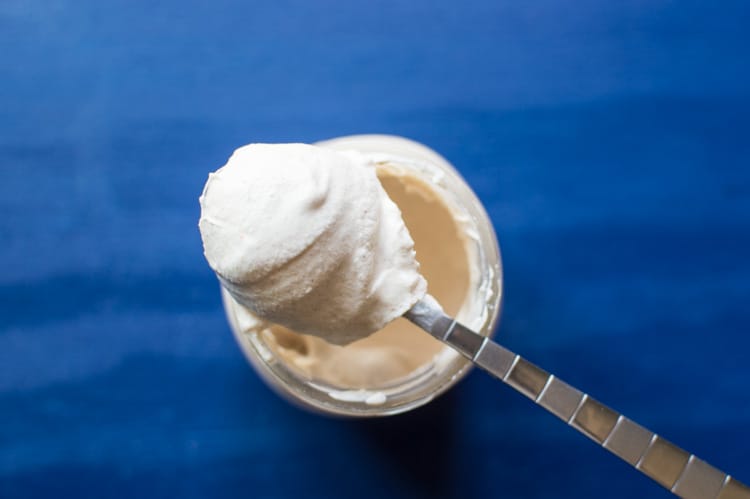 And in true Cinco de Mayo fashion, I spiced this baby up with cayenne and cinnamon. The cayenne won't burn your lips off, I promise. You just feel the tiniest quick right at the end. I prefer using 3/4 to 1 full teaspoon of cayenne in here, but 1/2 teaspoon works just fine, too.
So, what are we waiting for? Let's eat!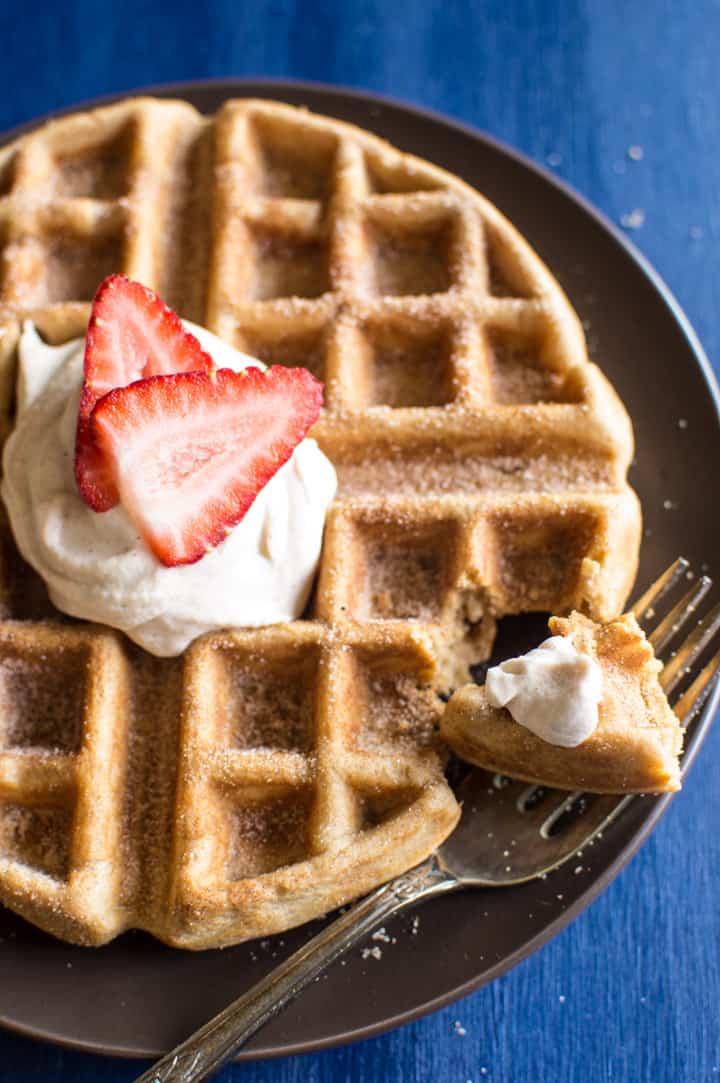 Churro Waffles with Homemade Cayenne Whipped Cream
These churro waffles are sprinkled generously with cinnamon and sugar and topped with an easy, creamy homemade cayenne whipped cream! Leftover whipped cream can be stored in a jar for up to a week.
Ingredients
Cayenne Whipped Cream
1

cup

heavy whipping cream

3

tablespoons

powdered sugar

3/4

teaspoon

cayenne

,

use 1/4 to 1/2 teaspoon for less spice

3/4

teaspoon

cinnamon
Churro Waffles
1/2

cup

whole wheat flour

1/4

cup

all-purpose flour

1 1/2

tablespoons

coconut sugar

,

any other sugar works also

1 1/2

teaspoon

baking powder

1/2

teaspoon

ground cinnamon

1/4

teaspoon

ground ginger

,

optional

1/4

teaspoon

salt

2/3

cup

low-fat milk

1

large egg

1 1/2

tablespoons

vegetable oil

1

teaspoon

pure vanilla extract

1/3

cup

granulated sugar

,

for sprinkling

1

tablespoon

ground cinnamon

,

for sprinkling

sliced strawberries for topping

,

optional
Instructions
In a glass pint jar, stir all the whipped cream ingredients together until they're just incorporated. Twist the top on and shake for 4 to 5 minutes. Stop shaking only when you can't hear the liquids jostling around in the jar anymore, and it feels like you're shaking a thick cream inside the jar. Chill the whipped cream in the refrigerator while you cook the waffles.

Preheat a waffle iron.

Whisk together the whole wheat flour, all purpose flour, coconut sugar, baking powder, cinnamon, ginger and salt.

Add the milk, egg, oil, and vanilla to the dry ingredients, and mix. The batter should be a bit thick but easy to pour and spread on the waffle iron.

Spread half the batter on the waffle iron and cook for 2 1/2 to 3 minutes. While the waffles are cooking, mix the sugar and cinnamon for sprinkling. Pour this mixture into a shallow bowl.

When a waffle is done, use tongs to remove it from the waffle iron. Sprinkle the cinnamon and sugar on the waffles immediately. Don't wait for the waffles to cool off because the cinnamon and sugar will not stick as well. Set waffle aside and cook the remaining batter. You probably will not use up all the sugar, so save the leftovers in a sandwich bag.

Top waffles with a dollop of chilled whipped cream and sliced strawberries. Refrigerate remaining whipped cream for up to a week.
Notes
NUTRITION INFORMATION: Amount Per Waffle (Plus some sugar on the outside): Calories: 446, Total Fat 14.6g, Saturated Fat: 2.1g, Sodium: 641mg, Cholesterol: 97mg, Total Carbohydrate: 70.4g, Dietary Fiber: 6.1g, Sugar: 32.7g, Protein 11.6g
Cayenne whipped cream adapted from this recipe from Parade's Community Table.
You can use any other jar if you don't have a pint-sized one.
The longer you chill the whipped cream in the refrigerator before serving, the thicker it will be.
Did you make this recipe?
Tag @hellolisalin or leave a star rating and comment on the blog!
Looking for more Cinco de May inspiration?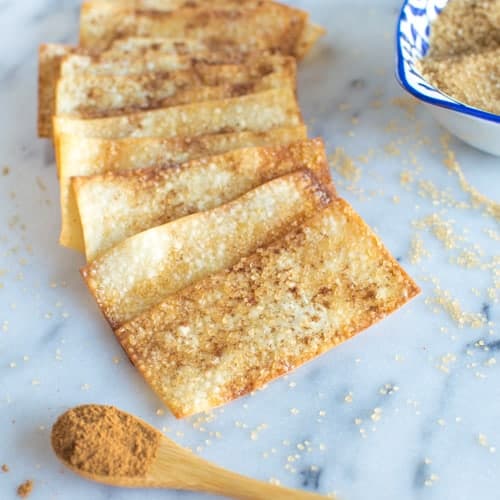 Four-Ingredient Cinnamon Sugar Crisps
Chilaquiles with Homemade Tomato Sauce