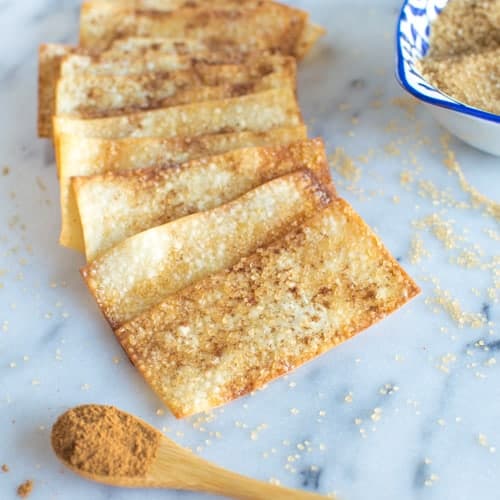 I never thought that I would be doing this, but I am signed up to run a half marathon later this year, the Nike Women's Half Marathon in San Francisco to be exact. A whirlwind of excitement but even more fear is going through my head right now. The longest distance I have run at a time was 6 miles, so the thought of having to run 7.1 more miles is nothing but daunting!
The irony in all of this, of course, is that I'm not the hugest fan of running. Sure, I run a few miles here and there, chase after a bus, or sprint across road just to make a traffic light. Anything beyond 4 miles requires serious mental coaxing. And some 2Pac. Am I crazy for volunteering to subject myself to physical torture? I'll forgive you if you say yes. But running a half marathon is on my bucket list, and there's no better time to cross that item off than now.
Naturally, the only way to celebrate the beginning of a new adventure is with sugar!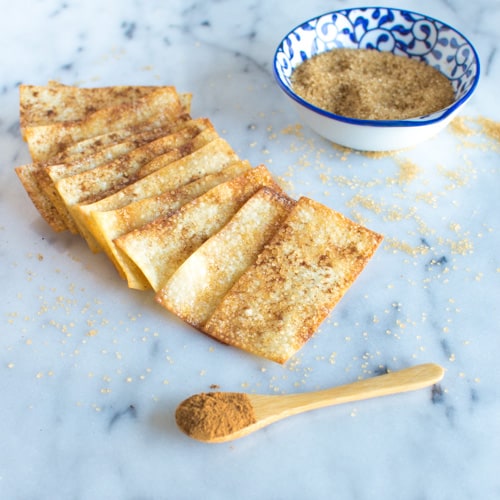 I bought a package of wonton wrappers a while ago thinking that I would make dumplings. Then, I thought it would be a better idea to make them into crisps instead. That proved to be a winner.
I was amazed that these crisps were so light and crunchy, as if they had been store-bought! The best part of it all is that these crisps did not have any greasy feel to it. I didn't have any ice cream around the house, but I can imagine that the crisps would pair very well with ice cream or some whipped cream on top.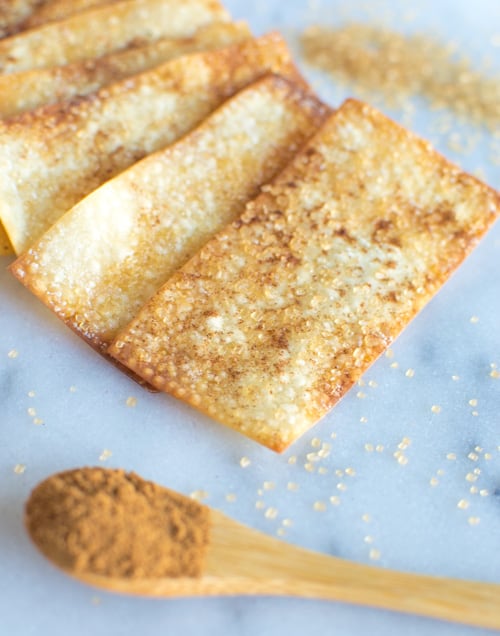 I thought about adding some nutmeg or ginger to the crisps just so I can fit this recipe into my Five-Ingredient Fridays theme, but that would be gilding the lily. These tasted great with just some cinnamon and sugar.
Four-Ingredient Cinnamon Sugar Crisps
Makes about 98-100 crisps.
Ingredients
1

12-ounce package

of wonton wrappers/skins

,

about 48 wrappers

natural cooking spray

6

TBS

turbinado sugar

,

pure cane sugar works also

1/2 to 1

tsp

cinnamon
Instructions
Preheat oven to 400ºF (~205ºC). Line two large baking sheets with parchment paper.

Slice the wonton wrappers down the middle so that you create rectangles.

Line sliced wonton wrappers onto the baking sheets in a single layer. Spray the wrappers with cooking spray, making sure to cover all the surface area of each piece.

Sprinkle sugar on top of the wrappers. Don't be afraid to sprinkle liberally. Next, sprinkle the cinnamon. I found it easiest to just shake the cinnamon from the container rather than pinching some in my fingers and then sprinkling.

Bake the wrappers for 6-7 minutes. Be careful! They burn quickly, so pull them out when the edges start to turn slightly brown. I baked everything in two batches.

Let the crisps cool for a few minutes and enjoy!

Store in room temperature in an airtight container.
Notes
1. Lightly adapted from the Baked Wonton Crisps recipe on Eat Healthy. [br]2. My crisps on the bottom rack were cooking much faster than the ones in the top. Make sure to check them at the 6-minute mark.[br]3. I had about a tablespoon of sugar leftover after sprinkling it on the wrappers.
Did you make this recipe?
Tag @hellolisalin or leave a star rating and comment on the blog!
Does anyone have any pointers on how I should train/prepare for a half-marathon? I am a novice runner, so any advice is very much appreciated!