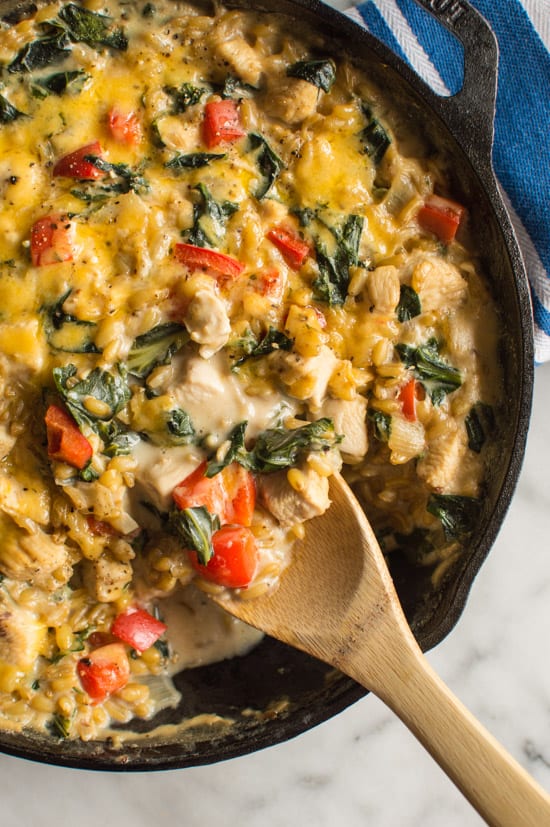 Kamut. It took me several tries before I figured how to pronounce that one. There was a phase when I pronounced it "come-moo" because kamut makes cows come and "moo," right? Then I pronounced it "cam[corder]-mutt." No explanation there. It took a while, but instead of continuing to sound like an idiot, I finally broke down and did what a normal person would: googled it.
Pronunciation: kah-moot, accent on the first syllable. Realization: I was so off.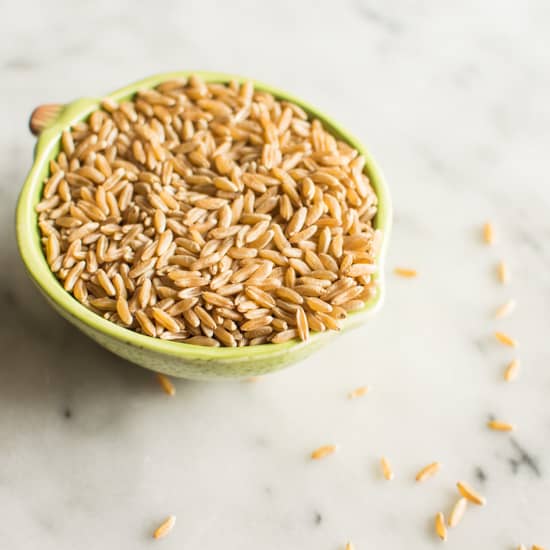 I know we're head over heals in love with ancient grains now, but have you tried this one? Visually, they're like long-grain brown rice but much more curvaceous. Texturally, they're chewy fun. Nutritionally, it's packed with protein. Three good reasons why kamut should be in our pantries by this weekend.
Because kamut is so curvaceous, it needs a bit more time to cook. We're talking 50 to 60 minutes, about the length of an episode of The Great British Bake Off or Downton Abbey. Yes, I measure time according to my favorite TV shows. So just cook up a huge batch of this over the weekend while watching your favorite show and you'll have plenty to last you for the rest of the week.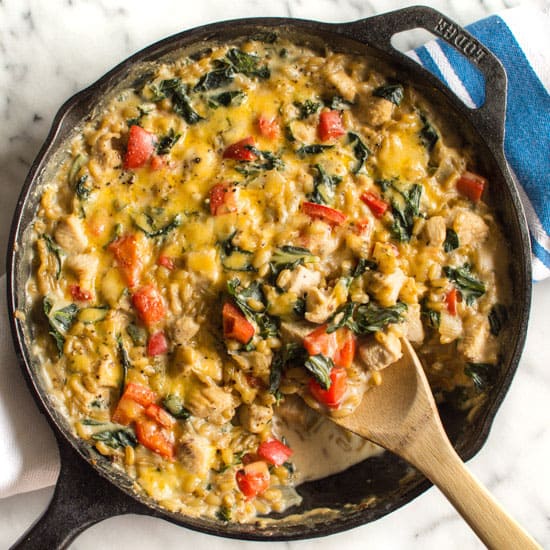 I dreamed up this recipe after seeing this Chicken, Broccoli, and Brown Rice delight on Cooking Light. Swapping brown rice for kamut gives this already delicious casserole extra protein. More wholesome goodness for our body!
Creamy Chicken and Kamut Casserole
Serves 4.
Ingredients
2

cups

cooked kamut,

1 cup uncooked, about 180g; see note for cooking

1 1/2

cups

(355ml) low-fat milk (I used 2%)

3

TBS

all-purpose flour

1

tsp

kosher salt

1

tsp

fresh thyme

1 1/2

TBS

olive oil

8

oz

(225g) chicken breast, chopped into small pieces

1/2

small onion

,

chopped (about 1/3 cup)

2

cloves

garlic

,

minced

1/2

large red pepper

,

chopped

4

cups

chopped collard greens

,

about 6 large leaves

1 1/2

oz

(40g) cotswold cheese, shredded
Instructions
Preheat oven to 450 degrees F (230 degrees C).

Whisk the milk, flour, salt, and thyme together until there are almost no clumps left. Set aside.

Heat the oil in an iron-cast or oven-proof skillet over medium-high heat. Add the onions and garlic, and stir constantly. Let them cook for about a minute. Add the chicken and cook it for 5-6 minutes.

Add the pepper and collard greens and let it cook for a few minutes, until the collard greens have wilted.

Stir in the milk mixture in the skillet and reduce the heat a little (about a medium-low). Cook for a minute or two, until the mixture starts to thicken and bubble. Be sure to stir frequently because the sauce will start to burn at the bottom.

Turn off the heat and mix in the kamut. Sprinkle cheese on top.

Place the skillet in the oven and cook for about 2 minutes, until the cheese has melted.

Enjoy while hot!
Notes
1. Adapted from Cooking Light.[br][br]2. To cook the kamut, bring a cup of uncooked kamut and 3 cups of water to boil. Reduce the heat to a simmer (with few bubbles bubbling) and cook for 50 to 60 minutes, until the grains are tender. Drain any excess water. I usually double up this recipe to make a huge batch at a time.
Did you make this recipe?
Tag @hellolisalin or leave a star rating and comment on the blog!
Looking for more skillet meals?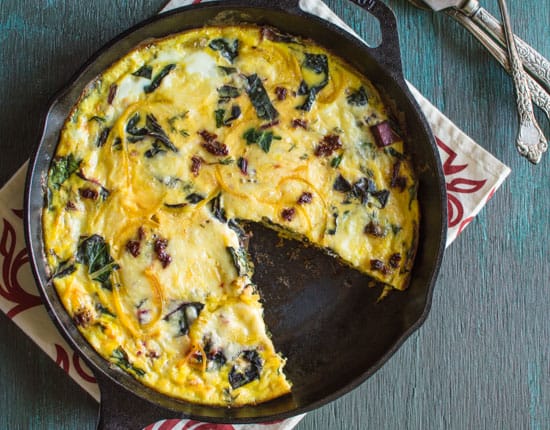 Swiss Chard and Golden Beet Frittata
NOTE: This post contains affiliate links