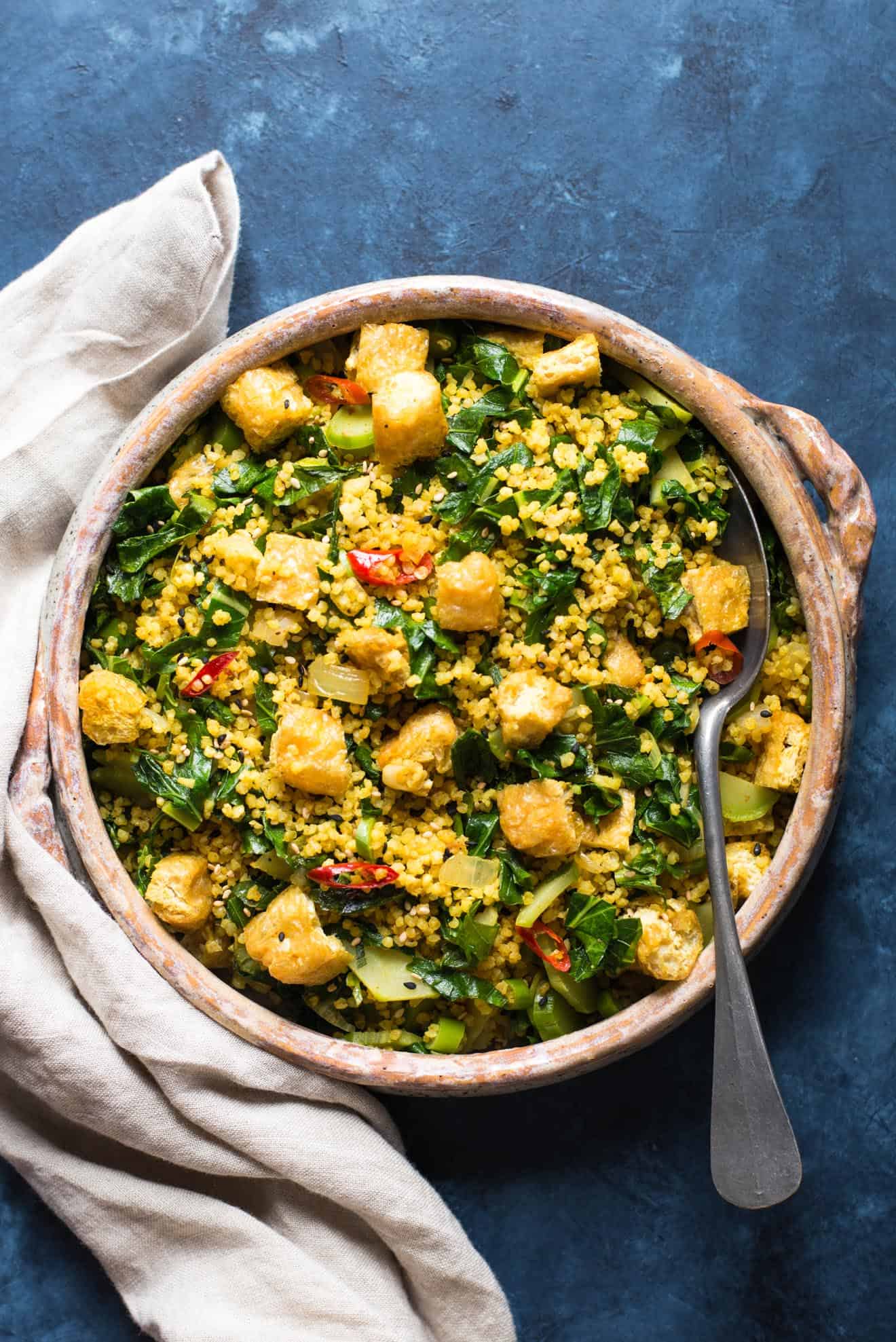 At the Sunday farmers market in Sacramento, one of the farmers started selling bunches of kohlrabi with their greens still in tact.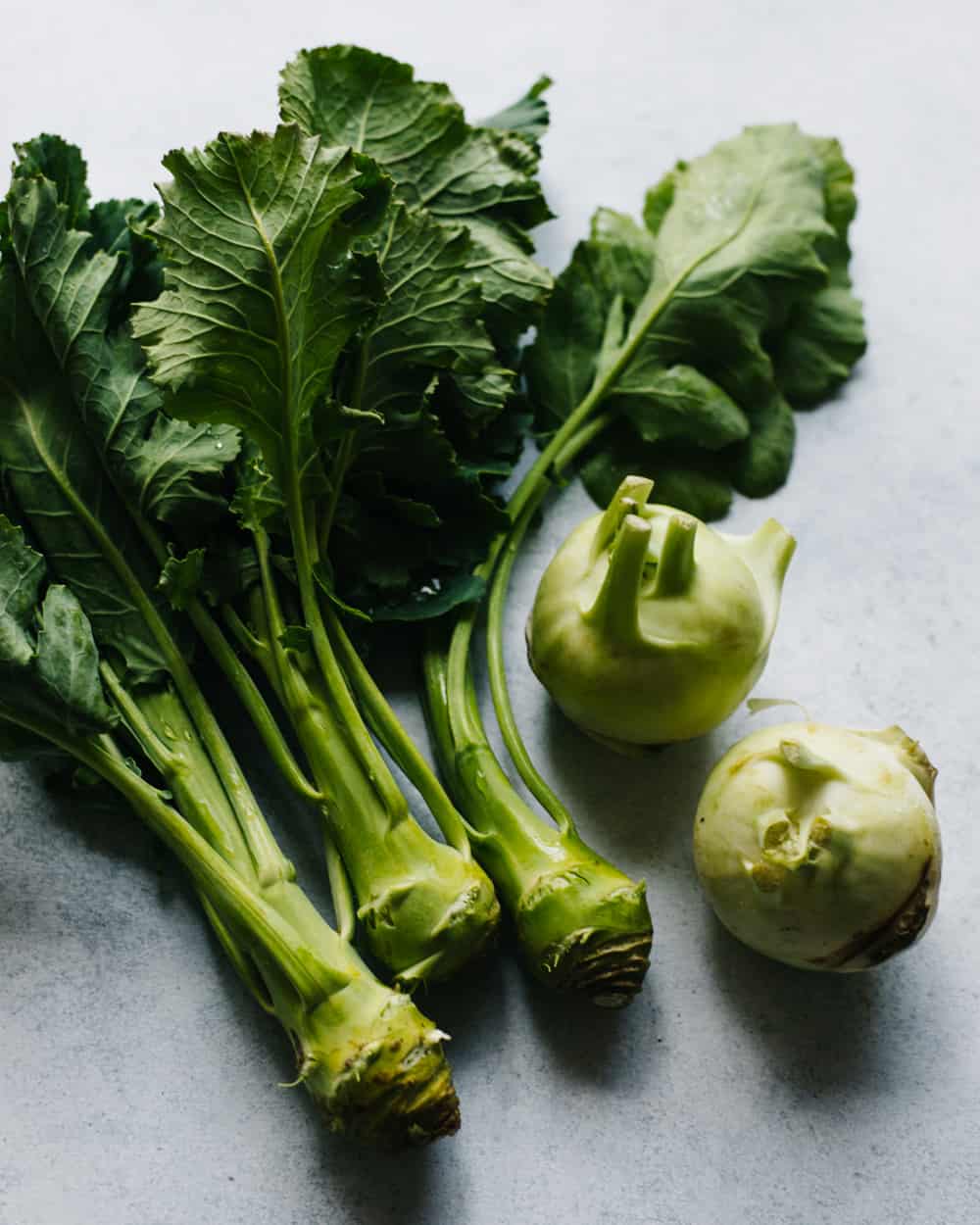 The kohlrabi bulbs are still quite small, and I don't know if he picks them before they fully mature or whether they're just a different kohlrabi varietal. In any case, I've been buying them every week now and they have quickly become a favorite vegetable.
The bulbs, though small, are great when cooked. They are crisp like a turnip or daikon radish, but the taste is closer to a green cabbage. For the longest time, I avoided buying kohlrabi because I didn't know of many good ways to prepare them. Having experimented with them in the kitchen recently, I'm quite excited to share a few new recipes with you, starting with this curried millet stir fry.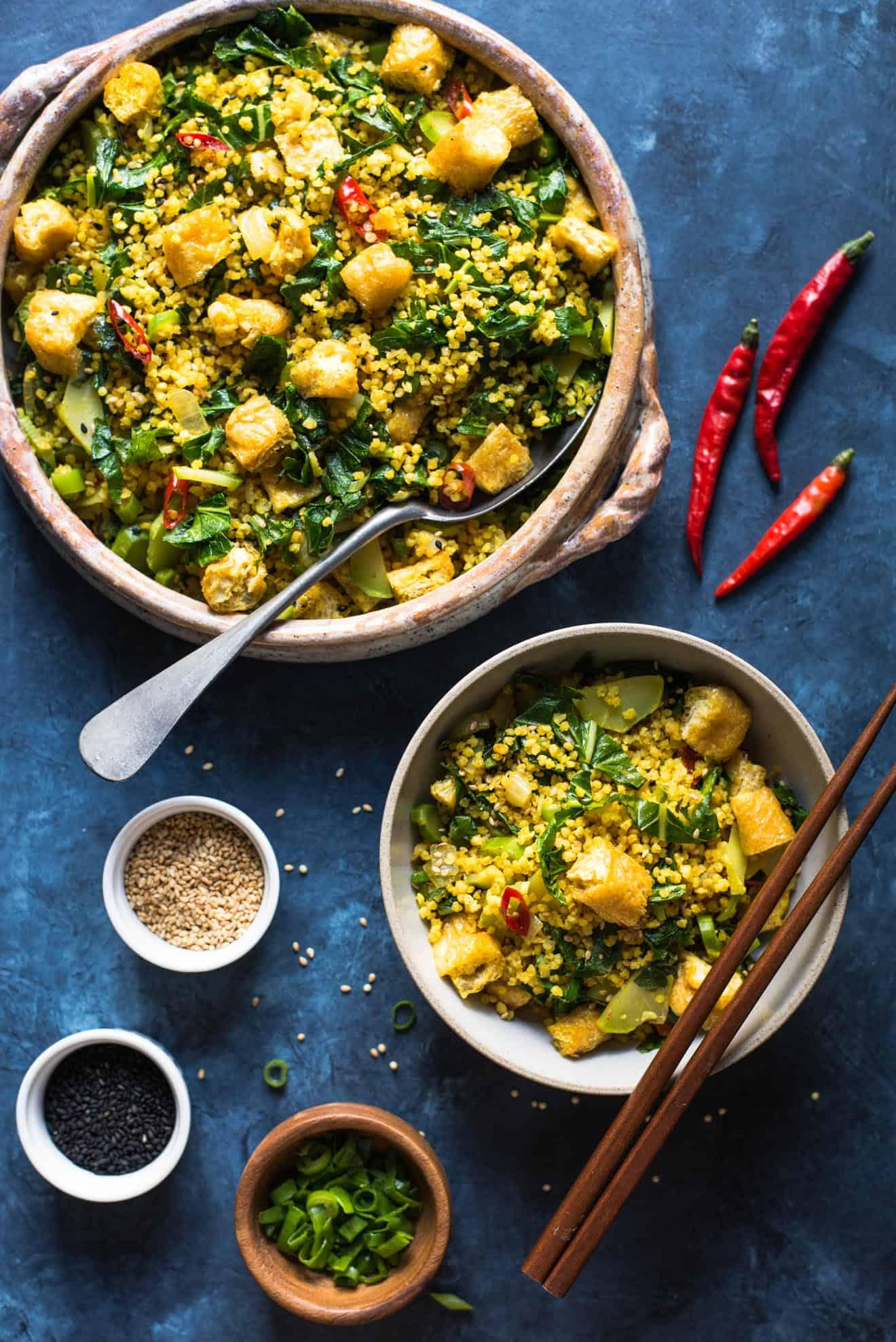 I always cook a big batch of grains on the weekends and then incorporate them into my meals throughout the week. One way I love to cook with leftover millet is to add them to a stir fry. Their natural nutty flavors compliment any stir fry dish. Millet also has a substantial protein content and it is high in nutrients such as magnesium. If you're tired of eating rice, millet is a great alternative!
COOKING NOTES FOR CURRIED MILLET STIR FRY
Cooking millet: Cook millet with 1 part grains and 2 parts water. So, for 1 cup of millet, use 2 cups of water. Add the water and millet to a saucepan and bring the water to a boil. Reduce the heat to maintain a simmer and cover the saucepan. When all the water has been absorbed by the grains, turn off the heat. This should take between 20 to 25 minutes. Remove the saucepan from heat and leave it covered for 10 more minutes. Remove the lid and fluff up the grains with a fork. One cup of dried millet should yield 4 cups of cooked millet.
Preparing the kohlrabi: The outer skin of kohlrabi is quite fibrous and tough. Be sure to peel it first before slicing it.
Dissolve curry powder in the oil: In Burmese cooking, it is very common to dissolve turmeric in the cooking oil when you are heating the pan. I'm using that same cooking technique here: I dissolved the curry powder in the oil before adding the other ingredients. I find that the curry powder distributes more evenly this way versus adding the curry powder after adding the vegetables and millet to the pan.
Adding soy sauce: I chose not to add soy sauce or tamari to this recipe because I think it overpowers the curry powder. If you still find that the stir fry is missing a little flavor, add a splash of soy sauce or tamari.
Substitutions: (1) I understand that it's not necessarily that easy to find kohlrabi with their greens still attached. You can substitute the kohlrabi greens with swiss chard, collard greens, spinach or broccoli! (2) I usually find fried tofu in Asian supermarkets. They're brown on the outside and look puffy. If you can't find any fried tofu, a good substitute is baked tofu.
Looking for more ways to cook millet? Try my pumpkin millet porridge!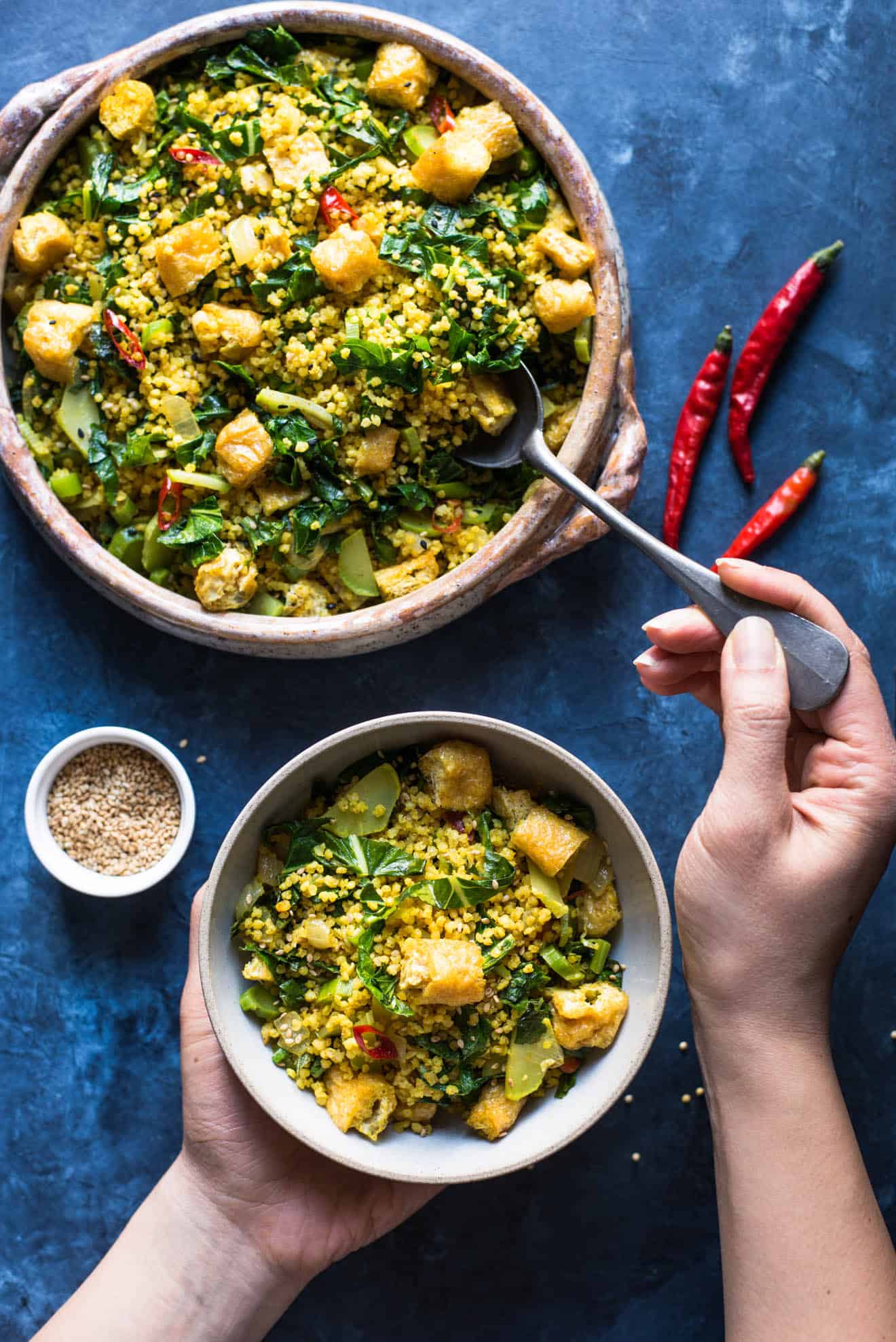 Curried Millet Stir Fry with Kohlrabi
This curried millet stir fry is a great alternative to fried rice. For this recipe, I am using kohlrabi and kohlrabi greens. You can substitute the greens with spinach, swiss chard, collard greens or even broccoli.
Ingredients
2

tablespoons

sunflower oil (canola or vegetable oil works also)

1

tablespoon

mild curry powder

3/4

cup

diced yellow onions (about 1/2 medium onion)

3

garlic cloves, minced

2

Thai chilis, sliced (see note)

1 1/4

teaspoons

salt, plus more to taste

1 1/2

cups

(165g) peeled and sliced kohlrabi

4

cups

kohlrabi greens, roughly chopped

4

cups

(425g) cooked millet

1

ounce

fried tofu, cubed
Instructions
Heat the oil in a large sauté pan or wok over medium-high heat. Add the curry powder and stir to dissolve it in the oil. Stir in the onions and cook for 2 to 3 minutes, until the onions start to soften. Add the minced garlic, sliced chiles and salt and cook for 30 seconds to 1 minute, until the garlic starts to turn fragrant.

Stir in the sliced kohlrabi and cook for 2 minutes. Add the kohlrabi greens and cook for 2 to 3 minutes, until they start to wilt.

Add the millet and tofu and stir to combine. Cook until the millet is heated through, about 3 minutes.

Turn off the heat. Taste the millet and add more curry powder or salt, if desired. 
Notes
Thai chili is similar to bird's eye chili. I believe they're technically different, but the names are often used interchangeably. 
Nutrition
Serving:
1
serving
|
Calories:
346
kcal
|
Carbohydrates:
52
g
|
Protein:
12
g
|
Fat:
11
g
|
Saturated Fat:
2
g
|
Sodium:
755
mg
|
Fiber:
7
g
|
Sugar:
4
g
Did you make this recipe?
Tag @hellolisalin or leave a star rating and comment on the blog!