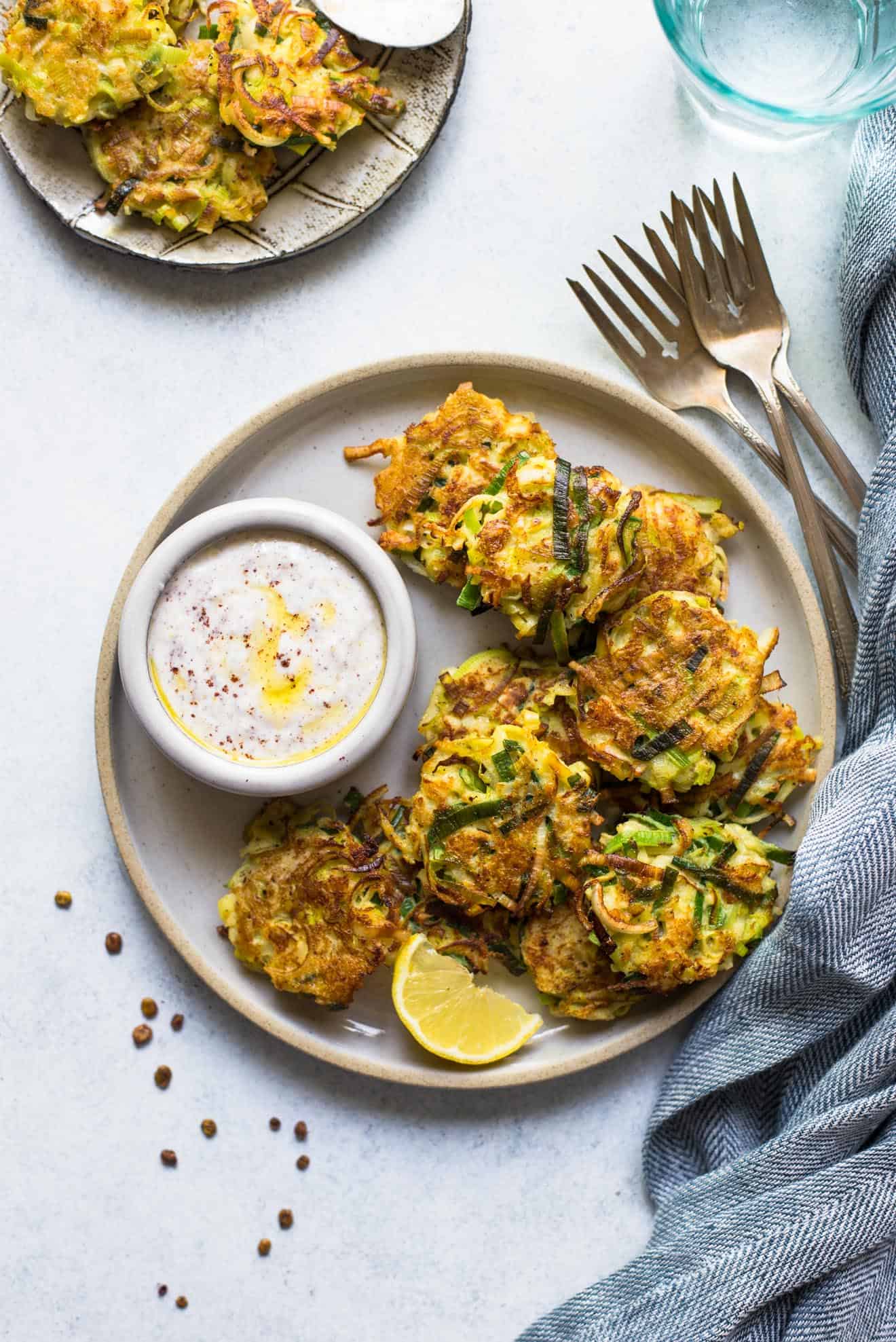 Over the past few months, I've been thinking a lot about my digital habits, more specifically, my addiction to the digital world: my inexplicable habit of checking my emails right after I turn off my alarm in the morning; my constant, almost pavlovian, impulse to scroll through social media feeds even as I'm walking up and down the stairs in my home. Often times, I don't do this consciously. It is something that has been conditioned into my muscle memory.
These seemingly harmless moments of social engagement worry me because I can actually feel my ability to concentrate, of being present in the moment slipping away from me. I decided it was time for me to get away from the internet, so I called some good friends to go for a hike at Pinnacles National Park.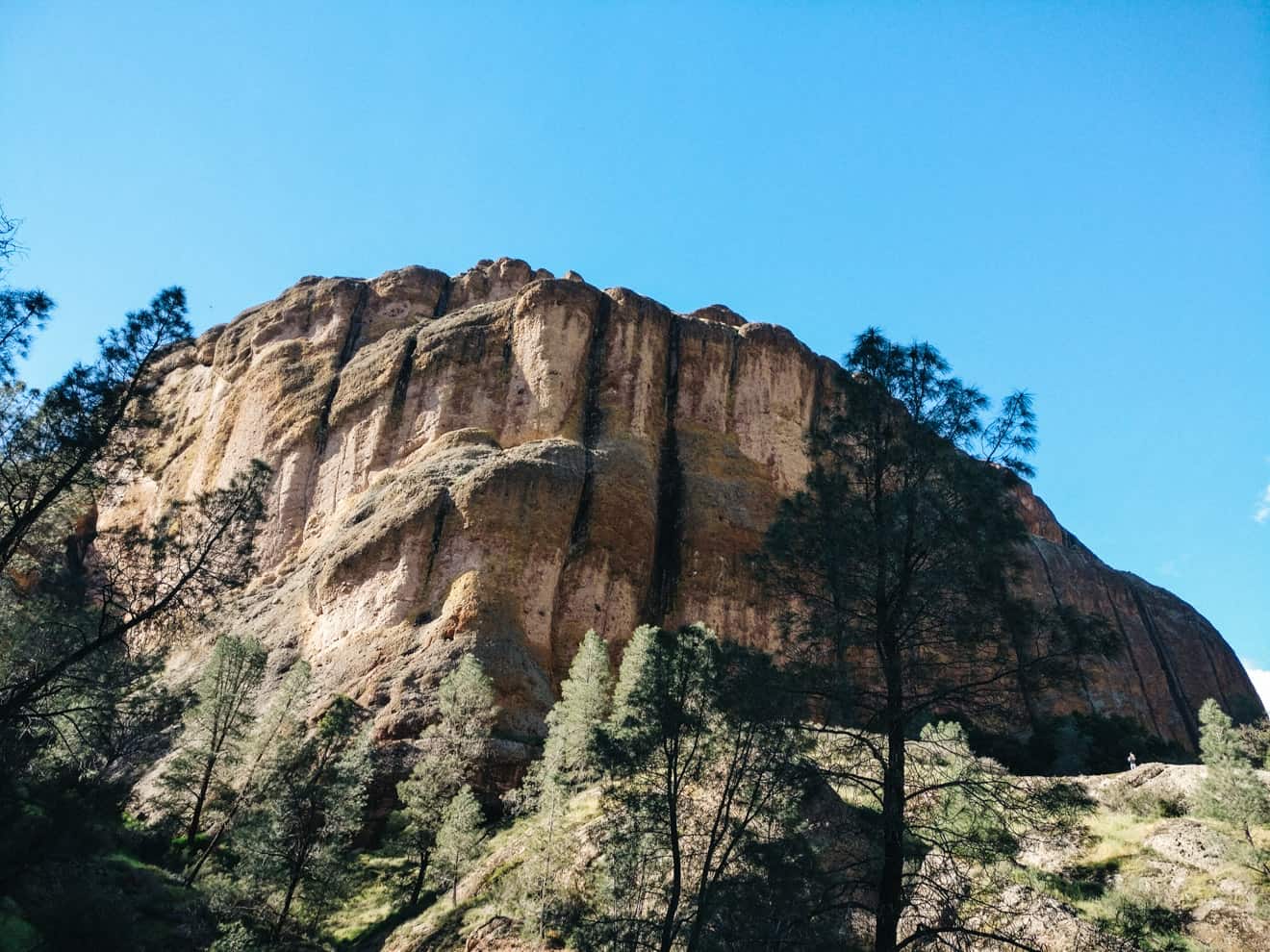 Tucked away in Salinas Valley in Central California, Pinnacles is one of the newest parks to acquire its national park status. Though it is a relatively a little known national park, its beauty is nonetheless breathtaking. The mountains at Pinnacles were formed from volcanic activity but have shifted 200 miles over time as the result of tectonic plate movement. This explains the diagonal lines that you see on a lot of the rocks.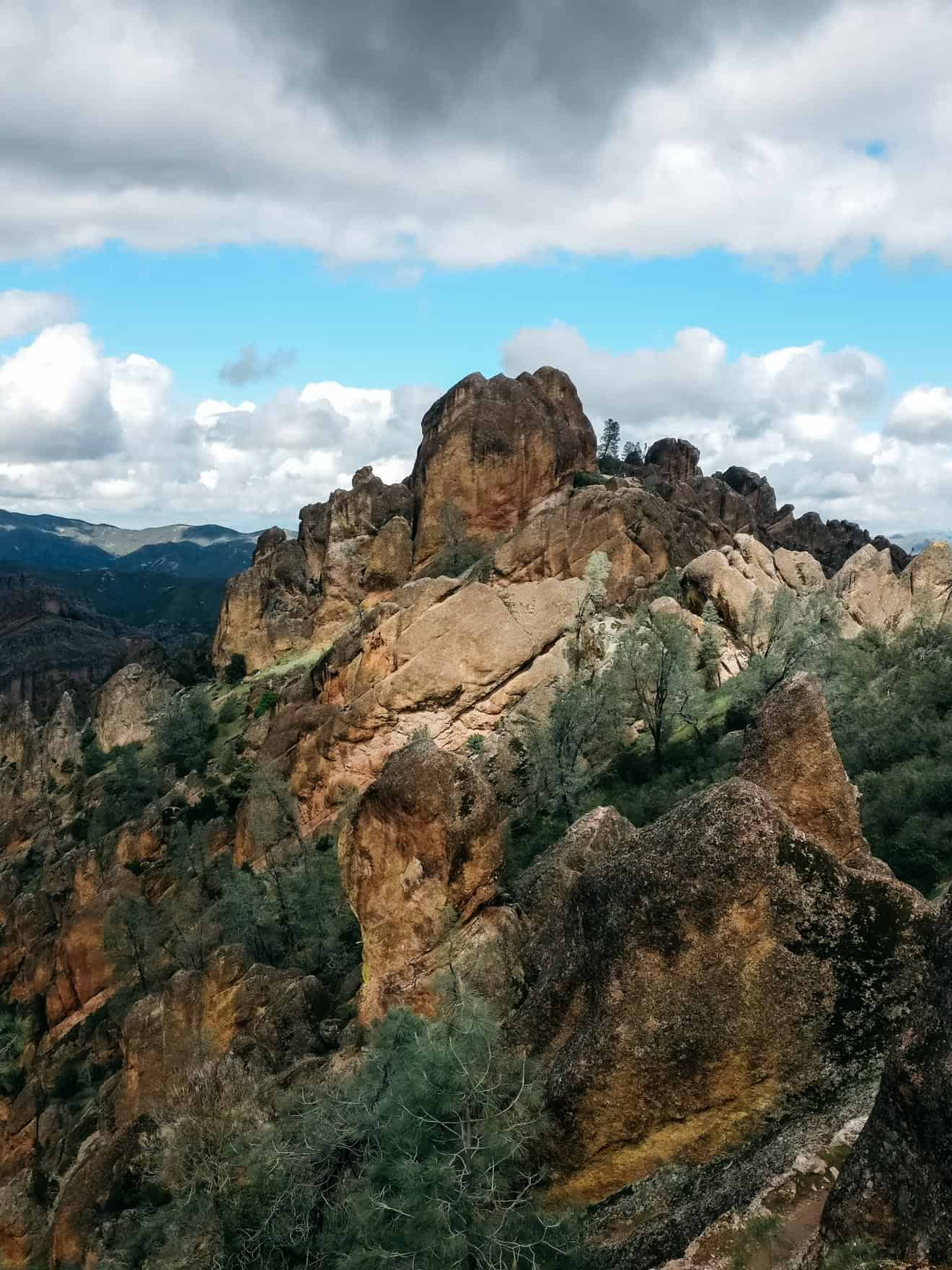 The one thing you have to do if you visit Pinnacles is to go through the caves! You'll need to bring a good flashlight before heading into them because they're completely pitch black once you get inside. The passageways down into the caves are also quite narrow, so only one person can walk through them at a time. My friends and I went through the Balconies Cave, which is in the north west end of the park (there's another cave called Bear Gulches). Making our way into the caves was a little challenging but totally worth it. The Balconies Cave is a relatively short distance, too.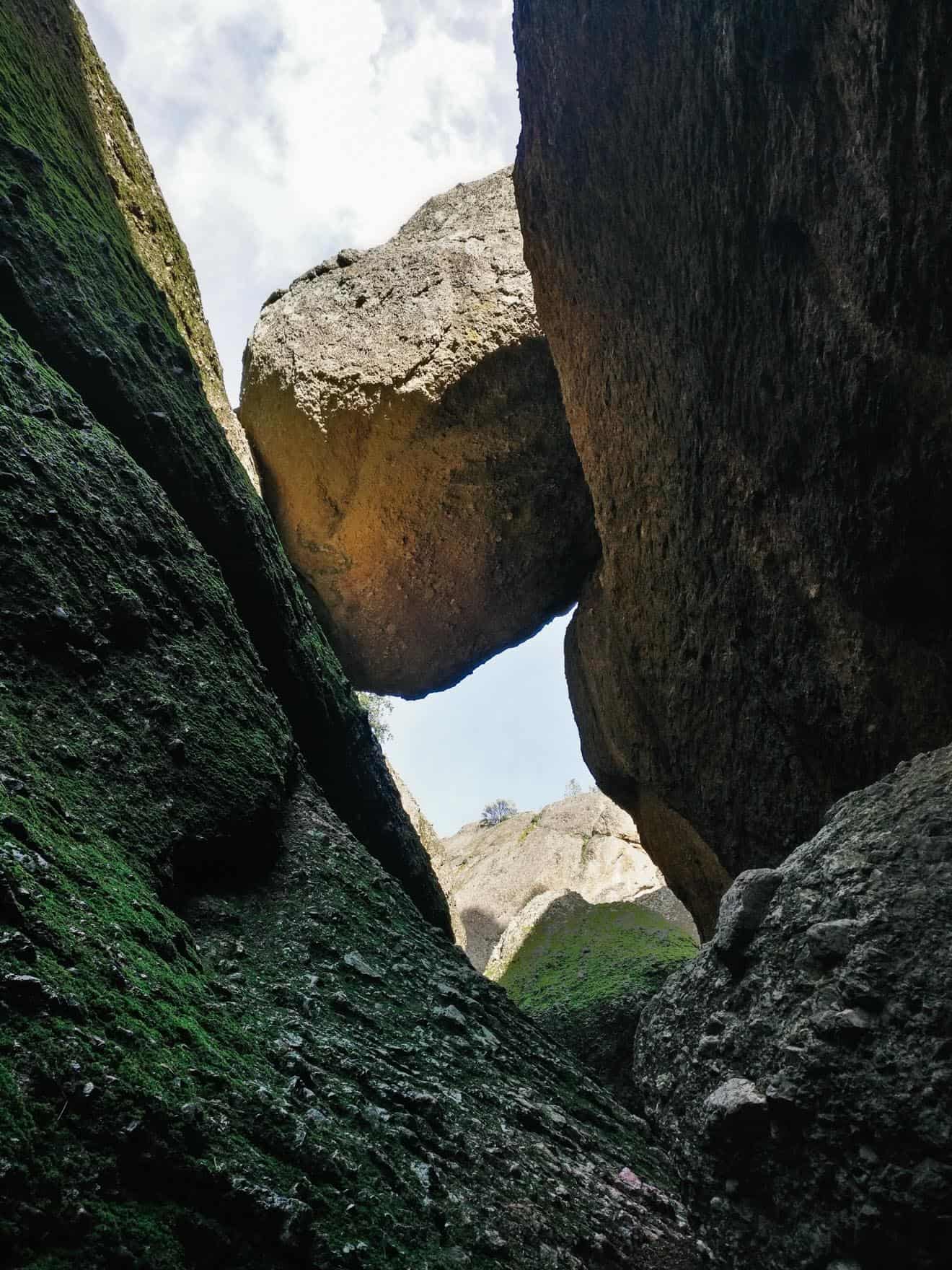 During our hike, we also spotted a few California condors, a species that was endangered only a few years ago. Their population depleted to about 80, but with the help of the National Park Service, their numbers are now back up to 280. Unfortunately, I couldn't take a clear picture of them because we could only see the condors through the park ranger's telescope.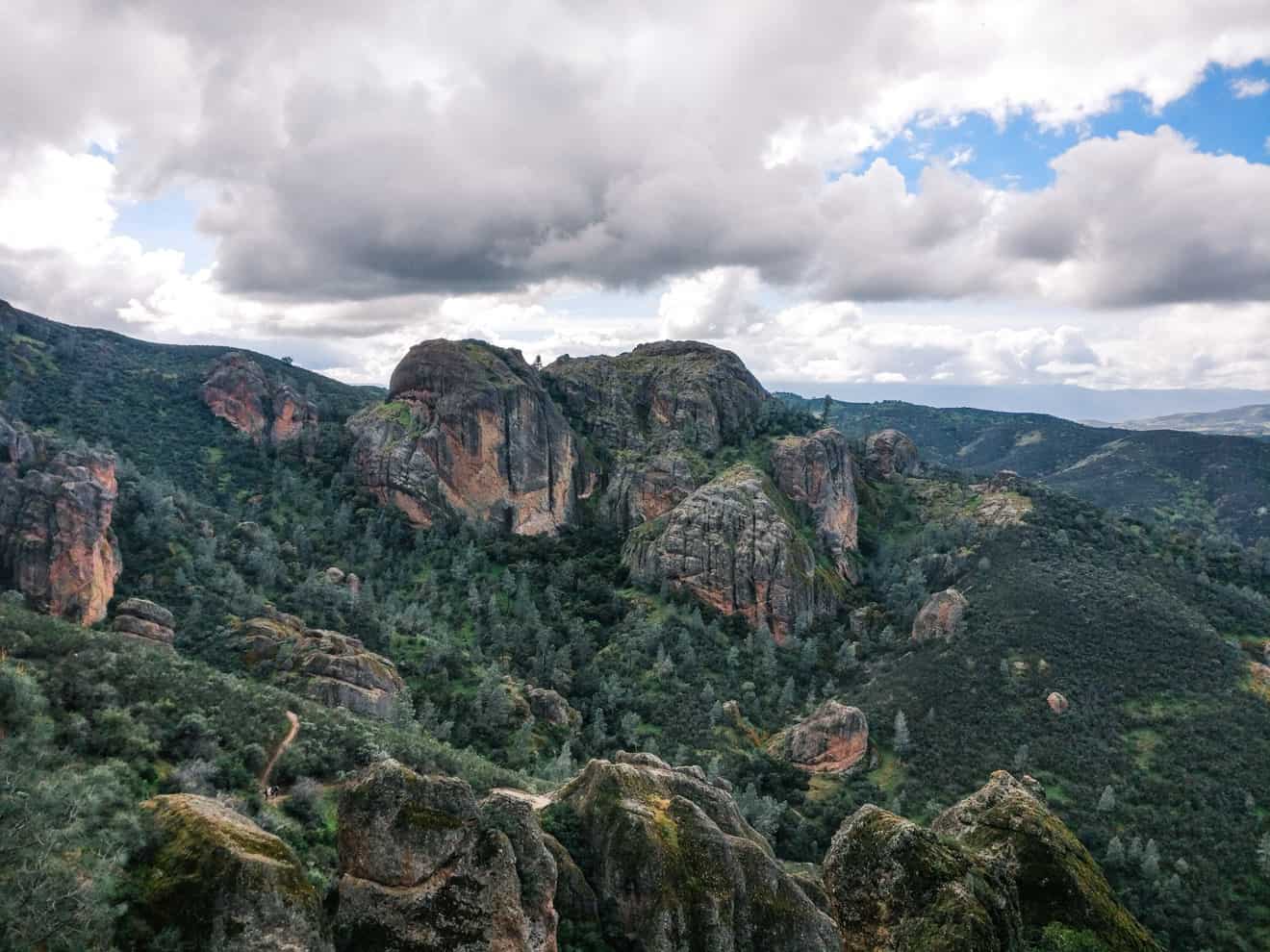 For me, this hike was wonderful because not only did I get a chance to spend time with my friends (and talk about food), but it felt so liberating to be away from the internet for the entire day and enjoy the beauty of nature. Not once did I feel as if I was missing anything because I was not connected to the internet.
I feel so fortunate to be surrounded by beautiful national parks that are easily accessible to everyone. In this day and age, when we are constantly bombarded with information, it is good to take a step back and go on a hike to refresh. Visiting a national park is a great way to connect with nature and with our friends and families, and we need to do whatever we can to protect these natural sanctuaries.
These wondrous national parks and other wildlife and forest reserves are largely funded by our tax dollars. They are meant to be preserved for us and future generations. Unfortunately, there are rumblings of proposals within the federal government to sell federal land around these parks to states for private development. These parks and reserves house some of the most beautiful scenes and diverse species in America, and we should do our part to make sure that these lands are still around for future generations.
For Earth Day, a group of bloggers and I have come together to share our experiences with national parks. Please take a look at their posts and read their stories! You can also check out the hashtag #ourwild on Instagram to see all the photos of national parks and great bites that we are sharing today. Hope these posts inspire you to visit one of our beautiful parks soon!
Tending the Table: Okanogan-Wentachee National Forest
The Bojon Gourmet: Hibiscus Berry Smoothie Bowls
Husbands That Cook: Point Mugu State Park
Brooklyn Supper: Shenandoah National Park
Wholehearted Eats: Happy Trail Bars and Into the Universe
The Broken Bread: Mount Baker-Snoqualmie National Forest
The Year in Food: A Church in the Wild
Fresh Off the Grid: Weekend Escape: Planning an Impromptu Camping Trip
Eat Your Beets: Cheney State Park
Adventures in Cooking: Olympic National Park
Vanilla and Bean: Lemon Tahini Cashew Granola and Ebey's Landing National Historical Preserve
Faring Well: Death Valley National Park
The Modern Proper: Trail Mix Pancakes
With Food and Love: Roasted Sugar Snap Peas with Mint and Sea Salt and Scenes from Joshua Tree
Wu Haus: Joshua Tree
Will Frolic For Food: Glacier National Park
Leek and Kohlrabi Fritters
Ingredients
Sumac Yogurt Sauce
1/3

cup

(70g) sour cream

1/3

cup

(70g) yogurt

1

tablespoon

lemon juice

zest from 1/2 lemon

,

about 1/2 teaspoon

1

tablespoon

olive oil

1/2

tablespoon

ground sumac

1

small minced garlic

1/4

teaspoon

kosher salt

1/8

teaspoon

ground black pepper
Fritters
4

cups

(290g) thinly sliced leeks

2

cups

(240g) peeled and grated kohlrabi

6

tablespoons

chickpea flour

1/2

cup

(38g) shredded parmesan cheese

1 1/2

teaspoons

salt

1 1/2

teaspoons

ground black pepper

zest of 1 lemon

,

about 1 teaspoon

2

large eggs

4 to 5

tablespoons

vegetable oil
Instructions
Add all the yogurt sauce ingredients in a small bowl. Cover the bowl and refrigerate it while you prepare the fritters.

In a large bowl, mix the leeks, kohlrabi, flour, cheese, salt, black pepper and lemon zest. Beat the eggs in a small bowl and mix it in with the vegetables.

Heat about 1 1/2 tablespoons of oil in a large pan over medium heat. Scoop 2 tablespoons of the vegetables and transfer it to the pan. Add 5 more fritters to the pan and cook for about 4 to 5 minutes, flipping halfway. Transfer cooked fritters to a plate lined with paper towels. Repeat for the remaining fritters. If the pan looks dry, add another tablespoon of olive oil to the pan.

Serve fritters with sumac yogurt sauce.
Notes
NUTRITION INFORMATION: Amount for 1/6 of Recipe (Yogurt Sauce + Kohlrabi): Calories: 293, Total Fat 21.6g, Saturated Fat: 5g, Sodium: 931mg, Cholesterol: 76.8mg, Total Carbohydrate: 17.4g, Dietary Fiber: 3.5g, Sugar: 5.4g, Protein 9.4g
Make sure to peel the tough outer skin of the kohlrabi before grating it.
Substitutions: If you don't have kohlrabi readily available, you can substitute it with grated potatoes. These fritters are great without the yogurt, too. If you can't find sumac, you can change this into a dill yogurt sauce by adding about 2 tablespoons of fresh dill to the sauce.
I used chickpea flour for the recipe because it is a gluten-free flour that adds savory flavor. If you are not gluten-free, you can use all-purpose flour instead. For a gluten-free alternative, try oat flour.
Did you make this recipe?
Tag @hellolisalin or leave a star rating and comment on the blog!