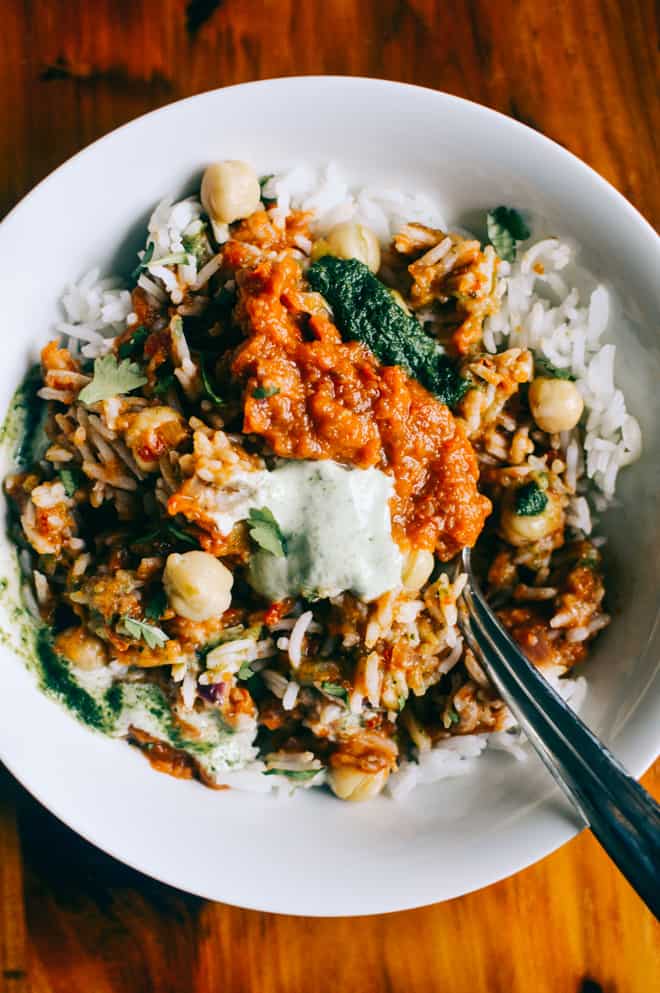 Here's some of what I found: boxes of spices that are still unopened, bags of grains and cans of beans that have never seen the light of day, red and green candy melts that I'll never use. I've only been in my new home for three months, and I've managed to fill it to the brim with unnecessary things. I need to clean up my act, literally.
So I picked up Marie Kondo's, The Life-Changing Magic of Tidying Up, after hearing about her miracles with decluttering even the messiest abodes. I don't consider myself messy, but I own too many things, and they sure get in the way of my creative vibes. I'm only a third of the way through Kondo's book, and I can already picture myself walking around the house, discarding things don't "spark joy" (<— that's the KonMari standard).
The most surprising part is that I'm geeking out about folding my clothes!! The KonMari method is not to stack up your folded clothes, but to fold them in a special way and line up the bundles next to each other inside your drawer. When you pull it open, you'll be able to every piece of clothing all at once. That's genius.
I've been boring the hubs about this book for the last few days, and he thinks it's all a bunch of nonsense, or "hippie voodoo stuff," as he calls it. But I'm buying into the KonMari. Considering that my home is the place that I live in and work from, I want to try my best this year to make it comfortably habitable.
In the spirit of cleaning things up, I made this eggplant bliss bowl with mint and cilantro chutney, which I've adapted from Tony Singh's cookbook, Tasty. I got the book over Christmas, and it's filled with recipes for irresistibly delicious grub. What I like most about this eggplant bliss bowl is that it tastes light and clean, but it doesn't skimp on flavor. The sauce is versatile, so feel free to make it for a hearty dinner or use it to flavor your egg scramble in the morning!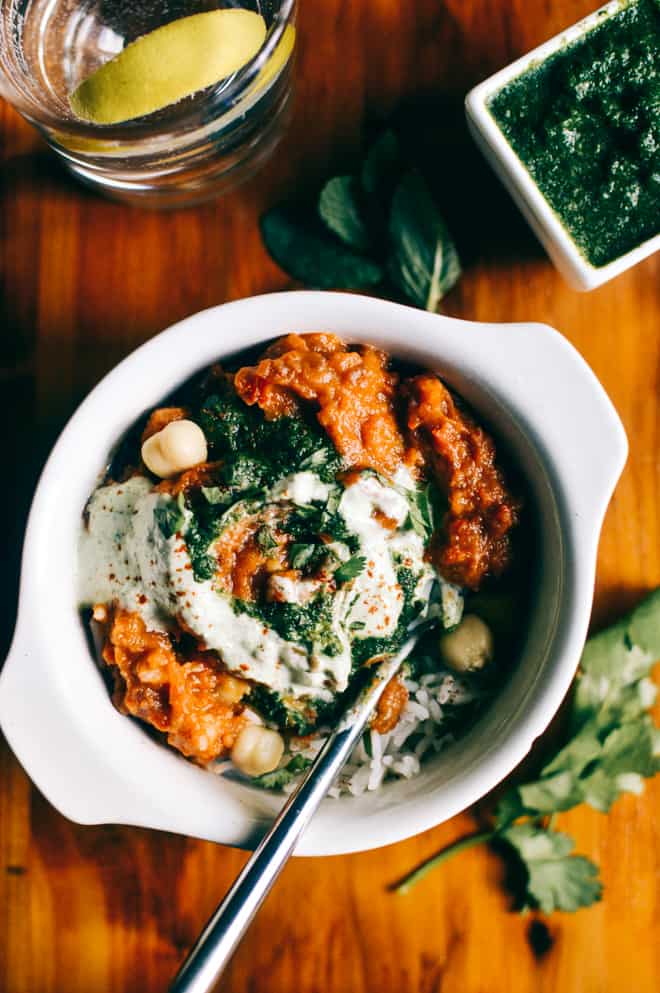 MASTERING MY MISTAKES / COOKING NOTES
Quick Version: In the instructions below, I go through the method of cooking your eggplant with your broiler. If you're pressed for time or don't have a broiler, check out the non-broiler method of cooking this dish in the notes.
Cooking the Eggplant: In Tony Singh's version of the recipe, you char the outer skin of the eggplant by placing it over your hob or in the broiler. Then, you submerge the eggplant in cold water and peel off the skin. This is supposed to give the eggplant more smoky flavor. I tried charring the eggplant on the hob, and it took a while. More than anything, I was worried about burning the house down, and I still didn't quite get the smoky flavor that I had hoped. To me, cutting the eggplant in rounds and broiling them is the safer way to go, and the sauce will still taste delicious.
Cooking with Low Heat is Key: This recipe uses very little oil, so you'll want to cook this at a medium-low to low heat to keep the vegetables from burning. Yes, this also means that the cooking time will be a longer, but you'll have the tantalizing scents of this dish to keep you company.
For the yogurt sauce: If you want to make the yogurt sauce, use plain low-fat yogurt instead of strained yogurt. I find strained yogurt to be a bit too dry for making sauces.
More Recipe Ideas: There's so many ways you can use the eggplant and pepper sauce. Use it to flavor your wraps, have it with scrambled eggs, or stir in some cooked ground meat for extra protein.
If you try this recipe, let me know how it goes by leaving a comment or sending me a message! Or take a photo of the food and tag me on Instagram so that I can give you a fist bump! I love seeing your creations!
Eggplant Bliss Bowl with Mint and Cilantro Chutney
This eggplant bliss bowl is packed flavor and it makes a great weeknight meal. Adapted from Tony Singh's Tasty.
Ingredients
Eggplant & Red Pepper Sauce
1 1/2

pounds

(665g) eggplant

,

about 2 medium ones

non-stick spray

1

tablespoon

olive oil

1

medium red onion

,

about 135g, finely chopped

2

cloves

of garlic

,

minced

1

large red pepper

,

seeded and finely diced

1

green onion

,

white and light green parts only, roughly chopped

2

tablespoons

double-concentrated tomato paste*

2/3

cup

canned diced tomatoes

,

about 1/2 can

1

teaspoon

paprika

1/4

teaspoon

ground cumin

salt and pepper

,

to taste
Mint and Cilantro Chutney
1/2

cup

(30g) fresh mint leaves

1/2

cup

(25g) cilantro leaves and tender stems

1

green onion

,

dark green part only, roughly chopped

1/2-

inch

piece of fresh ginger

,

peeled and sliced

1

clove

of garlic

,

roughly chopped

1

tablespoon

apple cider vinegar

2

teaspoons

agave

,

or any sweetener

1/8 to 1/4

teaspoon

salt
To Serve
4

cups

cooked basmati rice

1

14-ounce

(400g) can of garbanzo beans, drained and rinsed

1/2

cup

(125g) low-fat yogurt
Instructions
(For stovetop method, see notes.) Preheat your broiler.** Wash eggplant and slice into rounds that are about 1/4-inch thick. Lay slices over paper towels and sprinkle some salt over them. Let them sit for 15 minutes to draw out moisture from the eggplant, then wipe it down. Line a large baking sheet with foil and coat with non-stick oil spray. Cover with a single layer of sliced eggplant. You may need to broil eggplant in two batches. Broil each side of the eggplant for 4 to 5 minutes, or until you start seeing a bit of browning. When the eggplant is done, pile up eggplant and wrap them up with the foil. Set aside for a few minutes. Open foil packets, let them air out a bit and peel off eggplant skin. They should come off easily. Be careful though—the eggplant can still be quite hot!

Heat a large sauté pan with 1 tablespoon olive oil over low to medium-low heat. Cook the red onions for a few minutes until they soften, stirring constantly to keep them from burning. Add the garlic and red pepper and cook for another 5 minutes. Raise the heat to medium and add eggplant flesh, green onions, tomato paste, diced tomatoes, paprika, cumin, salt and pepper. Cook for another 2 minutes and turn off the heat. Taste and adjust seasonings to taste. Blend ingredients with an

immersion blender

or a food processor.

Prepare chutney by blending all ingredients with an immersion blender or food processor until smooth. If you find the ingredients are difficult to blend, add water, 1/2 tablespoon at a time, to thin out the sauce. You may need to adjust the seasonings. To make the yogurt sauce in the photos, mix 1/2 cup yogurt with 1 tablespoon of the chutney.

Serve eggplant and pepper sauce and chutney over rice and chickpeas.
Notes
NUTRITION INFORMATION: Makes 4 Servings. Amount per serving: Calories: 458, Total Fat 7.2g, Saturated Fat: 1.3g, Sodium: 439mg, Cholesterol: 1.9mg, Total Carbohydrate: 86.5g, Dietary Fiber: 14.5g, Sugar: 17g, Protein 15g
1. Stovetop Method: The biggest difference between this method and the method described above is how you prepare the eggplant. First, peel outer skin of the eggplant. If you don't mind eating the eggplant skin, leave it on. Slice eggplant into 1/4-inch thick rounds. Lay slices over paper towels, and sprinkle some salt over them. Set aside for 15 minutes, and wipe down excess moisture. Chop eggplant into 1/4-inch cubes. Heat oil in sauté pan, and onions and cook for a few minutes. Then, add eggplant and cook for 5 minutes before adding red peppers. Cook for another 5 minutes, or until the eggplant looks softened. Add remaining ingredients for eggplant sauce, and cook for a few more minutes before turning off the heat and blending everything.
2. *For the UK: Double-concentrated tomato paste is the same as tomato puree in a tube.
3. **For the UK: The broiler is the same as the grill in your oven.
4. The nutrition information is an approximation of 1 of 4 servings.
Nutrition
Serving:
1
serving
|
Calories:
458
kcal
|
Carbohydrates:
86.5
g
|
Protein:
15
g
|
Fat:
7.2
g
|
Saturated Fat:
1.3
g
|
Cholesterol:
2
mg
|
Sodium:
439
mg
|
Fiber:
14.5
g
|
Sugar:
17
g
Did you make this recipe?
Tag @hellolisalin or leave a star rating and comment on the blog!
Disclosure: This post contains affiliate links. The immersion blender is an essential tool in my kitchen, and it's great for blending small batches of food.