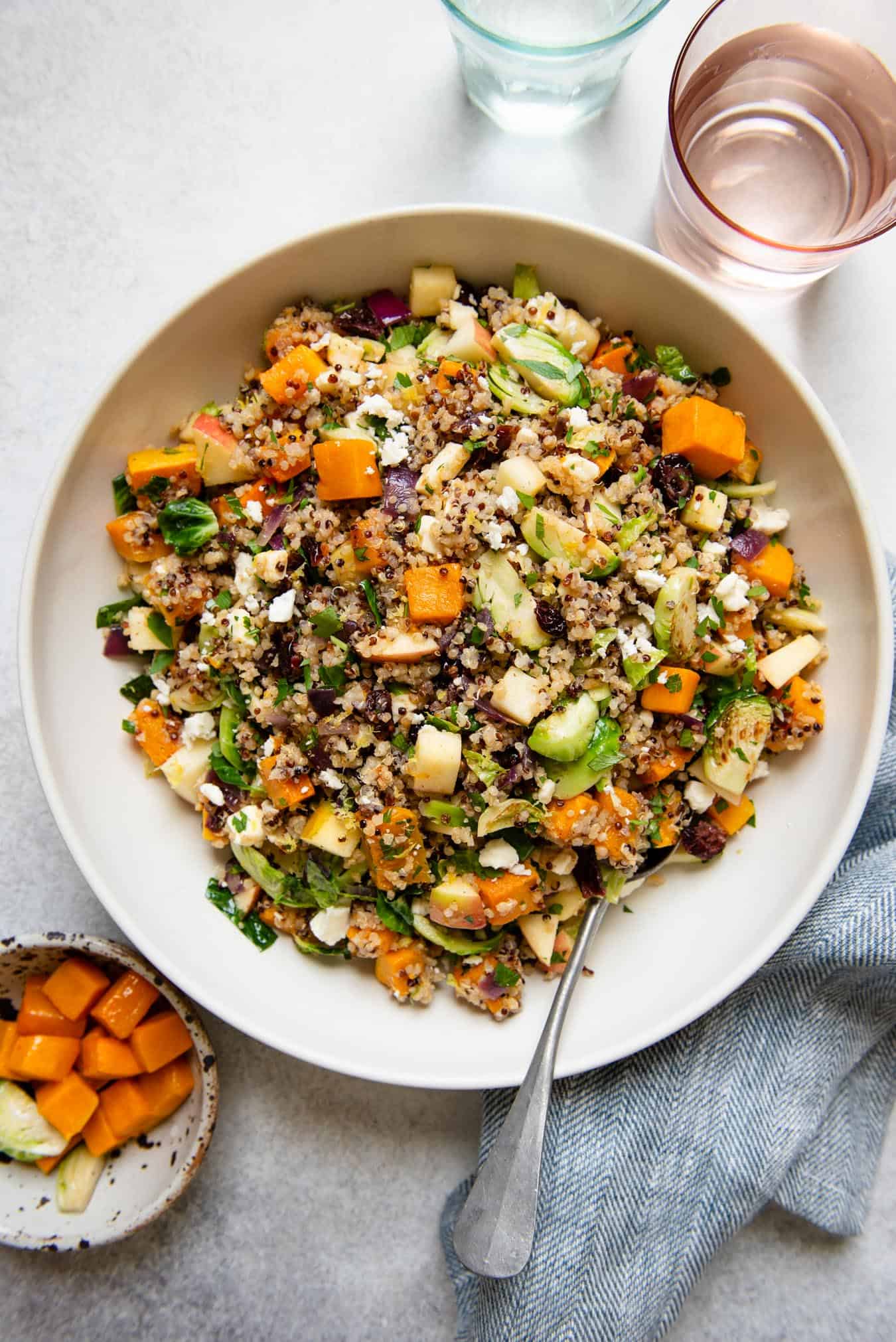 Thank you Bob's Red Mill for sponsoring this post!
I don't know about you, but I am looking forward to celebrating Thanksgiving this year with my friends and family more than ever.
Over the past few weeks, I've found myself lapsing into long periods of self reflection, and I've been thinking a lot about being a food blogger.
Some of you may know that I come from a very humble background. Before immigrating to America, my family lived in a small village in China. They weren't exactly dirt poor, but even something like sugar, which to us seems so commonplace, was a luxury. Can you imagine that? And here I am, making a living from something that didn't come easily for them. I am so dang grateful to be in this position, and I can't wait to show my thanks to my family next week.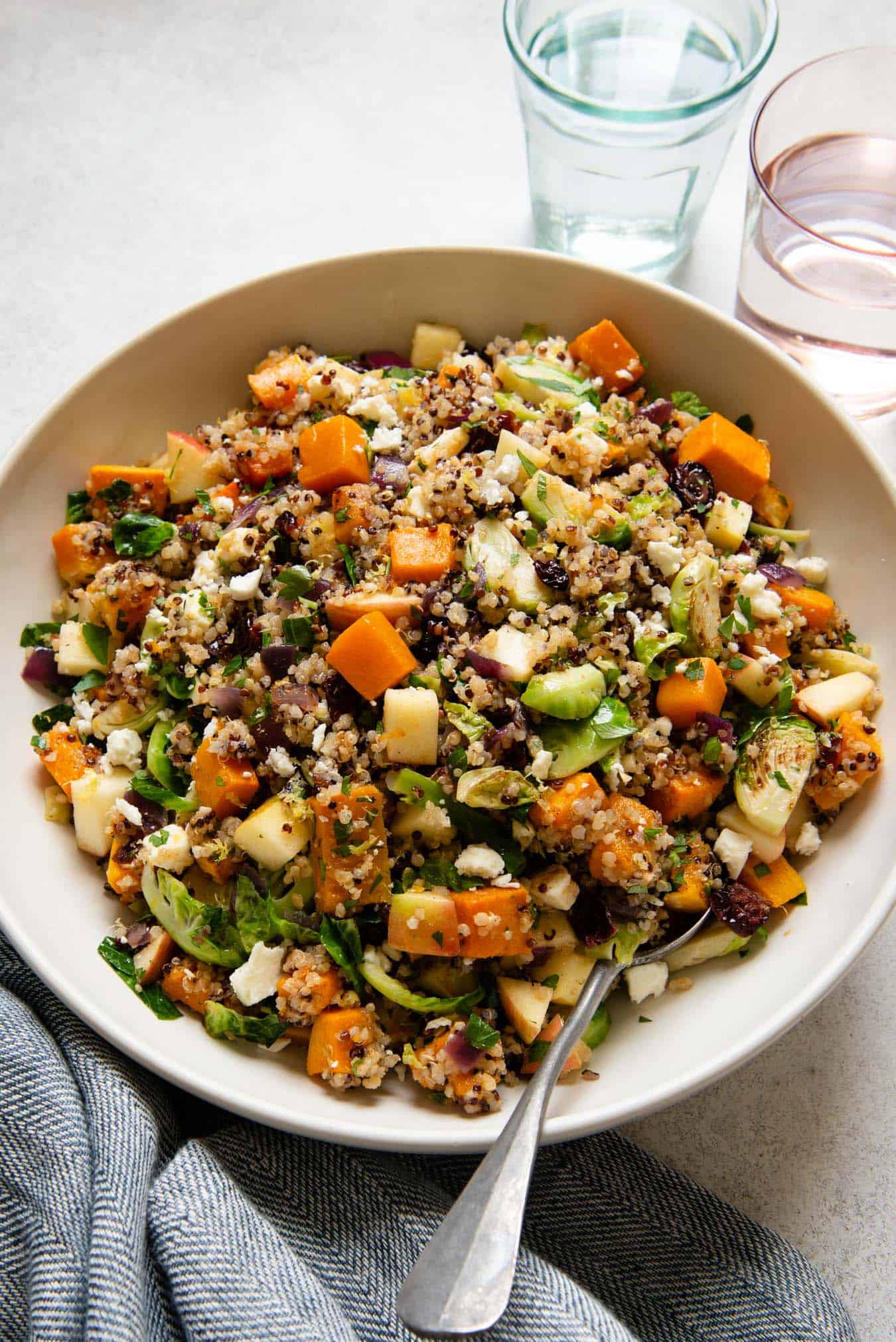 Now, I am that crazy person who craves a healthy salad during my Thanksgiving meal. Between the turkey, the mashed potatoes, my sister's artichoke dip and Mama Lin's fried dumplings and sticky rice, Thanksgiving dinner can become a heavy ordeal quickly. Midway through the meal, I'm desperate for the taste of greens and other bright vegetables.
Today, I'm excited to partner with Bob's Red Mill today to bring you a simple quinoa salad filled with my favorite fall fruits and vegetables. I particularly love their organic tri-color quinoa because it gives an extra pop of color to my dishes.
If you know any brussels sprouts skeptics, this salad is a great dish to get them to warm up to the vegetable. The brussels sprouts are thinly sliced, so their flavor won't be so intense so as to put people off.
This fall harvest salad is truly a celebration of all the sweet and savory flavors of fall. Hope you enjoy it!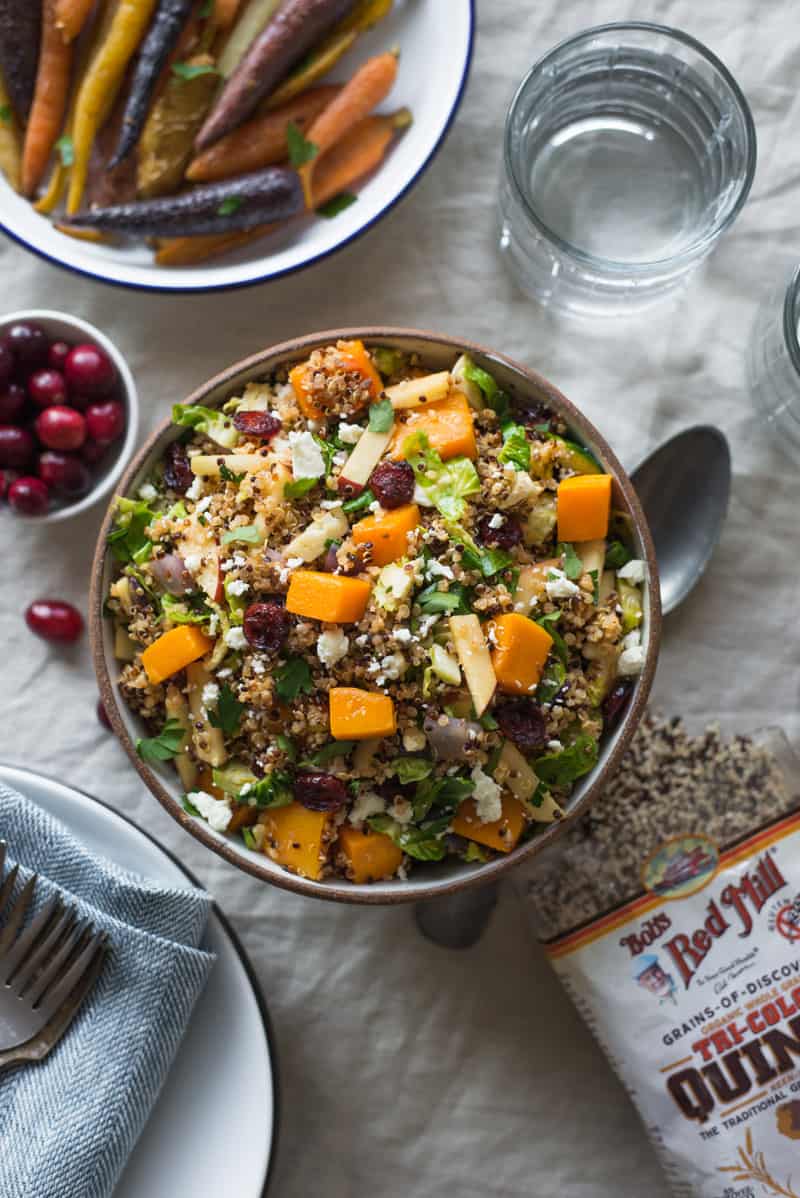 COOKING NOTES FOR THE QUINOA SALAD
Flavoring the salad: I added light flavors to this quinoa salad because I wanted to be able to taste the fruits and vegetables. During one of my test batches, I added cumin into the mix, which ended up overpowering EVERYTHING. My suggestion: feel free to add whatever herbs and spices you want to the salad, but keep a fairly light hand.
Preparing the butternut squash: Try to chop the butternut squash into small-ish pieces (about 1/2-inch chunks). They will cook a lot faster that way. Plus, nobody wants a massive chunk of butternut squash in their salad. Also, I used to make the mistake of over-salting my butternut squash. The tiniest pinch of salt will make a big difference, so don't make the same mistake I did!
Sautéing the brussels sprouts: I found that when I sautéed the brussels sprouts a little longer, its flavors became more intense. Depending on how you like your sprouts, this could be a good or bad thing. Just make note of it!
KITCHEN TIP: HOW TO PEEL & CUT BUTTERNUT SQUASH
LOOKING FOR MORE QUINOA RECIPES?
Fall Harvest Quinoa Salad
This colorful and healthy fall harvest quinoa salad is packed with butternut squash, brussels sprouts, apples and cranberries. Serve it as a meal or as a side dish at your parties!
Ingredients
1 1/4

cups

(225g) tri-color quinoa

2

cups

(235ml) water

1 1/2

teaspoons

kosher salt, divided

2 to 2 1/2

pounds

butternut squash (see note 1)

6

tablespoons

olive oil, divided

8

ounces

(225g) Brussels sprouts

1/2

medium red onion, diced

4

tablespoons

lemon juice, divided

zest from 1 lemon

1/2

teaspoon

paprika

1

medium apple (see note 2)

3/4

cup

(75g) crumbled feta

1/3

cup

(40g) dried cranberries

1/3

cup

(10g) chopped parsley
Instructions
Add quinoa, water, and 1/2 teaspoon salt into a saucepan and bring to boil. Reduce the heat to very low, cover the pan, and let the quinoa cook for another 15 minutes, until all the water has evaporated. Turn off the heat and cover the saucepan with a lid. Let quinoa sit for 15 to 20 minutes so the quinoa can fluff up. Spread out the quinoa over a baking sheet so that it can cool and dry out a little.

Preheat the oven to 375ºF (190ºC). Line a large baking sheet with parchment paper. Set aside.

Chop off both ends of the butternut squash. Peel outer skin. If you are working with a short squash, split it right down the middle. If the squash has a long neck, cut off the neck first before cutting the bulb in half.

Remove seeds and chop the squash into 1/2-inch chunks. Toss the cubed squash with 2 tablespoons of olive oil and 1/4 teaspoon salt. Spread the squash onto a baking sheet and bake for 25 to 27 minutes, until the squash is fork tender. Remove from the oven.

Trim the bottoms of the Brussels sprouts. Chop them in half, and then slice them into 1/4-inch strips.

Heat another 2 tablespoons of olive oil in a large pan over medium heat. Add onions and sauté them for about 2 minutes, until they start to soften. Add the sliced Brussels sprouts and cook them for 4 minutes. Season the vegetables with 1/4 teaspoon of salt.

Chop up the apple and toss it with 1 tablespoon of lemon juice. This helps keep the apple from browning.

Add the cooked quinoa, butternut squash, onions, Brussels sprouts, apple, feta, dried cranberries and parsley, 2 tablespoons olive oil, 3 tablespoons of lemon juice, lemon zest, paprika and 1/2 teaspoon salt to a large mixing bowl. Toss all the ingredients together. Taste and adjust the seasonings to your liking. Serve.
Notes
If you are using pre-cut butternut squash, you'll want about 755g or 5 cups of squash.
I recommend using a tart apple like Braeburn or pink lady.
Nutrition
Serving:
1
serving
|
Calories:
402
kcal
|
Carbohydrates:
58.7
g
|
Protein:
10
g
|
Fat:
16.6
g
|
Saturated Fat:
3.8
g
|
Cholesterol:
11
mg
|
Sodium:
139
mg
|
Fiber:
8.7
g
|
Sugar:
15.4
g
Did you make this recipe?
Tag @hellolisalin or leave a star rating and comment on the blog!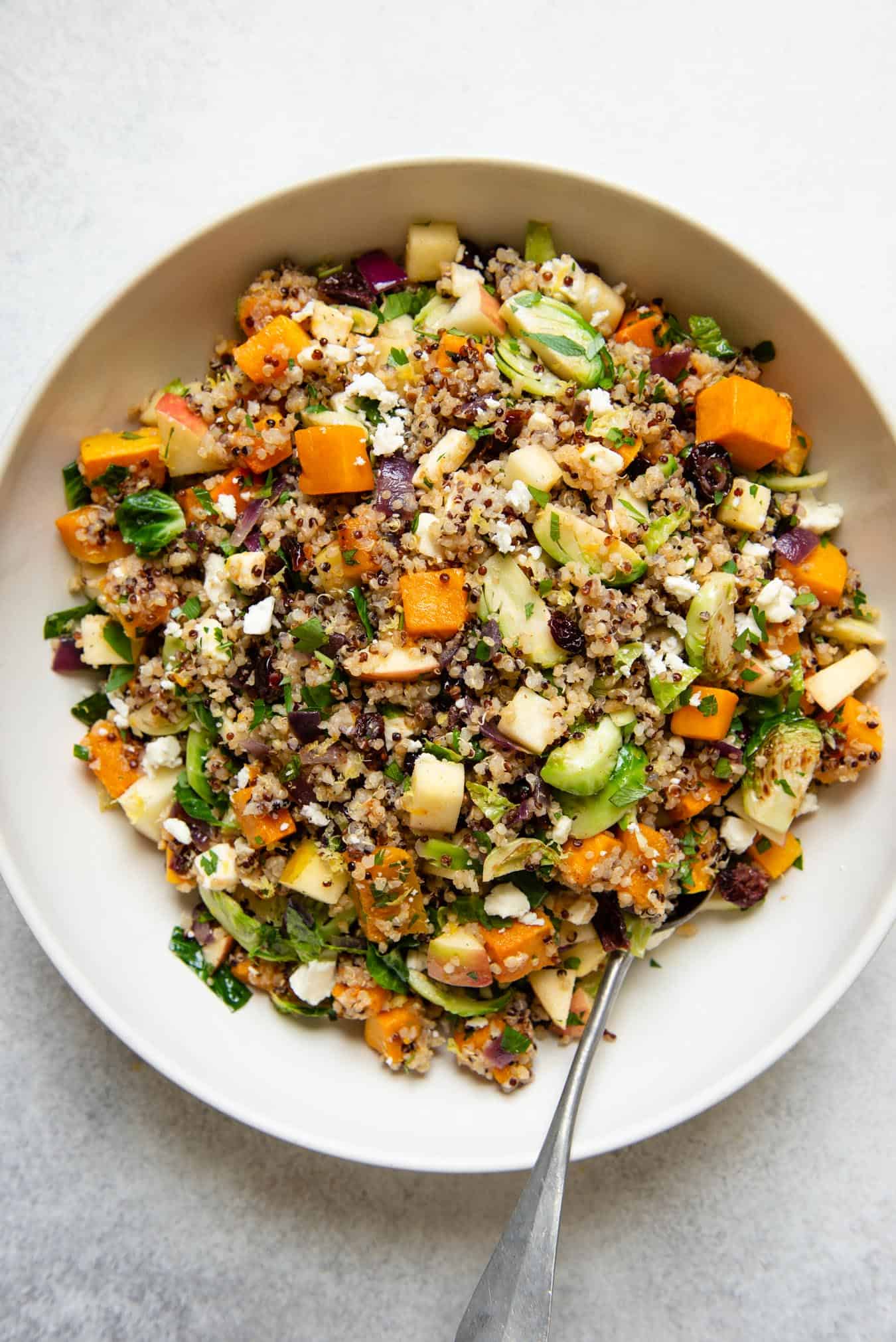 Disclosure: This post was sponsored by Bob's Red Mill. Find out more about Bob's Red Mill's products and recipes on Facebook, Instagram or Pinterest!