Personally, I find there's a bit too much parsley in traditional tabbouleh. In my version, I bumped up the amount of grains and tomatoes to balance out the flavors more. Instead of using bulgur, I chose quinoa to make the salad gluten free. The quinoa works very well here, and it has slightly more protein per serving than bulgur.
Whenever I'm making this quinoa tabbouleh salad, I don't actually follow a recipe. I usually eyeball the salad to see if it needs a more greens or tomatoes. As you make this recipe, you definitely want to taste as you go, adjusting the seasonings to whatever suits your taste. Over time, you'll probably cook this quinoa tabbouleh salad without looking at the recipe, too!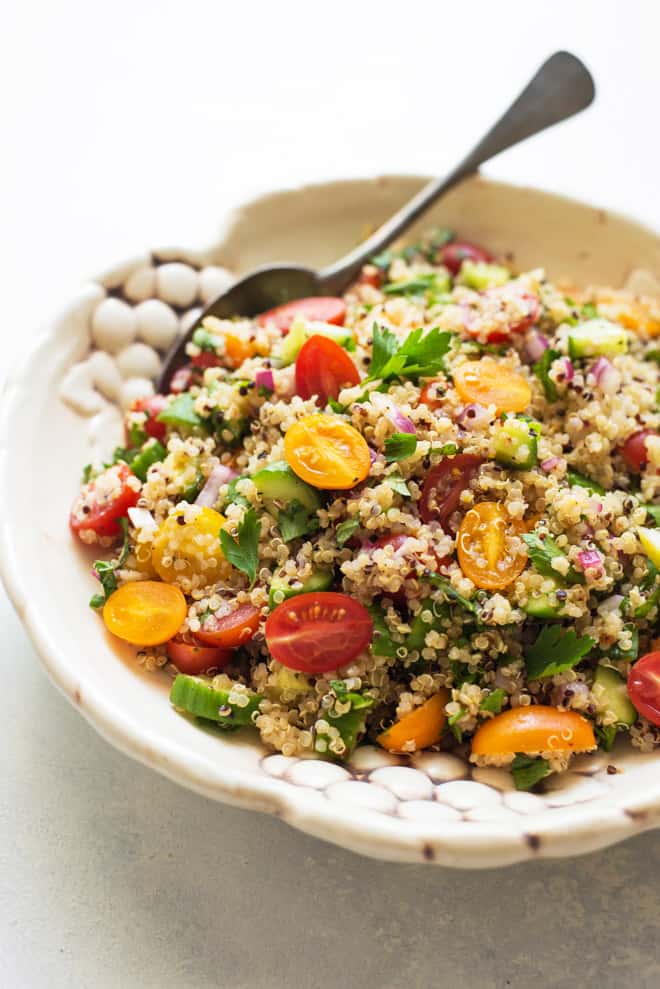 COOKING NOTES FOR THE QUINOA TABBOULEH
Soak red onions in lemon juice: The acid in the lemon juice helps take out the raw bite in the onions. Whenever I eat raw onions, there's a strong aftertaste in my mouth that I don't like. Soaking the onions in acid like lemon juice or vinegar helps neutralize the flavor.
Optional Seasonings: In my quinoa salad, I also added some granulated garlic, sumac (for more lemony flavor), and paprika. Feel free to add whatever dried herbs and seasonings you have on hand!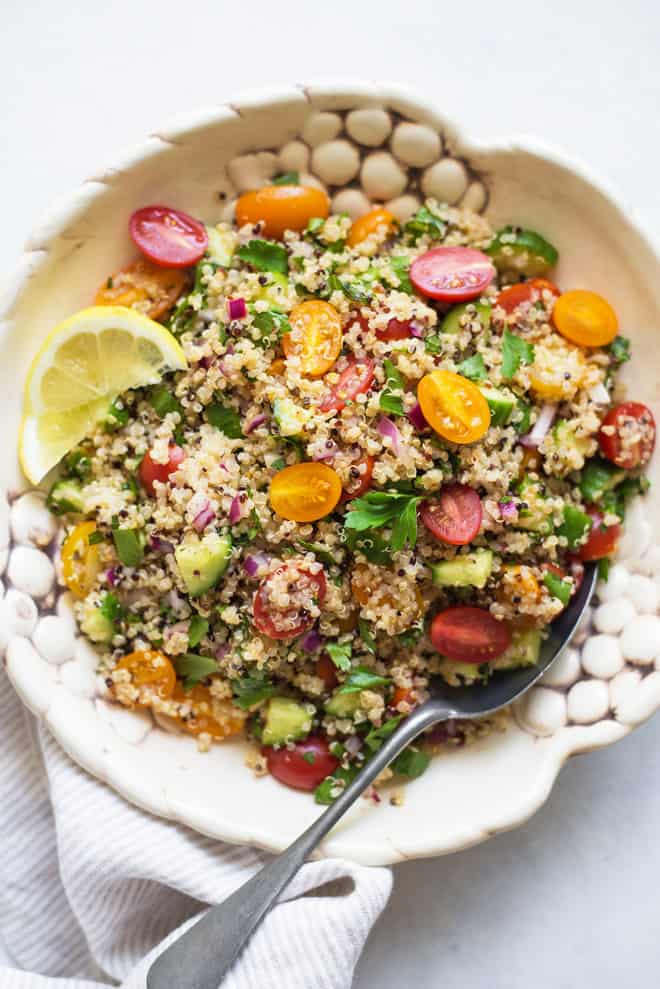 Quinoa Tabbouleh Salad
Ingredients
1/3

cup

(45g) chopped red onion

juice of 1 lemon

4

cups

(550g) cooked quinoa*

2/3

cup

(20g) chopped fresh parsley

1/2

cup

(15g) chopped fresh mint

1 1/2

cups

(220g) grape or cherry tomatoes, halved

2

Persian cucumbers

,

diced (can sub with 1/2 English cucumber)

2

tablespoons

olive oil

salt and pepper to taste
Optional Seasonings
1/2

teaspoon

granulated garlic

1/2 to 1

teaspoon

paprika

pinch

of sumac
Instructions
Add chopped red onions and lemon juice in a small bowl while you prep the rest of the ingredients. This helps take out some of the raw bite from the red onions.

In a large bowl, mix quinoa, parsley, mint, tomatoes, cucumbers, olive oil, red onions and lemon juice together. Add salt and pepper to taste. I like adding a bit of granulated garlic, paprika, and sumac to my tabbouleh, but feel free to add whatever seasonings you enjoy.

Refrigerate leftovers for up to 2 to 3 days.
Notes
NUTRITION INFORMATION: Yields 6 servings. Amount per serving: Calories: 207, Total Fat 7.1g, Saturated Fat: 1g, Sodium: 18mg, Cholesterol: 0mg, Total Carbohydrate: 31g, Dietary Fiber: 5g, Sugar: 3g, Protein 7g
*1 cup uncooked quinoa yields about 3 to 4 cups cooked quinoa.
Did you make this recipe?
Tag @hellolisalin or leave a star rating and comment on the blog!