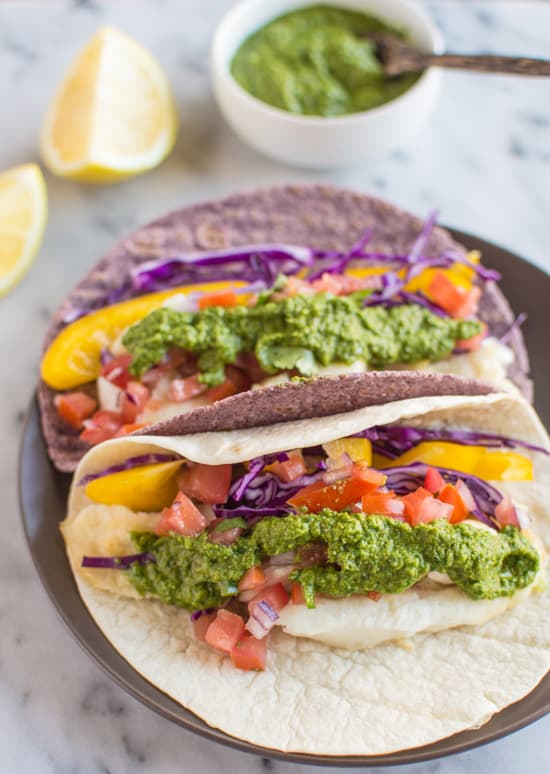 When I was young, I thought that tacos only came one way: served in a hard, yellow taco shell, stuffed with saucy beef crumbles, a sprinkling of shredded iceberg lettuce, a smattering of salsa, and shredded yellow cheese. Taco Bell sure skewed my view of Mexican food. You can imagine my quizzical look when I ordered my first taco at a proper taqueria. It didn't come in the familiar U-shaped shell.
Fast forward to my college years. My friends introduced me to the idea of "Taco Tuesdays." Every Tuesday, they flocked over to the nearest Del Taco to gorge in their share of cheap tacos. Each of them ate no less than 10 tacos on those days. And that's not an exaggeration.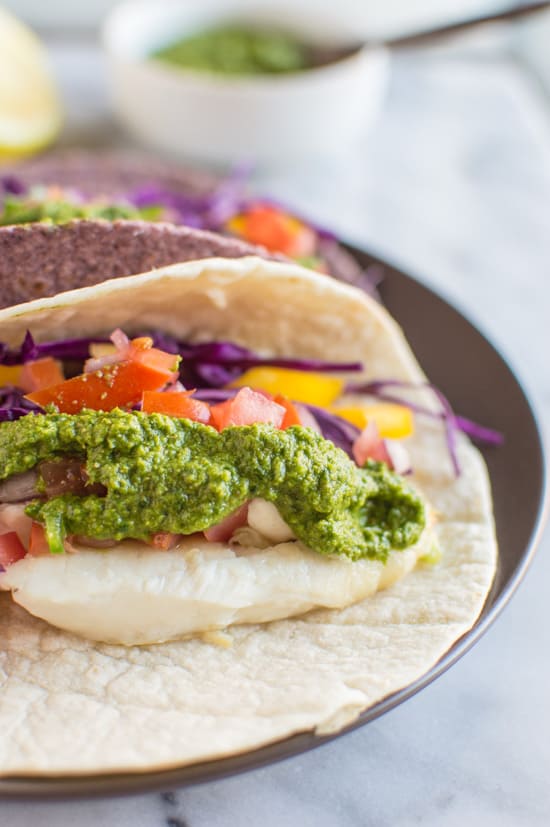 When I finally came of age to reap the full benefits of happy hours, I explored the wonders of cheap food and cheap booze on a Taco Tuesday, as well as the merriment that ensued. If you still haven't dabbled on a Taco Tuesday excursion yet, don't wait any longer!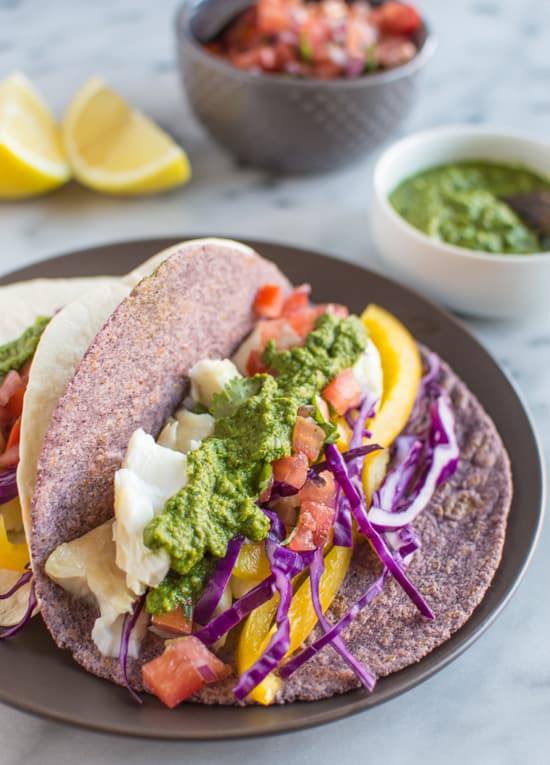 The theme for this month's Recipe Redux is a healthy recipe that I'm heating up with some smoke or spiciness. The first thing that jumped to mind: harissa. Harissa is having a bit of a ball right now in the food world and on this blog. I know this sounds a bit counterintuitive, but I'm not fan of hot sauces that taste like nothing but hot spice. Anyone can toss in cayenne pepper to a dish for some heat. I crave hot sauces with depth.
Heat aside, harissa has hints of cumin, coriander, garlic, caraway, lemon juice, and any other spice you feel like adding in there. In other words, my kind of hot sauce.
I intended to make fish tacos with regular harissa, until I saw this green harissa recipe from Half-Baked Harvest. My eyes couldn't turn away from the gorgeous look of harissa in a green dress. After going through many harissa recipes (both green and red versions), I finally came up with this. So good in fish tacos!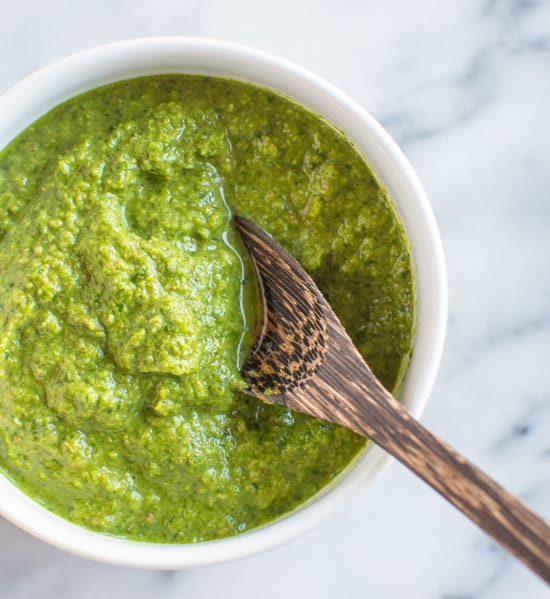 You'll notice that I've kept the other flavors of the taco relatively simple because the star of the show is the green harissa. Feel free to add whatever else you want to make these tacos shine. Happy eating!
Fish Tacos with Green Harissa
Makes 6 tacos.
Ingredients
Green Harissa (Makes about 3/4 cup)
2

tsp

cumin seeds

,

or 1 and 1/2 tsp ground cumin

2

tsp

corriander seeds

,

or 1 and 1/2 tsp ground coriander

1

tsp

caraway seeds

,

optional

3

jalapeño peppers

,

seeded and sliced

2

cloves

of garlic

,

sliced

2

green onions

,

sliced

1/2

cup

chopped cilantro

,

about a small handful

1/2

cup

chopped parsley

1/2

cup

chopped spinach

2 to 3

TBS

lemon juice

,

depending on how much acidity you want

1/4

cup

(60ml) olive oil

1/2

tsp

salt
Tacos
1

lb

tilapia

,

450g

1

and 1/2 TBS olive oil

pinch

of kosher salt

6

six-inch tortillas

,

I used purple corn and flour tortillas
Toppings
1

cup

shredded red cabbage

1

yellow pepper

,

thinly sliced

1

cup

pico de gallo salsa

,

or salsa of your choice
Instructions
Toast the cumin, coriander, and caraway seeds by pouring them into a sauté pan over medium-high heat. Stir for about 2-3 minutes. Grind the seeds in a spice mill or coffee grinder.

In a food processor, combine the ground spices with all the other ingredients for the green harissa and blend. My harissa wasn't too smooth after blending it in the food processor, so I finished it in a high-speed blender. Set aside.

Pat the tilapia filets with paper towels. Then, sprinkle a bit of kosher salt over the filets.

In a large pan, heat 1 and 1/2 tablespoons of olive oil over medium-high heat. When the oil is hot, place the tilapia on the pan. Cook each side for about 3 minutes, or until the fish looks white and flaky.

Heat the tortillas in a pan. Divide the tilipa in each tortilla. I broke the tilapia into smaller pieces with a fork. Top the fish with red cabbage, peppers, pico de gallo, and the green harissa. You will have extra harissa left over, so save it for another meal!

Best served immediately.
Notes
Green harissa recipe adapted from these two recipes from Bon Appétit.
Did you make this recipe?
Tag @hellolisalin or leave a star rating and comment on the blog!
Looking for more recipes with harissa? Try this: