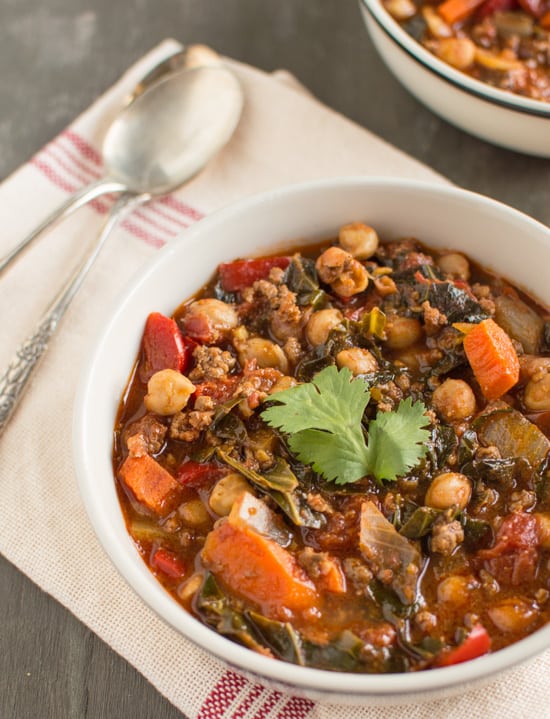 We're in the thick of fall. I can feel it in my toes. No, really. Whenever I wake up in the morning, all I want to do is wrap myself in my purple knitted cardigan and slip on my purple fuzzy moccasins. Yes, the color of royalty is my favorite because I'm royyyyal . . .
Alright, maybe not. Though sometimes, I daydream about descending from a line of ancient Chinese royalty. We just don't know about it yet. A girl can dream.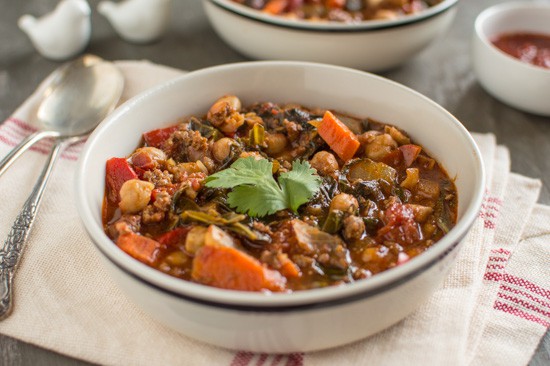 When the weather gets colder, what's your go-to dish to keep you warm? For me, it's soups and stews. I love the feeling of warmth that permeates the kitchen as a pot of soup simmers away on my stove. Of course, the same effect could be achieved by baking, but sometimes, even the oven needs a break.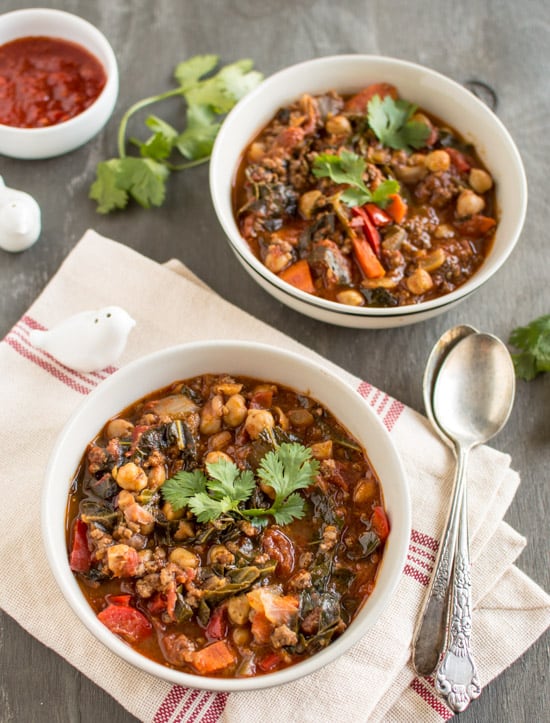 There was a nice bottle of harissa that lurked within the depths of my pantry drawer for a long time. I have a thing with impulse purchases. I spy an intriguing sauce or spice blend at the supermarket, throw it into my cart, shove it into one of my kitchen drawers, and all is forgotten. Those newfangled sauces and spices never see the light of day until I orchestrate a major kitchen cleaning. Do you have same problem? Admit it, you do.
Well, it was high time to crack open that jar of harissa and make magic happen. (Side note: Not even Popeye could open that jar of harissa without some assistance! So I wrapped a rubber band around the lid of the jar, twisted, and tada . . . crisis averted. Try that trick the next time you are trying to pry open a stubborn jar.)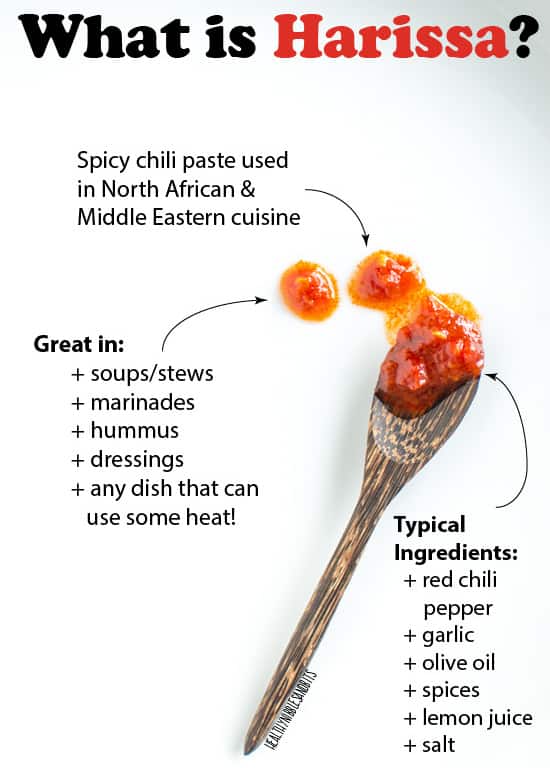 I've been eating this Moroccan beef chili for three days straight. If you're looking to try a new chili recipe, look no further!
Moroccan Beef Chili
Serves 8.
Ingredients
1 1/2

TBS

olive oil

1/2

large yellow onion

,

diced

1

TBS

minced fresh ginger

,

about a 1″ piece

4

garlic cloves

,

minced or pressed

1

lb/450g

lean ground beef

2

large carrots

,

peeled and chopped

1

28-ounce can

(800g) diced tomatoes

1

large pepper

,

diced

1

cup

(240ml) chicken stock

5

TBS

mild harissa

,

or 3 to 4 TBS spicy harissa

1

TBS

cumin

1

TBS

cinnamon

2

tsp

paprika

1

15-ounce can

(425g) garbanzo beans, drained and rinsed

3

cups

chopped collard greens

,

about 4 leaves

salt to taste

,

I used 1 TBS kosher salt

1/2

cup

(10g) cilantro

,

chopped (optional)
Instructions
Heat the olive oil in a medium pot over medium-high heat. Once the pan is hot, add the onions, ginger, and garlic.

Stir everything for about a minute or two, and add the beef. Let it cook until it is no longer bright pink. Add the carrots, tomatoes (including the juice), and pepper, and let it cook for a few minutes. Pour in the chicken stock, and add the harissa, cumin, cinnamon, and paprika.

Once the liquids start to boil, reduce the heat to medium-low and add the garbanzo beans, collard greens, and salt. Let everything simmer for about 15 to 20 minutes. The chili should look thicker than what you started out with.

Turn off the heat and mix in most of the cilantro, saving some for garnish. Let it cool for a few minutes before serving. The flavors develop more if you let the chili sit for a bit!
Did you make this recipe?
Tag @hellolisalin or leave a star rating and comment on the blog!