Looking for a quick and healthy breakfast idea for weekdays? This easy gingerbread overnight oats takes only a few minutes to prepare and it will keep you full in the morning!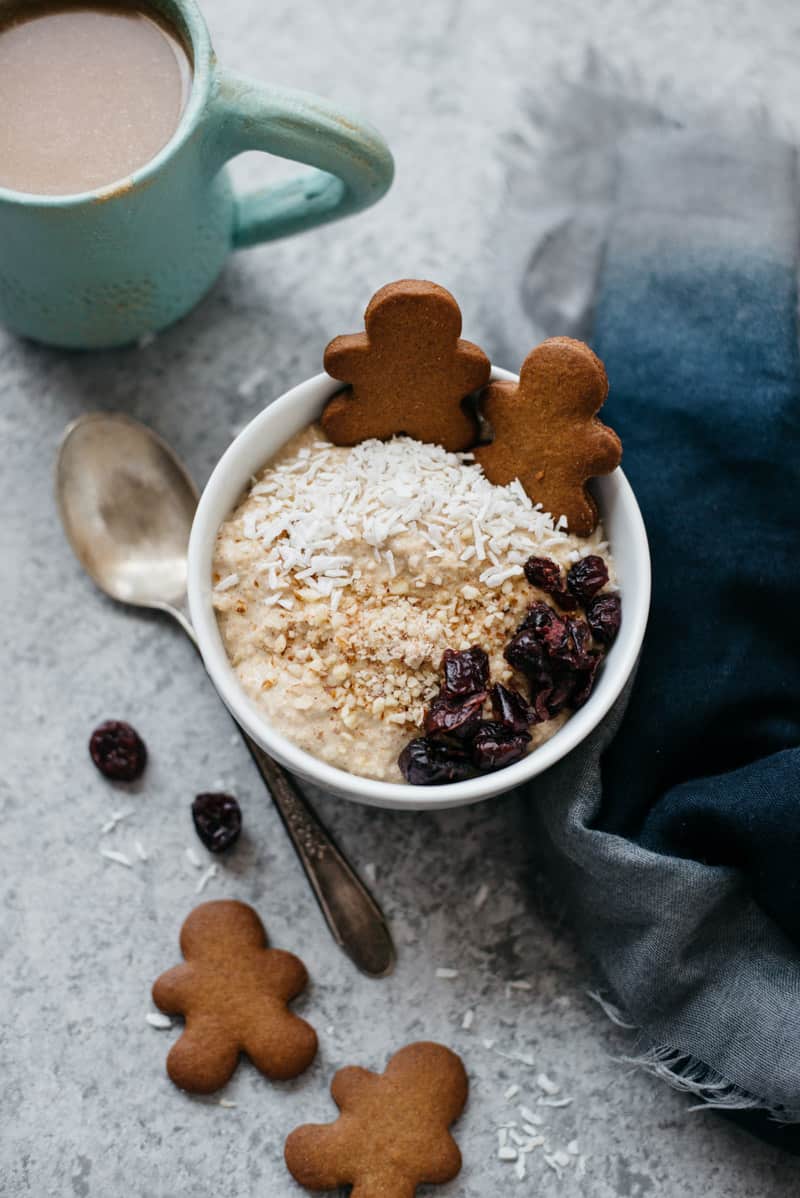 After a year of neglecting overnight oats, I find myself eating them constantly over the last few weeks. For those of you who have never tried overnight oats before, picture a thick yogurt parfait. You soak oatmeal in milk and yogurt overnight and the oats will soften as it picks up moisture from the other ingredients. Overnight oats are insanely easy to make and they're very satisfying.
Because we're in the holiday season, I've been infusing my overnight oats with Christmas flavors: cinnamon, ginger, cloves and even molasses! You don't have to be very precise with your ingredients when it comes to overnight oats. In fact, I usually just eyeball the ingredients. After you make this recipe a few times, you'll probably do the same!
I usually top my overnight oats with a ton of fresh fruit and nuts. Sometimes, I'll throw in some dried fruit with the oats overnight so that they plump up the next day. As you can see, there's no wrong way to enjoy overnight oats. Feel free to adjust the spices to your taste. This recipe is meant for 1 serving, but you can double or even triple the recipe and make the oats a few days ahead.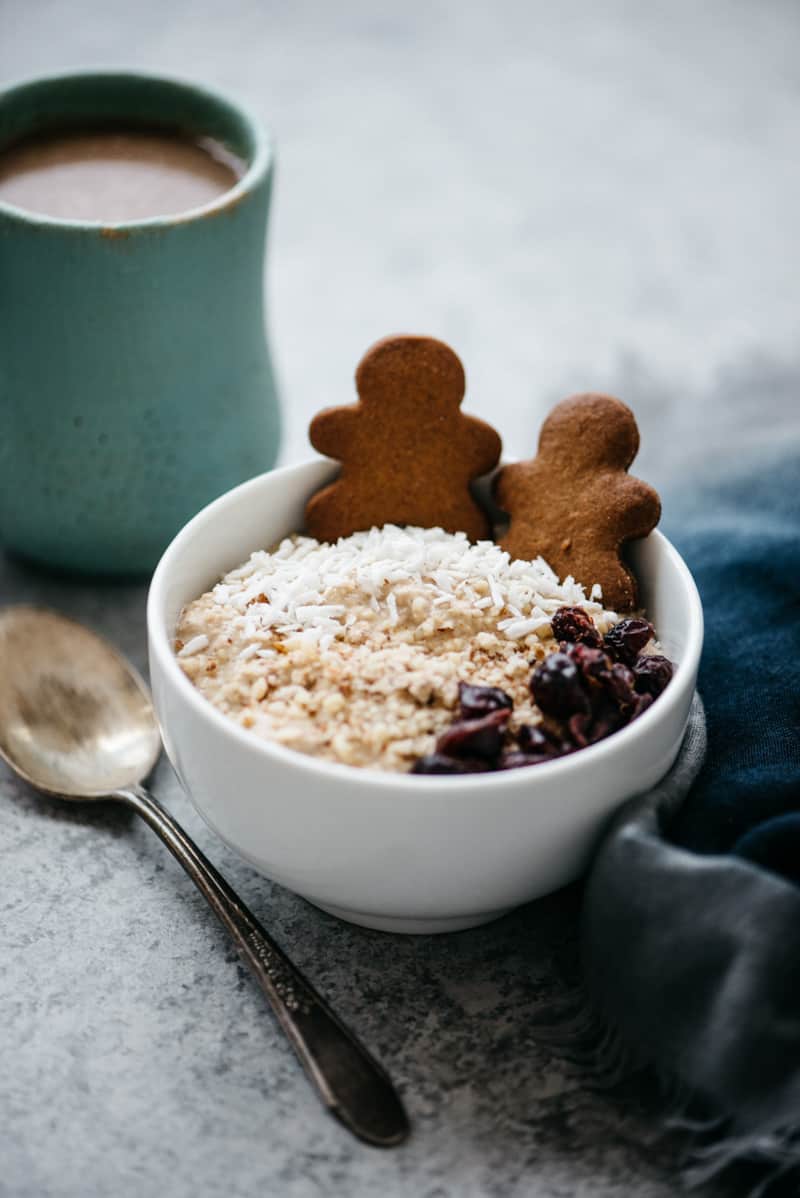 MASTERING MY MISTAKES / COOKING NOTES
Is it really necessary to refrigerate this overnight? It depends on your preference. The oats take some time to soften, so the texture is better if you let it soak in yogurt for a at least a few hours or overnight. At least, that's how I like it. If you forgot about preparing them overnight and you are pinched for time, you can mix the almond milk and yogurt with quick-cooking oatmeal. Let everything sit for about 10 to 20 minutes so that the oats have time to soften.
Variations: If you have some pumpkin or butternut squash puree lying around, mix it in with the oats! It adds a lovely flavor. Mashed sweet potatoes are great, too.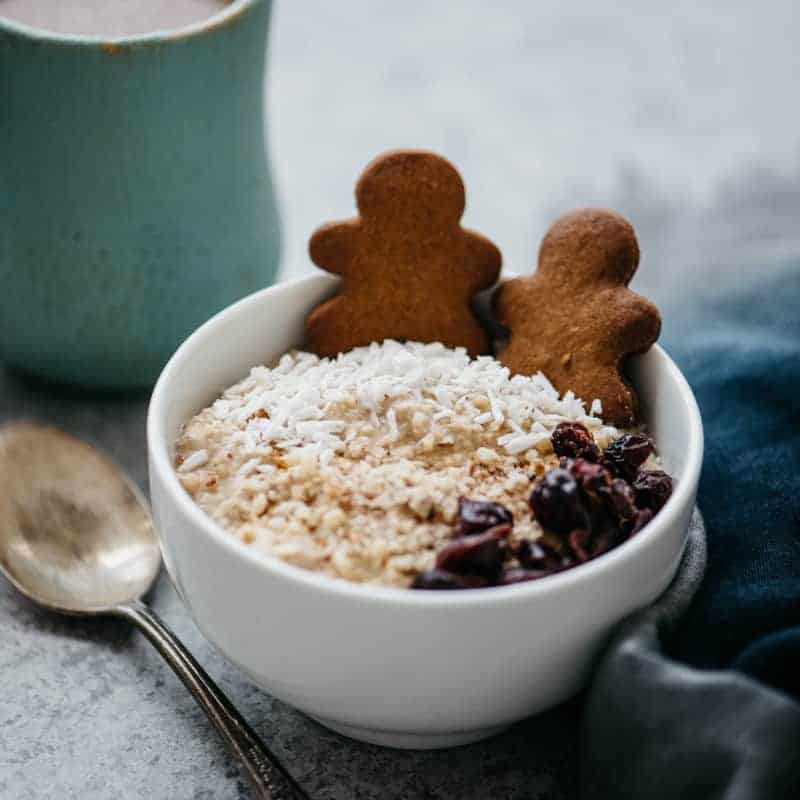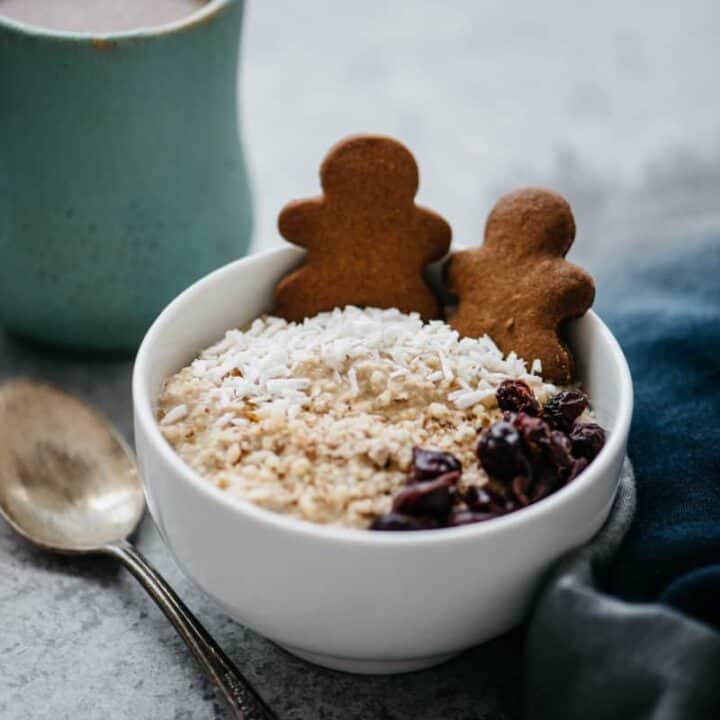 Gingerbread Overnight Oats
I'm using rolled oats in this recipe, but quick-cooking oats are great, too.
Ingredients
1/3 cup rolled oats
1/2 cup unsweetened almond milk
1/2 cup greek yogurt
1/2 teaspoon ground cinnamon
1/2 teaspoon ground ginger
pinch of ground cloves
1/2 tablespoon molasses
Instructions
In a bowl or jar, mix the oats, almond milk and yogurt together.
Add the cinnamon, ginger, cloves and molasses and stir until everything is well mixed. Cover the bowl or jar and refrigerate overnight.
Serve overnight oats with fresh fruits, nuts, coconut and dried fruit, if you like.
Nutrition Information:
Serving Size:

1
Amount Per Serving:
Calories:

247
Total Fat:

11g
Saturated Fat:

6g
Cholesterol:

19mg
Sodium:

154mg
Carbohydrates:

25g
Fiber:

5g
Sugar:

5g
Protein:

15g
LOOKING FOR MORE OATMEAL RECIPES? TRY THESE: