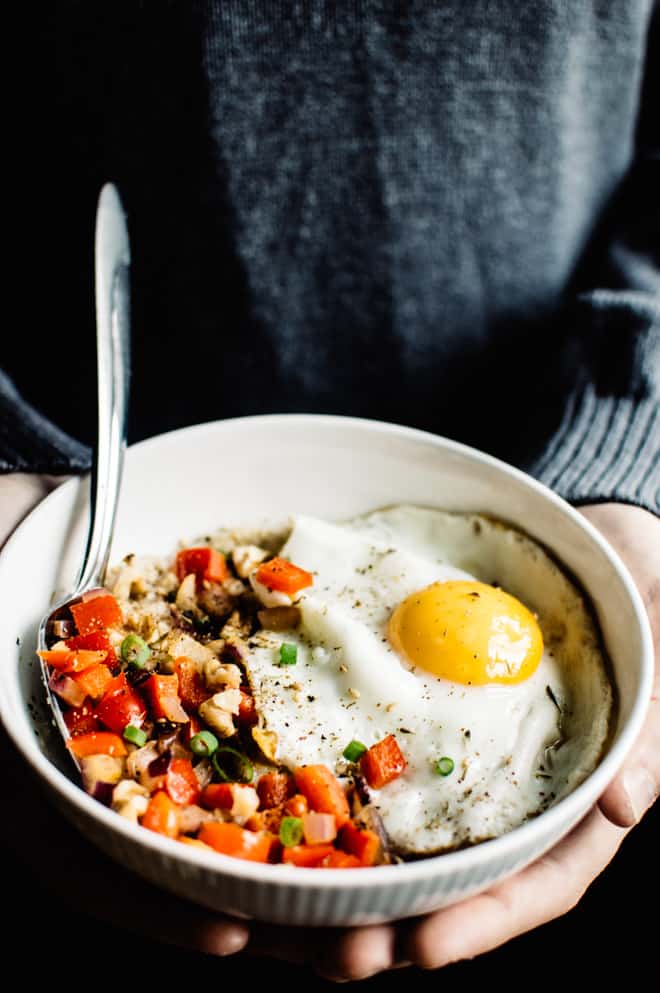 Remember that promise that you made at the beginning of the year to try new things, to taste new foods? (Okay, maybe that was a promise that I made.) Well, let's do it now . . . with savory oatmeal.
I first learned about savory oatmeal from Grandma Lin. She was a great cook in many ways. My goodness, I can still remember her scrumptious pan-fried catfish with peanuts. But when it came to oatmeal, she really only knew two ways of cooking it.
Sweet: oatmeal cooked in milk with a spoonful of sugar and an egg swirled in.
Savory: oatmeal cooked in water with perfectly diced chunks of Chinese sausage and a pinch of salt.
The savory version was always my favorite. I enjoyed digging out those nuggets of Chinese sausage in a bowl of hot porridge. Grandma Lin made eating savory oatmeal fun! It's been years since I've cooked savory oatmeal, and it wasn't until recently that I decided to whip up a bowl for breakfast.
After many late-night chocolate sessions over the last few weeks, my body craved savory foods. That's when this savory oatmeal idea hit me. Just fry up the egg and cook vegetables while I microwave the oatmeal. A hot breakfast ready 10 minutes!
So the next time you are craving something savory for breakfast, try this oatmeal! That fried egg on top is calling for you.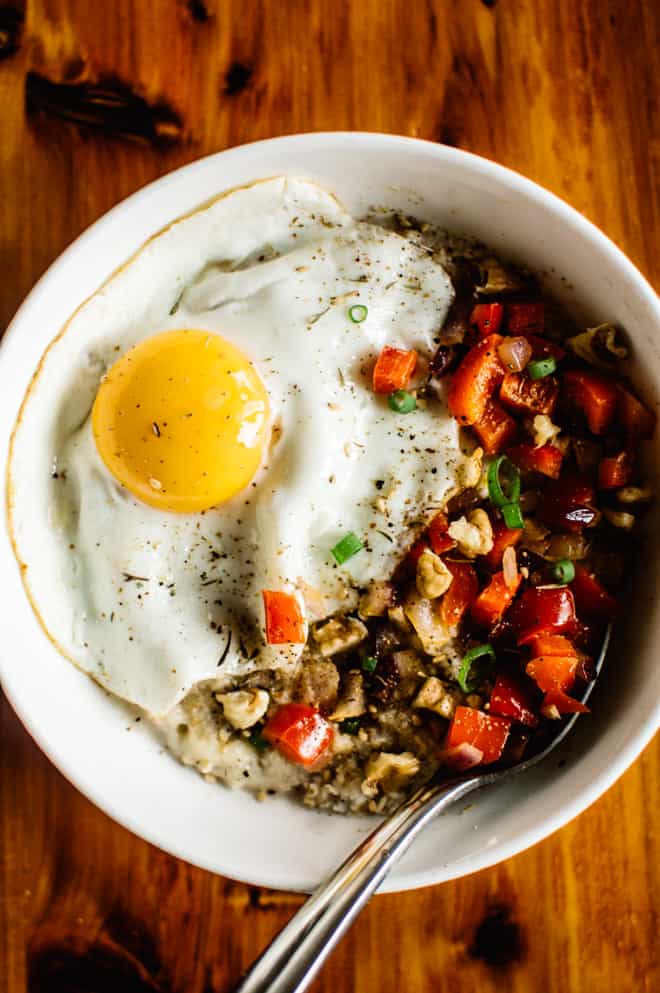 COOKING NOTES FOR THE SAVORY OATMEAL RECIPE
USING QUICK-COOKING STEEL CUT OATS
I love cooking with steel cut oats because I think they have more texture than rolled oats. However, regular steel cut oats take forever to cook, and I would probably starve before the oats are done cooking. That's why I recommend picking up the quick-cooking steel cut oats—they take only a few minutes. Feel free to use regular rolled oats if that's what you have on hand.
TIPS FOR MICROWAVE METHOD
I have definitely made a huge mess while cooking oatmeal in the microwave before. The problem was that I was microwaving at too high of a power setting. (On a scale from 1 to 10, I was microwaving at a 10.) When liquids get too hot in the microwave, they will bubble vigorously and cause the contents to spill over.
So here are my tips to avoid a big mess:
Avoid using small bowls. Your bowl should be 1/2 or 2/3 of the way full when you fill it with the oats and water.
Change the power setting to 7 or 8/10, and check how the oatmeal is cooking every minute. It should take 3 minutes to cook. Don't forget to stir the oats in between intervals!
If you can't lower the power settings, place a paper towel underneath your bowl of oats to catch any spills, and check them after every minute. Check the packaging label for the cooking time of that particular brand of oats. Of course, you can always cook this on the stove top.
SEASONING WITH SALT
Don't forget that white cheddar (or whatever cheese you use) is a bit salty already, so you don't need to add much more salt to the oatmeal. I got a bit excited with the salt the first time I tried the recipe, and boy was that bowl of oatmeal SALTY. That went straight to the trash.
USING COCONUT OIL
I cooked the chopped vegetables and egg with a tiny bit of virgin coconut oil, and I loved the additional flavor. Coconut oil spray works well, too. We're going to use a tiny bit of coconut oil in this recipe, so you'll want to use a non-stick pan, if possible.
LOOKING FOR MORE WAYS TO COOK WITH OATS?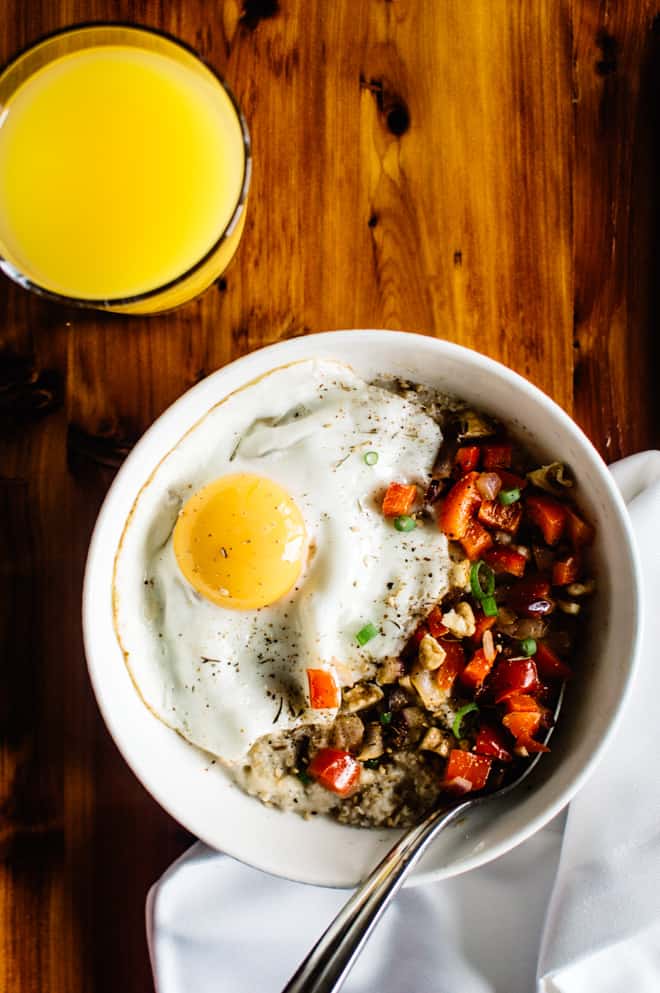 Savory Oatmeal with Cheddar and Fried Egg
This savory oatmeal is a great way to switch up your breakfast routine. If you don't want to bother with frying up an egg in another pan, you can also crack the egg into the oatmeal when it is nearly done cooking. 
Ingredients
1/4

cup

dry quick-cooking steel cut oats

3/4

cup

water

salt and pepper

2

tablespoons

shredded white cheddar cheese

,

add more if you like

1

tsp

coconut oil

,

divided

1/4

cup

diced red pepper

2

tablespoons

finely chopped onions

1

large egg
Optional Toppings
chopped walnuts

sliced green onions

za'atar
Instructions
Stovetop Method
Bring water to boil. Add oatmeal, reduce heat a little and let it cook for about 3 minutes, until all liquid is absorbed. Turn off heat and stir in cheese, a small pinch of salt, and pepper.
Microwave Method
Place oats and water in a microwave-safe bowl. Line microwave dish with paper towels to catch any spills. Microwave at a high setting (but not the highest, about 8/10 power setting) at one-minute intervals for a total of 3 minutes. (See note 1) If you want a softer texture, continue microwaving at 30-second intervals. Give the oats a little stir between intervals. When the oatmeal is done, stir in shredded cheese, a small pinch of salt, and pepper.
Cook Vegetables & Egg
Heat a nonstick pan with 1/2 teaspoon of coconut oil over medium-high heat. Add vegetables and cook for 2 to 3 minutes, until they soften. Spoon vegetables over cooked oats. Reduce heat to medium.

Add remaining 1/2 teaspoon of oil and fry egg. Cook until the whites are no longer translucent and serve over oatmeal.

Top with chopped walnuts, green onions, and za'atar, if you like.
Notes
Different brands of oatmeal may have different cooking times for the microwave method. Check the packaging for instructions
If you want an even lighter meal, use coconut oil spray instead of coconut oil.
If you have any leftover cooked vegetables from the day before, just warm them up and add them to your oatmeal.
Nutrition
Serving:
1
serving
|
Calories:
262
kcal
|
Carbohydrates:
18
g
|
Protein:
13
g
|
Fat:
16
g
|
Saturated Fat:
9
g
|
Cholesterol:
201
mg
|
Sodium:
178
mg
|
Fiber:
3
g
|
Sugar:
3
g
Did you make this recipe?
Tag @hellolisalin or leave a star rating and comment on the blog!