But I decided to stick with it. Guess what? Two years later, I'm starting a Youtube channel!!
WHAT?!!
I've been wanting to make videos for the blog for a looong time, but I've never had the will to start. Learning how to shoot half-decent food photos was hard enough for me, and I knew that shooting videos would be a more involved process.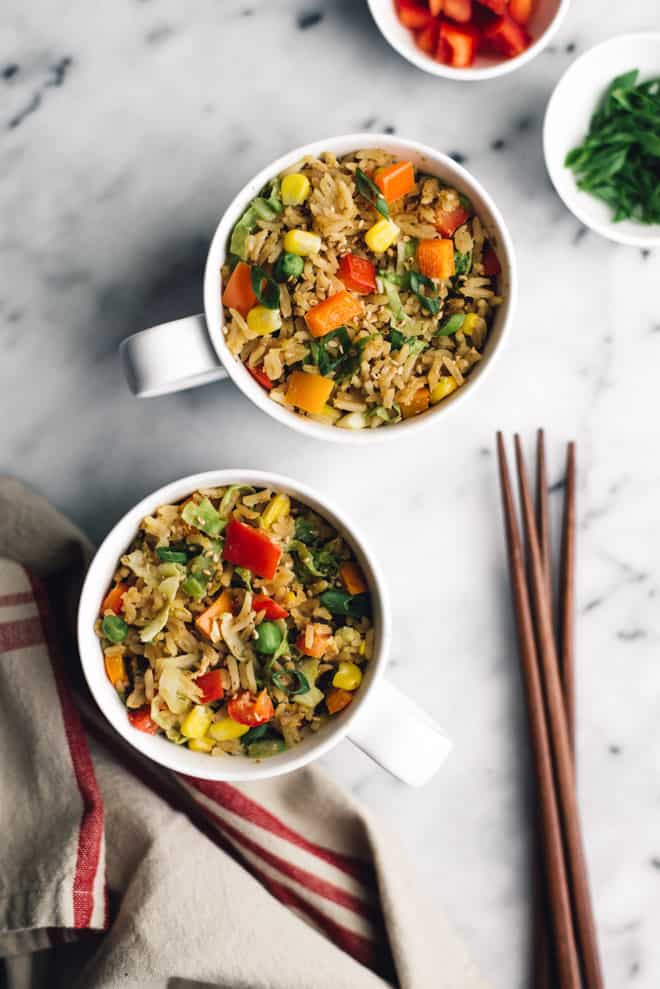 How am I going to film myself cooking?
What software do I even use to make videos?
Will I have to show my weathered hands on camera?
Then, I realized that I was doing nothing more than making stupid excuses to keep me from trying something new. I do that a lot. Really, it's time for me to stop half-assing my goals and just plunge right in. So here goes nothing . . .
I decided to make my first video around my egg fried rice in a mug recipe because it's the most popular one on the blog to date. I've made it gluten free here by swapping the soy sauce for tamari. This recipe actually works, friends! Be sure to read the cooking notes right below so that you get it right the first time!
Also, it would mean SO MUCH to me if you subscribed to my Youtube channel! I don't know how often I will post new videos up, but I'm hoping to do one at least one every other week! If you have any feedback about my videos, please let me know or leave a comment!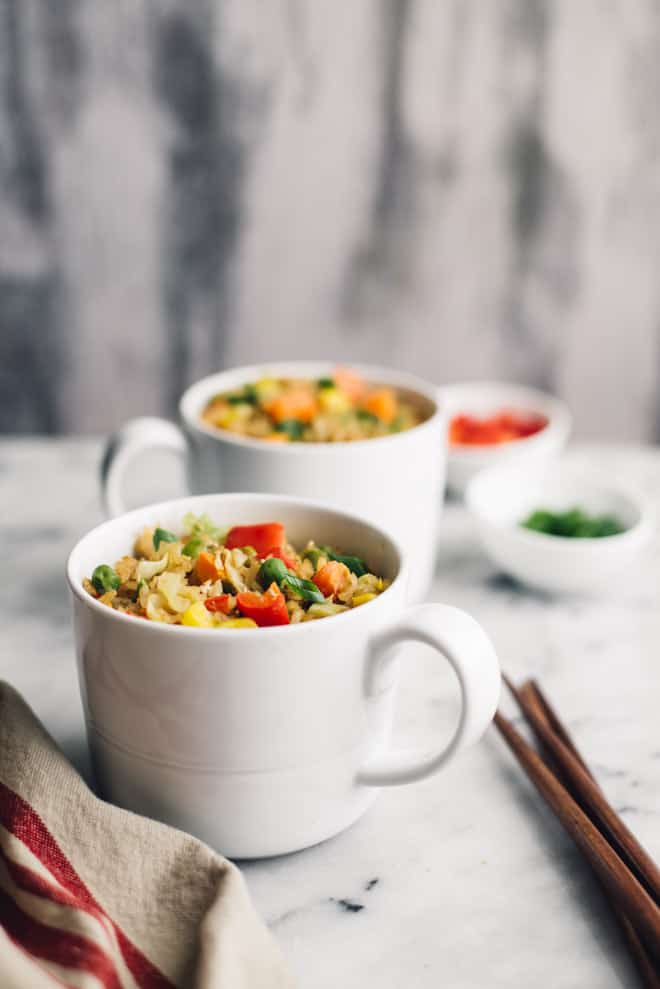 MASTER MY MISTAKES / COOKING NOTES
DO NOT Cook Fried Rice at Full Power: One of the biggest mistakes I made when I started cooking with my microwave was not paying attention to the power settings when I cooked. Just like I wouldn't cook things like pancakes on high heat over the stove, I shouldn't cook everything at full power in the microwave either.For this recipe, you'll want to cook everything at a 8 or 9 out of 10 power setting. If you can't adjust the power settings of your microwave, then cook it at full power, but cut the cooking time a little. The first time the rice goes into the microwave with the vegetables, cook for a minute (no change from the original recipe). However, the second time the rice goes in with the egg, cook it only for a minute to a minute and 15 seconds. Overly cooked eggs are no bueno. Of course, not all microwaves are the same, so you may need to play with the power settings and cooking time a little.
Don't forget to fluff the rice: This is probably one of the most important steps to the recipe. As the egg cooks, it will fill the crevices between the rice and vegetables, forming a huge egg/rice/veggie cake in a mug, if you will. Before you eat the rice, make sure you thoroughly fluff up the rice with a fork or spoon. Get into that mug and dig! Don't worry, the rice can handle it.
Let the rice sit for a minute before eating: I know, it's hard to resist digging into the rice right after it's done in the microwave. Do let the rice stand at room temperature for a minute, though. This allows it to finish cooking.
P.S. I know that I shot the fried rice with chopsticks in these photos, but you'll want to go at this with a spoon—way easier!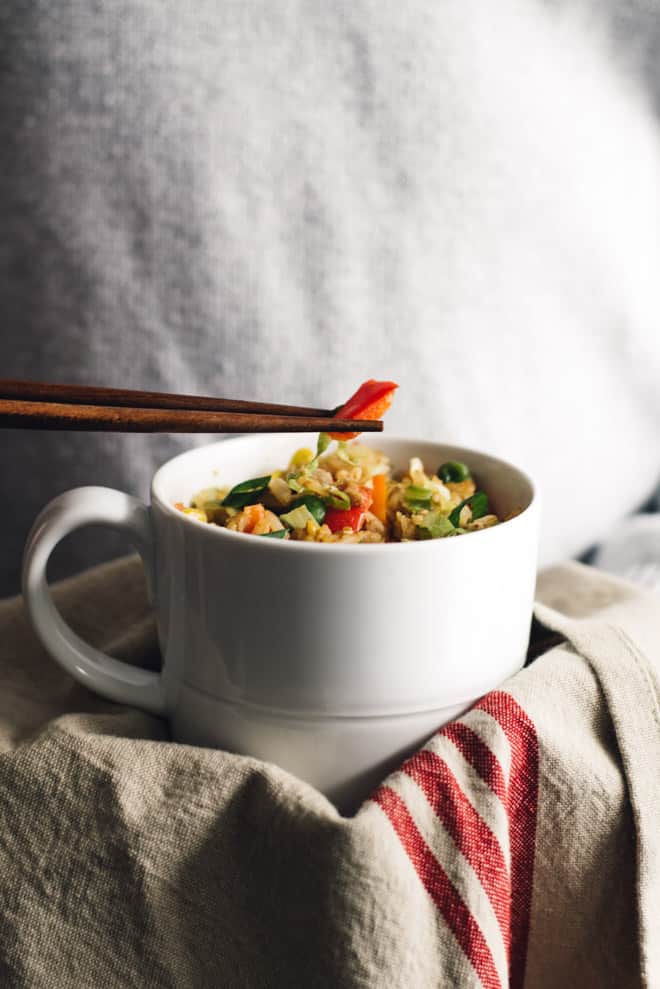 If you try this recipe, let me know how it goes by leaving a comment or sending me a message! Or take a photo of the food and tag me on Instagram so that I can give you a fist bump! Seeing your creations makes my day!
Gluten-Free Egg Fried Rice in a Mug
Ingredients
2

cups

cooked rice

,

or instant microwave rice

1

cup

mixed vegetables

2

large eggs

2

TBS

low-sodium tamari

,

or low-sodium soy sauce if not gluten free

1

tsp

sesame seed oil

,

optional

1

tsp

granulated garlic

1/2

tsp

five-spice powder

pinch

of salt

1

stalk of green onions

sesame seeds for garnish

,

optional
Instructions
Place a cup of rice in a mug. You want to make sure to use a fairly large mug so that you have room to lay some vegetables on top. Top with half of the vegetables, or enough to fill the mug to the top. Cover with microwave-safe plastic wrap. Puncture a few holes in the plastic wrap with a chopstick or a fork. This helps with ventilation.

Turn the power setting of your microwave to 8/10 and set timer to 1 minute. You want to microwave the rice on high, but not at the highest setting.

While rice is cooking, whisk 1 egg, 1 tablespoon tamari, 1/2 teaspoon sesame oil (if using), 1/2 teaspoon granulated garlic, 1/4 teaspoon five-spice powder, and a small pinch of salt together. Take the mug out of the microwave, remove plastic wrap, and pour in egg mixture. Use a fork or spoon to give everything a few stirs. Cover rice with plastic wrap again, and microwave rice at an 8/10 power setting for 1 minute 15 to 1 minute 30 seconds. Mine was closer to 1 minute 30 seconds. Let rice stand for a minute before eating.

Using a fork or a spoon, fluff up the rice by stirring the contents several times. The egg and rice probably started caking up at the bottom of the mug, so you want to loosen it all up. This is a VERY important step, so don't skip it!

Repeat steps 1 to 4 for the remaining ingredients. Enjoy!
Did you make this recipe?
Tag @hellolisalin or leave a star rating and comment on the blog!