Spring. We're nearly there! San Francisco hit the mid-70s this past weekend, I just bought a bright pink skirt, the nearby hill is verdant, the loquat tree outside my apartment is bearing sweet orange fruit, and I'm getting ready to start a tiny herb garden. Oh yea, spring, I'm ready for you.
When I think of spring, the word "fresh" comes to mind. As well as, "So fresh and so clean, clean. So fresh and so clean." Sometimes, we need to inject a bit of Outkast in our lives, ya' heard? In the spirit of spring and all the new things, let's try a fresh take on sushi. Let's give tofu a bit of love.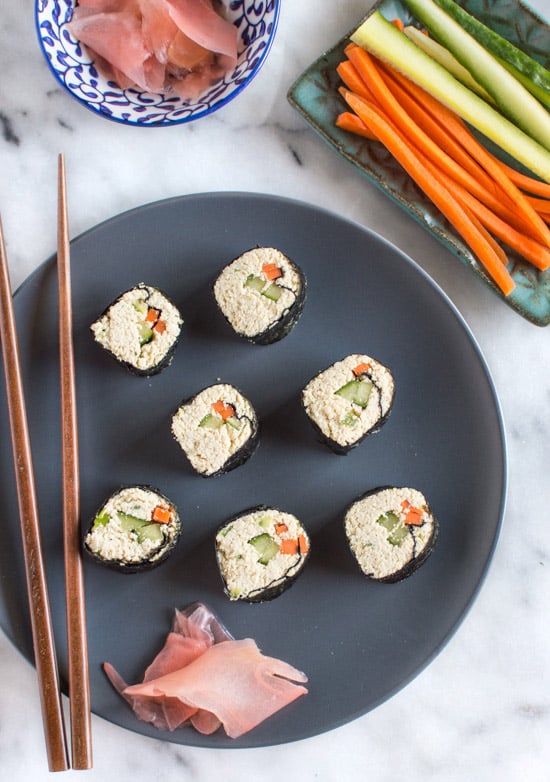 Have you ever wrapped sushi with tofu instead of rice? It's a delicious change. First, we start with a block of super firm tofu. It's denser, drier, perfect for rolling up into a sushi. And while we're at it, why not make that tofu a sprouted one? Sprouted tofu = more nutrients = making our bodies happier. Wildwood is the brand I used, but any brand of super firm tofu will work for this recipe.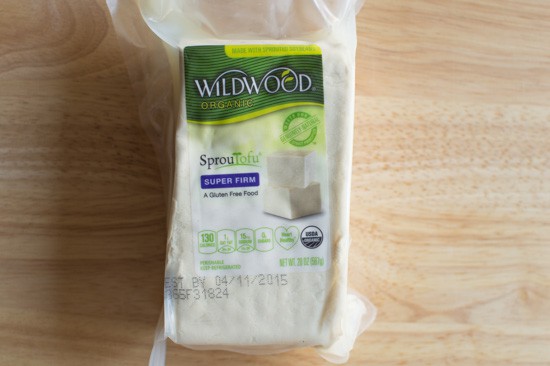 Then, process the tofu until it is about the size of couscous.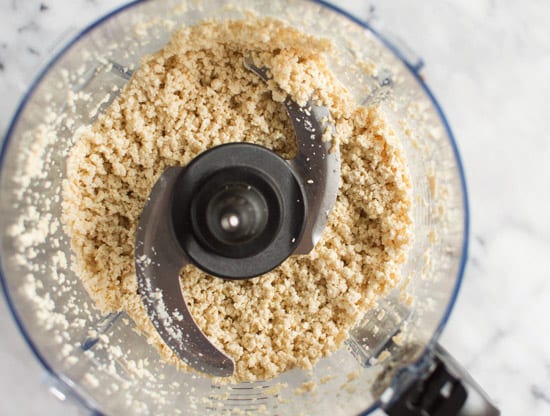 Fill the sushi with whatever you want. I just added sliced carrots and cucumber for simplicity, but that shouldn't stop you from going crazy with these. Add some unagi, salmon, daikon, tuna, whatever! Just make sure you're having fun.
Happy almost spring!
Grain Free Tofu Sushi
Serves 6.
Ingredients
10

oz

(560g) sprouted super firm tofu

1

green onion

,

roughly chopped

4

TBS

rice vinegar

2

tsp

sesame oil

1

tsp

salt

,

add more to taste

1/4

tsp

garlic powder

6

sushi nori sheets

,

seaweed

1

large carrot

,

peeled

2

persian cucumbers

,

or half of an English cucumber
Instructions
Drain water from tofu package and wrap the block of tofu with paper towels. Place the tofu on top of a plate, and press it down with something heavy. I usually put a bag of flour or sugar inside a saucepan, then place the saucepan on top of the tofu. Let it sit for 15 minutes.

Place the tofu, green onion, rice vinegar, sesame oil, salt, and garlic powder in a food processor. Blend until the tofu becomes tiny pieces, about the size of couscous.

Chop the carrot in half, and then chop each half into thin matchstick slices. Chop of the ends of the cucumbers and chop it into thin slices.

Take a sheet of sushi seaweed and place it on a sushi rolling mat, shiny side down. Spread some of the tofu mixture onto the seaweed. It should fill about 1/3 to 1/2 of the sheet. Pack the tofu down. Place some carrots and cucumber on top of the tofu and roll. To seal sushi, wet the edge with a tiny bit of water and roll.

Cut the sushi into half-inch pieces by using a very sharp knife. I like to wipe the blade clean between slices.

Serve immediately or refrigerate for a day or two.
Did you make this recipe?
Tag @hellolisalin or leave a star rating and comment on the blog!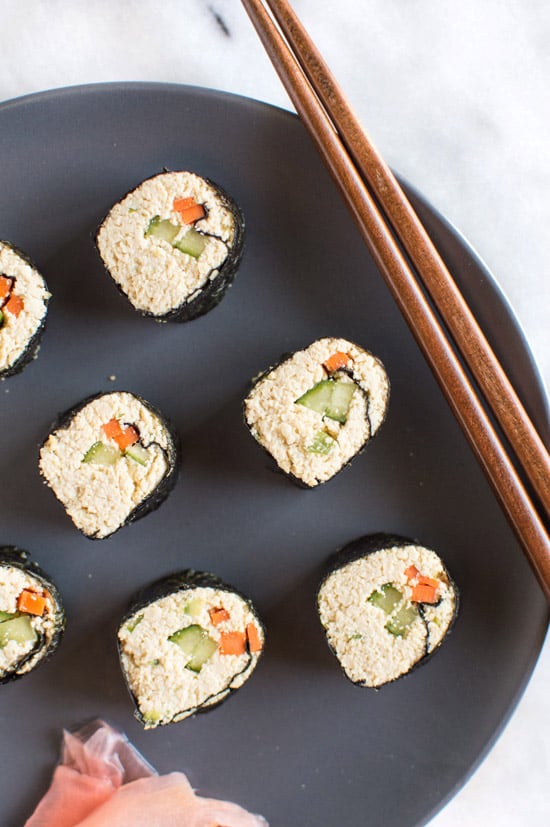 Looking for more sushi roll ideas?