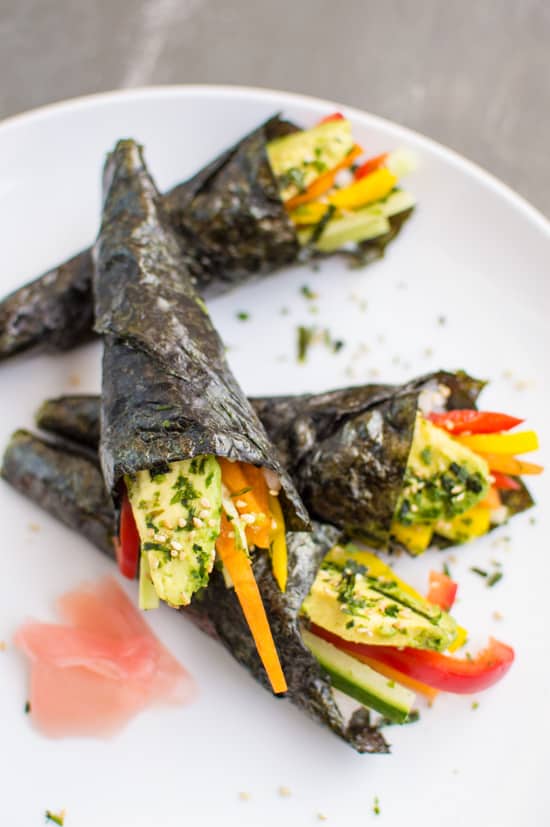 Take your hand.
Make it into a fist.
Move it in a circular motion from the wrist.
You've just made yourself a hand roll!
Now, your turn to tell me a joke!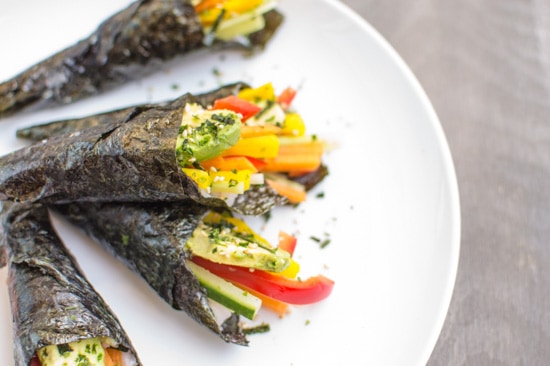 I know, you didn't come here for me to tickle your funny bone. You came here to make hand rolls you can eat, so let's roll up our sleeves!
With our minds locked on the big Thanksgiving feast, let's take a moment to step away from the turkey, potatoes, and butter. The turkey will be fine, I promise.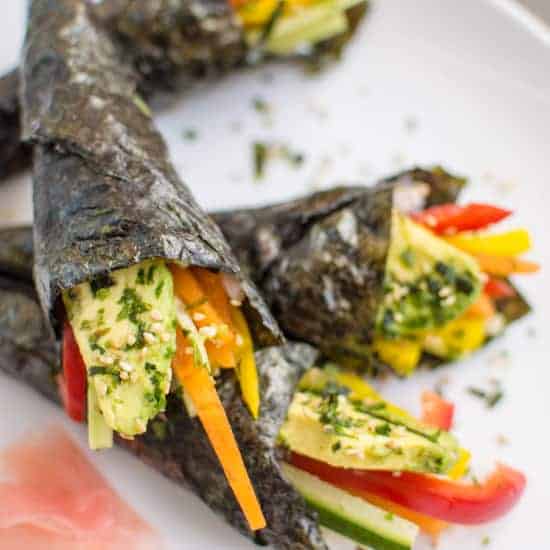 Whenever I think about party bites, I usually see visions of cheeses, chips, guacamole, and buttery cookies. Food-centric gatherings (like Thanksgiving) are my excuse to sample a wide range of indulgent foods, and I know I'm not alone in thinking this. We all need a bit of wiggle room in our healthy lifestyles sometimes.
I was flipping through an issue of Vegetarian Times looking for party appetizer ideas, when I landed on a Mini Sesame-Cucumber Hand Rolls recipe. I don't know why it took me so long to realize this, but hand rolls are quite spectacular for parties. They're:
Simple
Healthy
Versatile
Portable
Elegant
Want to make them fancy? Add some roe. Want to make them vegan? Use vegetables only. The taste, glitz, and glamour of the hand rolls are entirely up to YOU. So play around and find your favorite flavor combinations!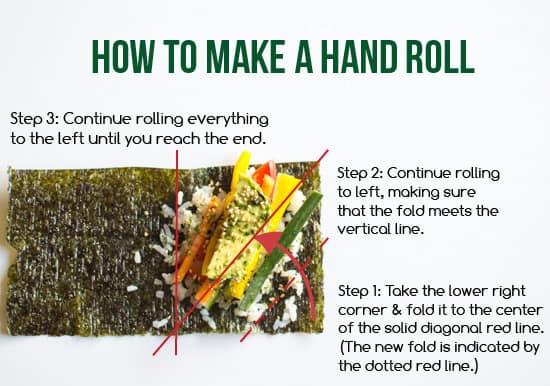 The directions to fold a hand roll are a bit difficult to describe without photos, so I did my best to visualize the process. Start from the bottom right, and work your way to the left!
Vegetable Hand Rolls (Temaki)
Makes 20 Hand Rolls.
Ingredients
1

cup

(180g) uncooked sushi rice

3

TBS

sushi seasoning

10

sheets toasted sushi nori

,

seaweed

1/2

English cucumber or 2 Persian cucumbers

1

medium red bell pepper

6

oz

(170g) preserved daikon

2

medium fuyu persimmons

,

optional

2

small avocados

,

pitted and sliced

furikake for topping

,

optional
Instructions
Cook the sushi rice according to package instructions. When it is done cooking, scoop the cooked rice into a large bowl and let it cool for about 15 minutes. Mix in the sushi seasoning.

While the rice is cooking, prepare the vegetables by cutting them into matchstick-size. If you want to add persimmons in the hand rolls, peel the persimmons, and cut it into matchsticks.

Cut the nori sheets in half. Place one half of the nori sheet on a board, shiny side down. Spoon some rice onto the nori (about 2 to 3 tablespoons). Spread the rice so that you fill one half of the nori. Top the nori with a few slices of cucumber, red pepper, daikon, and persimmon. Top with one slice of avocado, and shake some furikake on top.

Starting with the lower right-hand corner, roll the nori towards the left, until you reach the end. Seal the hand roll with a few grains of rice. Repeat with all the other nori sheets.

Serve immediately.
Notes
1. You want to serve these immediately because the seaweed loses its crunch very quickly.[br][br]2. Feel free to customize your hand rolls by adding your favorite ingredients![br][br]3. The rice will get sticky, so I like having a bowl of water on the side for me to rinse off my hands.[br][br]4. I like eating these hand rolls as is. You can serve it with soy sauce if you like.
Did you make this recipe?
Tag @hellolisalin or leave a star rating and comment on the blog!
Looking for more appetizer ideas? Try these!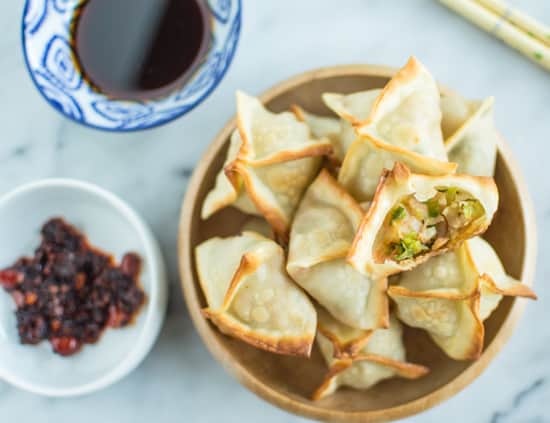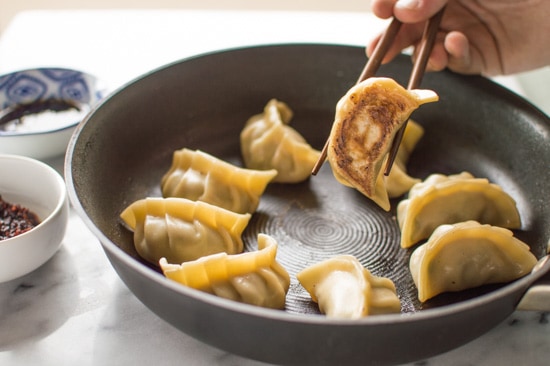 Spinach Thyme & Pork Potstickers