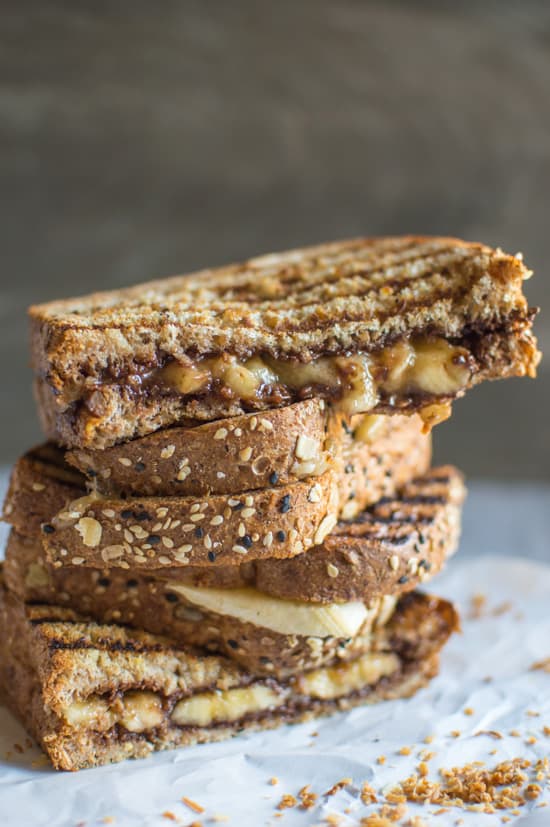 Some recipes conjure food memories. Others make me think of songs.
For no particular reason, I sang "Bananas in Pajamas" in my head while making this sandwich.
Bananas in pajamas,
Are coming down the stairs.
Bananas in pajamas,
Are coming down in coming down in pairs.
Bananas in pajamas,
Are chasing teddy bears…
What, you've never heard of "Bananas in Pajamas" before? It was an Australian TV show starring two large bananas with hands and feet, wearing blue and white pinstripe pajamas. Bananas. In pajamas. I only know about this show because it used to air right before the Sailor Moon time slot. Oh, yes. I wore my Sailor Moon fandom with pride through my knock-off Sailor Moon shirts, sweaters, backpacks, and pencil boxes.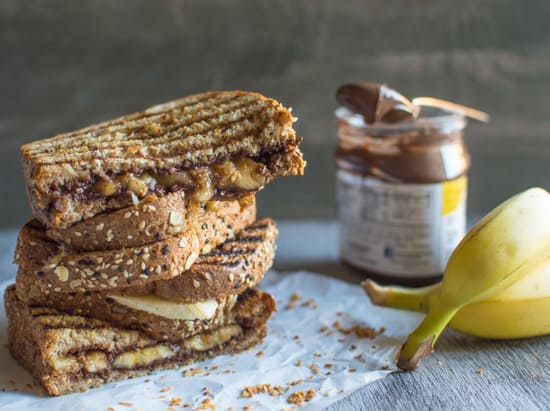 In a way, these bananas are nestled in some pajamas. Cozy pajamas of grilled bread, creamy hazelnut chocolate, and a sprinkling of toasted coconut. The toasted coconut is there to give the filling a bit of texture. A small handful of chopped nuts will work wonders in this sandwich, too.
This sandwich can be made both ways—with sliced or mashed bananas. If you want something closer to the classic PB&J sandwich, I say mash the bananas. See the sandwich on the top. If you want more texture in the sandwich, leave the bananas sliced.
My initial 5-ingredient recipe was a grilled peanut butter and cheese sandwich with a touch of hot jelly. I say "initial" because my friend shot down that idea in a hot second. "Peanut butter and cheese? I don't know, Lisa." I think my urge to come up with a unique recipe got the better of me. Unless somebody else thinks that peanut butter and cheese should go together…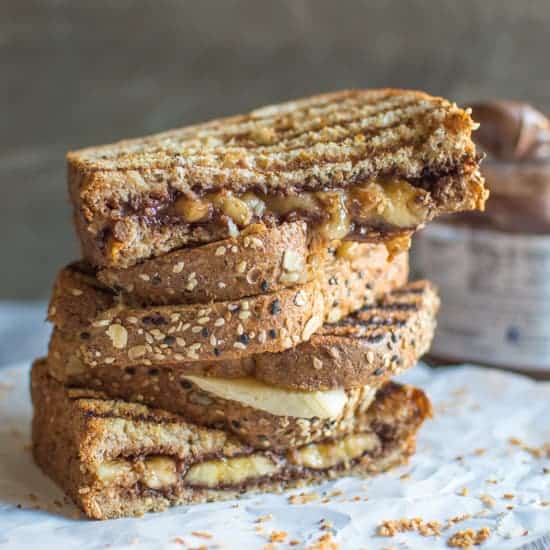 Grilled Banana Nutella Sandwich
Serves 4
Ingredients
4

slices

of seeded whole grain bread

,

or any bread you like

4

TBS

nutella

2

small bananas

,

sliced

2

and 1/2 TBS toasted unsweetened coconut

coconut oil spray

,

or your favorite cooking spray
Instructions
Spread 1 tablespoon of nutella on each slice of bread. Spray the other side with cooking spray.

Sprinkle some toasted coconut onto each slice of bread.

Spread the sliced bananas onto two slices of bread in a single layer. Alternatively, you can mash the bananas first and spread the mixture evenly on two slices of bread. The sandwiches will taste the same whether you mash the bananas or not. It's just a matter of texture. Cover the bananas with the other slice of bread.

Heat a grill pan or a panini press. When the pan is hot, place a sandwich on top. Grill each side for about 2 minutes, or until you see nice grill marks on the bread. Repeat for the other sandwich.

Cut the sandwiches in half and serve. Best served warm.
Did you make this recipe?
Tag @hellolisalin or leave a star rating and comment on the blog!