Back when I was in high school, I tasted Indian roasted corn on the cob for the first time at a friend's birthday party. His family fired up some corn on the grill, and I remember one of his aunts handed me some halved limes and spices for the corn. I remember being very confused about what I was supposed to do. Mind you, the only corn I ate during that time was Mama Lin's boiled corn or corn that came straight from a can (creamed corn was my favorite, by the way.)
My friend's aunt showed me how I was supposed to eat the corn: first, I sprinkle some spices and salt on the lime, and then I rub the lime all over the corn. I was very skeptical about all of this. You know how teenagers are sometimes when they see new foods they've never tried before.
So, I did what she suggested, rubbing this lime that's been muddled with red spices all over the corn, making a mess along the way. I finally took a bite, and you know what, it tasted great! I did go a little crazy with the spice, so the heat got to me a little. Once I opened my mouth and fanned my tongue a few times, I was ready for more. (Side note, why do we always do that when we eat spicy foods anyway?!)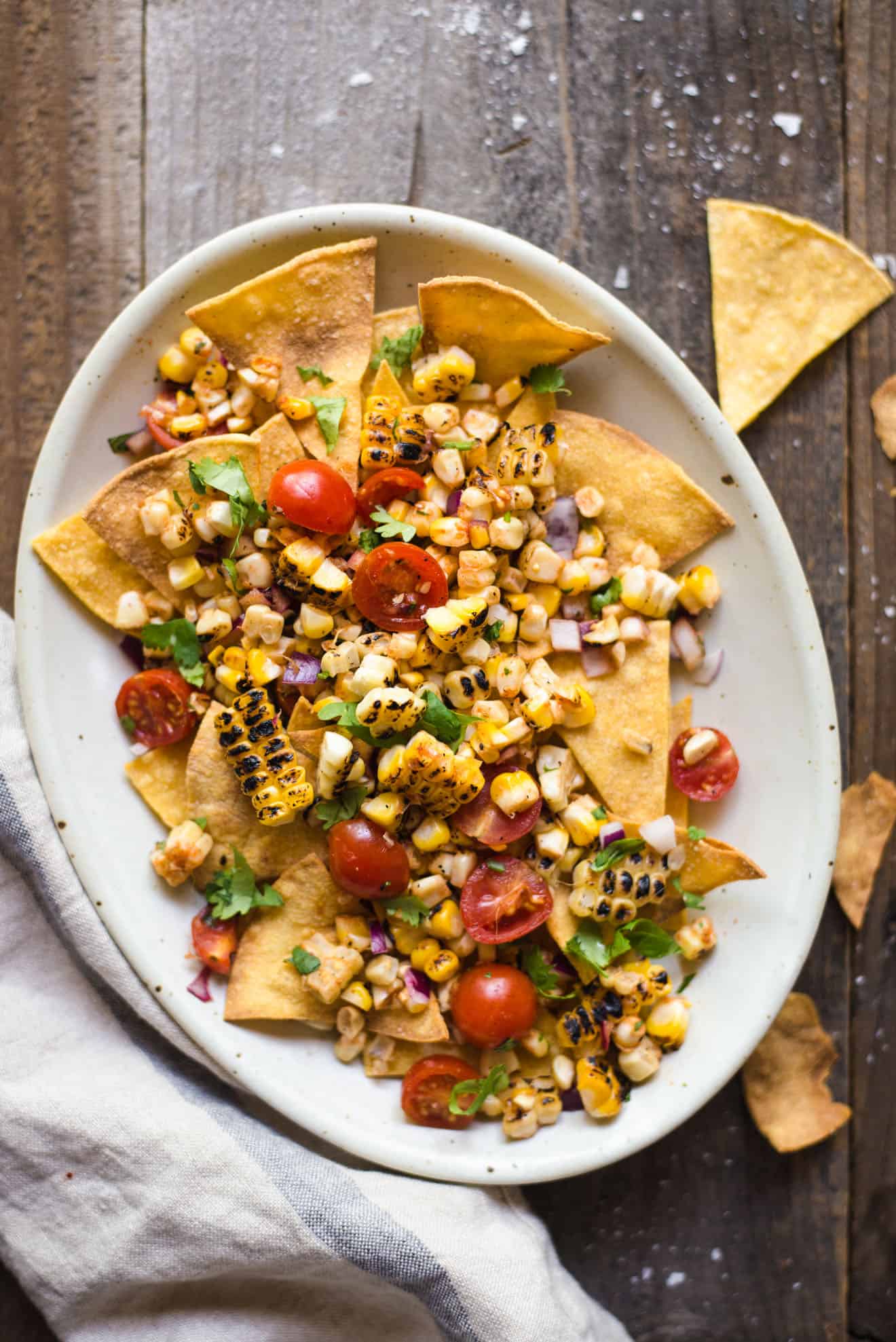 I thought of this experience a few weeks ago, and it inspired me to make this grilled corn salsa. Initially, my idea was to grill corn on the cob and rub all the spices on the corn first before slicing off the kernels, similar to what I did at my friend's party. After trying different cooking methods, I realized that mixing all the ingredients inside a bowl was a better way to distribute all the spices, so, that's what I'm sticking to!
One of the key ingredients in Indian roasted corn is chaat masala, which isn't easy for me to find. That's why I just used whatever spices in my pantry to flavor the salsa. It's not exactly Indian roasted corn, but it still tastes great!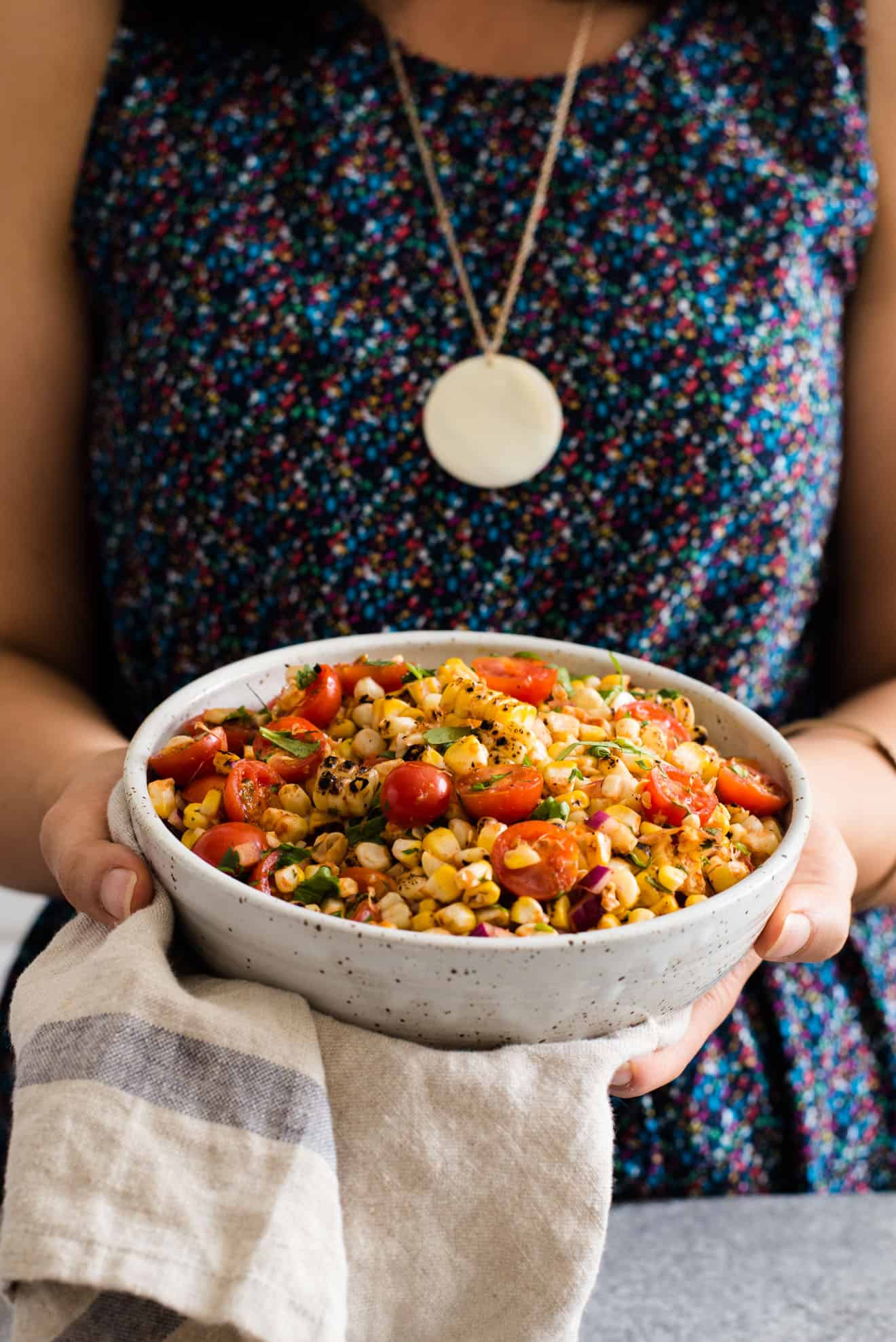 MASTERING MY MISTAKES / COOKING NOTES
Grilling the corn on the stove: Okay, so I don't actually own a barbecue grill, which is why I grilled it on top of the stove. This method of grilling the corn works, but you do have to keep an eye on the corn! As the corn is grilling, the kernels will start to pop and some juices might splatter. Be careful and don't stand too close to the stove. Things do get a bit messy, so you'll probably need to scrub your stove once all is said and done. Unless you're Mama Lin, in which case, your entire stove is already covered in foil. Asian parents, what can you say?
Baked tortilla chips: The chips you see in the photos are my homemade baked tortilla chips! Here's the recipe for them.
Alternative cooking method: If you don't have a gas stove, you can just slice off the corn kernels and pan fry them lightly in a pan.
Make sure to use metal tongs: You don't want anything to melt while you're turning the corn around. These are the tongs I used.
Grilled Corn Salsa
Ingredients
3

medium ears of corn

,

white or yellow corn works

1

cup

halved cherry tomatoes

1/3

cup

chopped red onions

1/4

cup

chopped cilantro

3/4

teaspoon

kosher salt

1/4

teaspoon

cumin

1/4

teaspoon

paprika

1/4 to 1/2

teaspoon

cayenne pepper

,

depending on the amount of spice you want

juice from 1 lime

,

about 2 tablespoons
Instructions
Remove the corn husks and silks. Place one ear of corn on top of a burner on your (gas) stove. Turn the heat on to medium. Using metal tongs, turn the corn around every 20 to 30 seconds, until the corn blackens. You'll probably need to move the corn up and down over the flame in order to char the entire ear of corn. Once you have grilled the corn to your liking, set it aside on a plate to cool. Repeat for the remaining ears of corn.

Snap each ear of corn in half. Stand a half an ear of corn, cut side down and slice off the corn kernels. Repeat until you have sliced off all the kernels from the corn cobs.

Add the corn, tomatoes, onions, cilantro, salt, cumin, paprika, cayenne pepper and lime juice. Stir to incorporate all the ingredients. Taste the salsa and adjust the spices to your liking. Serve immediately.
Notes
NUTRITION INFORMATION: Amount For 1/8 of Recipe: Calories: 80, Total Fat 1.2g, Saturated Fat: 0.3g, Sodium: 193mg, Cholesterol: 0mg, Total Carbohydrate: 17.7g, Dietary Fiber: 2.3g, Sugar: 6g, Protein 3g
If you don't have cherry tomatoes, feel free to substitute them with whatever tomatoes you have on hand.
Did you make this recipe?
Tag @hellolisalin or leave a star rating and comment on the blog!