These gluten-free and paleo-friendly guacamole deviled eggs make a great snack. You can also double up the recipe to serve as an appetizer at your gatherings!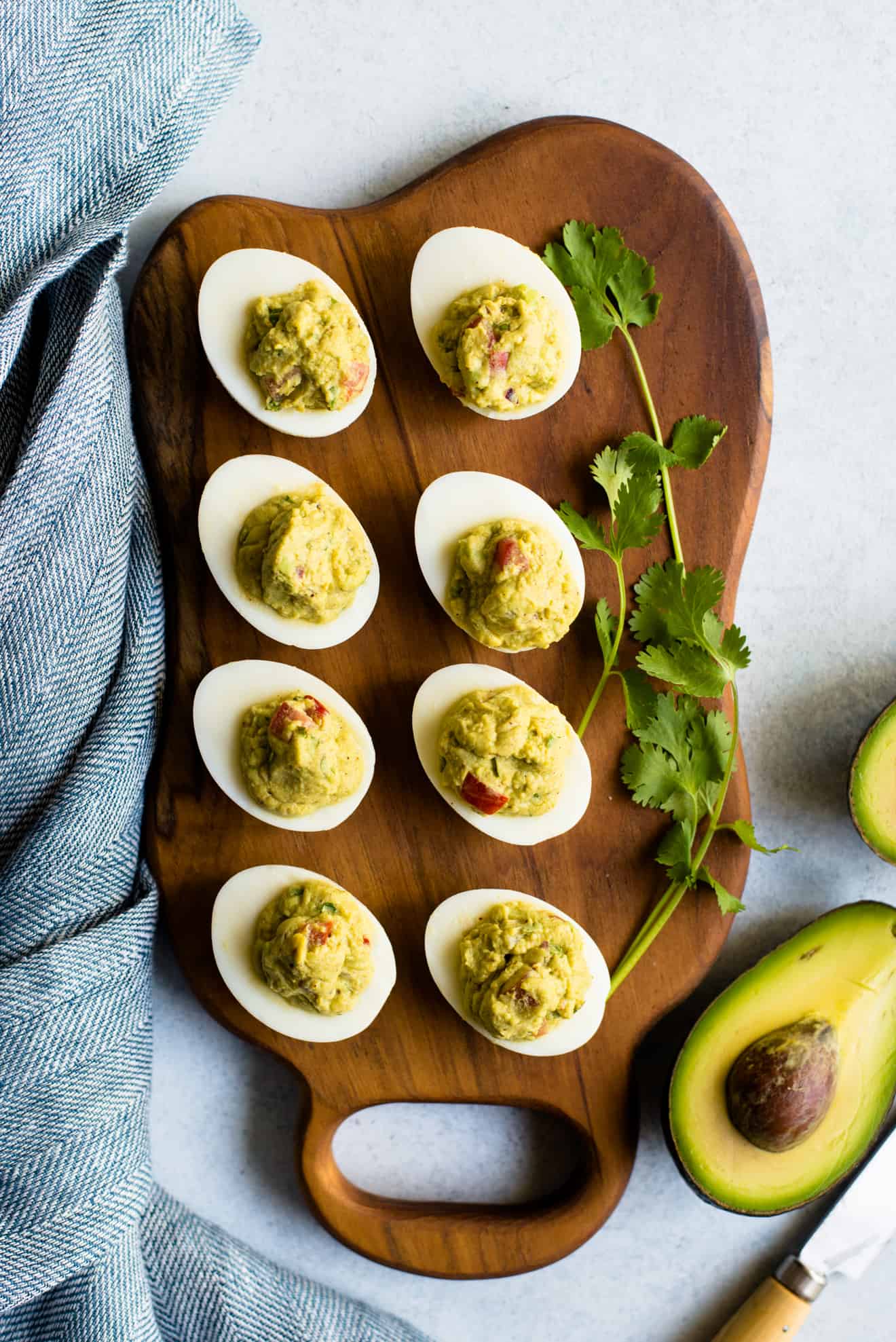 This is an updated version of the guacamole deviled eggs recipe that was first published here in September 2014.
I didn't get into deviled eggs for a long time because most recipes I found included a lot of mayonnaise and mustard. I'm not a big fan of mayo and I use mustard very sparingly in my cooking, so the classic deviled eggs just didn't appeal to me.
I eat hard boil eggs and guacamole for breakfast often, and then it dawned on me one day that I could make a deviled egg version of it! The creaminess of the guacamole is just the right consistency for mixing with the egg yolks.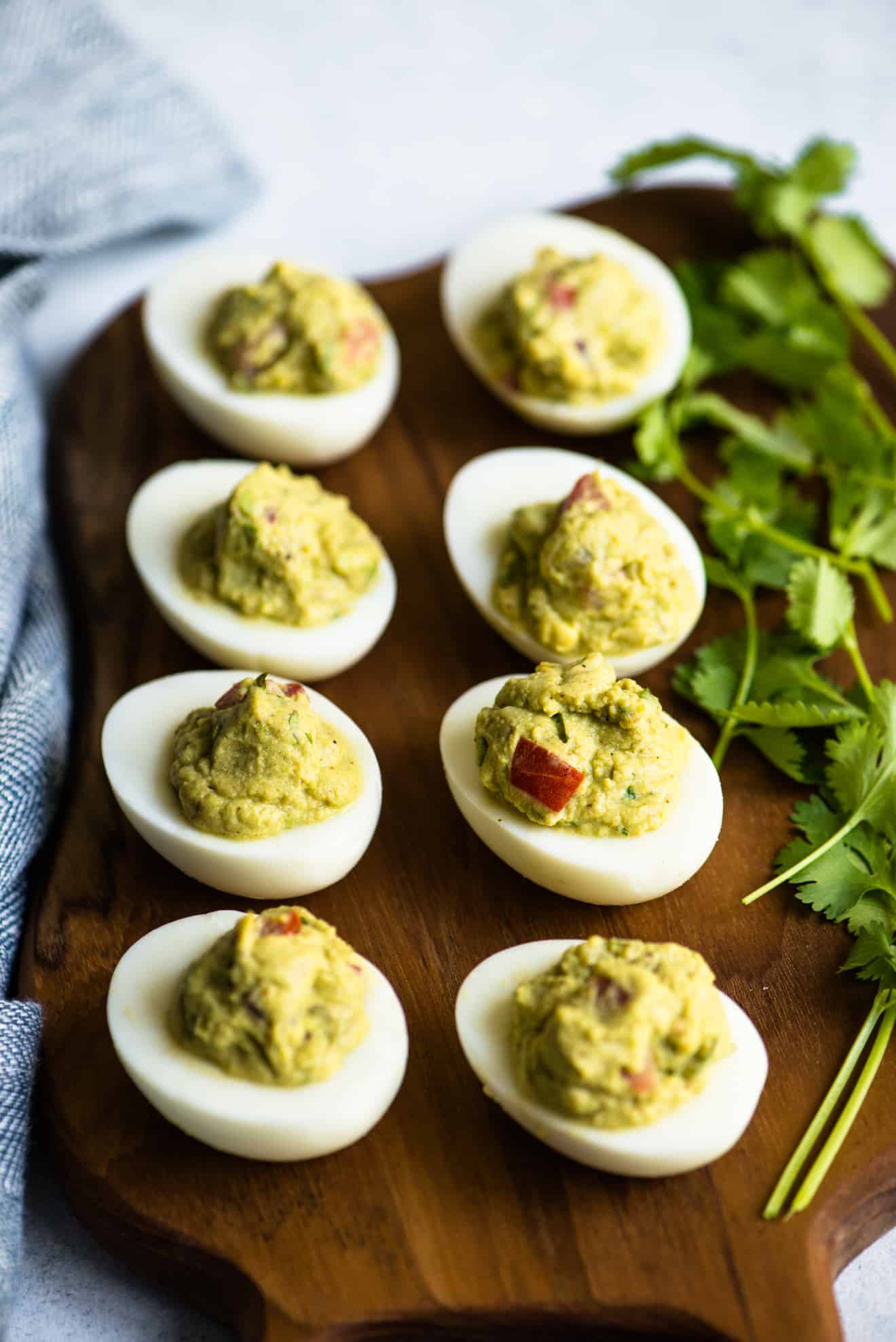 MASTERING MY MISTAKES / COOKING NOTES
To start off, you'll have to boil some eggs. I've struggled with cooking the perfect boiled eggs for a long time—the kind where the shells just come right off the eggs by peeling. I've ruined so many of them. After experimenting with many methods for cooking hard boiled eggs, I realized that steaming is the most fool-proof method for easy-to-peel eggs.
Instant Pot/Pressure Cooker Method: This is a method I learned from Michelle at Nom Nom Paleo. You can read her full tutorial here. For this method, I used my Instant Pot and this silicone steamer basket, which Michelle recommended. First, I poured a cup of tap water into the Instant Pot and placed the silicone basket inside. Then, I placed 6 large (refrigerated) eggs inside the basket. Finally, I locked the lid and set the Instant Pot on high for 6 minutes. The total cooking time for the eggs was actually between 16 to 20 minutes because it usually takes roughly 10 minutes for the Instant Pot to reach the right temperature. Once the timer is up, Michelle recommends manually releasing the pressure of the Instant Pot, taking the eggs out and submerging them into a bowl of ice water. I am quite forgetful, and I have left the eggs in the Instant Pot for 4 to 16 minutes before pulling them out. The eggs still tasted fine and the shells were very easy to remove.
Stovetop Method: If you don't have an Instant Pot, you can steam the eggs in a pot over the stove. This is a method that I learned from Simply Recipes. You can read Elise's full tutorial here. Add about 2 cups of tap water into a pot and fit it with a steamer basket. Bring the water to boil, and then turn off the heat. Carefully place 6 large eggs into the steamer basket. Turn the heat back on to a medium and cook the eggs for about 12 to 14 minutes for fully cooked hard boiled eggs. Submerge the eggs in a bowl of ice water before peeling. Overall, this method worked quite well, but there were several times when the shells stuck onto the egg stubbornly. That's when I decided to start using the Instant Pot to cook the eggs and I haven't gone back to this stovetop method.
LOOKING FOR MORE DAIRY-FREE APPETIZERS?
Print
Guacamole Deviled Eggs
This recipe makes 12 deviled eggs. If you want to make more, you can double up the recipe. 
Author:
Prep Time:

15 minutes

Total Time:

15 minutes

Yield: Serves

4

1

x
6

large hard-boiled eggs

1

medium avocado

1 tablespoon

chopped red onion

1 tablespoon

chopped cilantro

2

to

3

teaspoons lime juice

1/2 teaspoon

granulated garlic

1/2 teaspoon

cumin

1/4 teaspoon

chili powder

1/4 teaspoon

sea salt, add more to taste

1

roma tomato, finely diced
Instructions
Peel the eggs. Slice them in half, lengthwise. Scoop out the egg yolks into a small bowl. Mash the egg yolks with a fork.
Scoop the avocado flesh into the bowl with the egg yolks. Mash the avocado into the yolks. Mix in the onion, cilantro, lime juice, garlic, cumin, chili powder and salt. Taste the filling and adjust the seasoning to your taste. Add the diced tomatoes and mix until well incorporated.
Spoon or pipe the avocado mixture into the egg whites. Sprinkle additional pepper flakes or other spices on top of the eggs, if you like. Serve immediately.
Notes
NUTRITION INFORMATION: Amount for 1/4 of Recipe: Calories: 194, Total Fat 14.6g, Saturated Fat: 3.4g, Sodium: 117mg, Cholesterol: 279mg, Total Carbohydrate: 6.4g, Dietary Fiber: 3.7g, Sugar: 1.2g, Protein 10.7g
If the guacamole filling is too thick, you can thin it out with a touch of lime juice or a tablespoon of sour cream.
In my original recipe, I only mixed in 2 whole egg yolks with the guacamole, which yielded a smoother filling. I don't want to waste the other egg yolks, which is why I've altered the recipe to use all 6 egg yolks. If you find that the filling is too stiff, start with 3 egg yolks and add more to your liking.
To pipe the filling, I cut the corner of a sandwich bag, filled with the guacamole and egg filling and used it to pipe into the cavity in the egg whites.