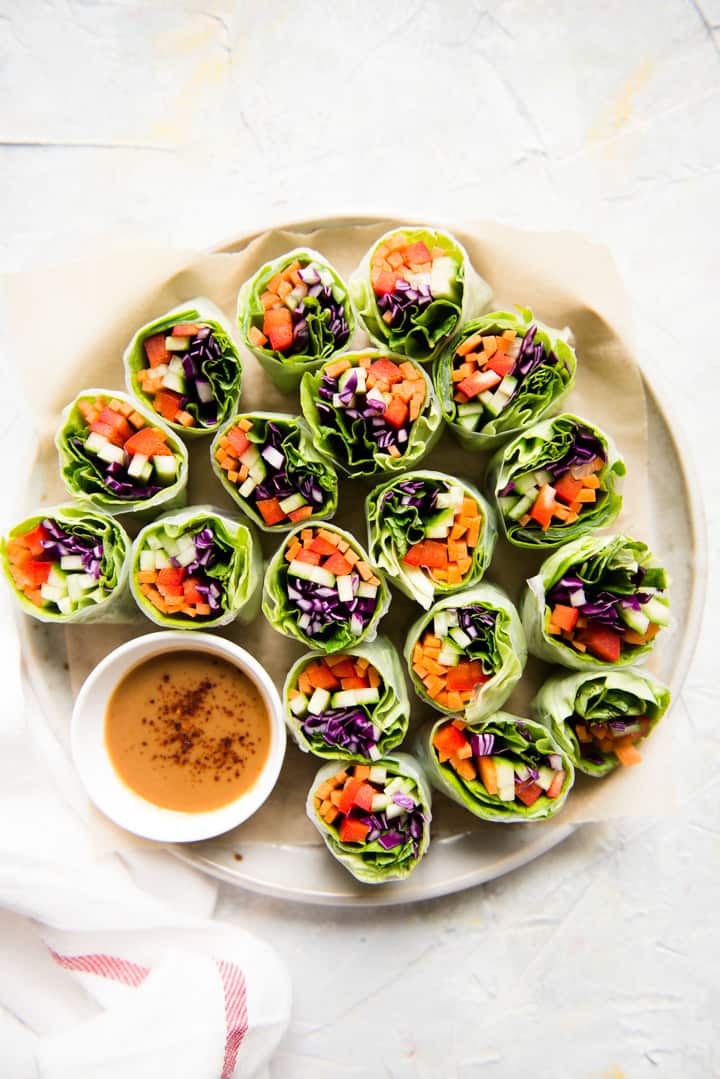 I developed this vegetable spring rolls recipe because I was so irate about spending $9 on something similar in San Francisco. It was a few months ago, and I had just finished a rough workout. I was famished—a dangerous time to go shopping for dinner. My eyes and stomach gravitated towards the steaming hot mac and cheese. However, my mind kept nagging me to grab a lighter meal, so I took the vegetable spring rolls. I really should learn to trust my gut, literally.
The vegetable spring rolls I bought were stale and the filling bland. The peanut sauce that came with the spring rolls didn't do any favors either. Every bite I took was met with pangs of regret, as I kept reminding myself that I could have made something better.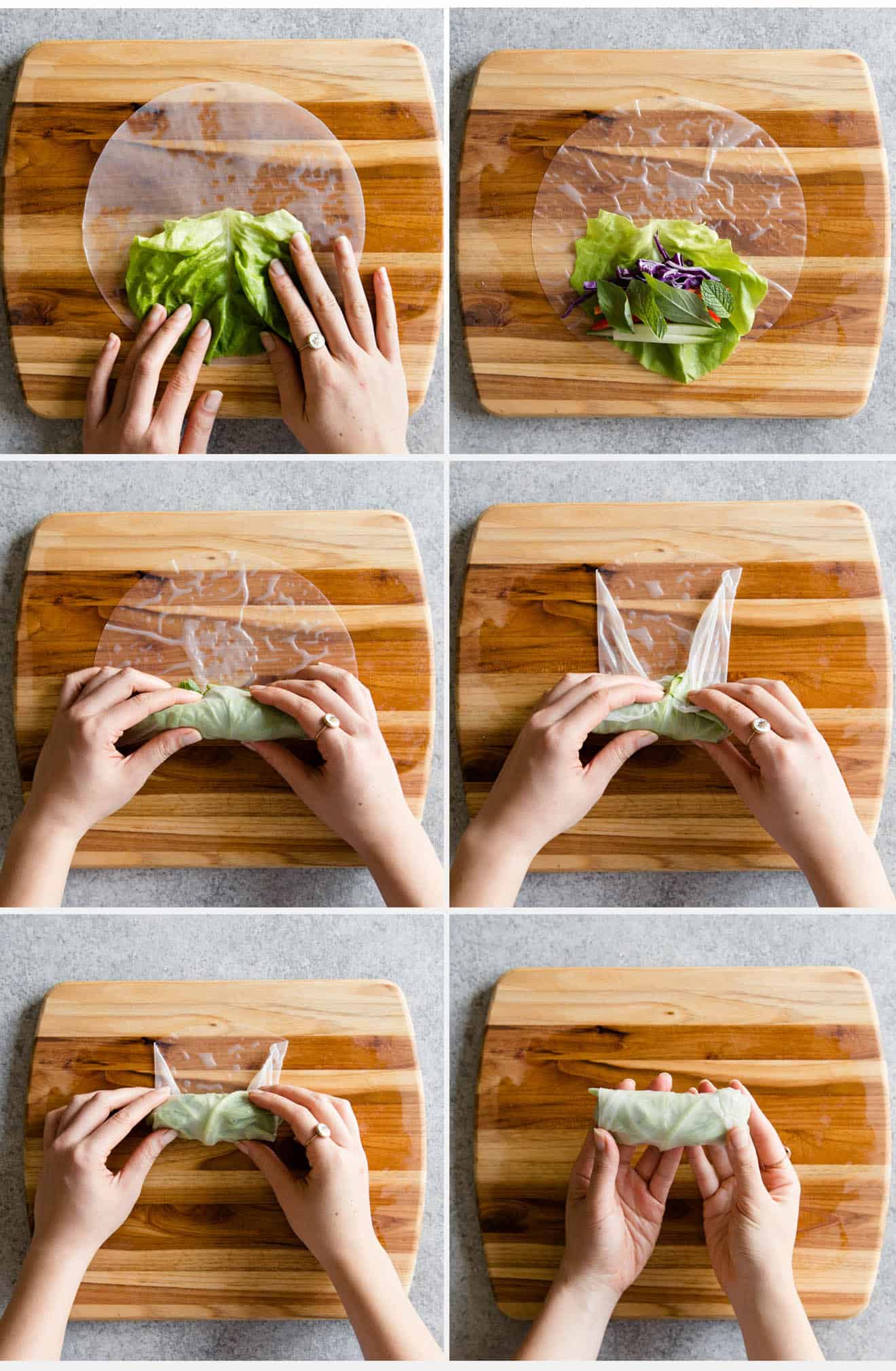 Here is a simple vegetable spring rolls recipe. I hesitate to call this a recipe because you can wrap any vegetables and make the spring rolls as big or small as you like. I picked bell peppers, red cabbage, cucumber and carrots for color. If you want more filling rolls, add tofu, shrimp, chicken or vermicelli noodles.
COOKING NOTES FOR VEGETABLE SPRING ROLLS RECIPE
Using the sauce: You have the option of drizzling some sauce over the filling before rolling up the vegetable spring rolls, or you can use the sauce as a dip alone. Some people prefer having sauce inside the spring rolls to give them more flavor.
Do not serve these on paper plates: I made the mistake of serving the spring rolls on disposable paper plates. When I took a spring roll off the plate, a chunk of the paper came along with it. Sadly, I had to redo all the rolls. Line your plates with parchment or wax paper so that the spring rolls can be lifted easily.
HOW TO MAKE AHEAD VEGETABLE SPRING ROLLS
These spring rolls are best consumed the day they are made. The rice paper tends to harden over time, making them less pleasant to eat. If you want to prepare these ahead, place them in large containers. Line the bottom of the container with a slightly damp paper towel, and place another damp paper towel over the spring rolls.
The next day, check to see if the rice paper has hardened. If they are slightly hard, flick a bit of water over the spring rolls and microwave them on high for about 20 to 30 seconds.
INGREDIENTS I USED
22cm rice paper wrappers: These are fairly large wrappers, which will allow you to wrap more vegetables inside. You can find them online, but they are much cheaper at Asian markets. Occasionally, you can find them in the Asian sections of major supermarkets.
Light soy sauce (生抽酱油): You can use tamari if you are gluten-free.
Rice vinegar: This is slightly different than seasoned rice vinegar, which usually contains sugar and is meant to season sushi rice.
MORE SPRING ROLL RECIPES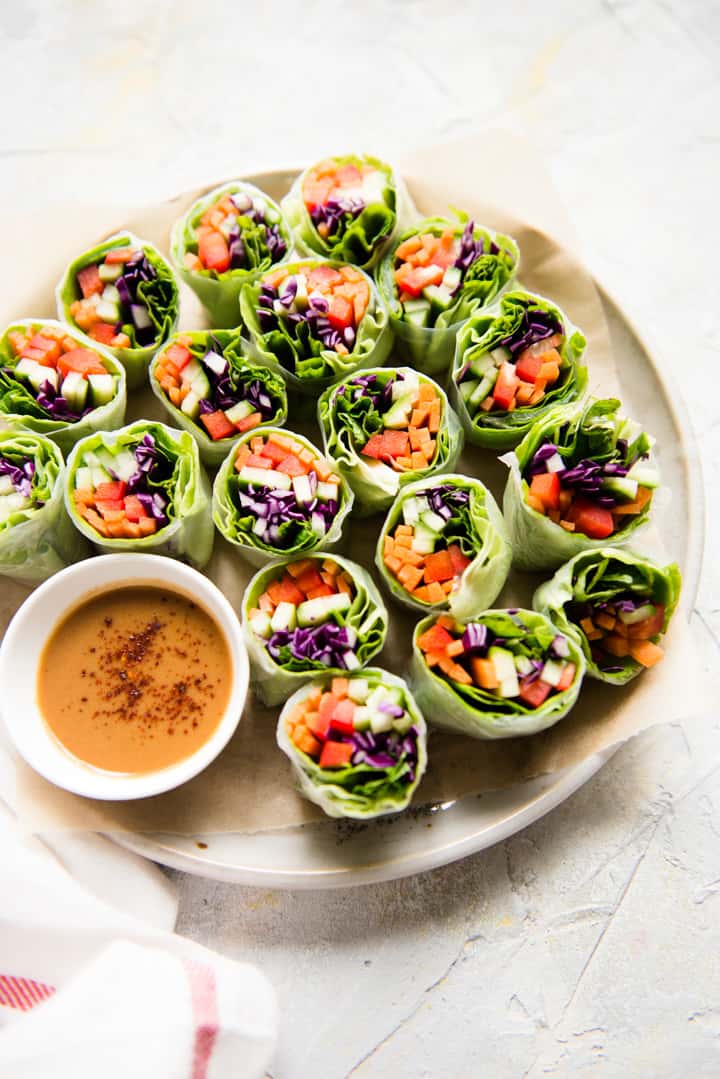 Servings:
12
spring rolls
Fresh Vegan Vegetable Spring Rolls
I used butter lettuce because the shape of the outer leaves easily cover a large surface area of the rice paper. The color of butter lettuce also looks more vibrant.It's very easy to double up the recipe and make a larger batch for parties.
Ingredients
Spring Rolls
22

cm

rice paper wrappers

12

butter lettuce leaves

1

red bell pepper

,

seeded and thinly sliced

2

carrots

,

peeled and julienned

1/2

English cucumber

,

thinly sliced

1/4

head of red cabbage

,

sliced

fresh mint leaves

fresh basil leaves
Instructions
Get your workspace organized. Fill a shallow, wide bowl with warm water. Lightly wet the surface of the cutting board. Place the vegetables on plates or bowls and get them close to your workspace. Have a large plate ready so that you can lay your finished spring rolls on top.

Dip a rice paper wrapper into the bowl of water and circle the paper around so that the entire surface is moistened. Transfer the rice paper onto the wet board. Place a lettuce leaf on top of the rice paper. Then, lay the vegetables, mint, and basil on top, about 1/2 to 1 inch away from the bottom of the wrapper.

Starting from the bottom of the wrapper, start rolling everything towards the middle. Fold the left and right sides of the wrapper towards the center, and finish rolling up the spring roll. Place the spring roll onto your spare plate and repeat for the remaining spring rolls. (NOTE: If you find that the wrappers are quite stiff, let it sit on your cutting board for an extra 10 to 15 seconds to soften. Then, roll up the spring rolls.)
Nutrition
Serving:
1
spring rolls + peanut sauce
|
Calories:
130
kcal
|
Carbohydrates:
17.5
g
|
Protein:
3.2
g
|
Fat:
6
g
|
Saturated Fat:
1.2
g
|
Sodium:
177
mg
|
Fiber:
1.7
g
|
Sugar:
6
g
Did you make this recipe?
Tag @hellolisalin or leave a star rating and comment on the blog!
Note: This recipe was originally published in January 2018. I updated the post with new photos, but the recipe is the same!