These flavorful sweet chili shrimp and tofu wonton cups are great for parties. They look elegant and they're easy to make!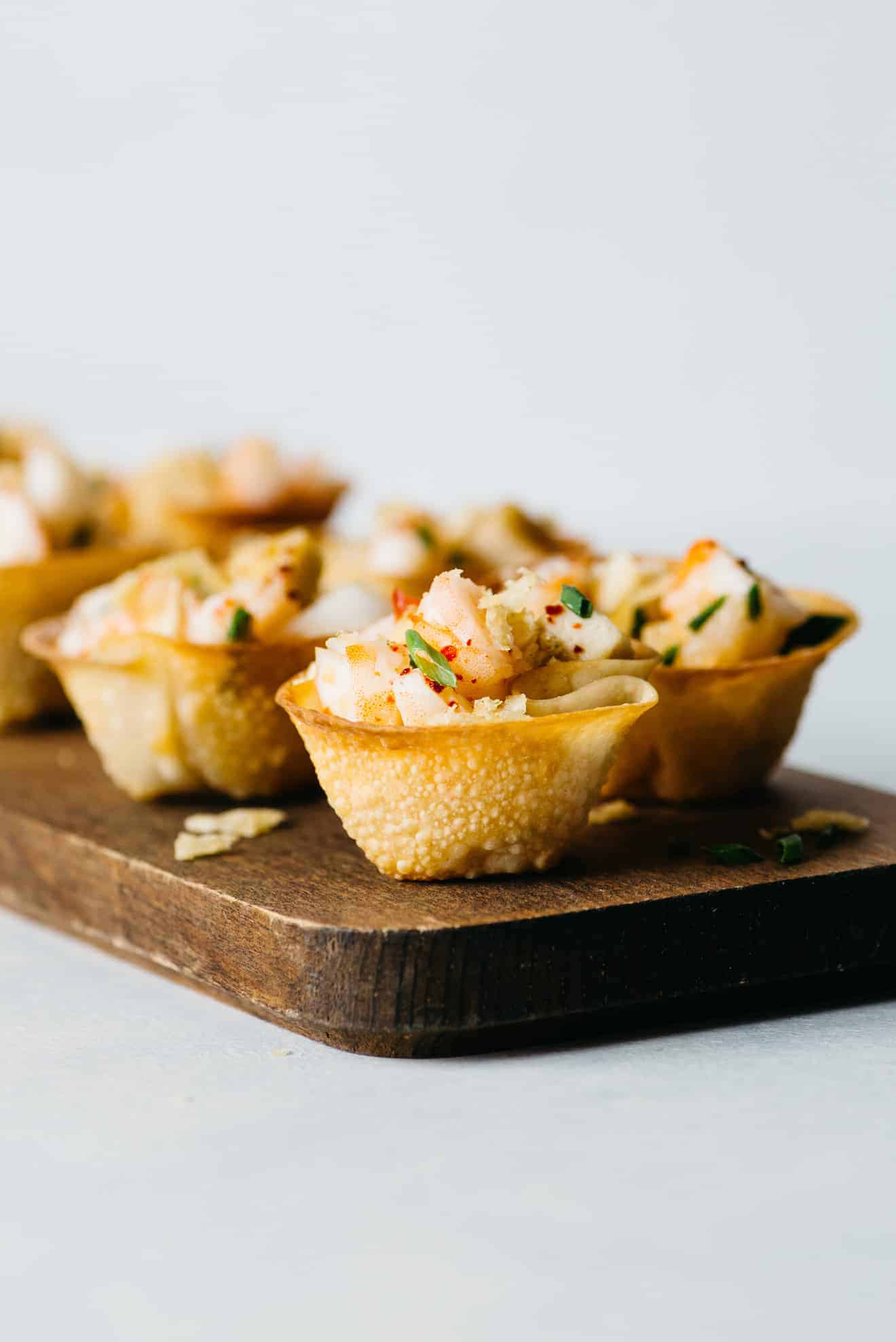 Thank you Kettle Brand for sponsoring this post!
One of the big challenges to holiday potlucks is that you want to bring something elegant to the party, but you don't always have the time for cooking. Well, these shrimp and tofu wonton cups will save the day!
They're very easy to make and you can prepare everything the day before. All you need to do is bake the wonton wrappers, cook tofu and shrimp for the filling, crush potato chips and assemble. That's it! Honestly, anyone can make these wonton cups.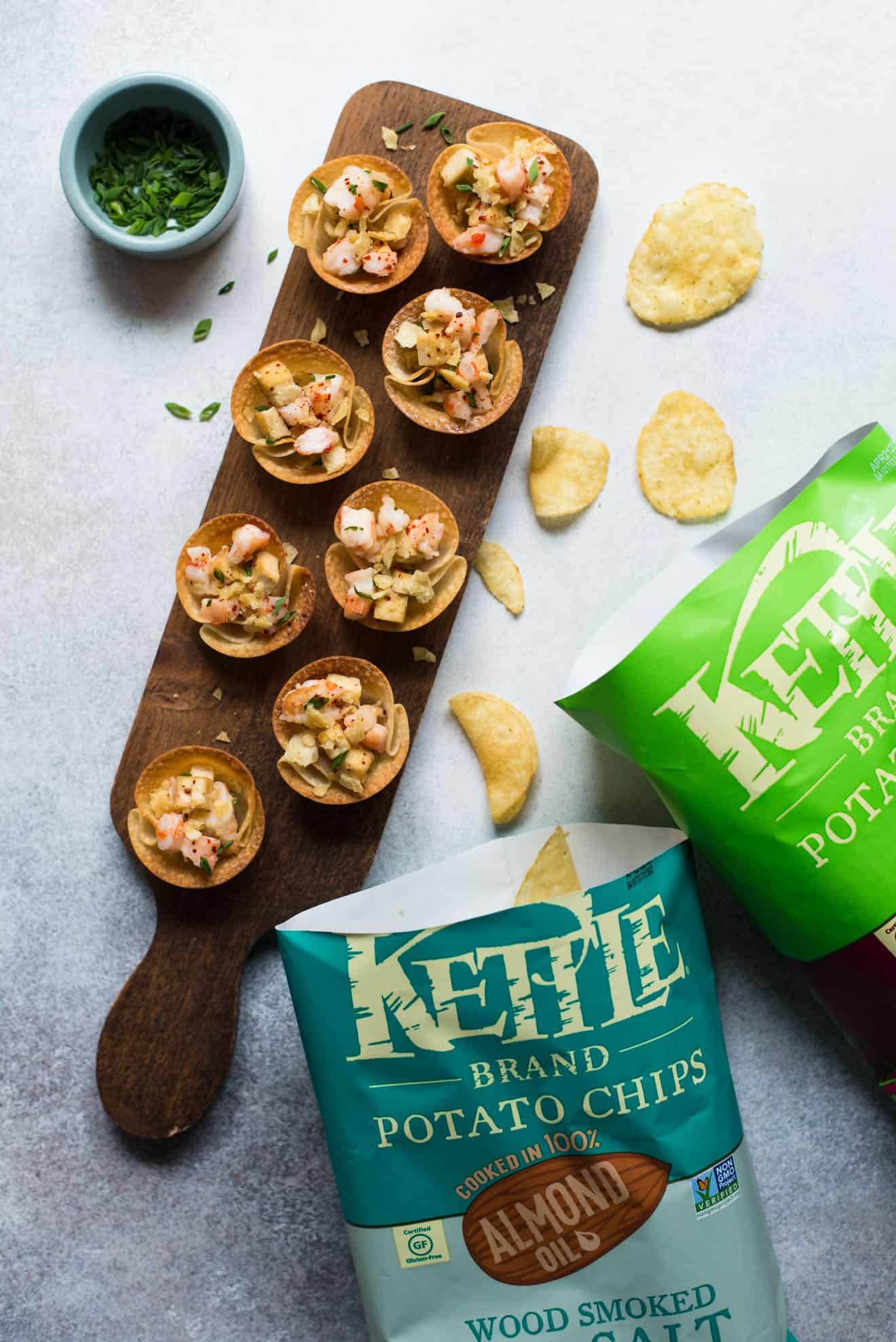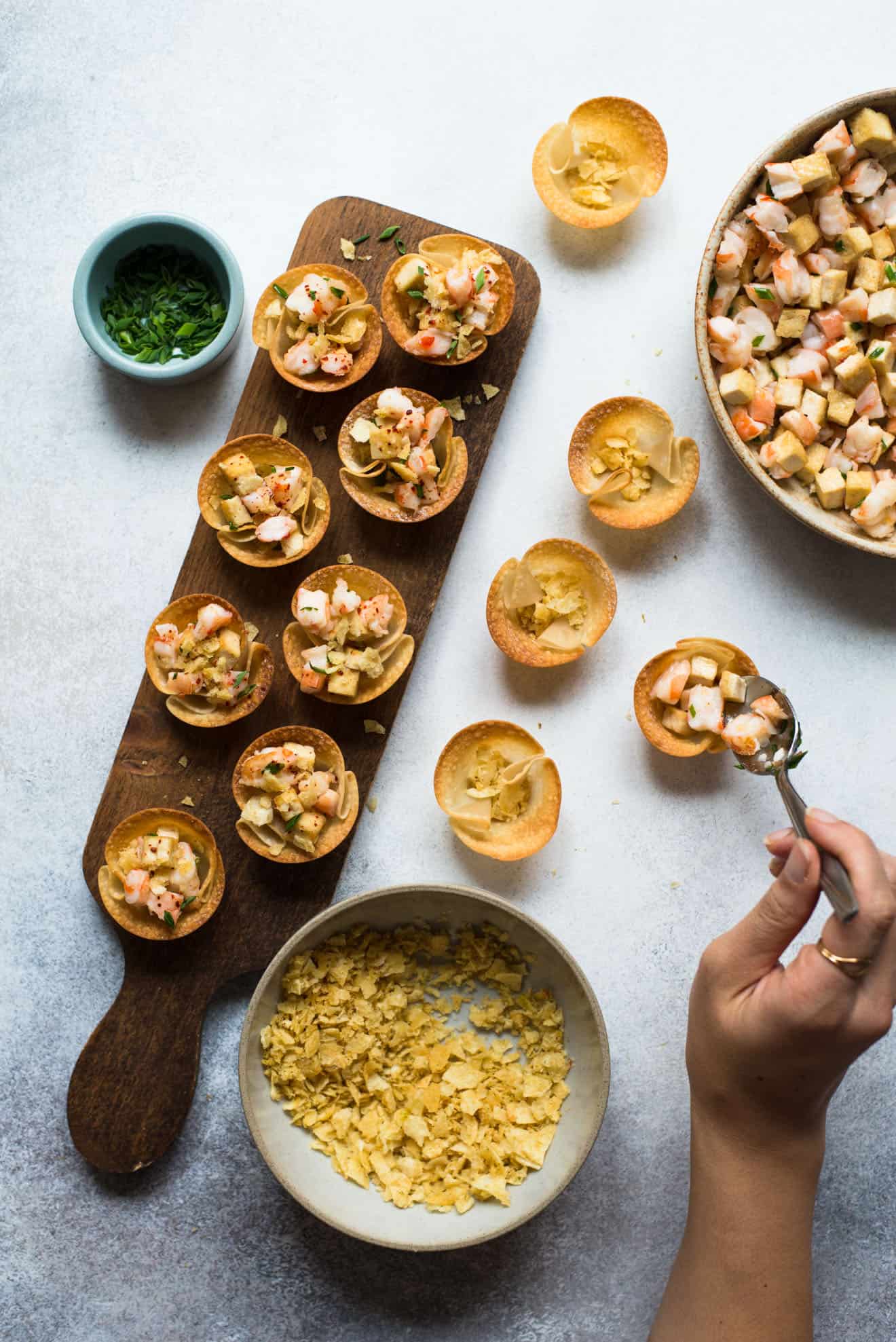 To give these wonton cups more flavor and crunch I'm adding Kettle Brand's Fiery Thai and Wood Smoked Sea Salt potato chips. They're cooked in 100% almond oil. I love that they're not too greasy, so when I'm eating them, I don't feel like the insides of my mouth is coated in oil.
The lemongrass notes coming from the Fiery Thai chips and the smoky flavors of the Wood Smoked Sea Salt chips compliment the shrimp and tofu filling very well. Plus, the chips add an extra crunch. I have to admit, I had to exercise serious restraint to keep myself from eating several bags of these chips when I was testing the recipes!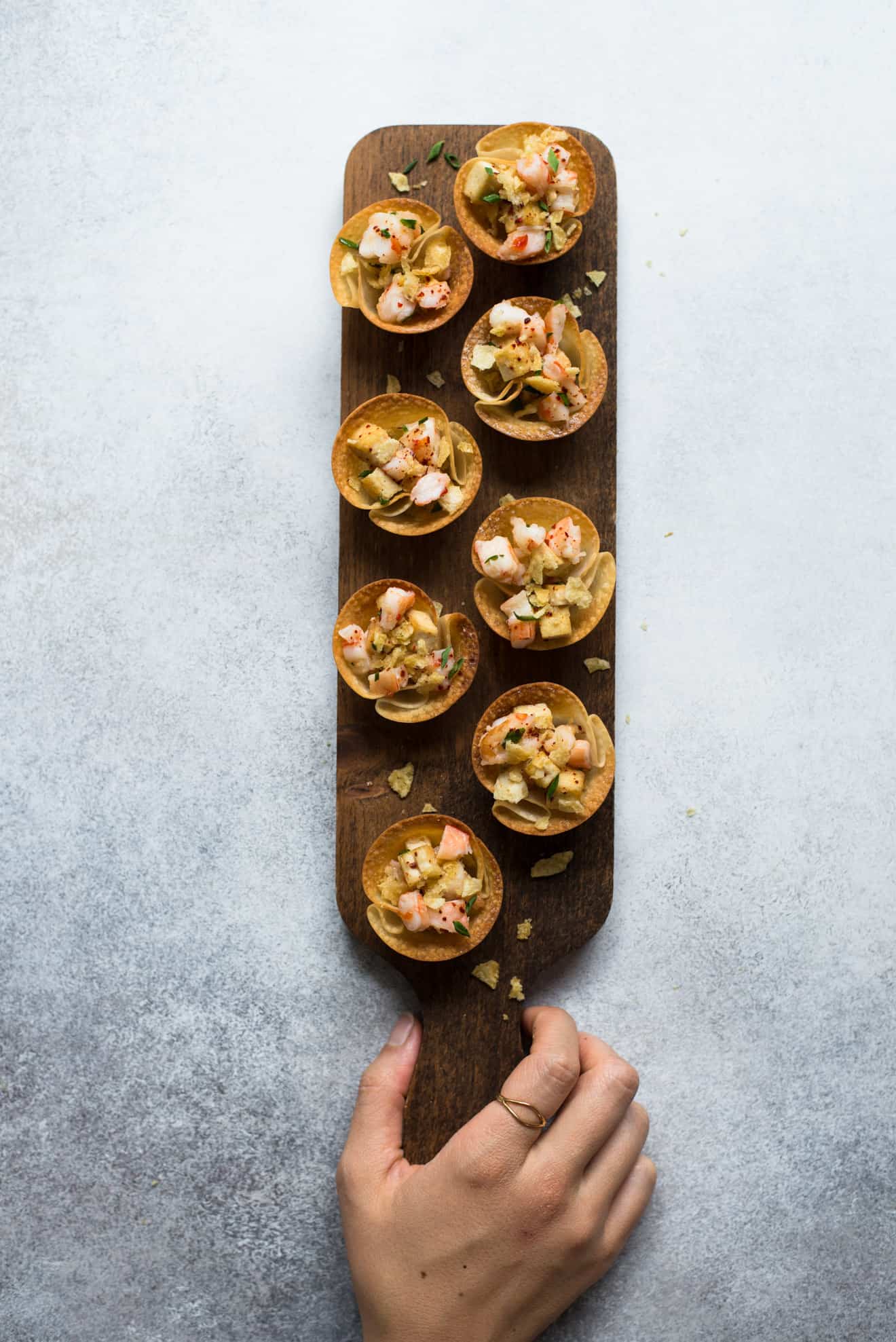 MASTERING MY MISTAKES / COOKING NOTES
Prepping ahead: You can prepare everything the night before. Wait for the wonton cups to cool completely before transferring them to an airtight container. The wonton cups will stay crunchy the next day. The crushed chips can also be stored in a separate airtight container. In terms of the filling, you can toss everything together and refrigerate it. You'll want to warm up the filling before serving.
Bringing these to a party: If you're bringing these to a party, put the wonton cups, filling, and crushed potato chips in separate containers. That way, the wonton cups and potato chips will stay crunchy.
Why use mini muffin tins: Creating the wonton cups with mini muffin tins make the best looking cups. If you don't have them and you would rather not buy another kitchen tool, feel free to use regular muffin tins. They'll create shallow wonton bowls that will still hold the filling.
Vegetarian option: Double the amount of tofu for the recipe and add some chopped bell peppers or whatever vegetables you prefer.
LOOKING FOR MORE APPETIZERS?
Print
Sweet Chili Shrimp and Tofu Wonton Cups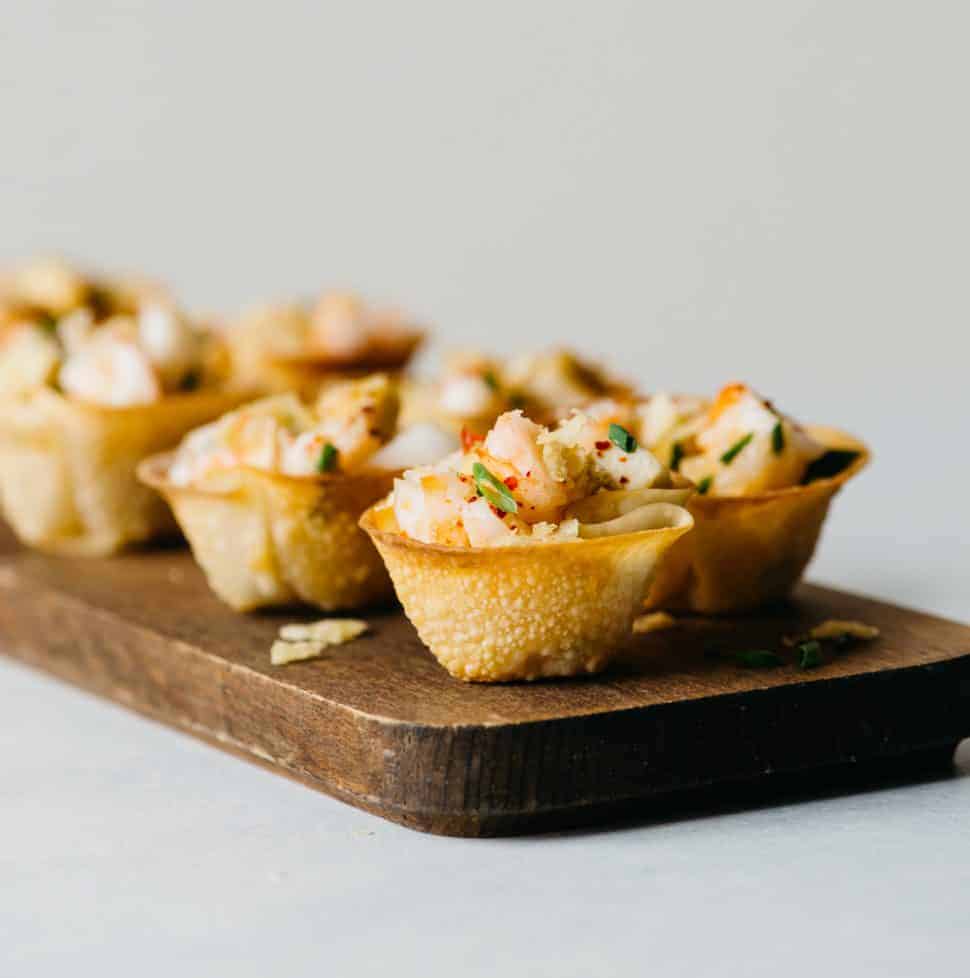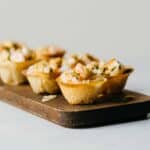 Author:
Prep Time:

30 minutes

Cook Time:

30 minutes

Total Time:

1 hour

Yield:

48

wonton cups

1

x
48

dumpling wrappers (the thin circular kind)
cooking spray

1

12-ounce package of extra-firm tofu

4 tablespoons

olive oil, divided
salt

1 1/2

pounds shrimp, deveined and shell on

1/4 cup

sweet chili sauce (or use my honey chili sauce)

3 tablespoons

chopped chives

2 cups

Kettle Brand Fiery Thai potato chips

2 cups

Kettle Brand Wood Smoked Sea Salt Potato Chips
red pepper flakes (optional)
Instructions
Preheat the oven to 350ºF. Position an oven rack to the center position.
Bake the wrappers: Spray two 12-mini muffin tins with cooking spray. Lay a dumpling wrapper over one of the holes and press the wrapper into it. I usually arrange the wrapper so that only 2 folds are formed. This creates more empty space in the center so they're easier to fill. (See video for technique). Try to get most of the wrapper flush against the sides of the tin. Spray the tops of the wrappers with more cooking spray. Bake for 8 to 9 minutes, until they're golden brown on the top. Empty the tins over a large tray to let the wonton cups cool. When the tin is cool enough to handle, wipe it down quickly and make a second batch of wonton cups.
Make the filling: Drain the tofu and wrap it with a layer of paper towels. Press between a stack of plates for 15 minutes. Unwrap the tofu and cut into 1/4-inch cubes. Heat 2 tablespoons of olive oil in a large pan over medium heat. Once the pan is hot, add the tofu and cook for about 6 minutes, flipping them around to get a few sides browned. Sprinkle a pinch of salt of the tofu, stir and then transfer to a plate.
Heat 1 tablespoon of oil in the pan. Add half of the shrimp and cook for 5 to 6 minutes, flipping halfway. Sprinkle a pinch of salt and stir. Once they're fully cooked, transfer the shrimp to a plate. Heat the remaining olive oil and cook the second batch of shrimp. Once the shrimp are cool enough to handle, peel and chop them to about the same size as the tofu.
Add the tofu, shrimp, sweet chili sauce, and 2 tablespoons of chopped chives to a bowl. Stir to mix the ingredients. Taste and season with a pinch of salt, if necessary. I added a pinch of salt to mine. Set the bowl aside.
Crush the chips: Transfer the chips to a large bowl, the biggest you've got. Use the bottom of a glass jar or cup to crush the chips. Alternatively, you can transfer the chips to a sealable plastic bag, seal it and roll over the bag with a rolling pin. You might have to do this in batches.
Assemble: Fill each wonton cup with about 1 teaspoon of crushed chips. Then, add the shrimp and tofu filling. Sprinkle chopped chives, red pepper flakes (if using) and more crushed chips. Best served immediately.
Disclosure: This post is sponsored by Kettle Brand. Find out more about Kettle Brand's products and recipes on Facebook,  Instagram, or Twitter!