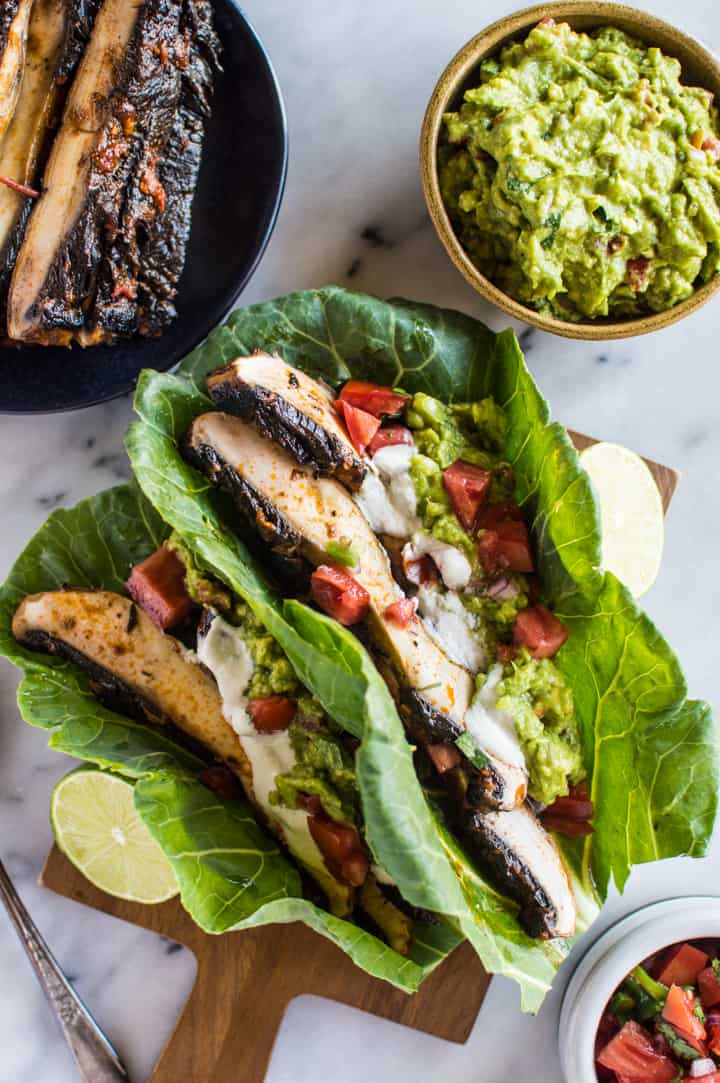 I have nicknames for all my favorite people at the farmers market.
There's Salad Lady, who gives me a good talking to when I skip the market two weeks in a row; Microgreens Guy, who's suuuper passionate about his darling little greens; Strawberry Lady, who always has the sweetest, juiciest strawberries of the market; Salsa Man, who salsas to the best Reggaeton while passing out samples of his spicy salsa (yes, he salsas for his salsa); and Mushroom Lady, who sells the most colorful assortment of 'shrooms I've ever seen. I'm going to miss these people when I move to Sacramento.
Mushroom Lady brought some good stuff to the market a few weekends ago. Like a lost sailor enraptured by Siren's songs, my eyes were transfixed on two of the biggest, most beautiful portobellos I've laid eyes on. They were about the size of my head, and they were unbelievable. Those portobellos became mine in a hot second.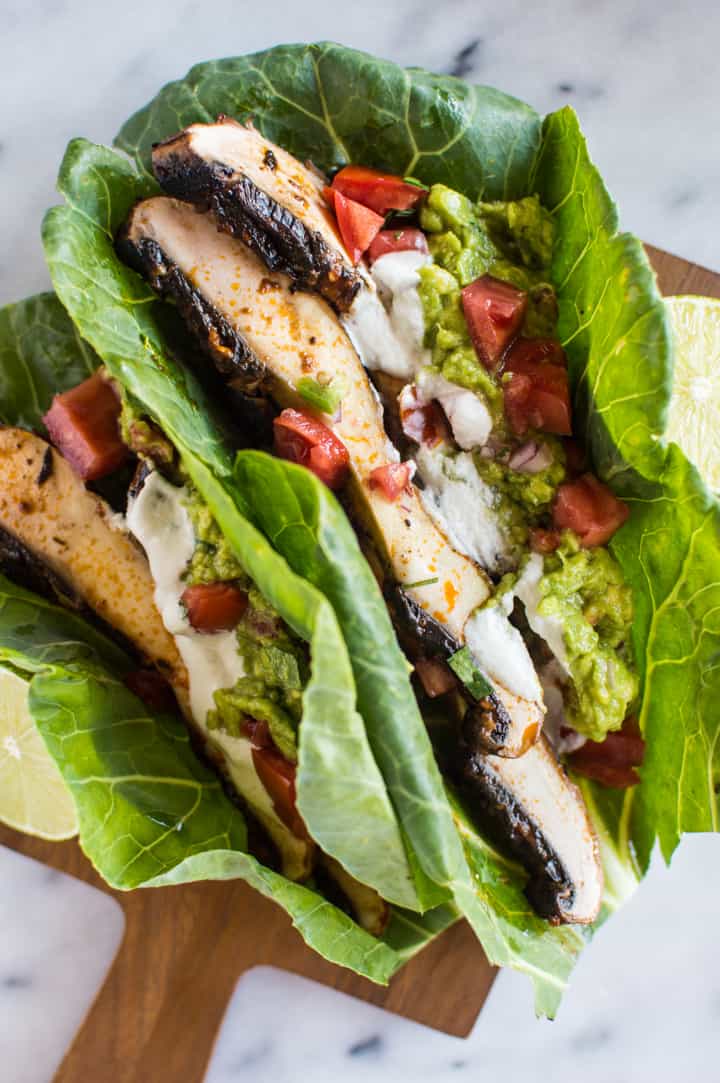 I've come to realize that I don't give the mighty portobello enough love. We all know versatile they can be: grill it, sauté it, bake it, and even make them into tacos.
Yes, we can!
Since I've spent all weekend making the most out of my last days of summer (and by that I mean, eating and drinking way too much), I'm not ready for a new week to begin. I'm not ready to unpack, do laundry, plan my meals—pretty much anything related to adult responsibilities. Let's keep things simple with an easy recipe that's ready in under 30 minutes.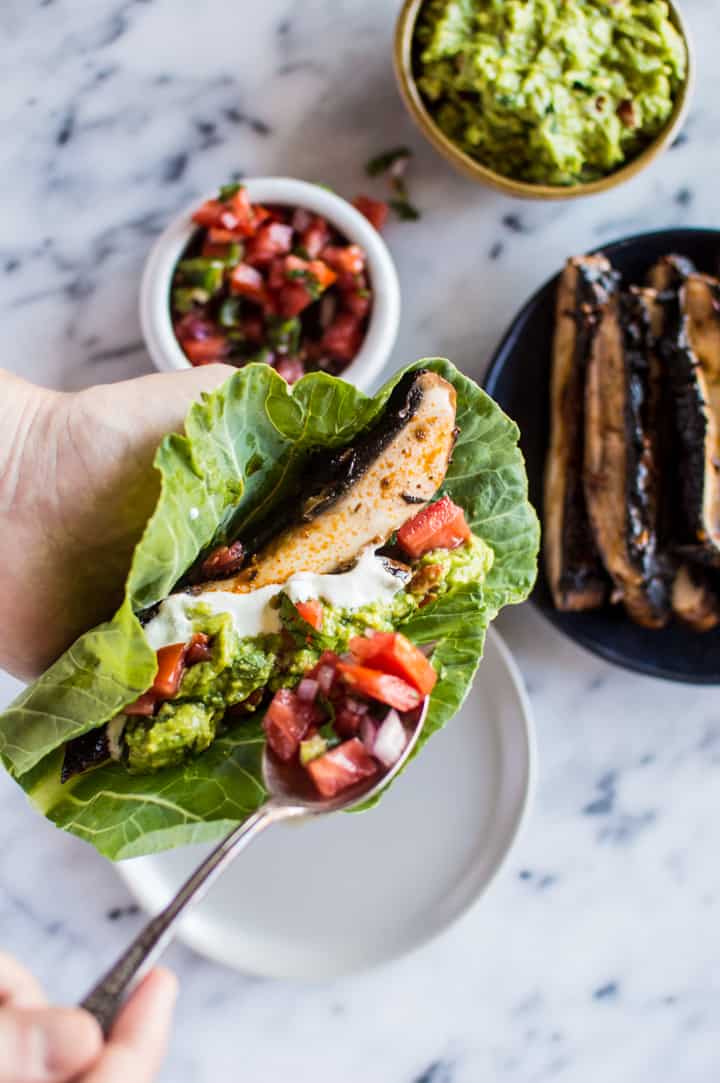 If the portobellos are the star of this dish, the harissa marinade would be the supporting actress. It's the sauce that make the 'shrooms burst with bold spicy flavor. We've used harissa to make chili before, but it's great when used as a marinade. I usually use Mina harissa because their flavor is consistently good. What I like most about Mina is that they make mild and spicy versions of their harissa. I usually use mild harissa to flavor any foods and the spicy version if I want to add a little kick to it. Feel free to use another brand if Mina is difficult to find!
These tasty portobellos are just what I need after a weekend of heavy beer tasting, pizzas, and ice cream.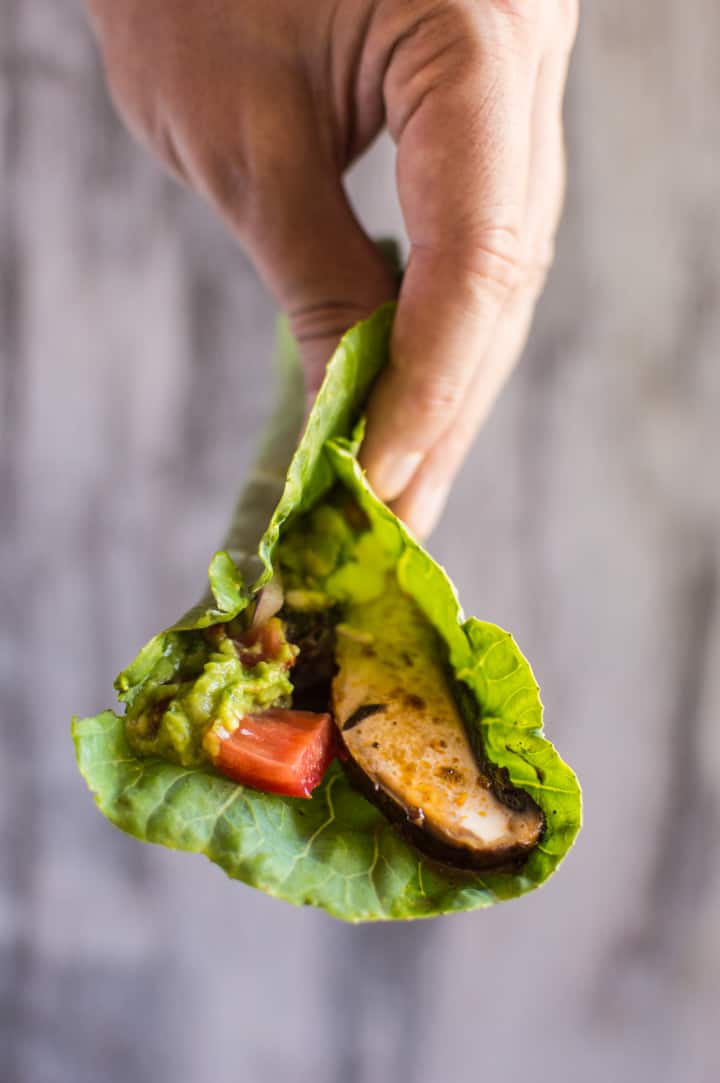 Harissa Portobello Mushroom "Tacos"
If you don't have collard greens on hand, you can also use lettuce or chard!
Ingredients
Portobello Mushrooms
1

pound

(450g) portobello mushrooms

1/4

cup

(60g) spicy harissa, or use a mild harissa

3

tablespoons

olive oil

,

divided

1

teaspoon

ground cumin

1

teaspoon

onion powder

6

collard green leaves
Guacamole
2

medium ripe avocados

2

tablespoons

chopped tomatoes

2

tablespoons

chopped red onion

1 1/2 to 2

tablespoons

lemon or lime juice

pinch

of salt

1

tablespoon

chopped cilantro
Optional Toppings
cashew cream

chopped tomatoes

chopped cilantro
Instructions
Remove the stem of the portobellos. Rinse mushrooms and pat dry.

Mix harissa, 1 1/2 tablespoons olive oil, cumin, and onion powder in a bowl. Brush each mushroom with the harissa mixture, making sure to cover the edges of the mushroom as well. Let mushroom marinade for 15 minutes.

While the mushrooms are marinating, prepare guacamole. Halve and pit the avocados and scoop out the flesh. Mash avocados and mix in chopped tomatoes, red onion, lemon (or lime) juice, salt, and cilantro. Set aside.

Rinse collard greens. Chop off the tough stems and set aside.

When the mushrooms are done marinating, heat 1 1/2 tablespoons of olive oil in a skillet or sauté pan over medium-high heat. Place the portobello mushrooms in the pan and cook for 3 minutes. Flip over and cook for another 2 to 3 minutes. Each side should be browned.

Turn off the heat and let the mushrooms rest for 2 to 3 minutes before slicing.

Take a collard green leaf and fill it with a few slices of portobello. Add guacamole, chopped tomatoes, cashew cream, and cilantro to your liking.
Notes
NUTRITION INFORMATION

: Makes 6 Tacos.

Amount for 2 Tacos

: Calories: 405, Total Fat 34.4g, Saturated Fat: 5g, Sodium: 226mg, Cholesterol: 0mg, Total Carbohydrate: 24g, Dietary Fiber: 14g, Sugar: 5.6g, Protein 10g
*To make the cashew cream, soak 1 cup of raw cashews overnight. Drain water and blend cashews with 1 cup of fresh water. Use cashew cream on the tacos as is or add a pinch of salt and lemon juice. You can also make 1/2 or 1/4 of the recipe.
If the harissa you are using is very thick, blend it with oil and add water one tablespoon at a time to thin it out. Be sure to adjust the seasonings too.
Did you make this recipe?
Tag @hellolisalin or leave a star rating and comment on the blog!
NOTE: This is NOT a sponsored post for Mina harissa. However, I wanted to highlight their harissa as I find the taste to be very solid.