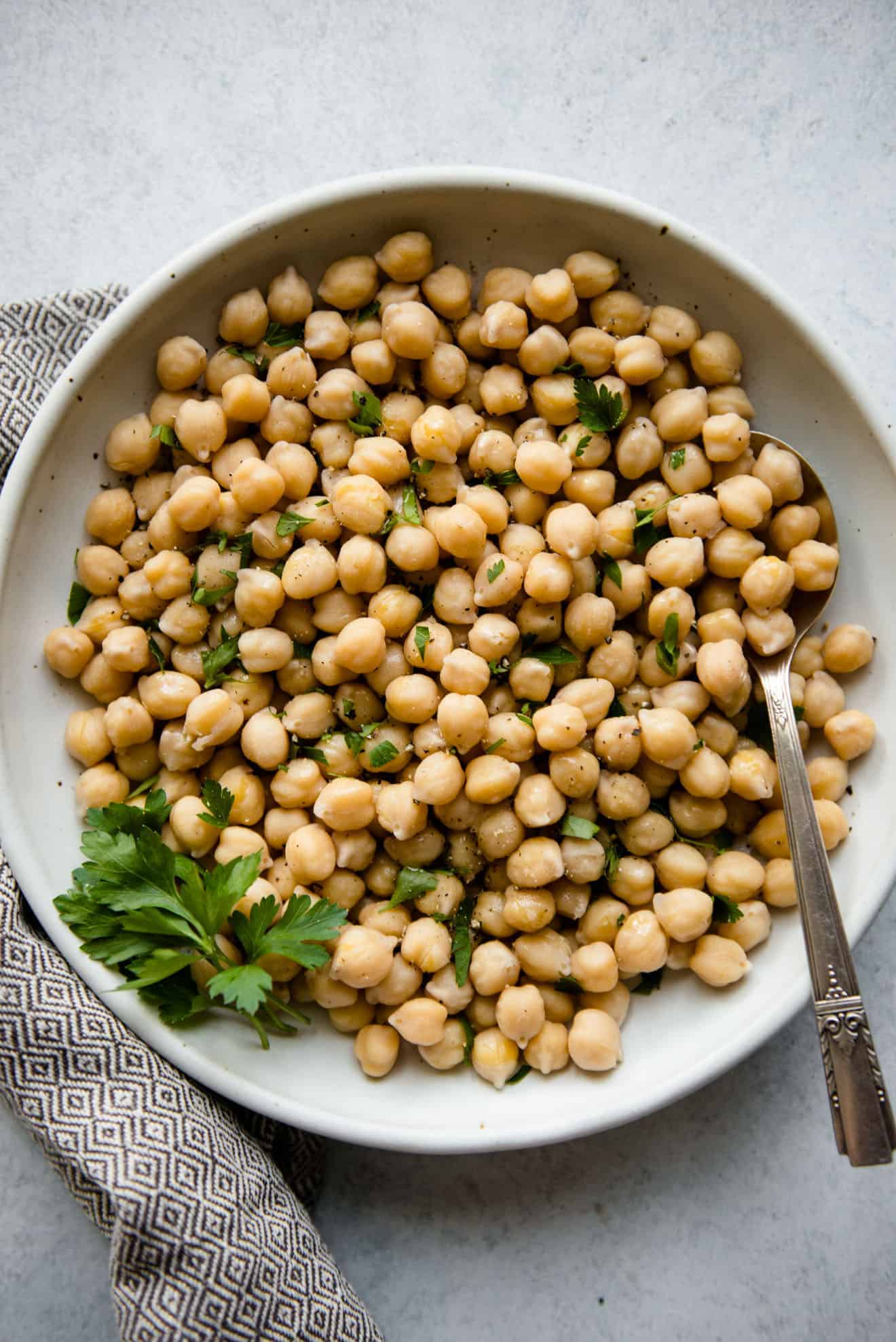 Some of you are probably reading the title of this post and wondering, "Why would I bother cooking chickpeas when I can just buy them in a can?" One word: texture.
I will be the first to admit that canned chickpeas are very convenient for weeknight meals. However, I actually prefer chickpeas cooked slightly al dente, when they still have a light crunch as I bite into them. They're better for salads, and I love snacking on them. And yes, I do actually eat chickpeas as a snack.
Of course, others may prefer chickpeas on the softer side and that's completely fine! That's the beauty of cooking chickpeas yourself—you get to control the texture of the beans to your liking.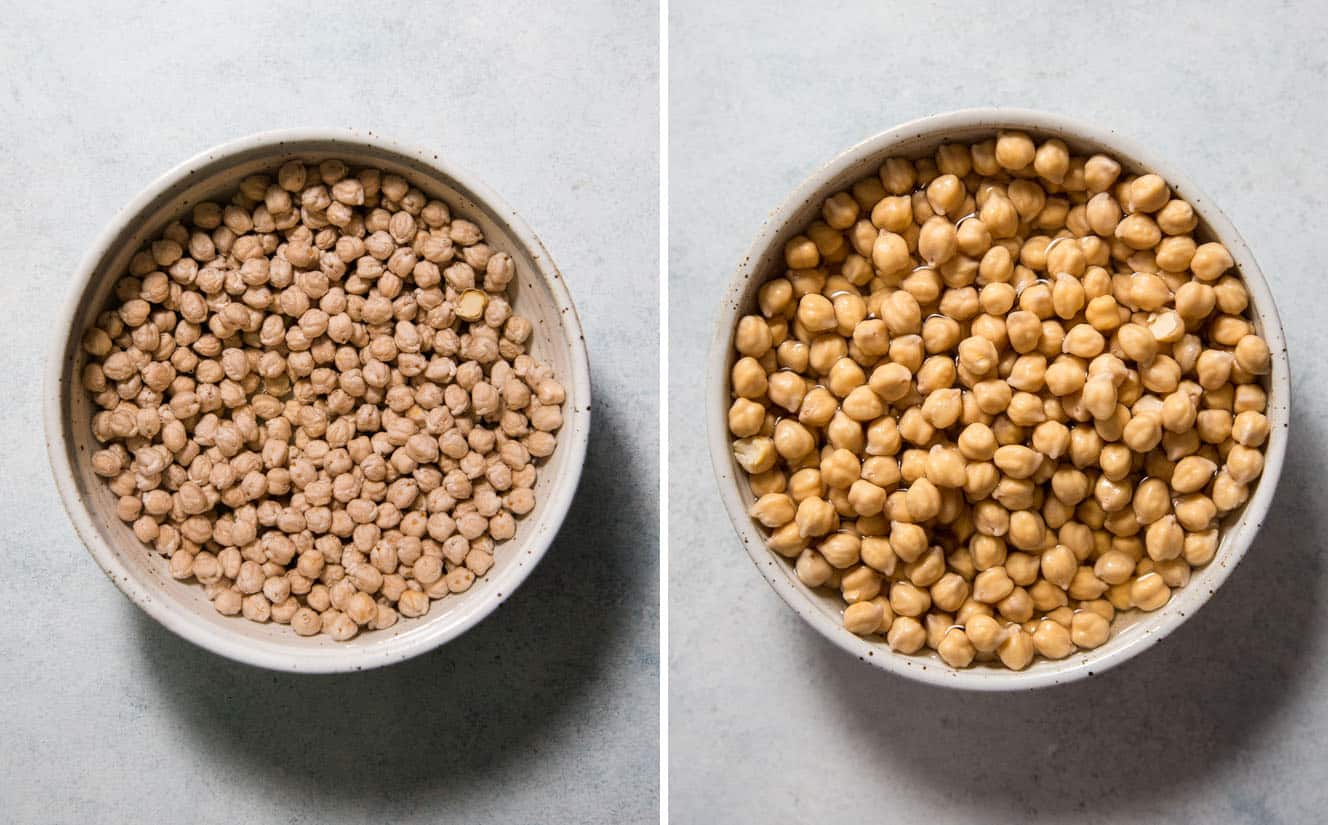 In general, it is a good idea to soak your chickpeas for at least 8 hours (overnight is even better). The soaking speeds up the cooking process. Do note that the chickpeas will soak up water and expand over time, so be sure to use the right sized bowl.
If you are using unsoaked beans, I recommend cooking them in the pressure cooker because it is faster. You can also cook unsoaked beans in the slow cooker on low for 8 hours. The texture of the chickpeas will be al dente.
HOW TO USE YOUR COOKED CHICKPEAS: A FEW RECIPES
TOOLS I USED
How to Cook Chickpeas 3 Ways: Stovetop, Slow Cooker & Instant Pot
In this basic recipe, I am cooking the chickpeas with water, bay leaves, garlic, and salt. Feel free to use broth or any other herbs, such as thyme or oregano. If you are cooking the beans with broth, you can save the chickpea broth for soups and stews.
Ingredients
1

cup

dried chickpeas

water

2

cloves

garlic

,

smashed

2

bay leaves

1/2 to 1

tablespoon

kosher salt*
Instructions
Soak the chickpeas with water overnight or for at least 8 hours. You want to cover the beans with about 2 inches of water. The chickpeas expand as it soaks, so be sure to use a large enough bowl for soaking. Before cooking the chickpeas, drain the water and rinse the beans.

STOVETOP METHOD: Transfer the soaked chickpeas to a large saucepan or a small pot. Cover the chickpeas with water by 2 inches. Add the garlic, bay leaves, and salt. Bring the water to boil, then reduce the heat slightly and simmer for 20 to 25 minutes for firmer beans, 40 to 50 minutes for softer beans.

SLOW COOKER METHOD: Transfer the soaked beans and cover with 6 cups of water, garlic, bay leaves, and salt to a slow cooker. Cook on high for 4 hours or on low for 8 hours.

INSTANT POT METHOD: Soaking the beans is not necessary for the Instant Pot method. Transfer the beans, garlic, bay leaves, and salt to the Instant Pot. Cover the beans with 2 to 2 1/2 inches of water. Set the Instant Pot to manual mode and cook in high pressure for 22 minutes. The cooked chickpeas will have a light crisp to them. If you prefer softer chickpeas, cook them for about 28 minutes. If you prefer soaking the beans before hand, you can cook the soaked beans on high pressure for 12 to 15 minutes, depending on whether you like them al dente or very soft. If you cook them for 12 minutes, they'll have a slight crisp; 15 minutes is close to the texture of canned chickpeas. Once the cooking time is up, let the pressure release naturally (it usually takes about 20 minutes for me).

The beans will keep in the refrigerator for 5 to 6 days. Make sure to store the beans with some of the cooking liquid! This prolongs the life of the beans. I usually make sure there's enough liquid in the container to cover all the beans. You can also freeze any drained beans for several months.
Notes
I prefer cooking the beans with 1 tablespoon of kosher salt. If you are using sea salt, use 2 teaspoons of salt.
Did you make this recipe?
Tag @hellolisalin or leave a star rating and comment on the blog!