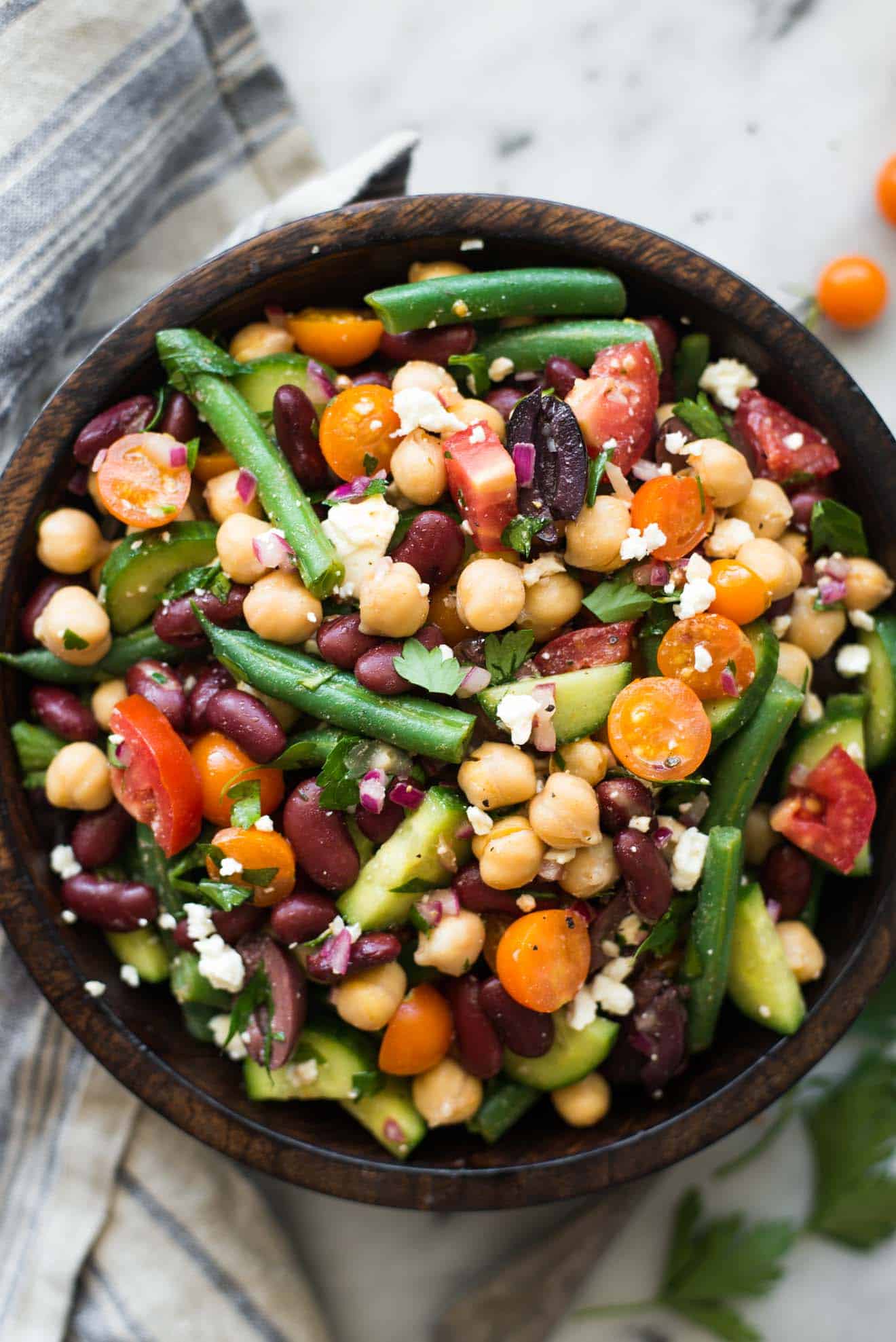 Friends, I'm about to enter the "scramble" mode. My summer trip to Europe is coming up in 2 weeks, and I am working around the clock to get things done before I go. If there was a way that I could clone myself to cook (and clean!!) all day, I would do it in a heartbeat. But I'd only want my mini me to be around for two weeks. Any longer would just be, I don't know, creepy.
Since I don't have all the time in the world to cook, my mindset is on easy, get in and get out kind of meals. That's where this Mediterranean three bean salad recipe comes in. It's essentially a bean salad packed with summer vegetables, feta, olives, and a light vinaigrette. Now that heirloom tomatoes are in season, I highly recommend buying a beefy one for this salad. The sweetness of those tomatoes balance well with the tang and saltiness of the salad. I would also use fresh green beans (or other waxy beans) instead of frozen ones. Frozen green beans just don't get the same kind of crisp once you cook them.
From start to finish, this salad takes only 15 minutes to make. Yes, 15 minutes! It's definitely worth making on a weeknight.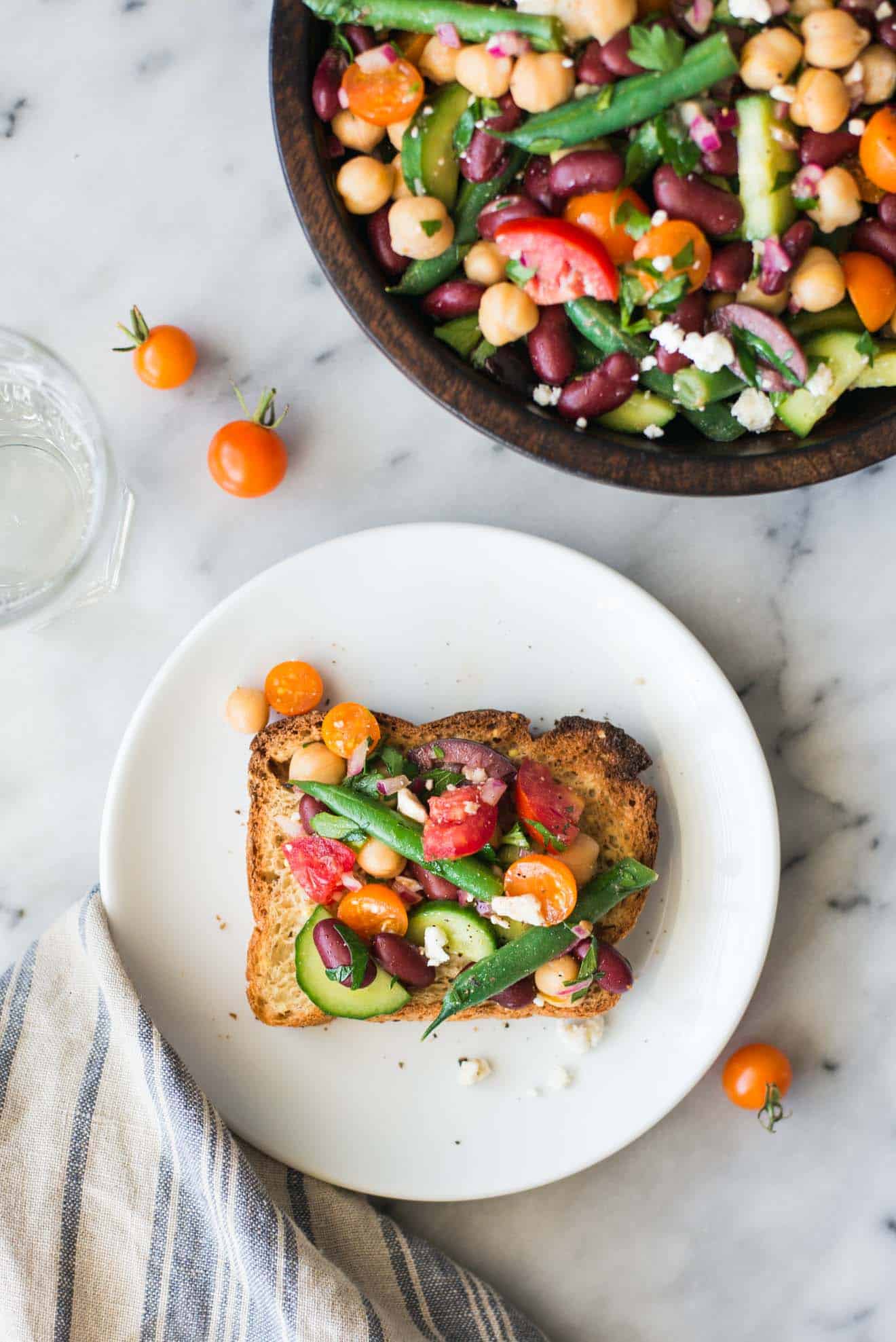 COOKING NOTES FOR THE THREE BEAN SALAD RECIPE
Giving the green beans an ice bath: Once you steam the green beans, throw them into an ice bath immediately. The ice bath is critical for keeping green beans lovely and crisp. The chill from the ice water stops the green beans from cooking further. I used to skip this step out of laziness, but once I started cooking my beans this way, I can't go back to my old ways. The texture of the beans are so much better.
Toss tomatoes last: Because diced tomatoes are quite delicate, I recommend tossing them last, after you've dressed the beans and other vegetables.
Variations: Feel free to add your favorite beans and summer vegetables to the mix! Cannellini beans, bell peppers, corn and zucchini are good additions.
Serving options: This salad is great with grains on the side or with toast and a few slices of avocado!
Use fresh green beans: I noticed that when I made this salad with green beans that weren't fresh (they had been in my fridge for over a week), their color didn't look good the next day. Try using beans that you have bought from the grocery store no more than a few days ahead.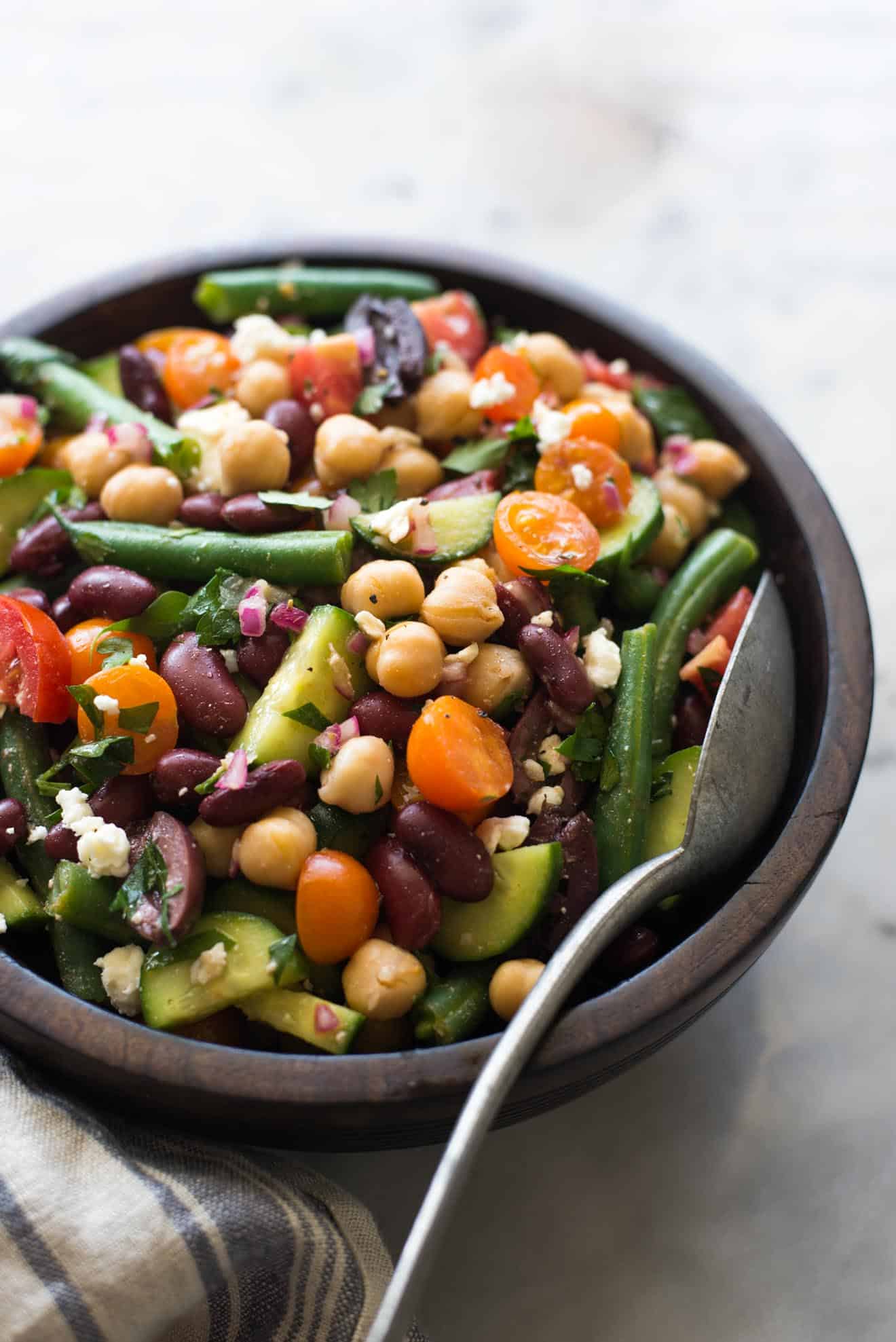 LOOKING FOR MORE WAYS TO COOK BEANS? TRY THESE RECIPES:
Quinoa Cakes with Chickpeas
Mexican Rice Stuffed Peppers
Perfect Hummus Three Ways: Roasted Garlic, Carrot Harissa, Cilantro Jalapeño
Slow Cooker Chipotle Chicken Chili
Mini Sofritas Tostada Bowls
Mediterranean Three Bean Salad
Ingredients
Greek Vinaigrette
2 1/2

tablespoons

red wine vinegar

,

white wine vinegar works also

1 1/2

tablespoons

olive oil

1 1/2

tablespoons

lemon juice

3/4

teaspoon

kosher salt

1/2

teaspoon

honey

,

optional

1/4

teaspoon

paprika

1/4

cup

(40g) finely diced red onions

1

clove

garlic

,

minced
Salad
½

pound

(225g) green beans, trimmed and snapped into 2-inch pieces

15-

ounce

(425g) can of chickpeas (or garbanzo beans), drained and rinsed

15-

ounce

(425g) can of red kidney beans, drained and rinsed

1

Persian cucumber

,

sliced (about 3/4 cup chopped, 110g)

1

cup

(about 12g to 15g) loosely packed parsley leaves, chopped

1/4

cup

(35g) feta cheese

1/3

cup

(55g) kalamata olives, sliced in half

3/4

cup

(100g) diced tomatoes
Instructions
Rinse green beans and steam for 2 to 3 minutes. While beans are cooking, add 1 1/2 cups of ice into a bowl and add water. Once green beans are cooked, submerge beans in the water to stop the cooking process. Let it sit for 5 minutes.

Mix all the dressing ingredients in a small bowl and set aside while you prep the rest of the salad. Soaking the onions and garlic in a vinegary solution helps take some of the raw bite away.

In a large bowl, add the green beans, chickpeas, red kidney beans, cucumber, parsley, feta and olives. Pour vinaigrette and toss to coat the vegetables. Add diced tomatoes and toss again. Season with salt and pepper, if you like.

Serve on its own, with a bowl of grains or on top of toast!

Refrigerate leftovers for up to 2 days. If you leave the salad in the fridge for any longer, the green beans will start turn brown.
Notes
NUTRITION INFORMATION: Serves 4. Amount Per Serving: Calories: 311, Total Fat 11g, Saturated Fat: 3g, Sodium: 1075mg, Cholesterol: 8mg, Total Carbohydrate: 42g, Dietary Fiber: 12g, Sugar: 10g, Protein 15g
Did you make this recipe?
Tag @hellolisalin or leave a star rating and comment on the blog!