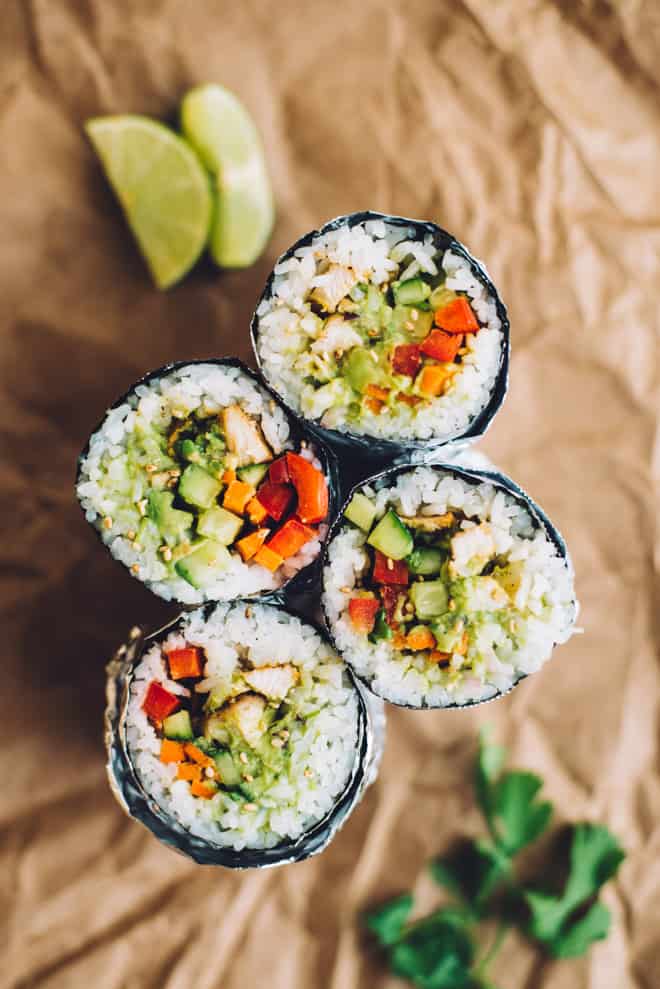 Sometimes, a small cookie is enough to satisfy my food cravings. Other times, I need something much, much more substantial. These are the times that call for a sushirrito. Part sushi, part burrito, these oblong packages of rice, fish, and guacamole bliss are my kind of comfort food.
The original Sushirrito restaurant chain is in the Bay Area. As some of you already know, I live in Sacramento now, so where is a girl to go for her sushi burrito fix? At home, of course! My version of the sushi burrito is healthier, and it's made with ingredients that you can easily find in your supermarket. Just cook some rice, chop up vegetables, grill chicken, make your guac, roll it all up, and you have a meal in about 40 minutes! I even made a video to show you how easy it is to make all of this.
If grilled chicken is not your thing, feel free to add whatever protein you like. Grilled tofu is pretty awesome in these sushi burritos, too! By the way, these burritos are incredibly filling. Half of a burrito was all it took to get me full!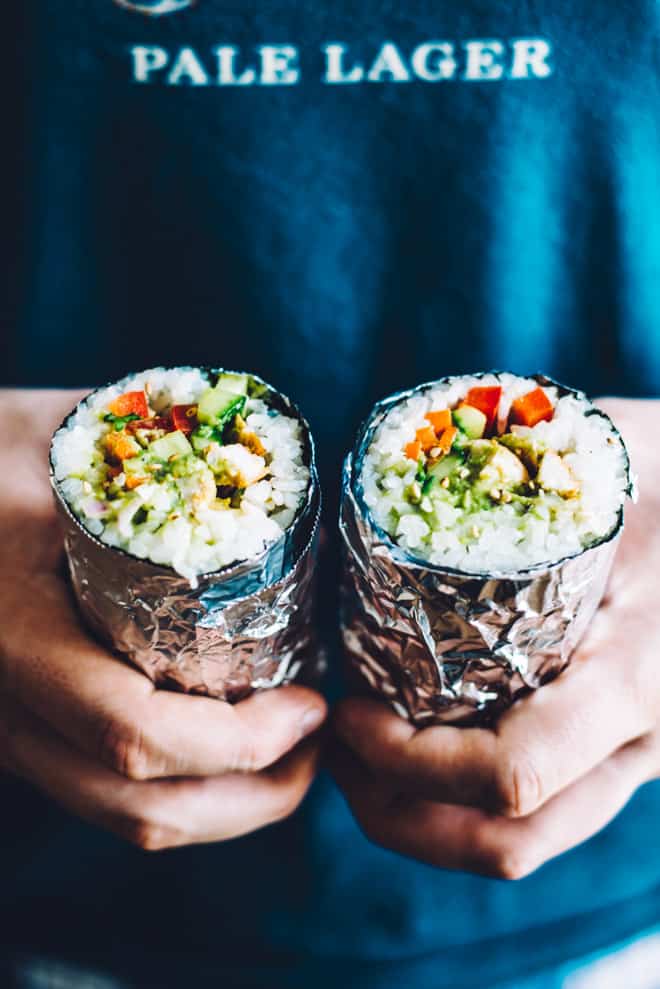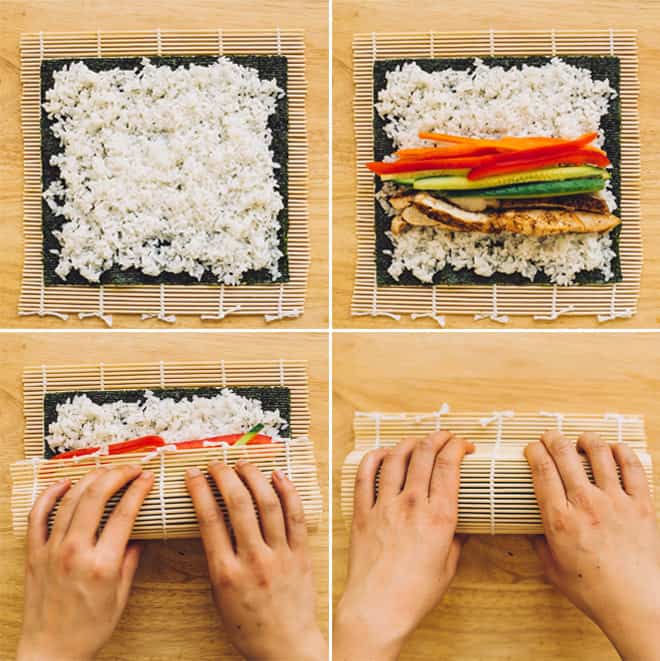 TIPS ON HOW TO MAKE CHICKEN SUSHI BURRITO
ALWAYS dip your fingers in water before using them to spread rice: Sushi rice tends to be very sticky. You should always have a small bowl of water and maybe even a damp towel around when you're making sushi. Give your fingers a quick dip, and you'll find it much easier to spread the rice.
There can be too much of a good thing: I tried stuffing one sushi burrito with a ton of fillings, and the plan backfired. I couldn't actually seal the sushi burrito tight because there was too much filling.
Cooking the rice: I used my Instant Pot to cook the rice, and it was ready in 12 minutes! If you plan to cook the rice in a rice cooker, use the measuring cup that comes with the rice cooker, and measure out 3 level cups
Servings:
4
sushi burritos
Chicken Sushi Burrito
These chicken sushi burritos are great for lunch or dinner. This recipe makes 4 burritos and each burrito can serve 1 to 2 people
Ingredients
Sushi Rice
2

cups

(325g) uncooked short-grain rice, or about 5 cups cooked rice

3 to 4

tablespoons

sushi seasoning

pinch

of kosher salt
Chicken
1 1/4

pounds

(565g) chicken breast

generous pinch of kosher salt

1

teaspoon

chili powder

1

teaspoon

cajun seasoning

1/2

teaspoon

granulated garlic

1

tablespoon

olive oil
Guacamole
1

large avocado

1

tablespoons

lime juice

1

garlic clove

,

minced

1/2

tablespoon

chopped cilantro

2

tablespoons

chopped red onion

1/2

teaspoon

kosher salt
Vegetable Filling
1

small red pepper

,

seeded and sliced

1

carrot

,

peeled and cut to matchsticks

1

persian cucumber

,

cut to matchsticks

4

sheets of roasted sushi seaweed,

nori
Instructions
Cook rice according to package instructions. When rice is done, spread onto baking sheet to cool off. You don't want to roll sushi with hot rice. Once it is cooled, about 15 minutes, pour into bowl and mix with sushi seasoning and a small pinch of salt.

Cook chicken. If your chicken breasts were thick like mine, slice them in half, horizontally. Sprinkle kosher salt, chili powder, cajun seasoning, and garlic on the chicken breasts. Heat olive oil in a pan over medium-high heat and cook chicken until they are no longer pink or a meat thermometer registers 165 degrees F (75 degrees C), about 8 minutes. Dish up chicken and let it rest before cutting into strips.

Prep guacamole by mashing avocado and mixing with the rest of the guacamole ingredients. Set aside.

Lay

sushi mat

 on your counter. Take a sheet of roasted sushi seaweed, and lay the shinier side down. Spread about a cup of cooked rice on top, making sure that the rice covers the entire surface of the seaweed. Lay about 4 strips of chicken an inch away from one end of the seaweed. Spread guacamole and top with vegetables. Roll up sushi burrito.

Watch video

 for sushi rolling technique. Serve immediately.
Notes
NUTRITION INFORMATION: Makes 4 Sushi Burritos. Amount per burrito: Calories: 721, Total Fat 27g, Saturated Fat: 6g, Sodium: 428mg, Cholesterol: 91mg, Total Carbohydrate: 82g, Dietary Fiber: 6g, Sugar: 3g, Protein 38g
Did you make this recipe?
Tag @hellolisalin or leave a star rating and comment on the blog!