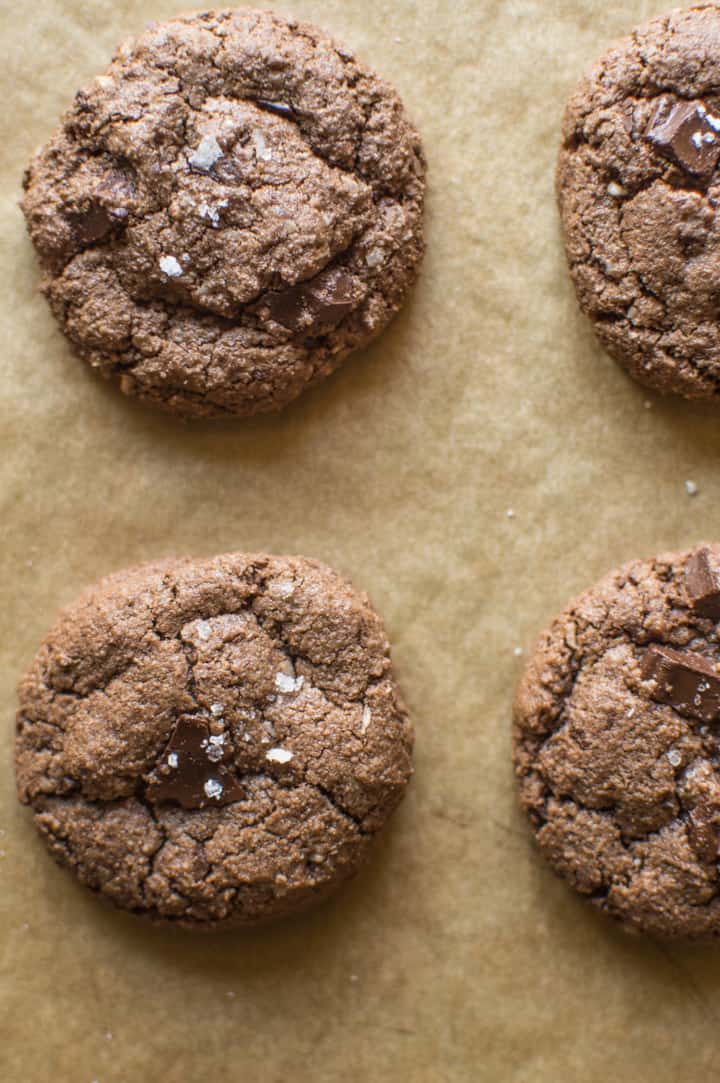 Mama Lin is picky with a capital "p" when it comes to desserts. Every time I make something for the family, she doesn't hold back on her "constructive" comments. For starters, she never likes it when I throw fruit into a dessert. "Fruit should be eaten naked without any sugary frills," she would always say. Other times, she'll find something wrong with the taste or texture. Mama Lin is a difficult woman to please.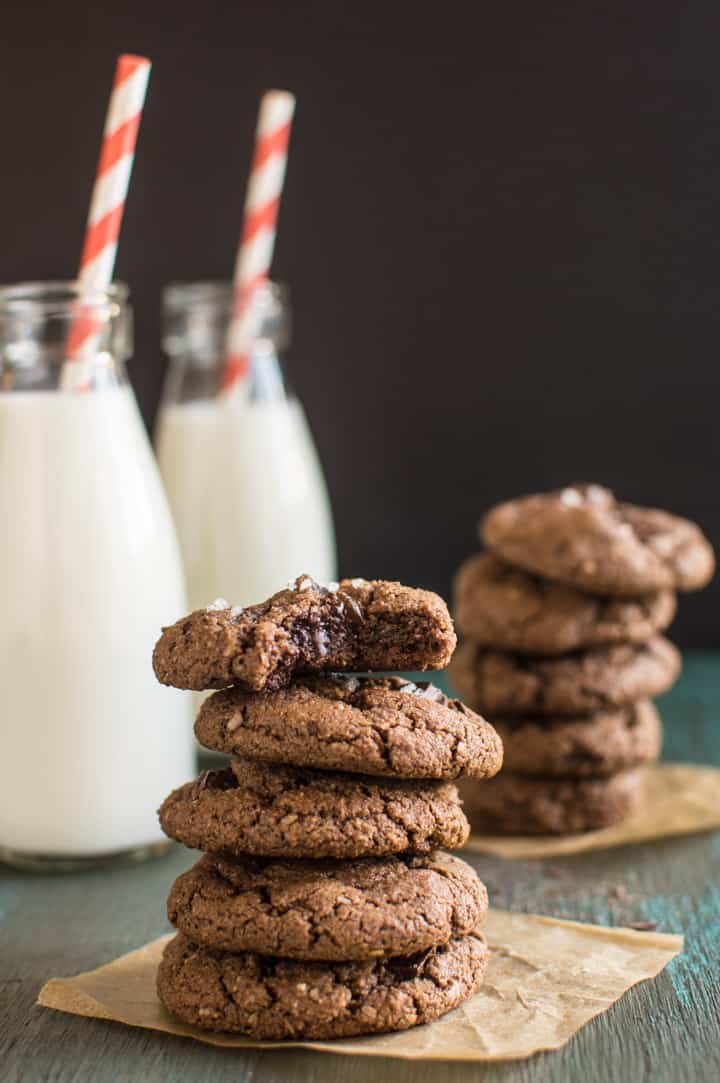 She has a weakness for nuts and chocolate though. I know because I grew up with boxes of See's chocolate and nut candies lying around the house. (It is no coincidence that I developed a thing for good chocolate at a young age.)
This past weekend, I wanted to make something special for Mama Lin because, well, she is a special woman. Raising four kids in a foreign country was no easy task, and I admire her every day for it. So how do you say "thank you" to the most amazing woman you know? You bake her some damn good cookies.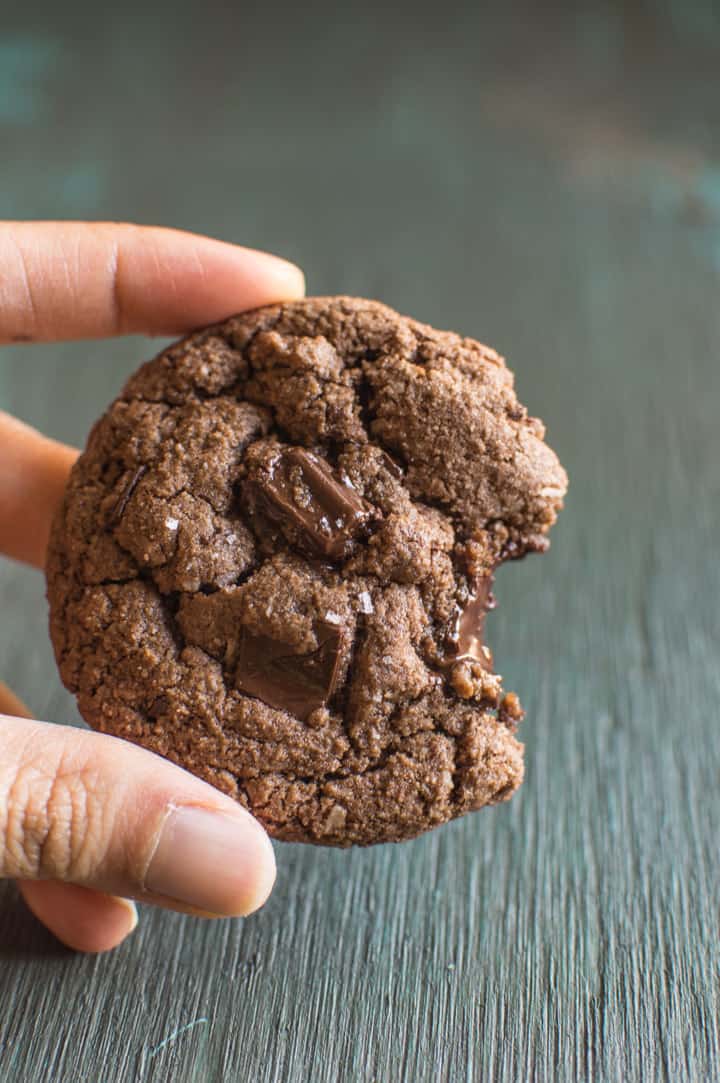 These scrumptious chocolate beauties have a slight crisp on the outside and the texture of soft brownies when you bite right into them. They were so good that I caught Mama Lin sneaking a couple of these into her purse. Mission accomplished.
Double Chocolate Almond Cookies with Coconut
These delicious gluten-free double chocolate almond cookies are crispy on the outside and soft like brownies on the inside. Makes 24 cookies.
Ingredients
1/3

cup

(75g) butter, softened at room temperature

3/4

cup

+ 1 TBS

,

155g granulated sugar

1

large egg

1

tsp

pure vanilla extract

1 1/4

cups

(140g) almond flour

1/3

cup

(30g) unsweetened cocoa powder

1

tsp

baking powder

1/2

tsp

salt

1/3

cup

(25g) unsweetened shredded coconut

4

oz

bar

,

115g of semisweet chocolate, roughly chopped

fleur de sel sea salt for topping

,

optional
Instructions
Preheat oven to 350 degrees F (175 degrees C). Line two large baking sheets with parchment paper.

Using a hand mixer, beat the butter and sugar together for two minutes. The batter should be fluffy.

Add the egg and vanilla and beat everything for another minute. You should have a very creamy batter.

In a small bowl, whisk together the almond flour, cocoa powder, baking powder, salt, and shredded coconut. Dump everything into the bowl of wet ingredients. Mix until all ingredients are just incorporated. Fold in chopped chocolate.

Using a tablespoon measure, scoop out a heaping tablespoonful of cookie batter and shape it into a ball. Drop the ball onto the lined baking sheet, and press gently to flatten out the dough a little. Repeat for the remaining dough. Top cookie dough with a tiny bit of salt if you like.

Bake for 11 to 12 minutes. Be sure not to overcook these cookies because they will start to burn on the bottom!

Let the cookies cool for 5 minutes before transferring to a wire rack. Best consumed warm!

Store leftovers in an airtight container for 3 to 4 days.
Notes
1. Recipe adapted from Joy the Baker.[br][br]2. Make sure to use butter that's room temperature. This helps to make sure that the cookies will spread out into lovely flat circles.[br][br]3. If you want sweeter cookies, use a full cup of sugar.
Did you make this recipe?
Tag @hellolisalin or leave a star rating and comment on the blog!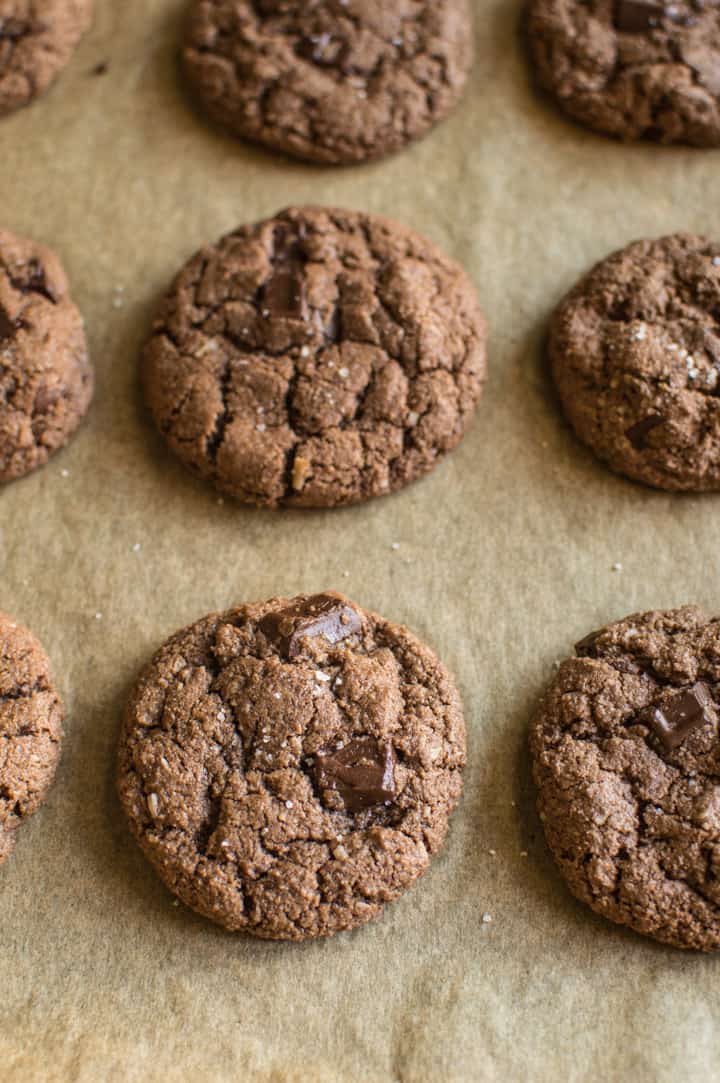 Looking for more cookie recipes? Try these: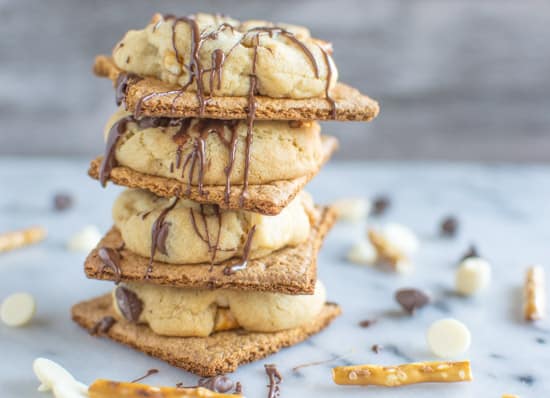 Chocolate Chip Pretzel Cookies with Graham Crackers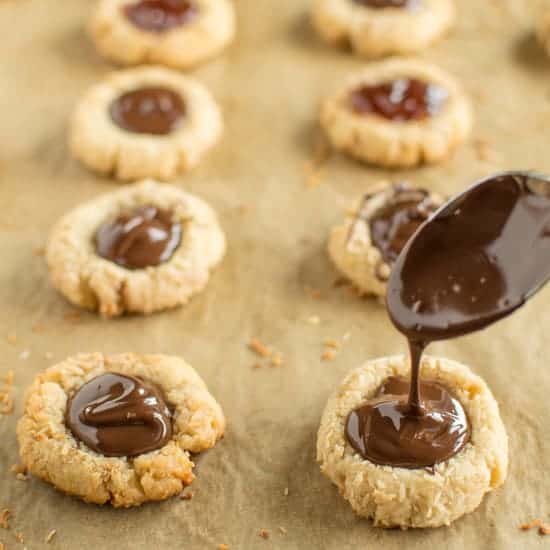 Coconut Chocolate Thumbprint Cookies