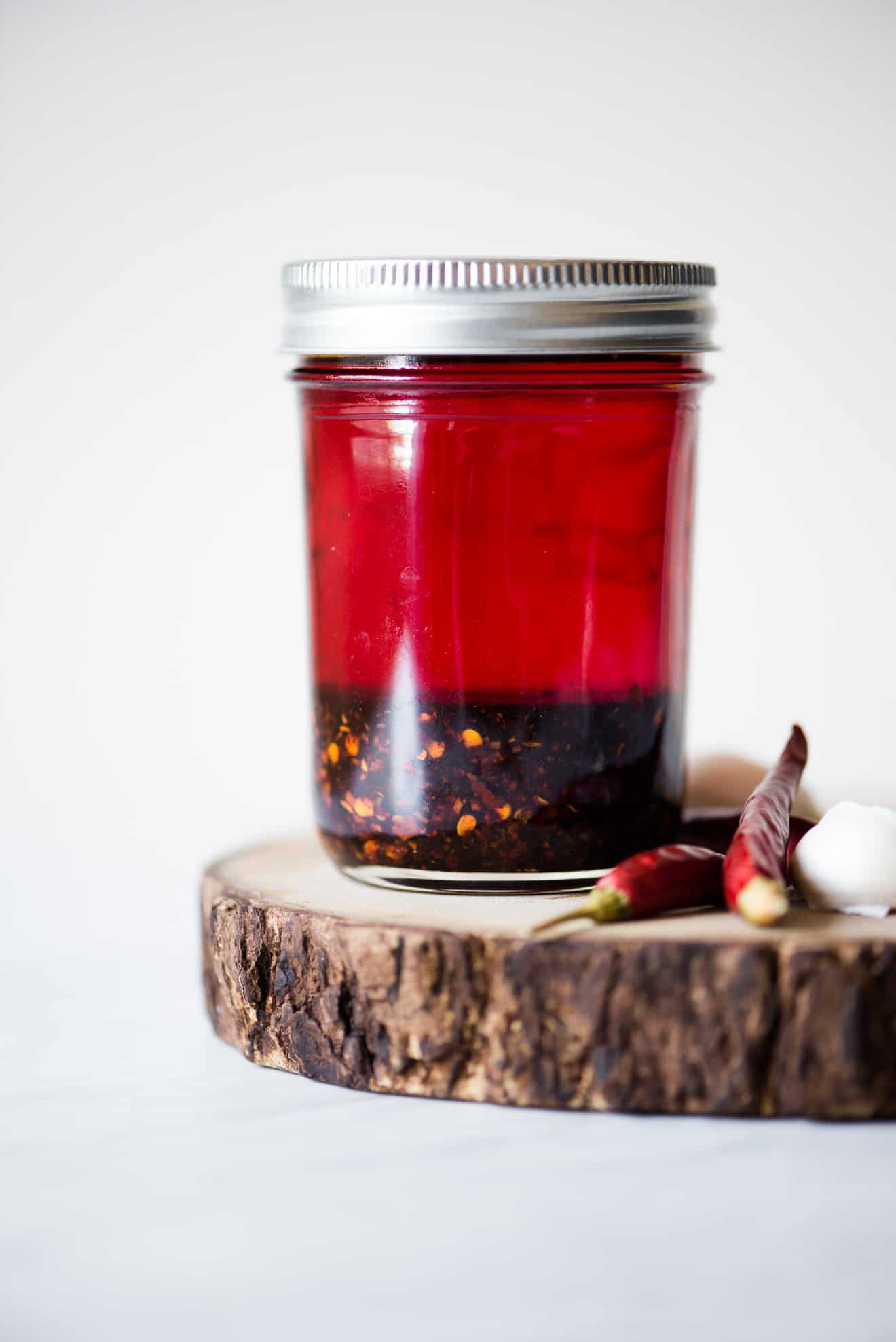 Chili oil (辣椒油) is a big staple of Chinese cuisine, especially when you are talking about Sichuan food. The combination of oil and red pepper flakes give chili oil that hallmark bright red hue, and it is often used as a condiment for dumpling and noodle dishes. A characteristic of Sichuan-style chili oil is the use of Sichuan peppercorns and dried pepper flakes, which impart mala (麻辣) flavor to the oil. Ma (麻) means "numbing," and it refers to the tongue-numbing sensation when you bite into a Sichuan peppercorn. La (辣) means "spicy."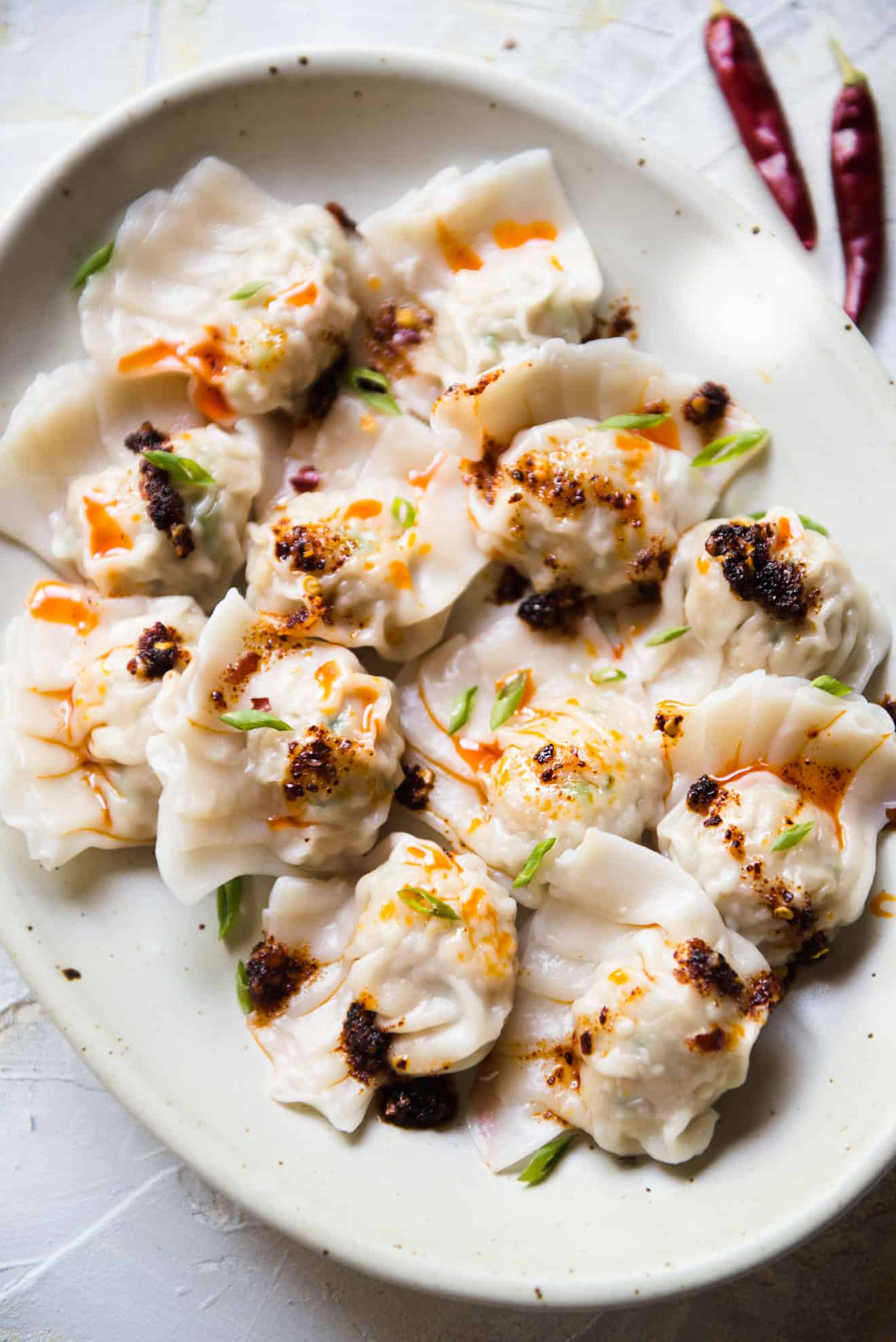 For nearly a year, I have been trying to find a chili oil recipe that I genuinely enjoyed. I have tried recipes where I simply pour hot oil over red pepper flakes, but I thought the chili oil lacked flavor. Then, I tried recipes where I simmered oil with spices (such as cinnamon, star anise, and fennel) before pouring over the pepper flakes. While this method imparted a bit more flavor to the oil, it took a long time to prepare. Finally, taking inspiration from my garlic, ginger, and scallion oil recipe, I came up with a simple chili oil recipe that not only brings the heat but also great flavor.
I minced ginger and garlic finely and added these spices to a bowl that I filled with pepper flakes and some salt. Then, I heated oil for several minutes (until it reached about 325ºF) before pouring the oil over the spices.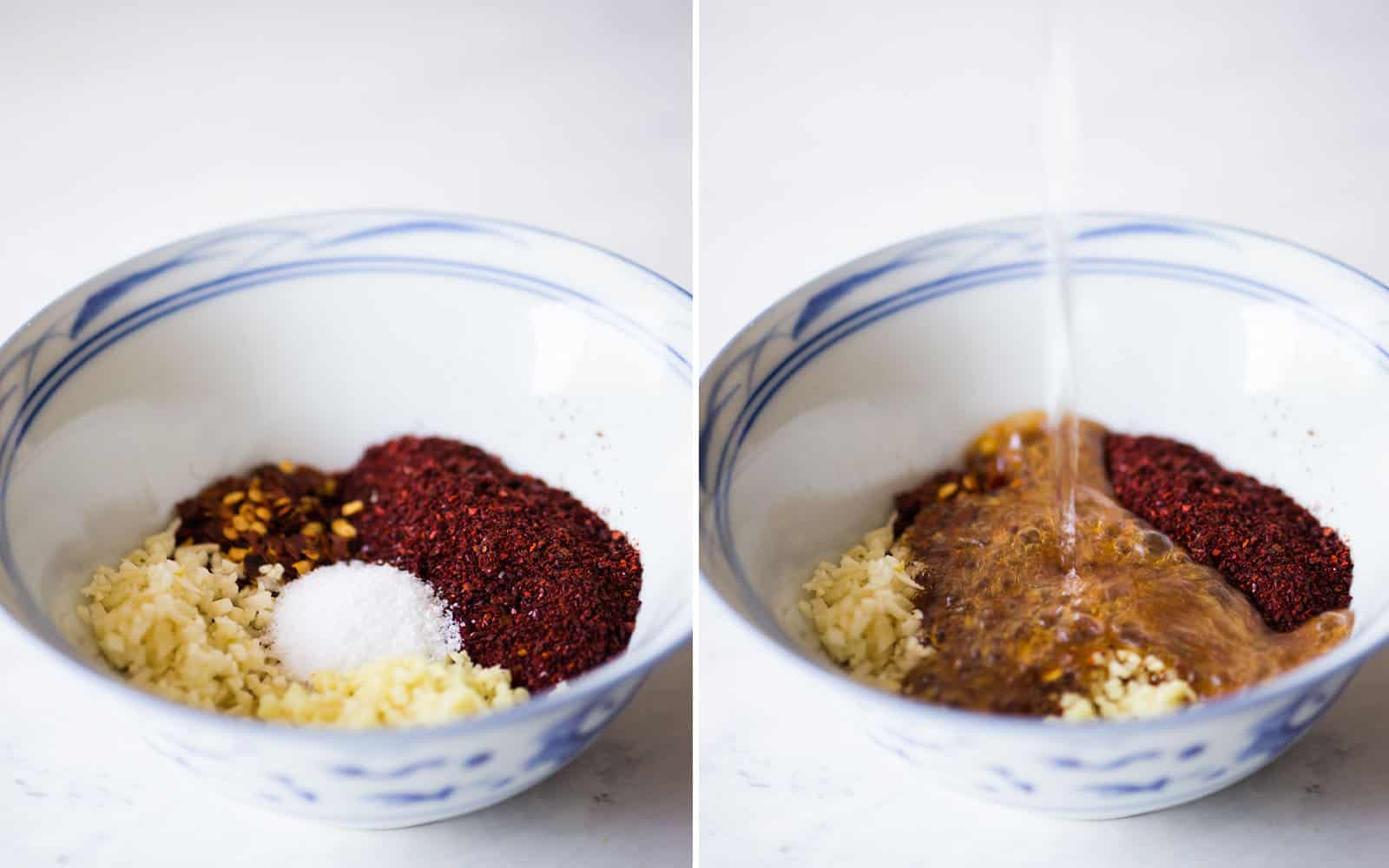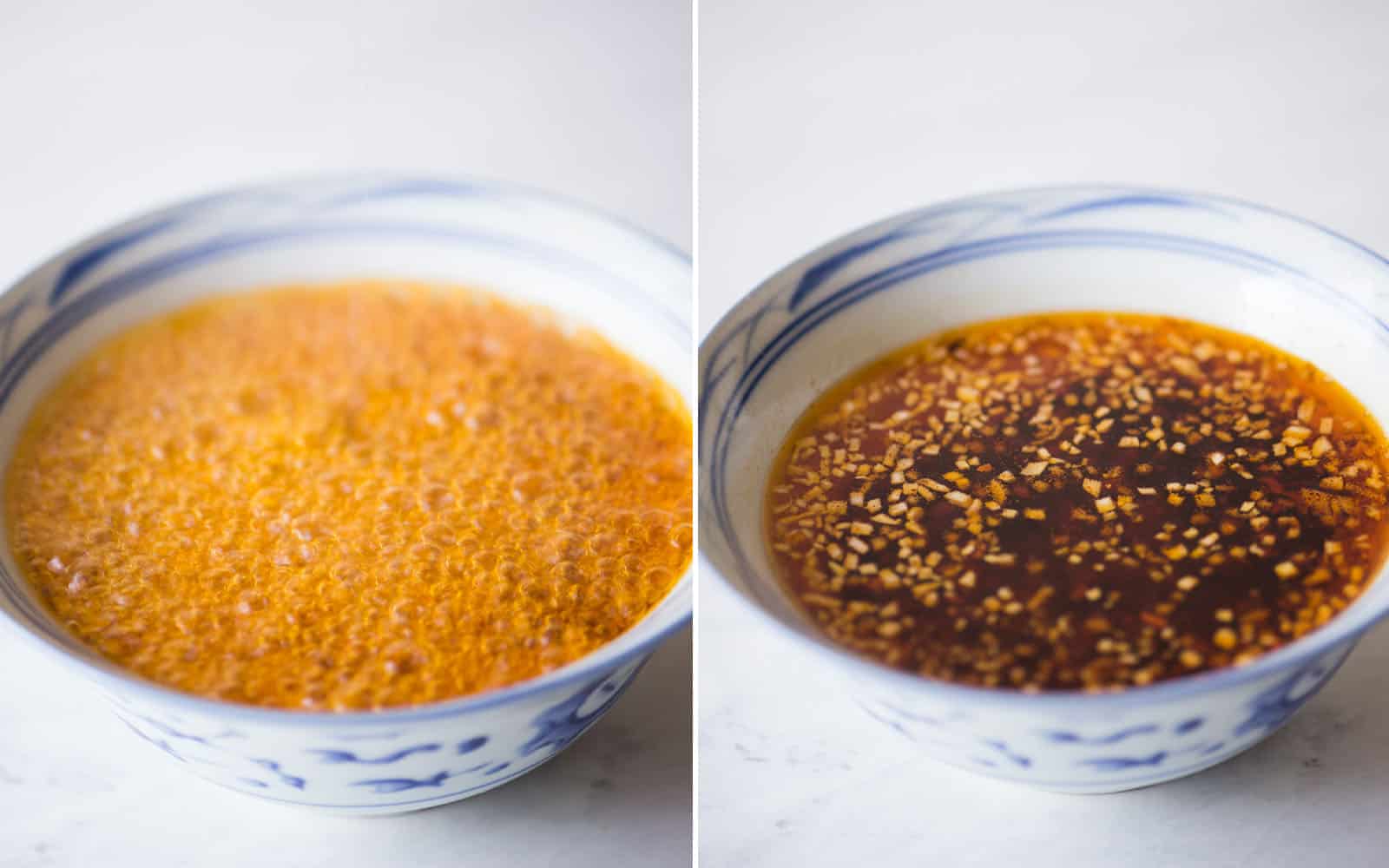 As I poured the hot oil into the bowl, I could immediately smell the wonderful fragrance of the spices. That's when I knew I had a hit. Mincing the garlic and ginger releases much more flavor than simmering whole cloves of garlic and sliced ginger in oil. Another added bonus was that my chili oil took less time to prepare than most of the other recipes I tried.
In my chili oil recipe, I decided to omit other spices that other recipes recommend, such as cinnamon sticks, star anise, and bay leaves. Although you would be able to smell those spices in the oil, you can barely taste them. Plus, I prefer chili oil without those spices anyway. In the interest of keeping the ingredients list short, I think that you can make a great batch of chili oil with just pepper flakes, oil, ginger, garlic, and salt.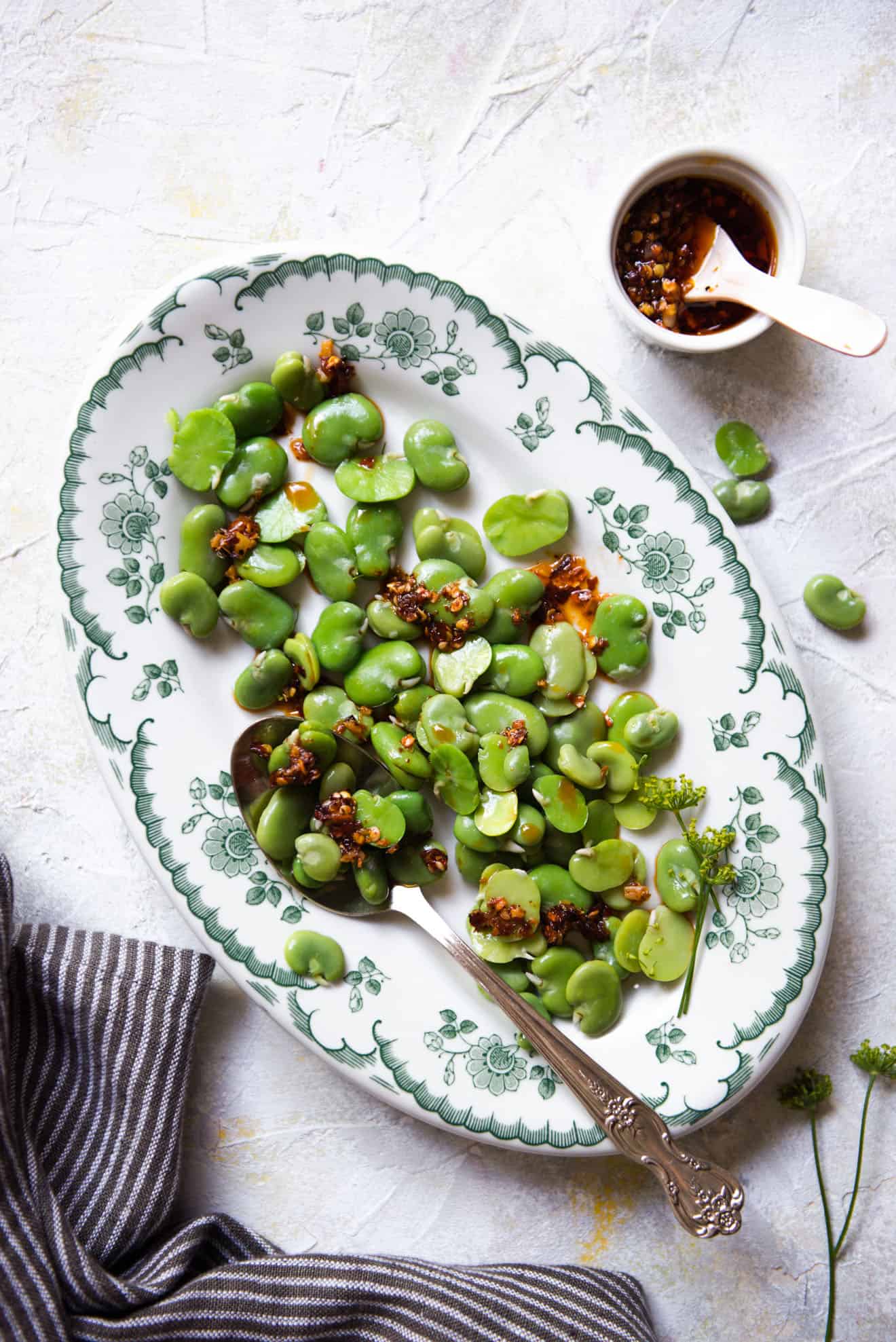 PEPPER FLAKES FOR CHILI OIL RECIPE
Use pepper flakes with varying levels of heat: I like my chili oil to be a bit spicy—not so much spice that will make me reach for a glass of milk every few seconds, but some level of heat. That's why I used hot red pepper flakes (also labeled as chile flakes or chili flakes), which you should find at any grocery store. The pepper flakes should be spicy when you bite into it.
I also like spreading the pepper flake "sediment" in chili oil onto my dishes, which is why I also add mild pepper flakes. I used gochugaru (Korean pepper flakes), which gives the chili oil a gentle smoky flavor, and I find it in my natural foods stores and Korean markets. Sichuan chili powder or chili flakes also work for this recipe, and you can usually find it in Asian supermarkets. If either the gochugaru or Sichuan chili powder is difficult for you to find, you can omit it.
RECIPES USING CHILI OIL
How to Make Chili Oil
This is my basic chili oil recipe. For even more spice, consider adding 1 teaspoon of sichuan peppercorns.
Ingredients
3

tablespoons

hot red pepper flakes

5

tablespoons

gochugaru

,

Korean pepper flakes

2

tablespoons

finely minced ginger

5 to 6

cloves

garlic

,

minced

1

teaspoon

salt

1

cup

canola or neutral oil
Instructions
Add all the ingredients into a stainless steel or thick ceramic bowl bowl (basically, anything that is heat proof).

Heat the oil in a saucepan over medium-high heat for about 3 to 4 minutes. The temperature should reach somewhere between 325ºF to 350ºF. When you swirl the oil, it should look thin, just like the consistency of water. Turn off the heat.

Carefully pour the hot oil into the bowl with the spices. The oil will sizzle a lot when it first hits the spices and then fizzle as it cools. Let the oil reach room temperature (about 20 to 30 minutes). If you are apprehensive about pouring hot oil into a bowl, pour the spices into the saucepan instead. To prevent the spices from burning, make sure to take the saucepan is off the stove before adding the spices. Swirl the spices with a wooden spoon for about a minute.

Give the oil a stir before serving. Drizzle the oil over noodles or dumplings and spoon some of the chili flakes onto any dish. To store, transfer the oil into a sterilized jar and refrigerate. Try to use the oil within 1 to 2 weeks.
Notes
Finding the right amount of spice: By "hot red pepper flakes," I mean flakes that are immediately spicy when you place it on your tongue. They're usually made from cayenne pepper. If you don't like much spice, start off with 2 tablespoons of the pepper flakes. You'll detect the heat, but it shouldn't bee too strong. It may take you several tries before you figure out the optimal amount of spice.
Half batches: You can halve the recipe if you want to make a smaller batch. Note that oil may heat up a lot faster in the saucepan.
To sterilize a jar, pour boiling water into a glass jar and let it air dry.
Nutrition
Serving:
1
tablespoon
|
Calories:
120
kcal
|
Carbohydrates:
1.8
g
|
Protein:
0.4
g
|
Fat:
14.1
g
|
Saturated Fat:
1.1
g
|
Sodium:
146
mg
|
Fiber:
0.8
g
|
Sugar:
0.3
g
Did you make this recipe?
Tag @hellolisalin or leave a star rating and comment on the blog!